I have toured the mountains of Northern Thailand twice and was initially not planning to return this Christmas however an opportunity arose to meet up with my mate from Australia for a small ride and that sounded great.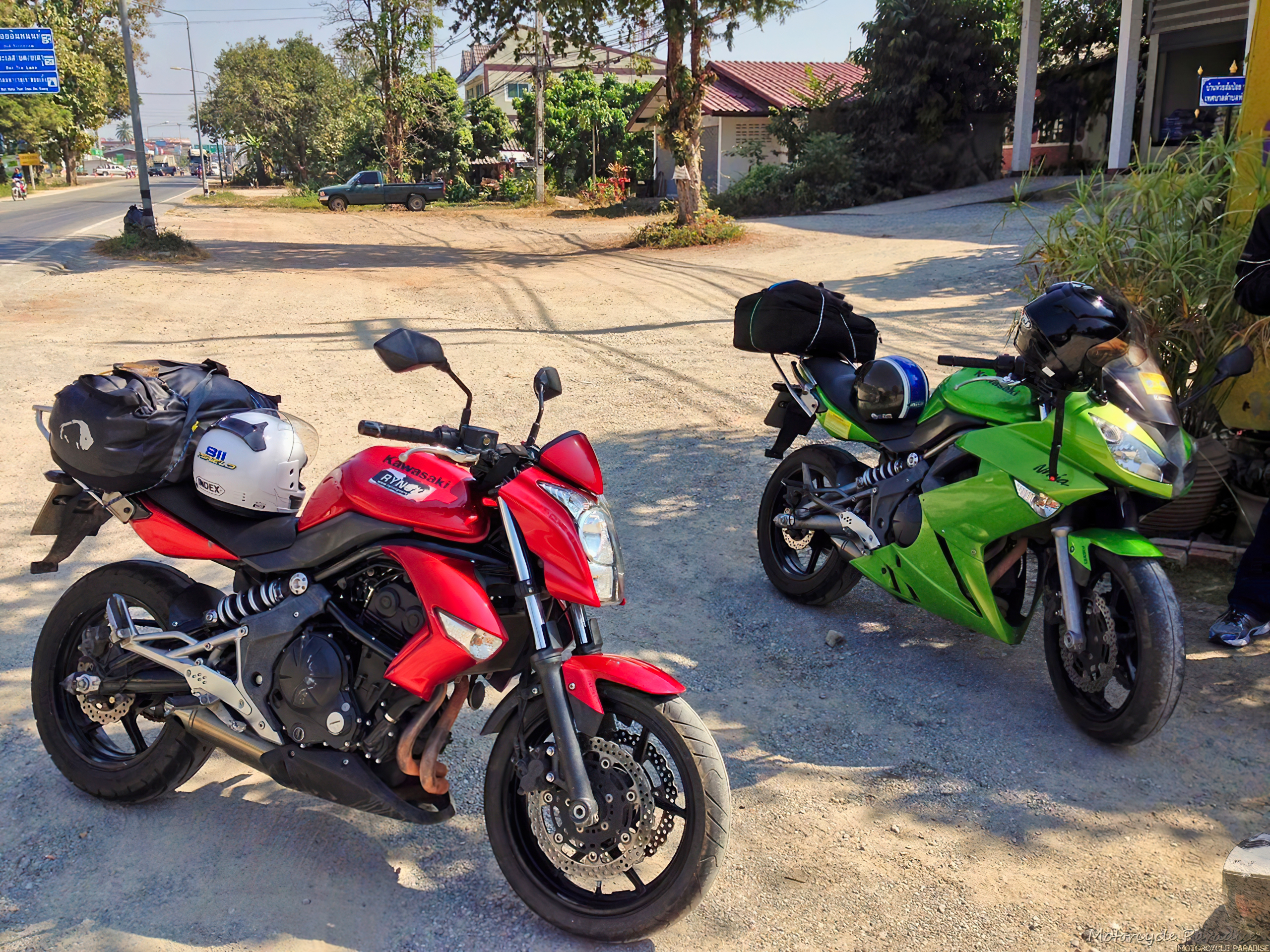 We rented from Mr Mechanic this trip to see how they compared. That shop offers a limited insurance policy which is rare. Not long into the ride noticed my mates front tyre was completely bald. They replaced my mates green machine and I probably should have asked for mine to be swapped also as it's front tyre was not good and bike was running rough but we had already lost half the day. Pop's rental is much better.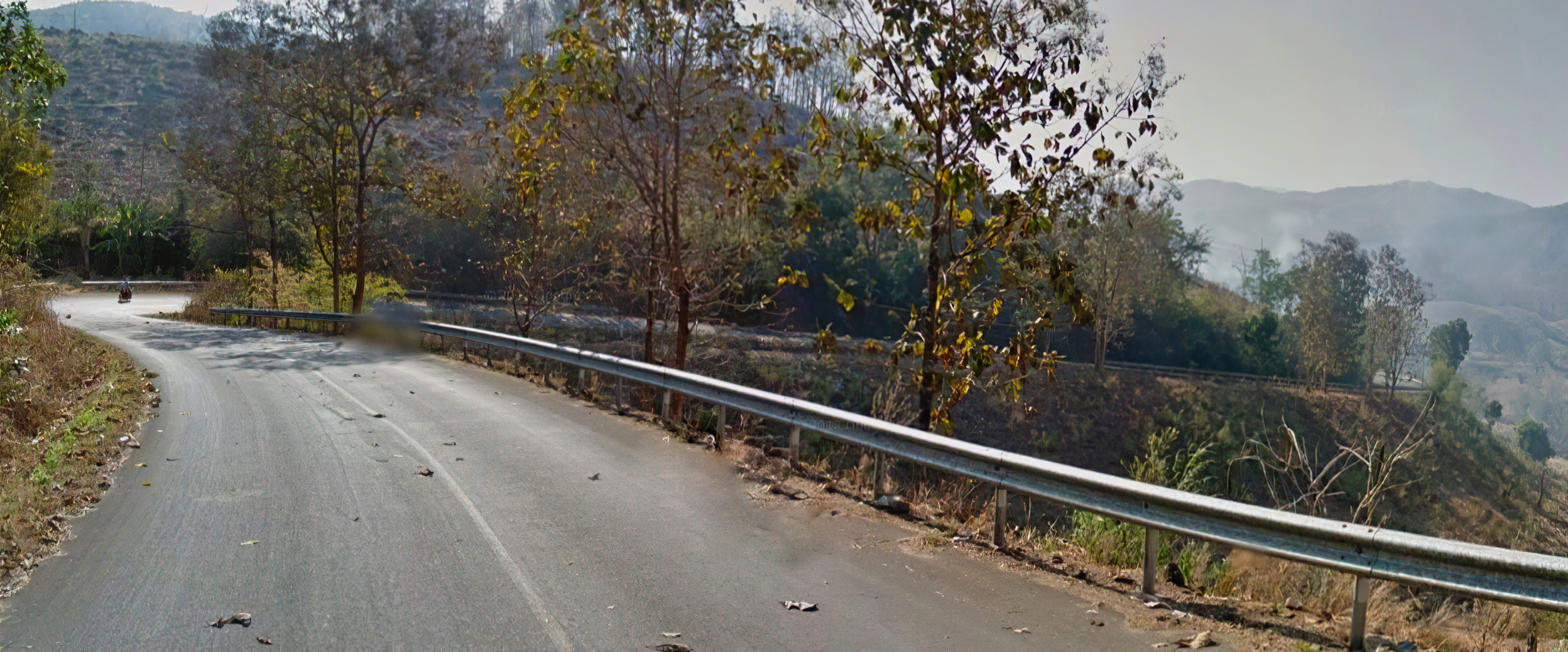 Above route 1088.
The GPS was saying ETA 7.30pm so I decided to cut down our original route taking a short cut to Mai Hong Son via the 1088 and 1263 roads. The 1088 I had visited previously and it had some mixed surface but this time it was fresh hot mix sealed and excellent. The 1263 was also mighty fine riding and being new to me I enjoyed it very much.
Despite missing out on much of the famed 108 we had a great ride on these back roads. Alas even with just brief stops and a quicker pace set by my mate up front who is a master of back road riding, we could not avoid being in darkness for last hour into MHS.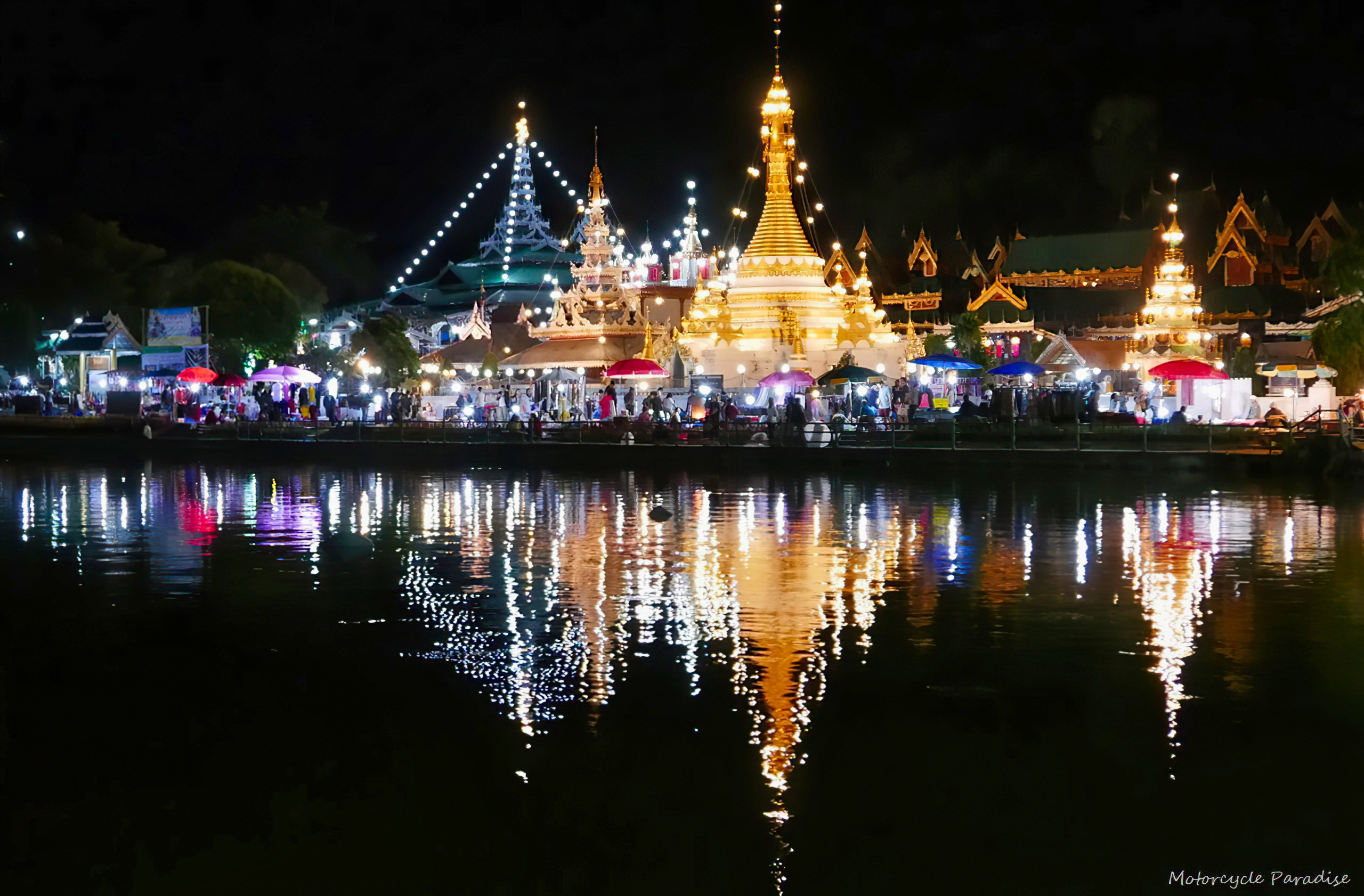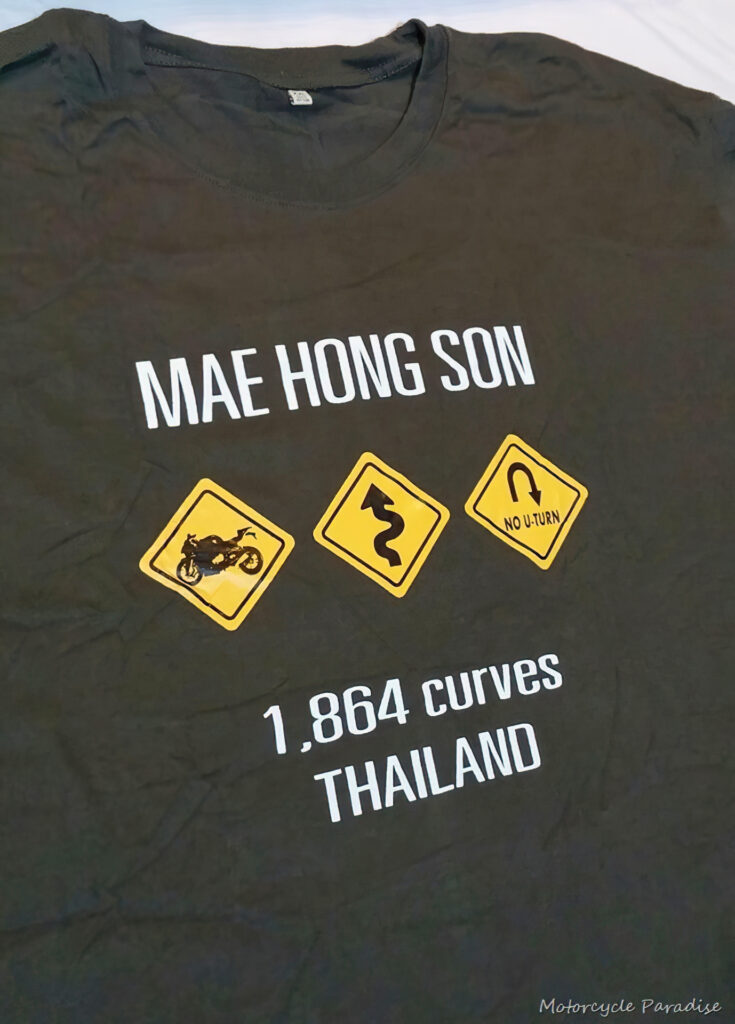 There is at least as many curves on the roads surrounding MHS as the 1864 figure claimed for the famous 108. You get fatigued riding this area from the corners, they never let up.
Part of the enjoyment when riding in SE Asia is the notion that there is less rules and you can do as you want. If you live in a police state like Australia you will feel a real sense of freedom. I no longer have the desire to ride that fast but I enjoy not having to think about the speedo just the same. Thailand has a nice balance of freedom without lawlessness.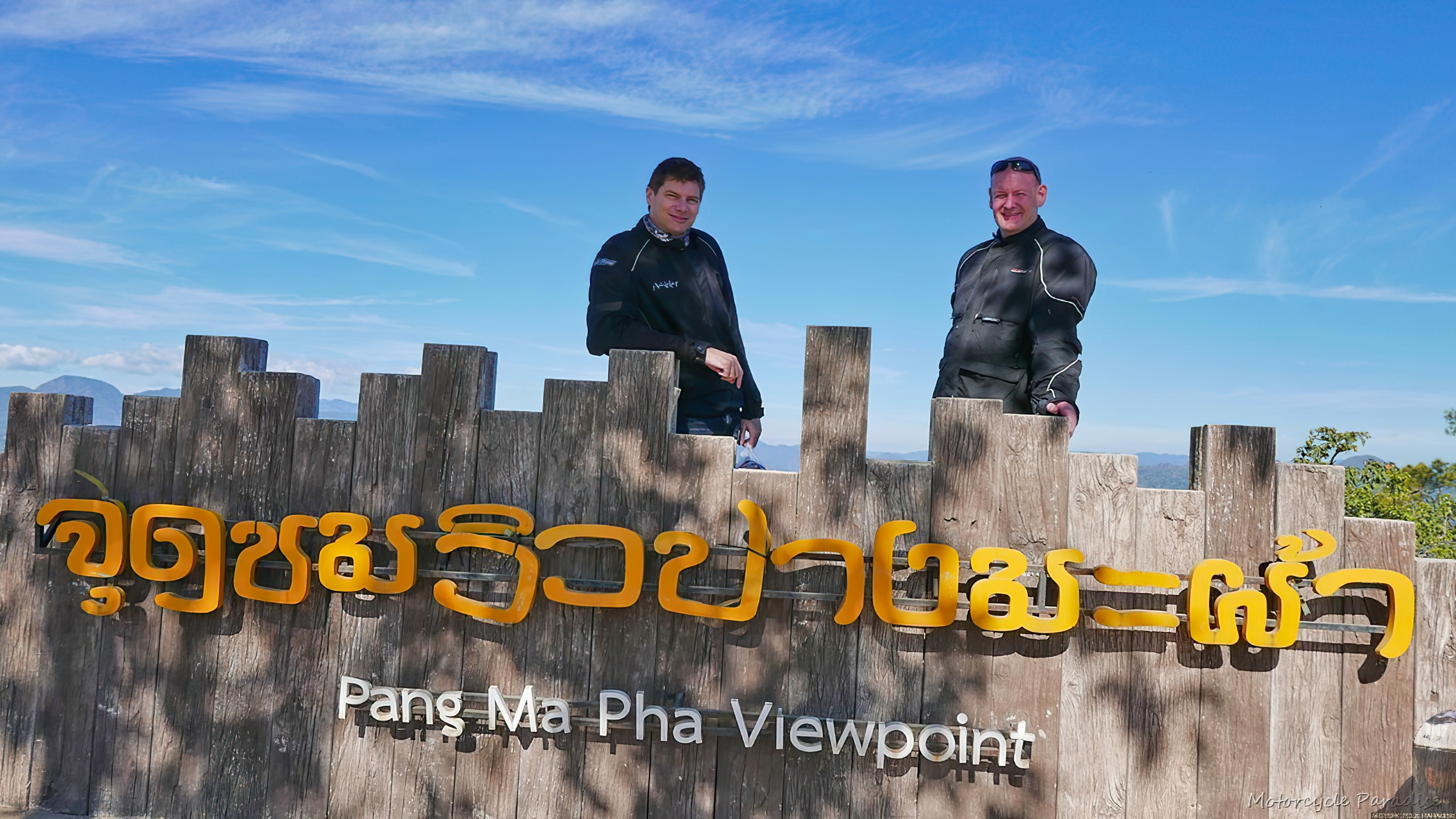 Day two heavy traffic on the road to Pai. That section of the MHS loop doesn't ride so well. Garmin maps for Thailand are very poor and it could not navigate the route I wanted via the 1001, 1150 then the 118 and instead took us north via the 107 for a good distance before the device crashed and locked up. As luck would have it the road to Chiang Rai had been freshly resurfaced and turned out to be one of the best bits of tar of the trip.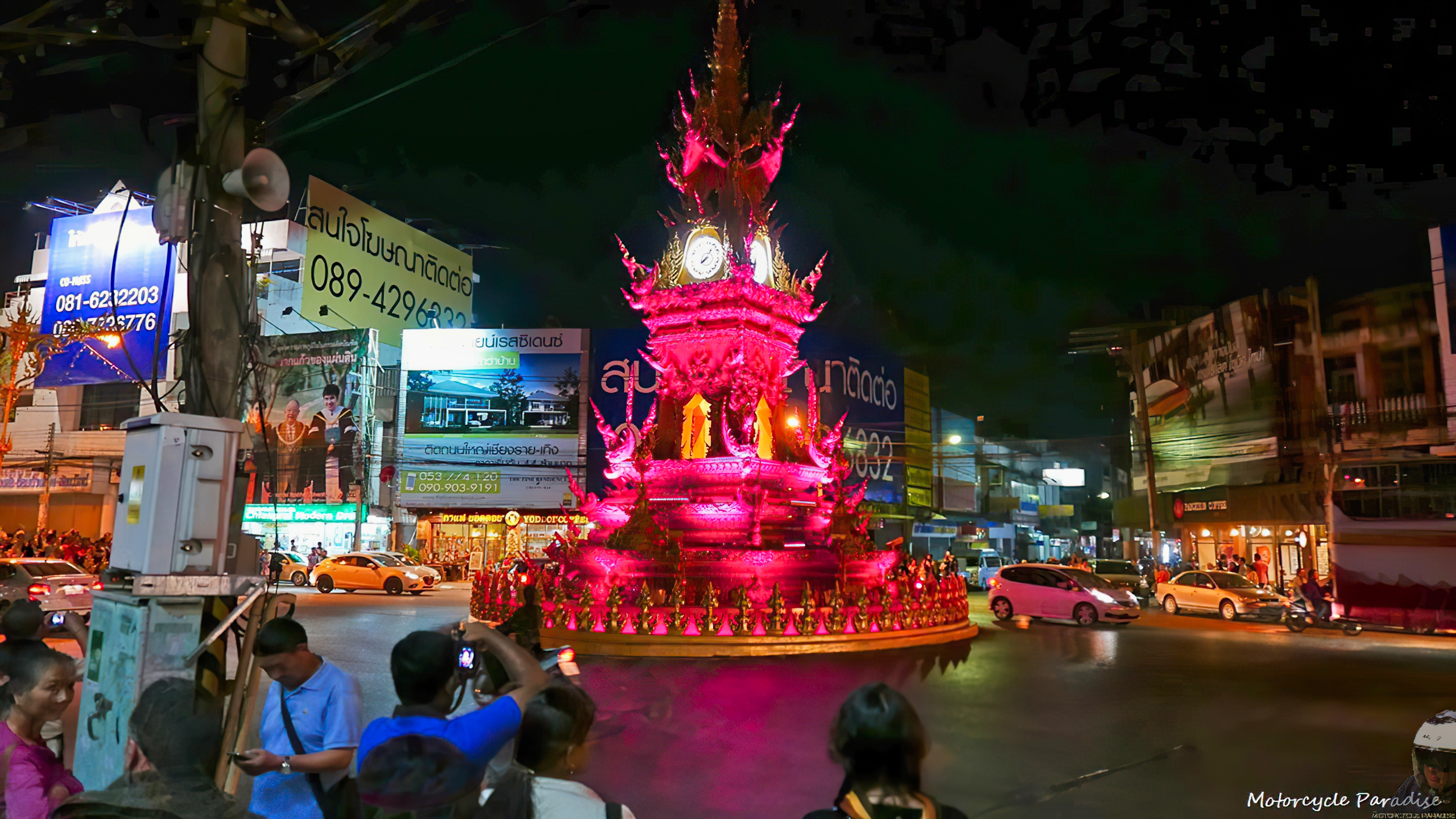 Chiang Rai clock.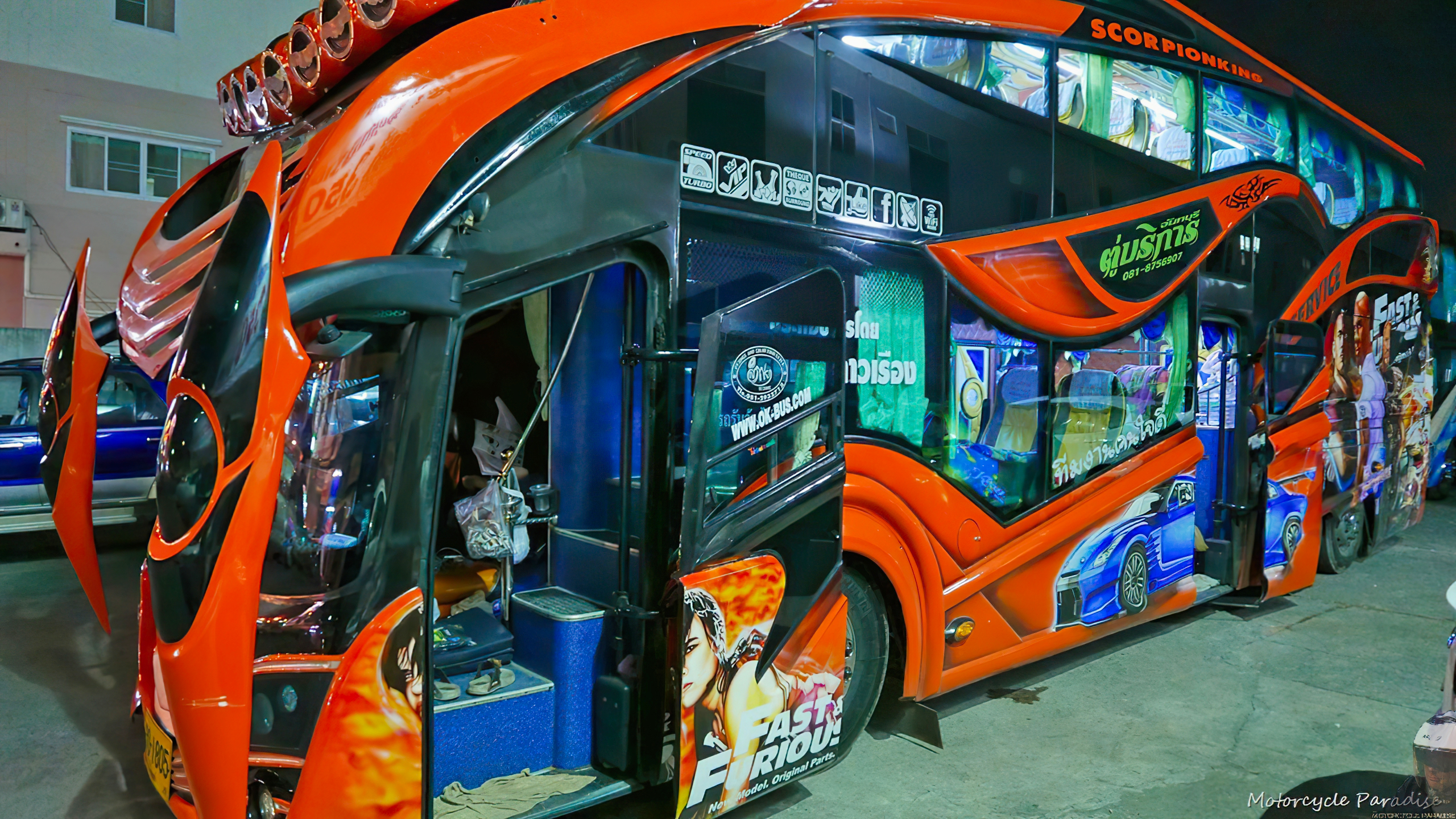 Thai buses are all elaborately customised with blinged engines out back.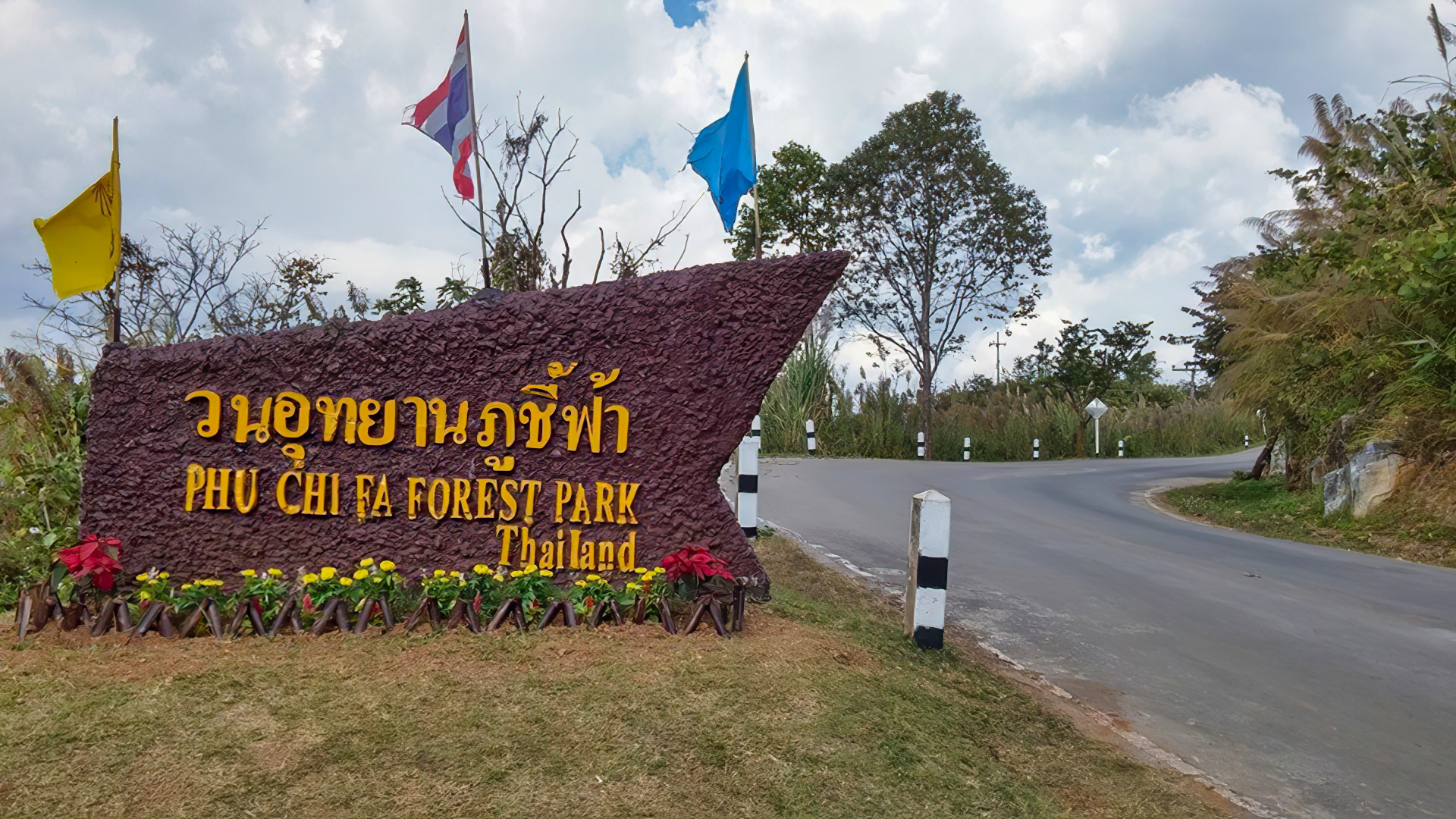 Day three and another day of fairly clear skies This was especially good news since today I wanted to visit a view point on the border with Laos at a place called Phu Chi Fa. The ride there from Chiang Rai included a lovely road sweeping through the valley before a very steep climb on the final section.
The border lookout itself was a long walk from the busy car park with no way to secure our bags we just just stayed on the Thai side which was shame. Must remember to have a small cable lock with me always in future.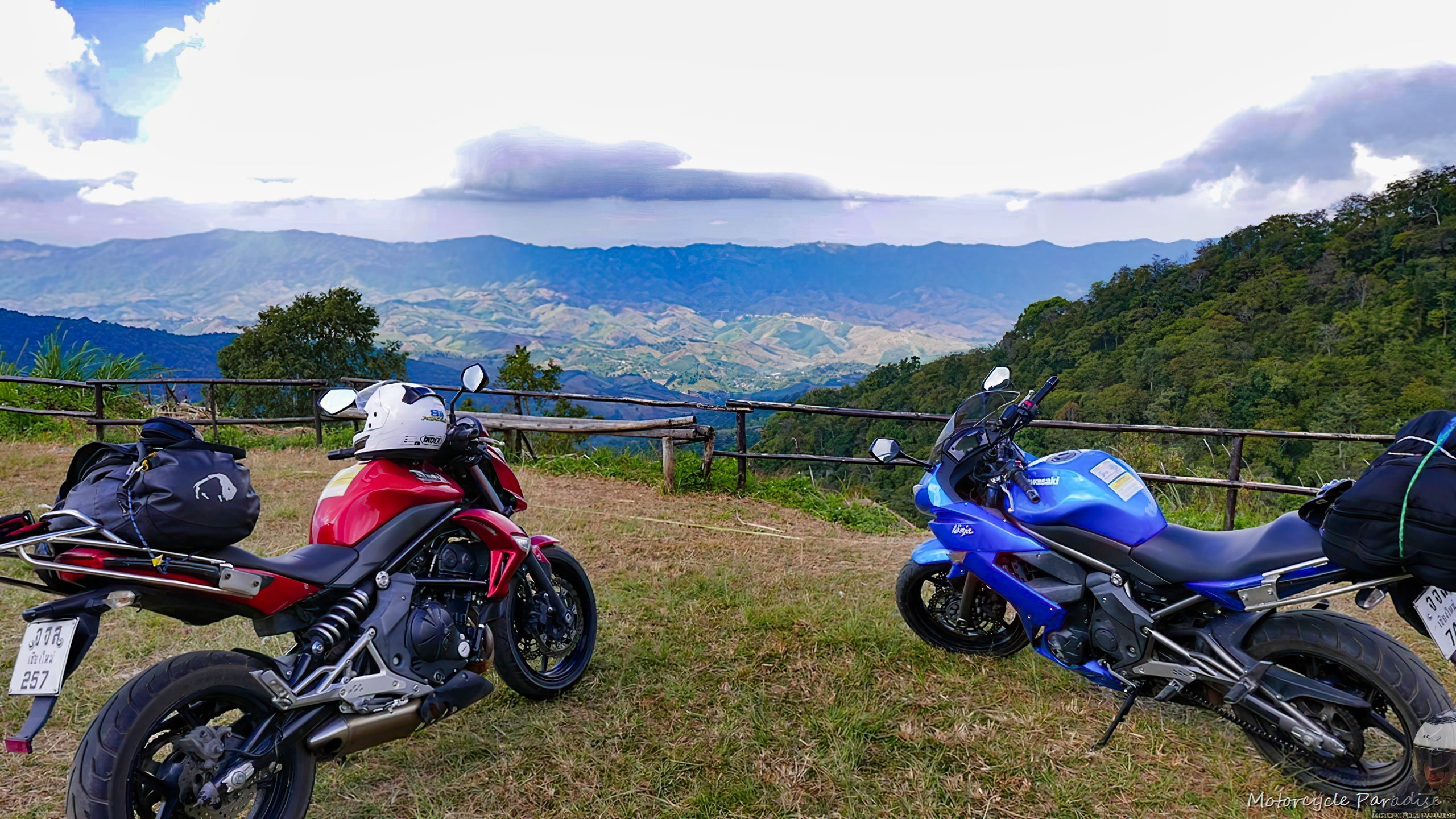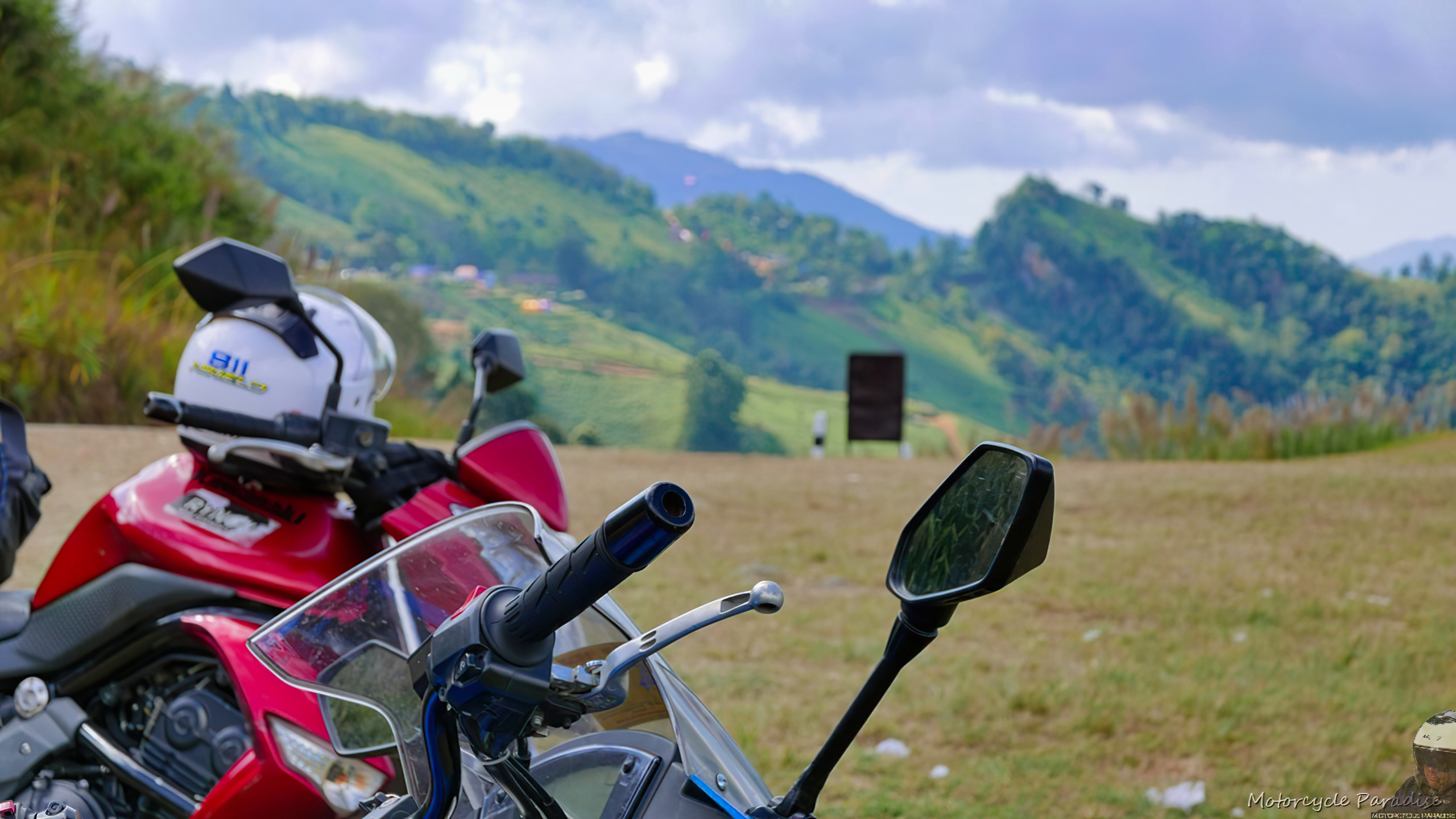 Lovely ride then along the border mountain roads.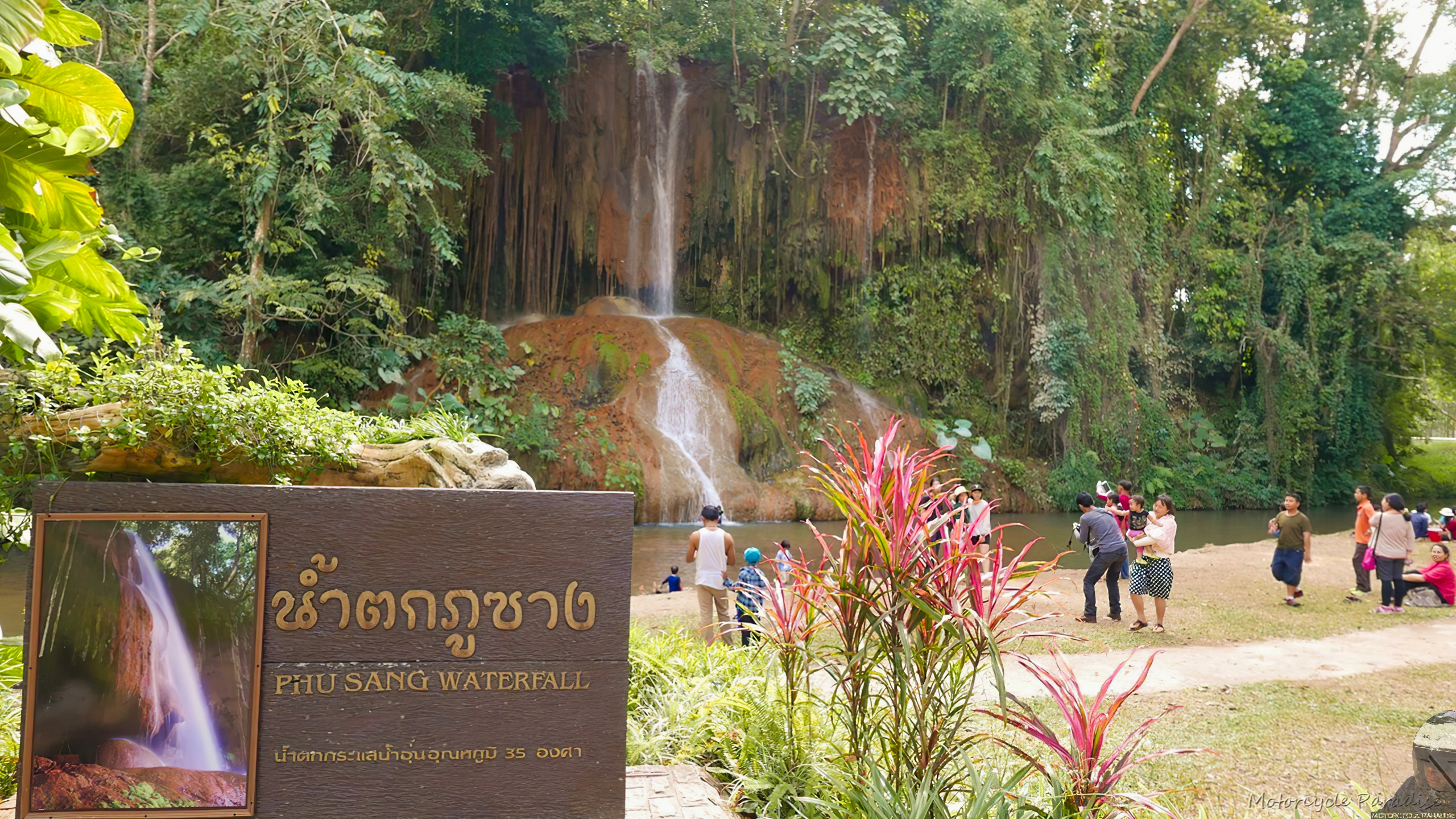 Lunch at same waterfall I stopped at previously.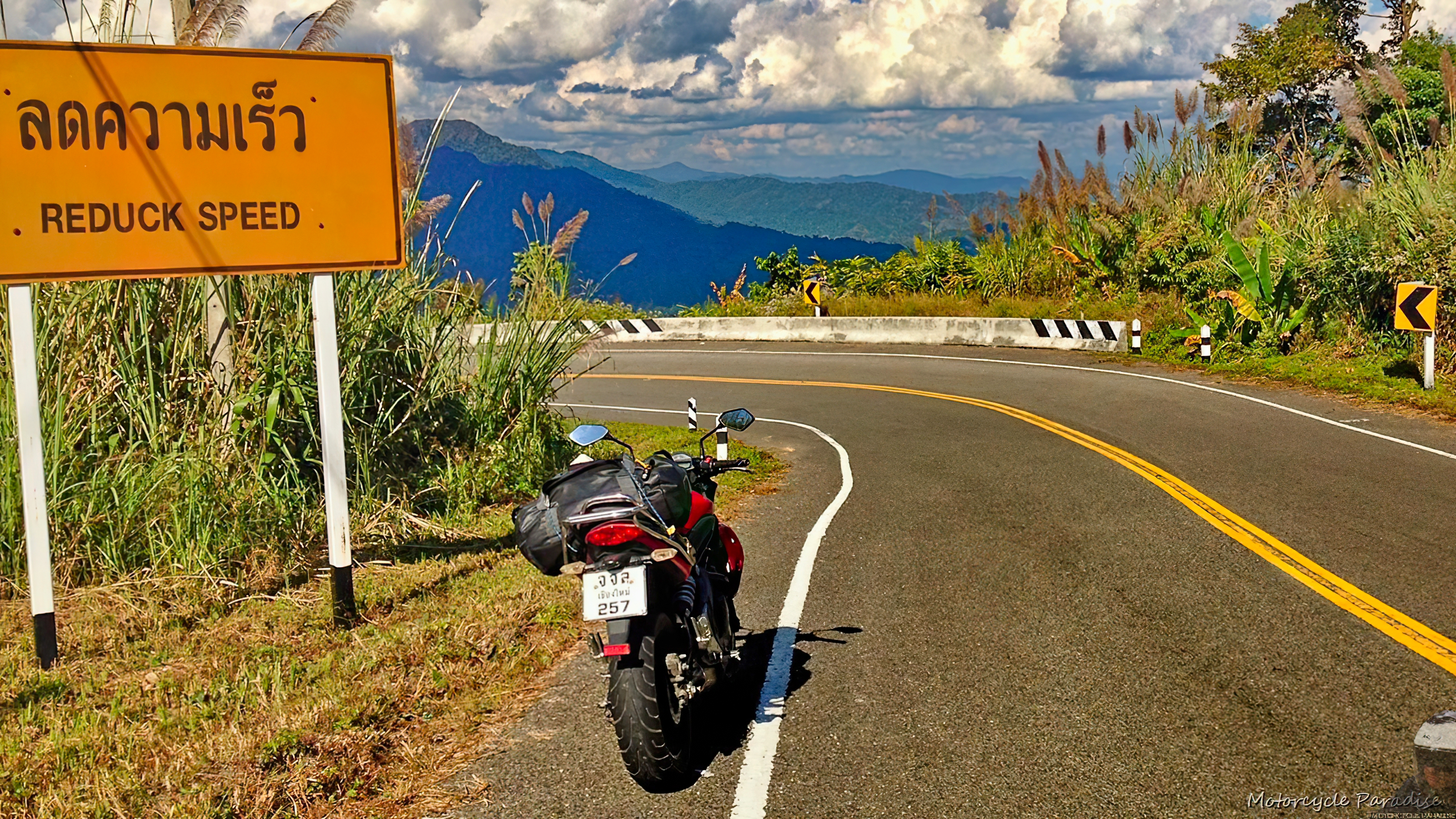 After this was the fabulous 1148. Rated the best ride in Thailand I really cannot say enough good things about this road, it is just a wonderful bit of surveying that any rider coming to Thailand should enjoy. Actually it is worth the trip there just to ride this road. Todays route.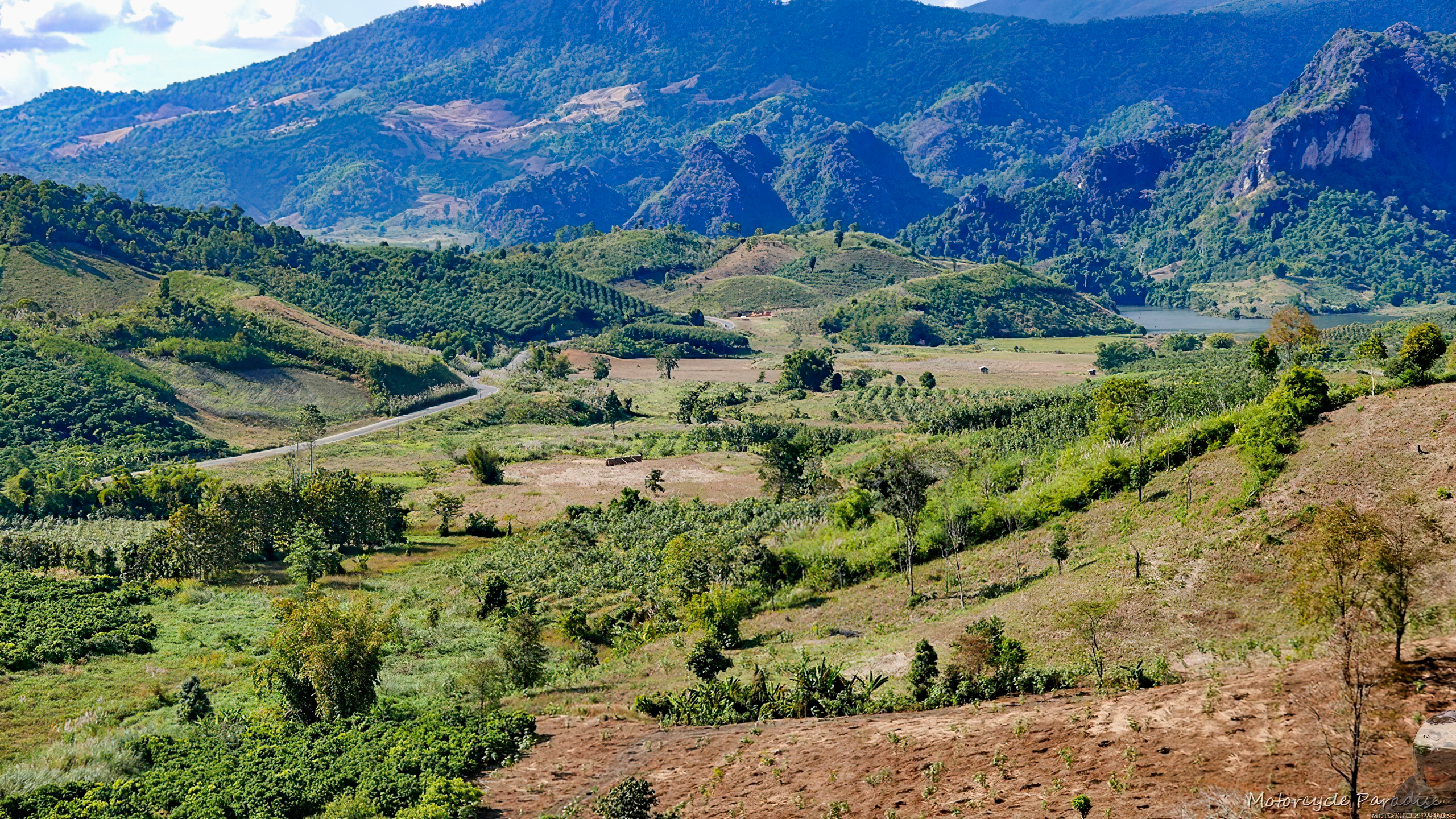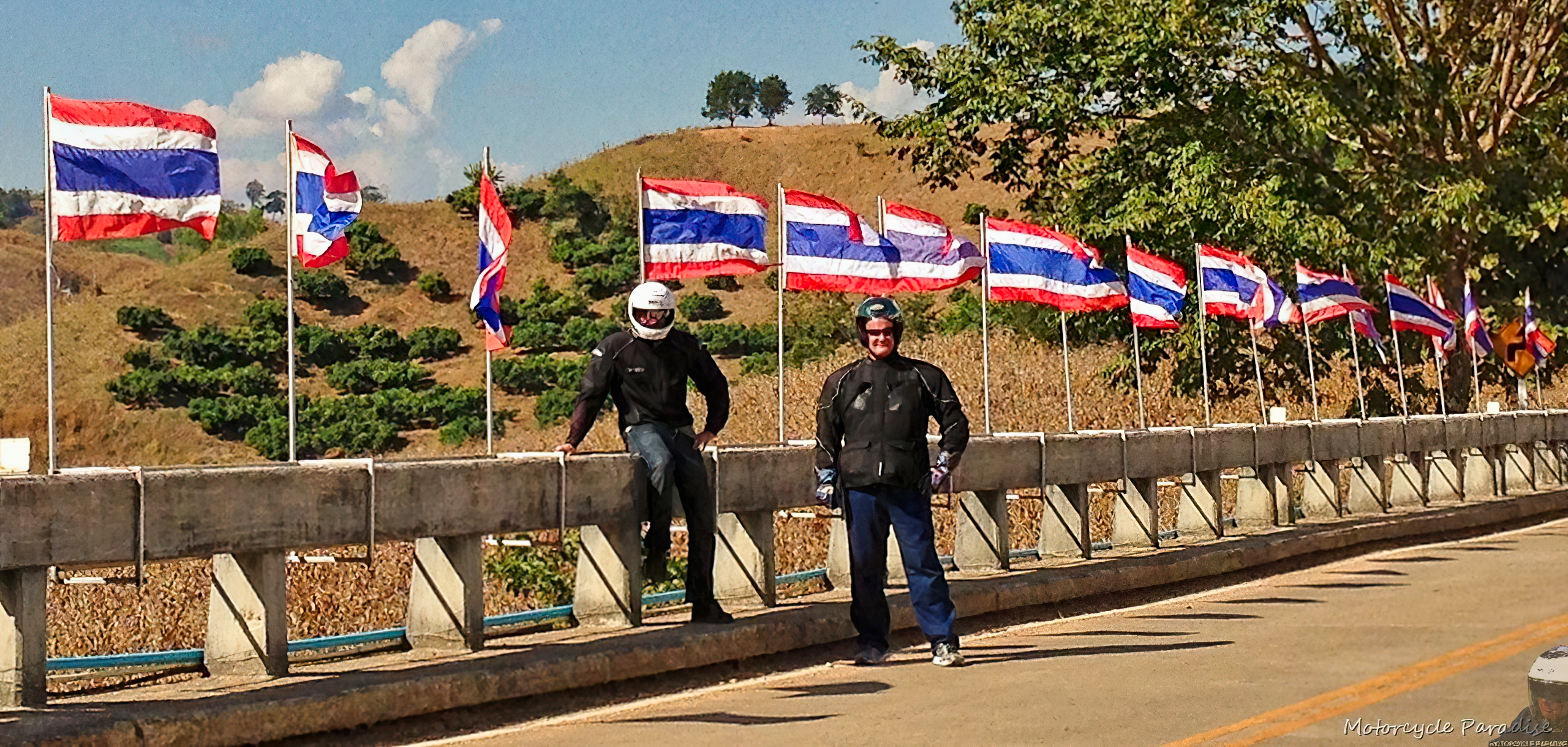 Who let these two idiots into the country.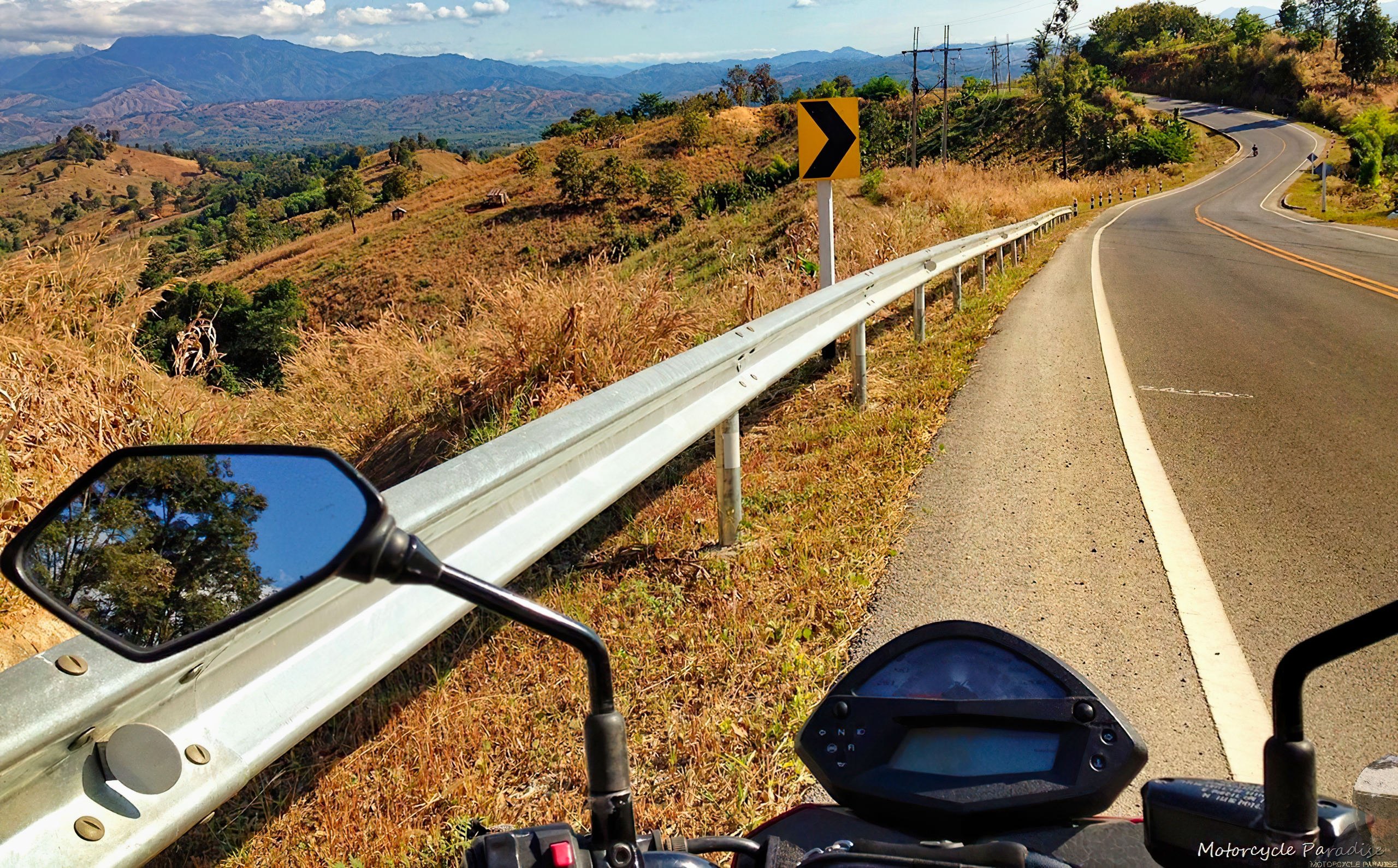 Day four was a loop ride from Nan, an easy short ride but the GPS got bamboozled again thanks to the poor map and so we did not complete it exactly as planned but had a nice ride on the 1081.
Great day of riding but not without incident. The photo below was taken moments before my bike fell off it's stand. My own fault. Lesson leant to make double sure bike is securely parked. Fortunately the fall was onto one of the roadside concrete posts which stopped damage to the usual external parts but did put a big dent in the tank.
I fretted about what the damage bill would run to as the insurance that was provided had a high excess but in the end it was only a couple of hundred dollars and they did not charge us extra for late return which I thought was reasonable. Todays route.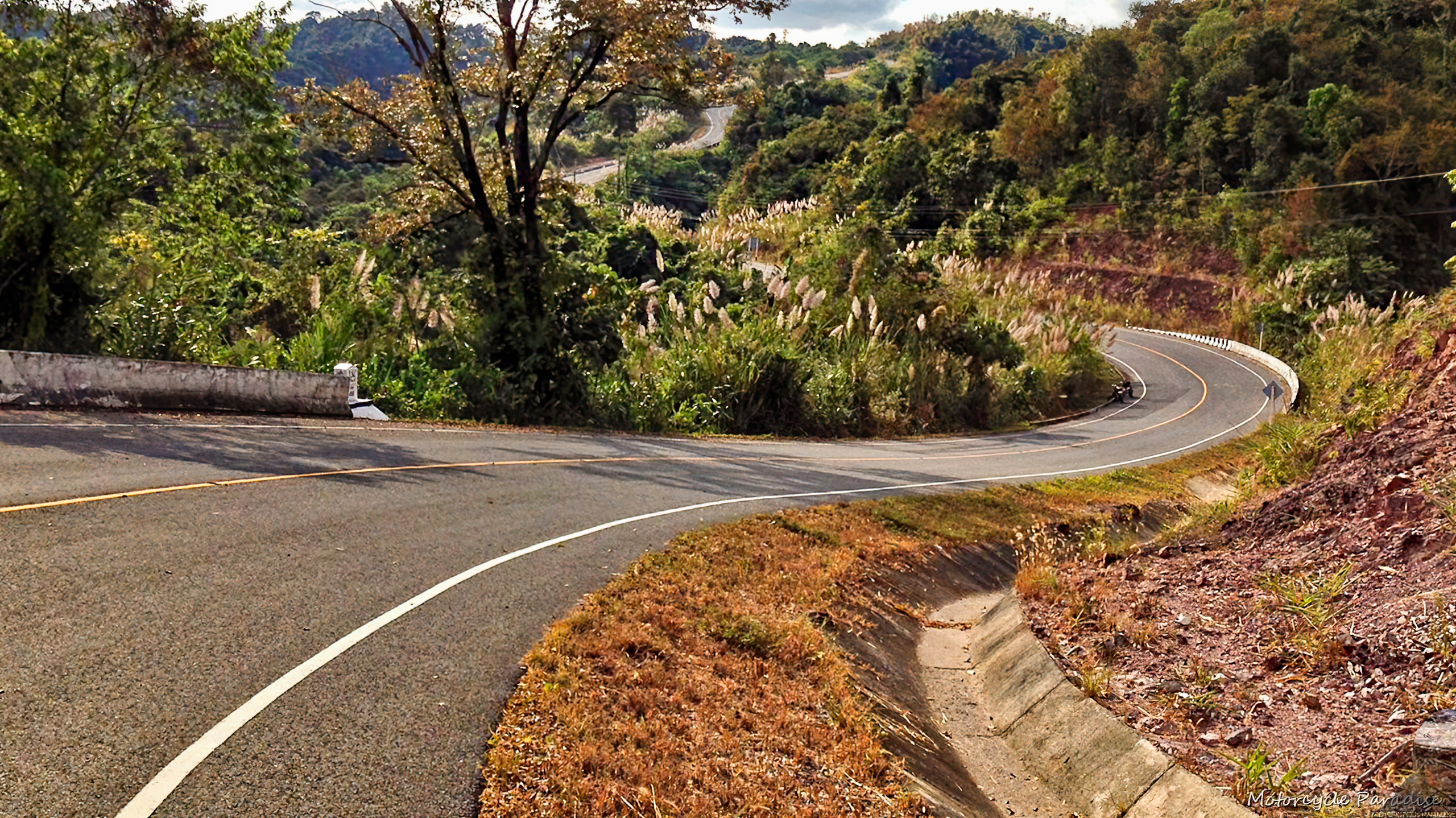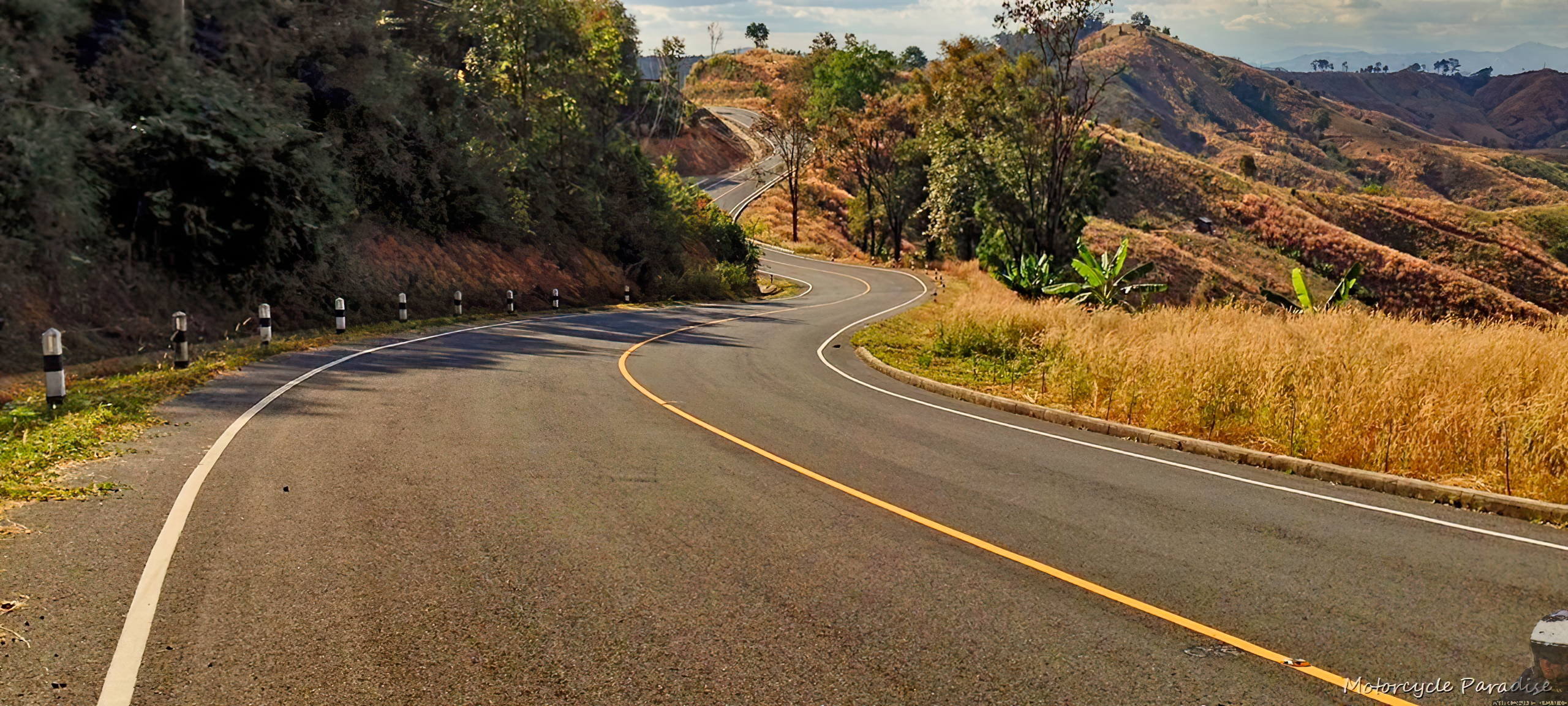 Got woken up early and had to bring bike inside the Nan hotel due to some sort of odd/even parking restrictions being introduced. Seemed silly as everyone was double parked regardless.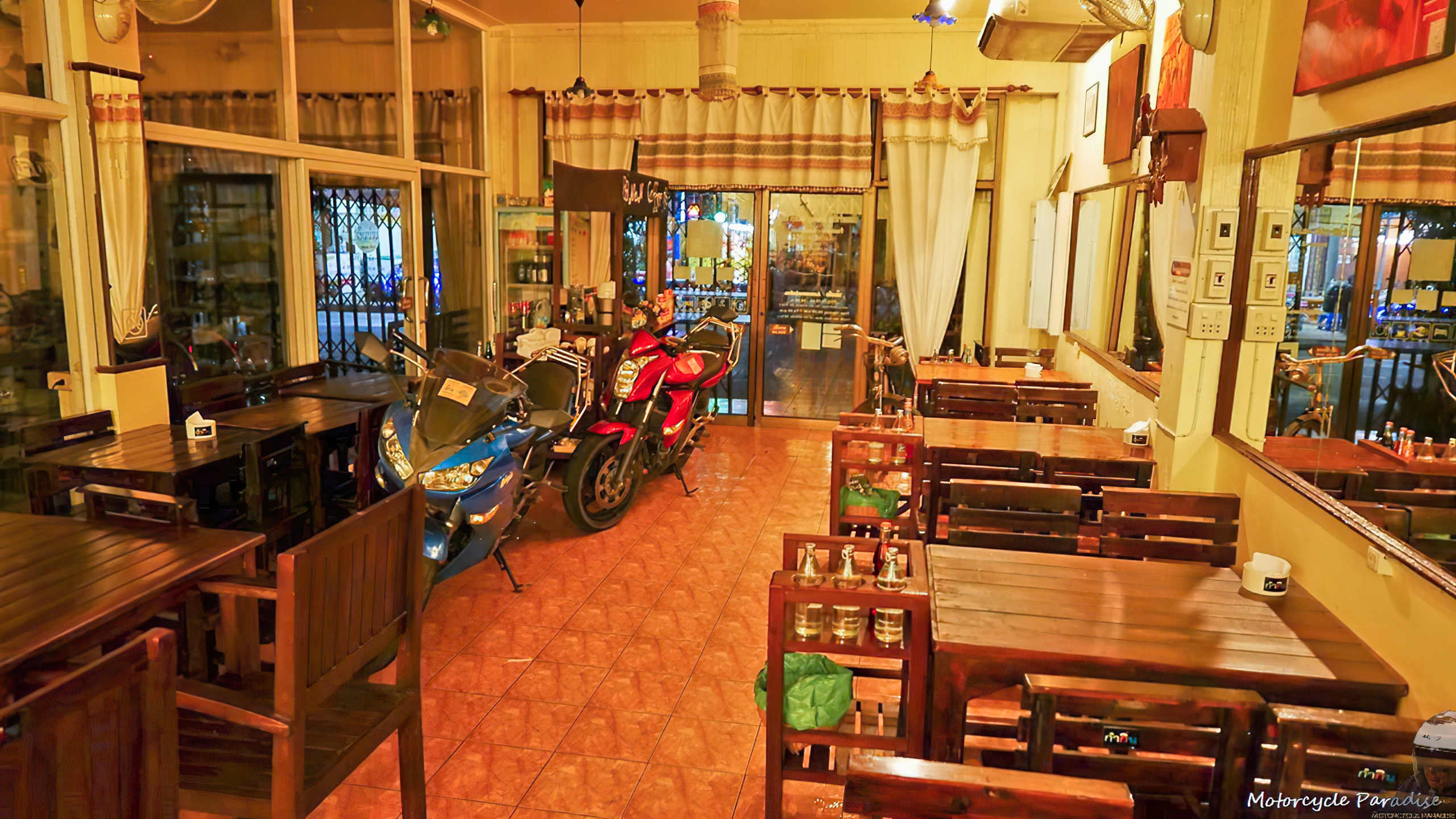 Last day and again I had planned a route that was a variation on my previous rides. Leaving Nan we had good weather and great riding but as we progressed there was some rain clouds on the horizon and the route I had planned would have seen us most likely getting wet so we opted to make a few changes, it was still a superb ride.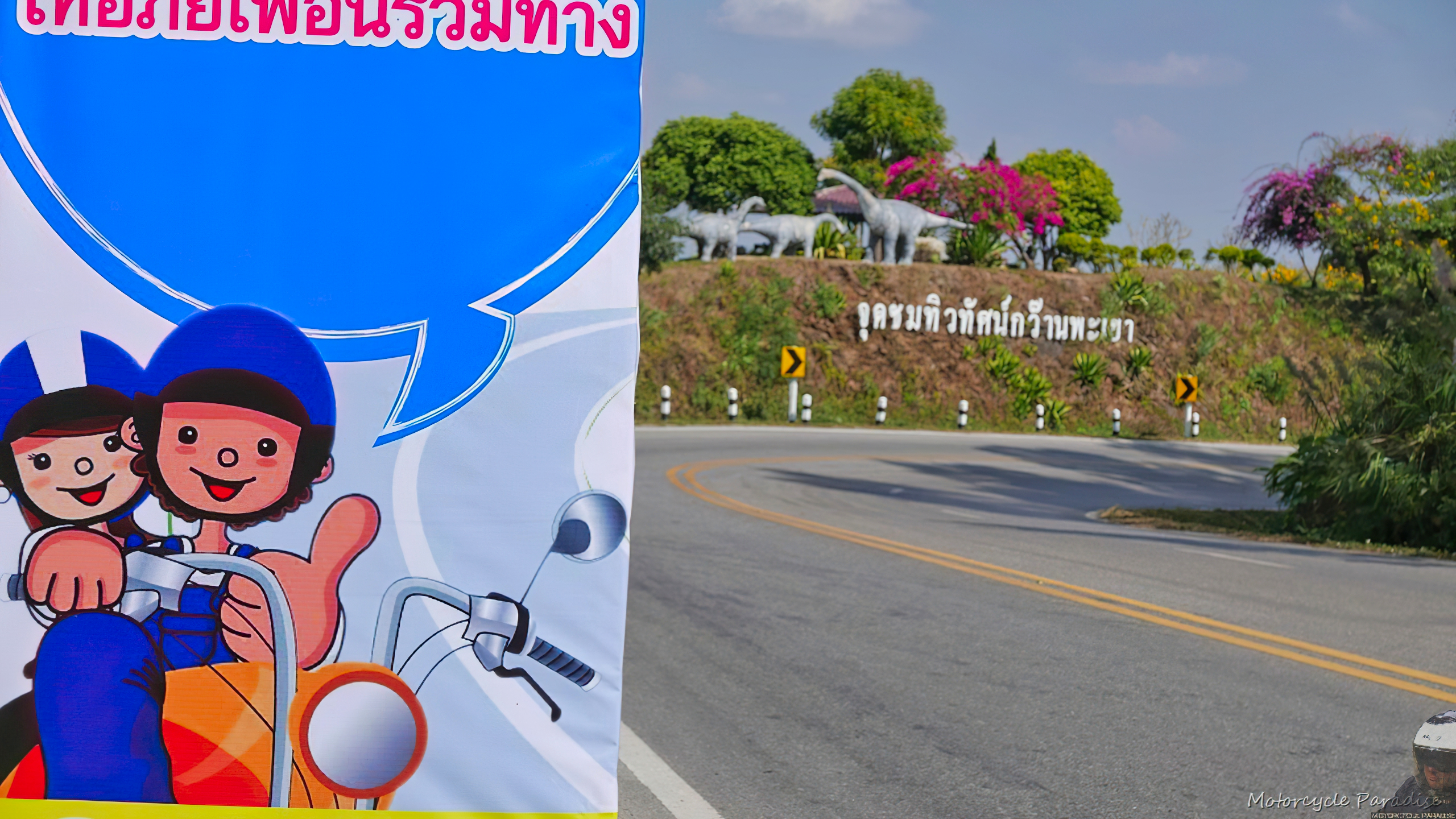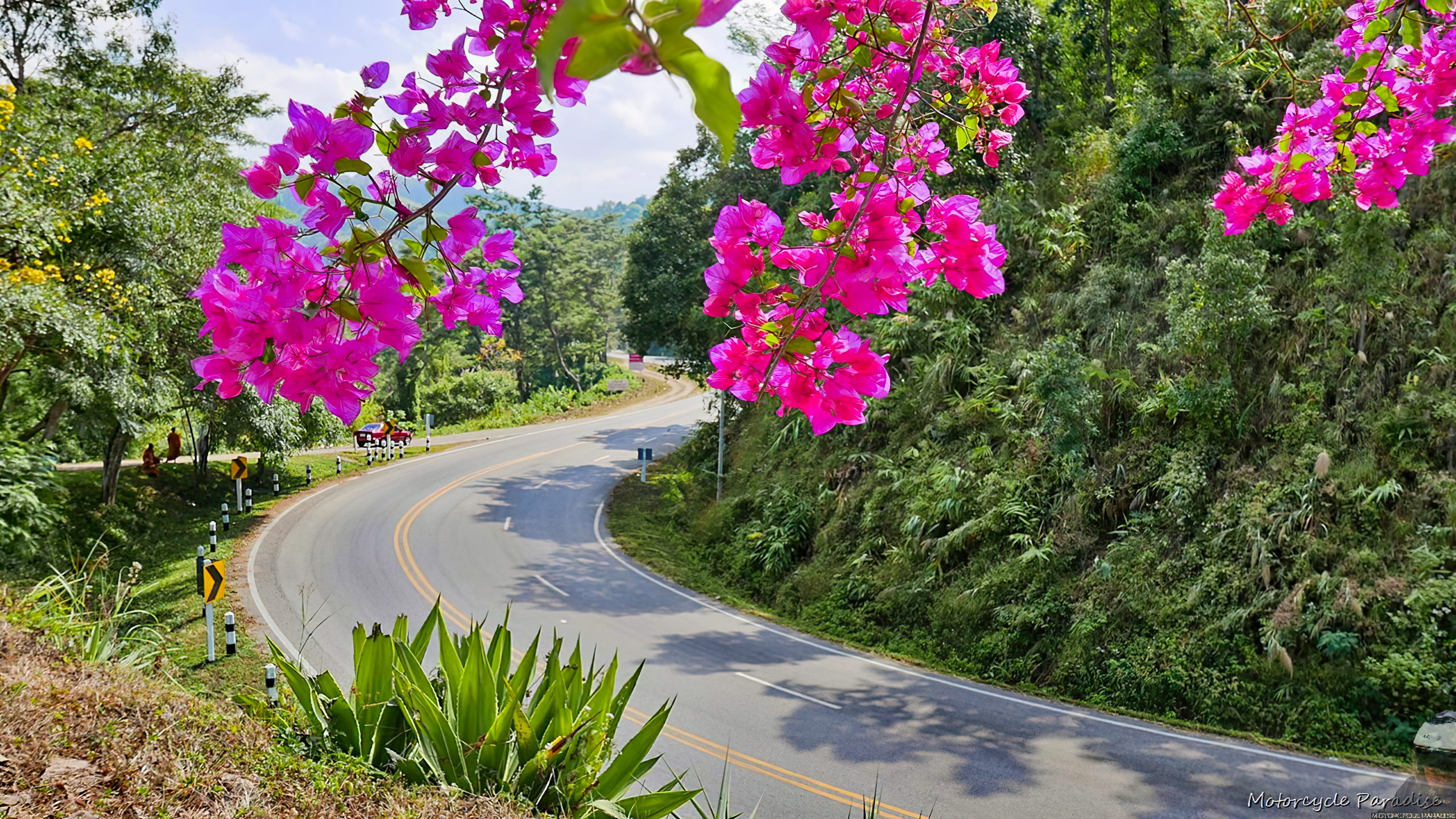 Despite revisiting many of the roads from my first ride here (so my mate could enjoy riding them) this tour felt very different. My GPS was not working much so he was lead rider with his Thai wife as passenger navigating and they set a very high pace, much faster than I usually ride.
Thai roads don't use coarse chip seal and have smooth surface causing the bike to slide around which usually makes me slow right down but following my mate forced me to get used to that loose feeling and I enjoyed the actual riding this time with less focus on photography. In future I would ride much less distance per day and take in more sights.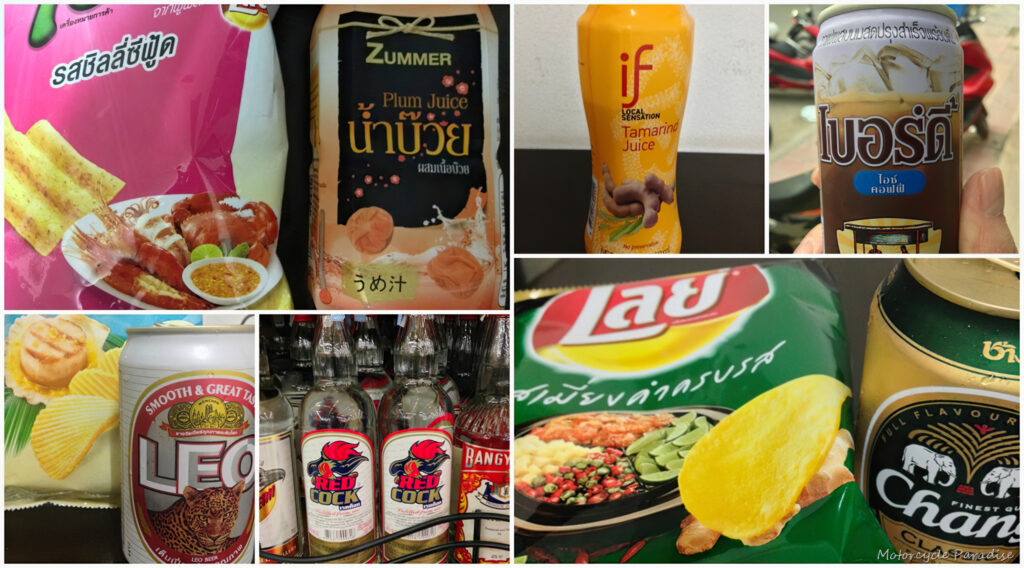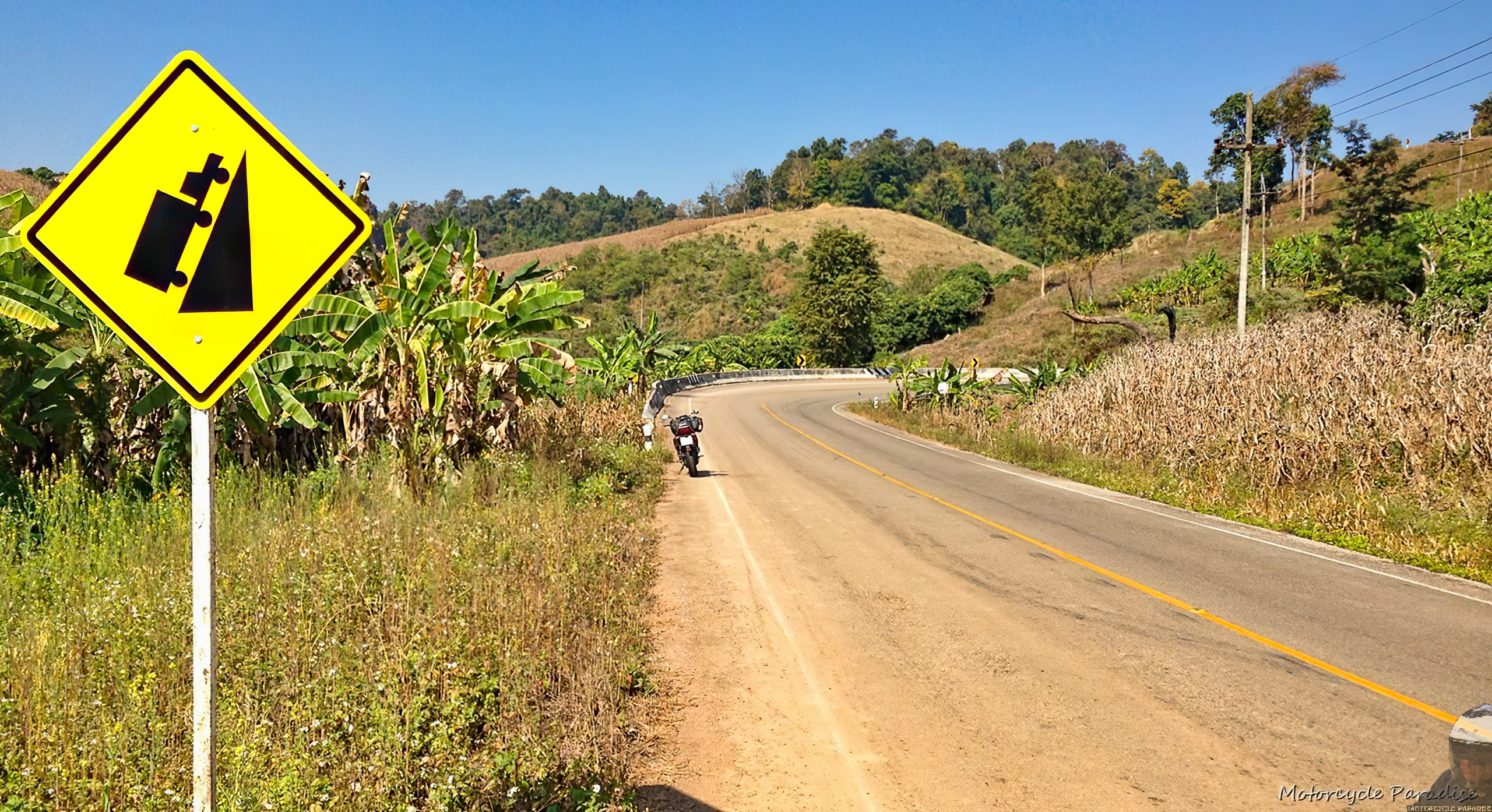 Follow up; This was a good ride but an odd tour. My mates Thai wife was very rude to me. Off the bike in evenings I mostly ended up eating and drinking alone, even lunch stops she would try to exclude me in various ways from eating with my mate. I don't recall us having a beer the whole trip and did not understand what was going on. I was disappointed with how things panned out and have avoided subsequent opportunities to catch up with him when she was involved.
Photos updated 2021. See my more recent rides in Thailand for more info, better photos and smarter routes.