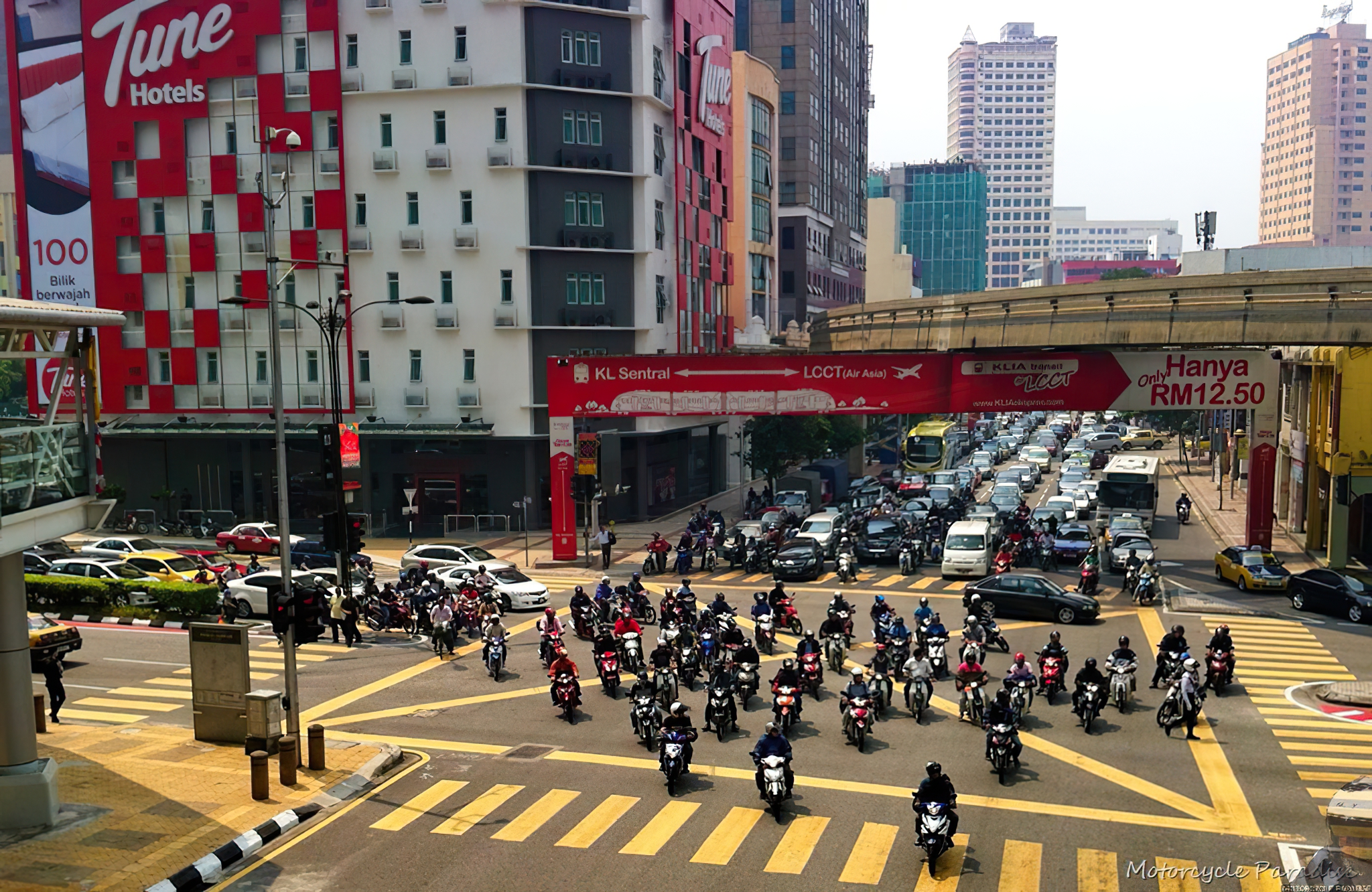 I have just returned from my second motorcycle ride in Malaysia. This latest trip was a bit impromptu, deciding just a week or so before to go somewhere and Malaysia came straight to mind. I flew direct to Kuala Lumpur from Australia with Air Asia.
(2021 note – sorry the image quality is low just iPhone 4 and this was back when I still used to take lots of road photos rather than more interesting things)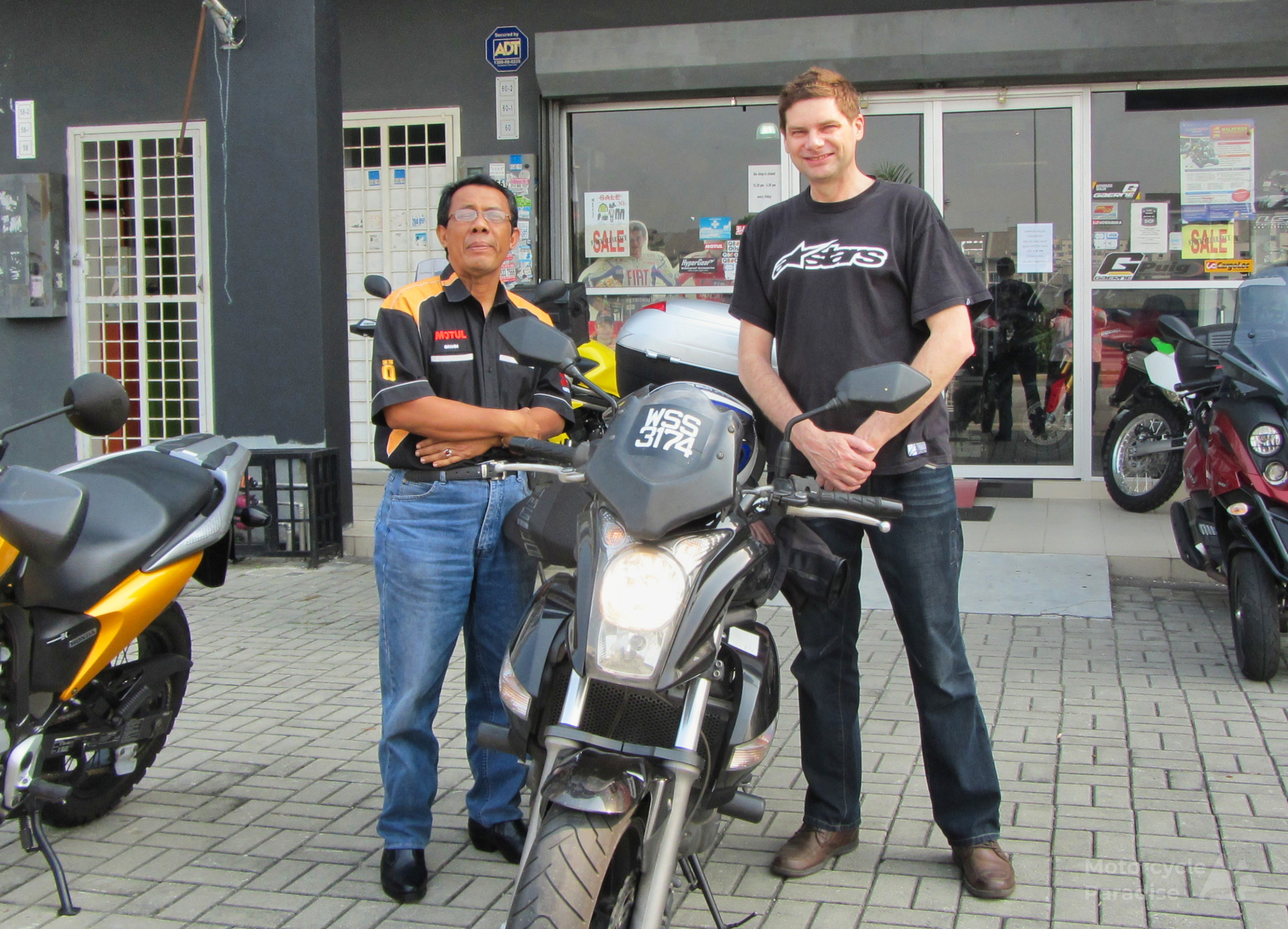 Yes you can rent a full size bike in Malaysia and the place to go is The Big Bike Shop in Puchong. To get to the shop I took the KLIA Transit train to Putrajaya then a taxi. I brought a Google map print out with me yet the taxi counter at the station still over charged me and taxi drive had no idea how to get there. Eventually we set off and fortunately along the way I sighted the shop. (note – no longer able to rent from this shop)
I rented a Kawasaki ER6N for this trip. A big thanks to the guys at The Big Bike Shop for looking after me. That's the boss Mr Ibrahim Bin Abdul Samad above with me who is a top bloke.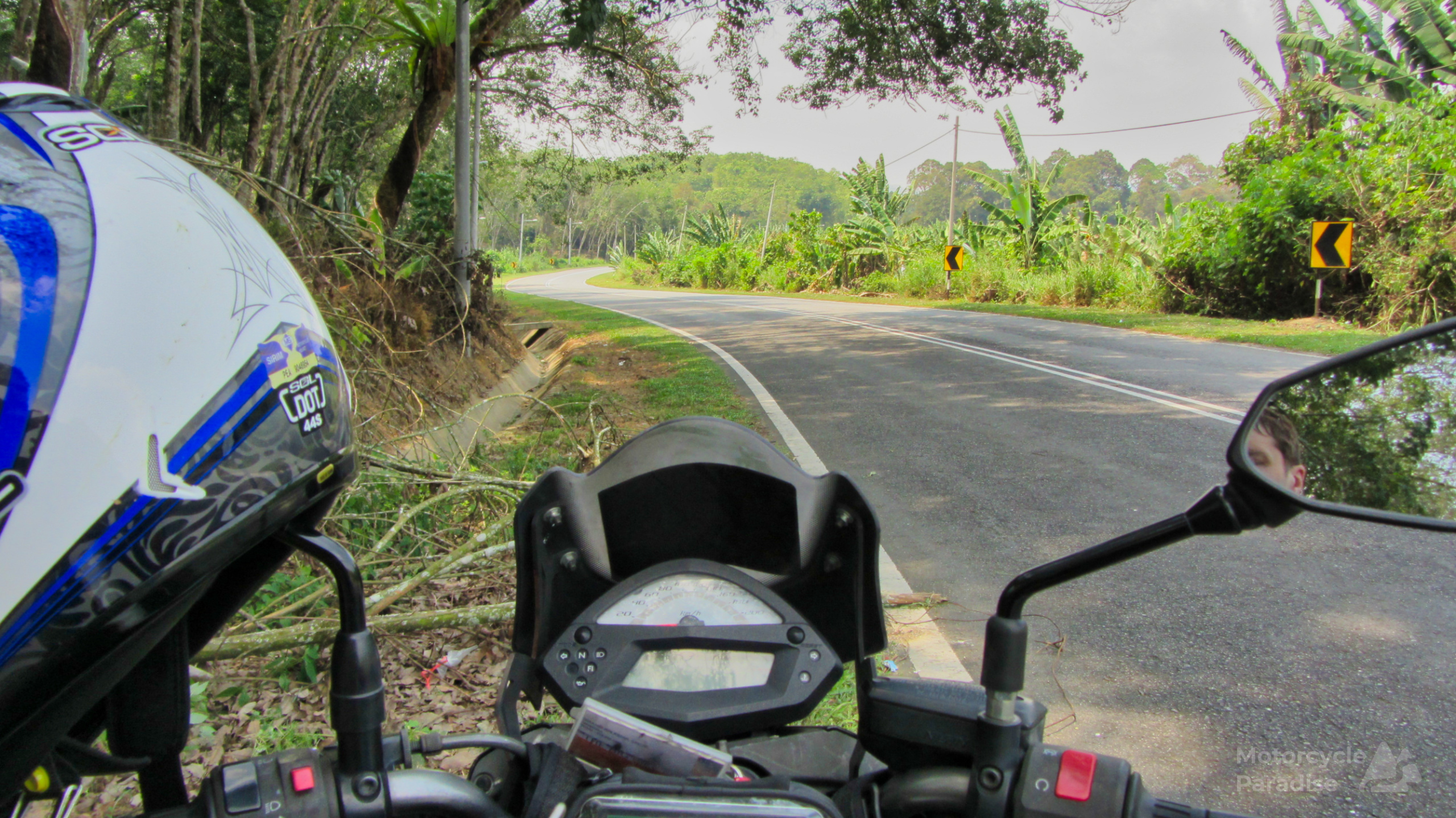 Leaving Puchong I rode East as I was thinking not to ride through Kuala Lumpur city. My chosen route was East on rural roads B19 and B32 however the B19 road had collapsed down the hillside into the lake and the GPS was unable to calculate a detour so I headed off on what turned out to be about a 90km detour but the roads where quite enjoyable. Had to stop and hydrate a few times as it was super muggy.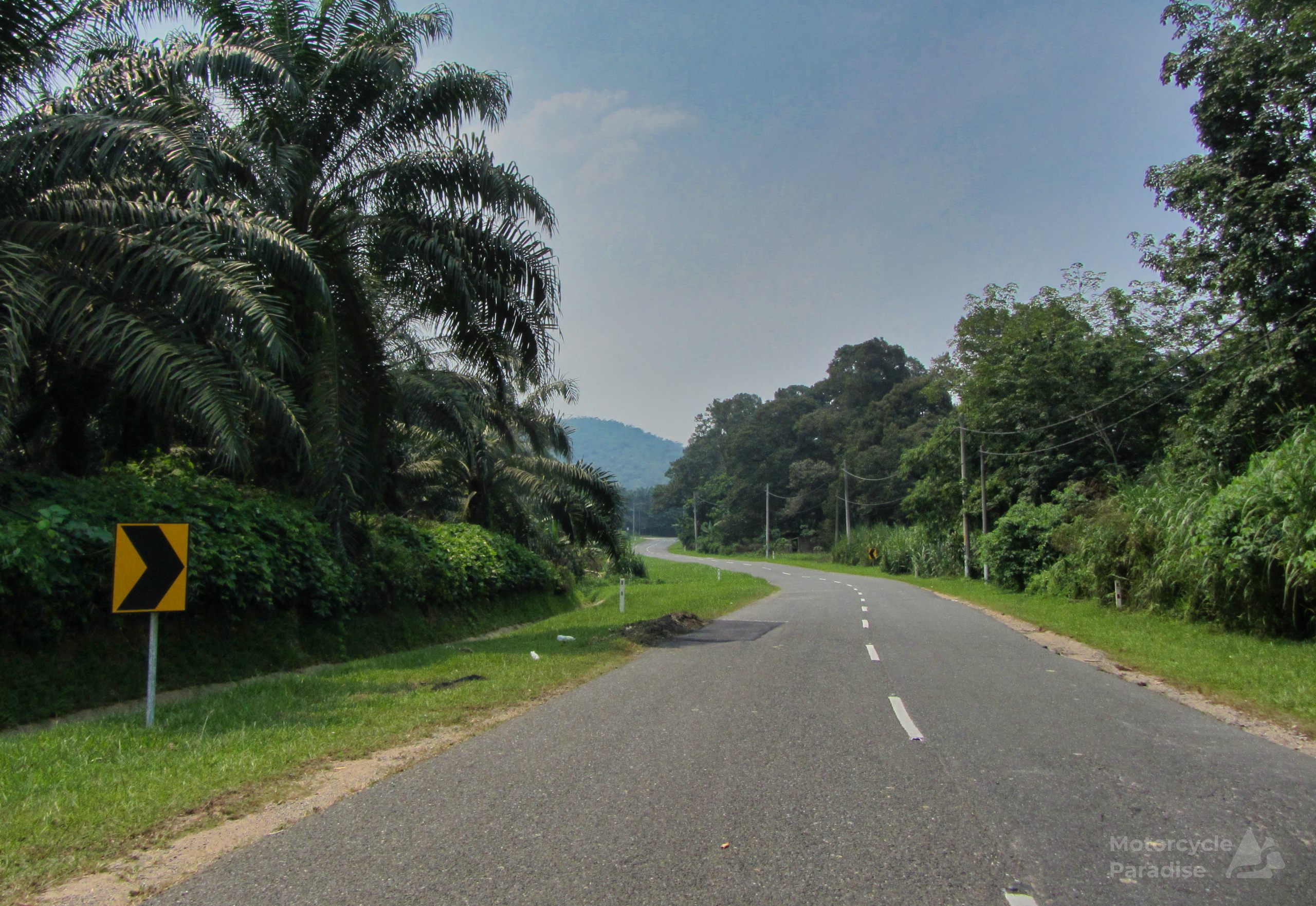 Route 9 heading north.
I rode to Karak and back along the Karak highway and turned off towards Genting Highlands.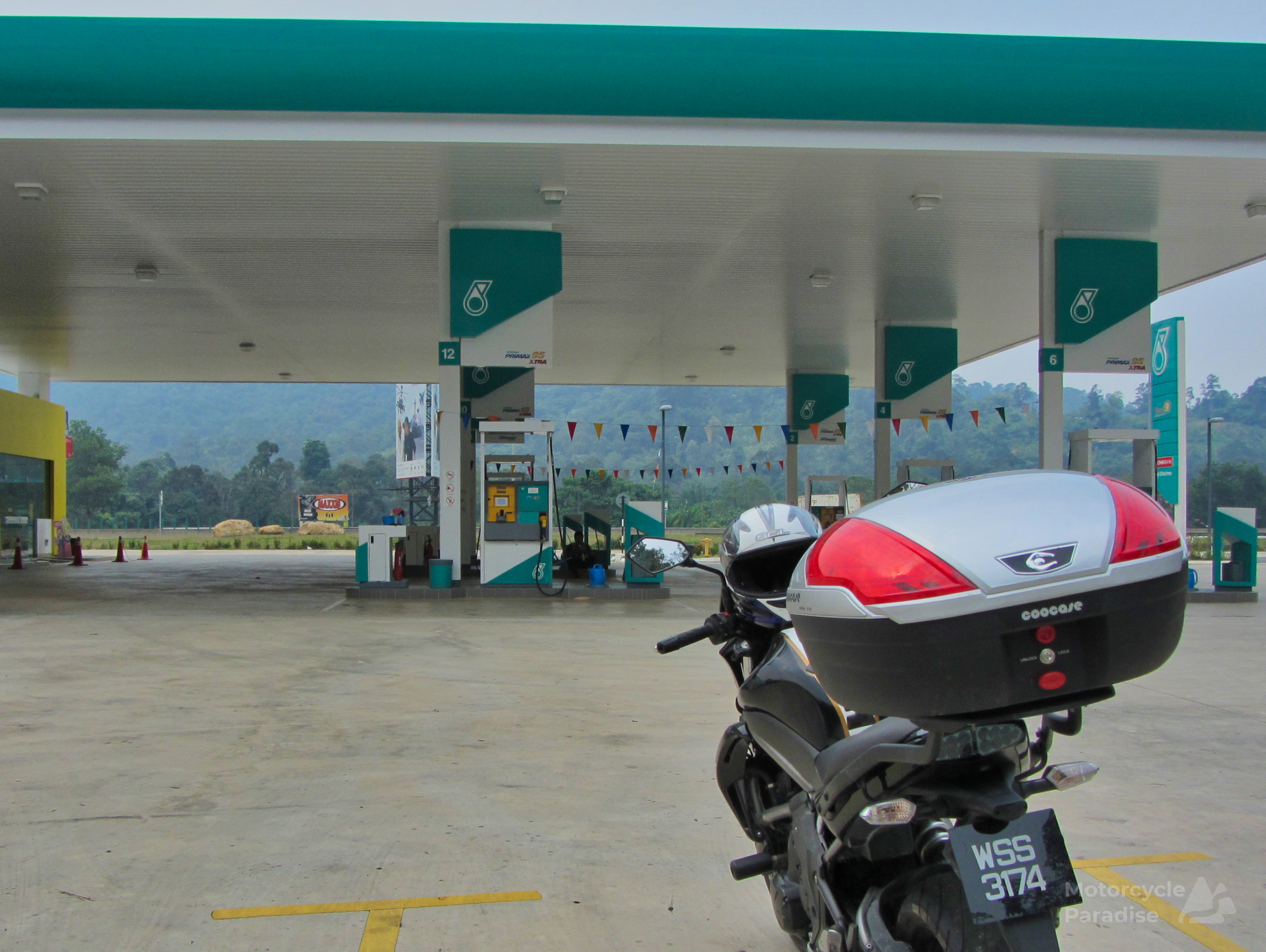 You have to pay in advance for fuel here. Only country other than USA I have encountered this.
With the sun starting to dip I made my way up the Western climb to Bukit Frazer. This is another superb selection of twisty corners as you climb back up another high mountain. Bukit Frazer is a quiet mountain retreat somewhat in decay and I was one of just a handful of visitors.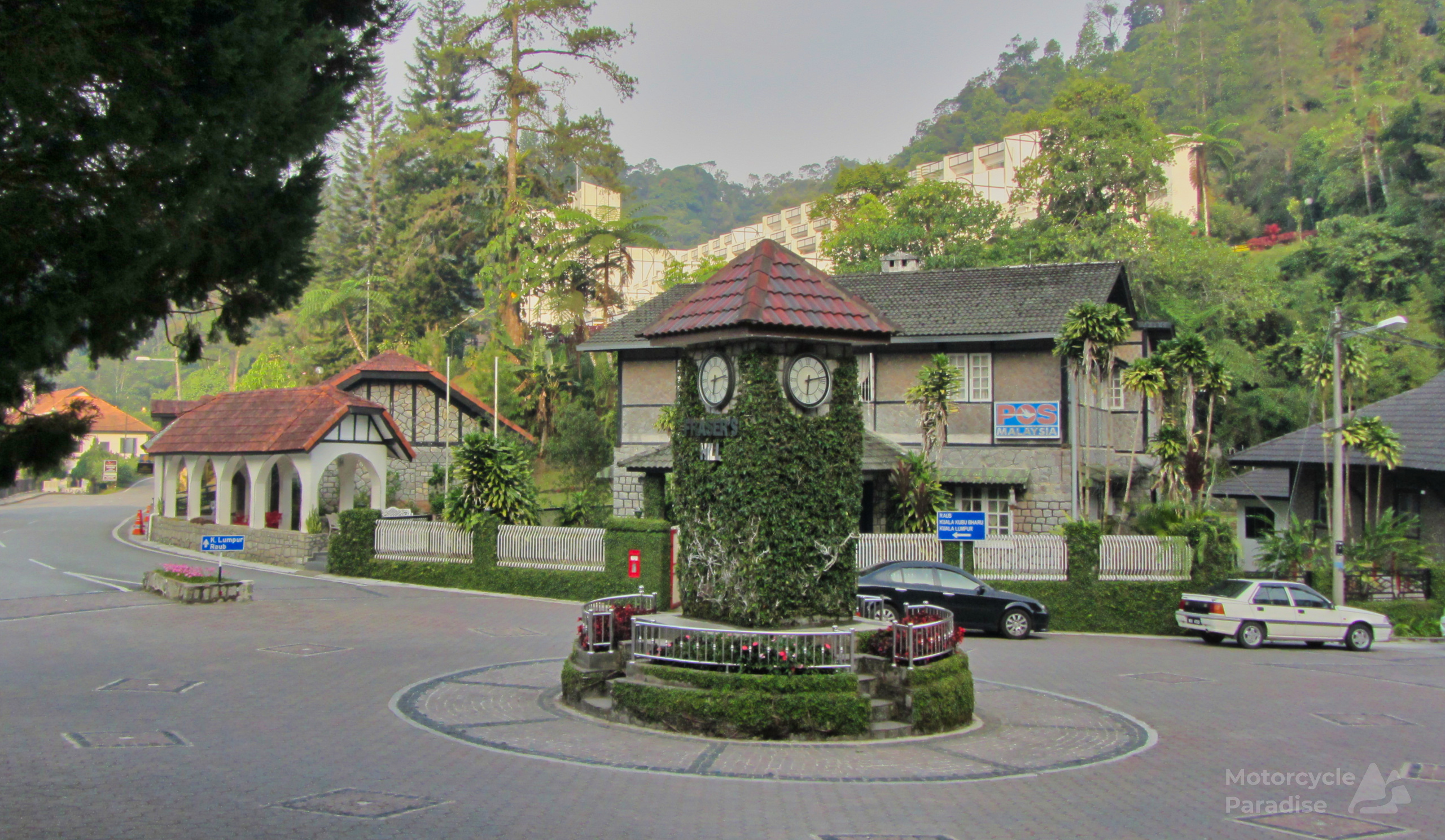 Last time I stayed at the relaxing Shahzan Inn (the building in the background above) but this time went for the cheaper Puncak Inn which I regretted as room was not comfortable.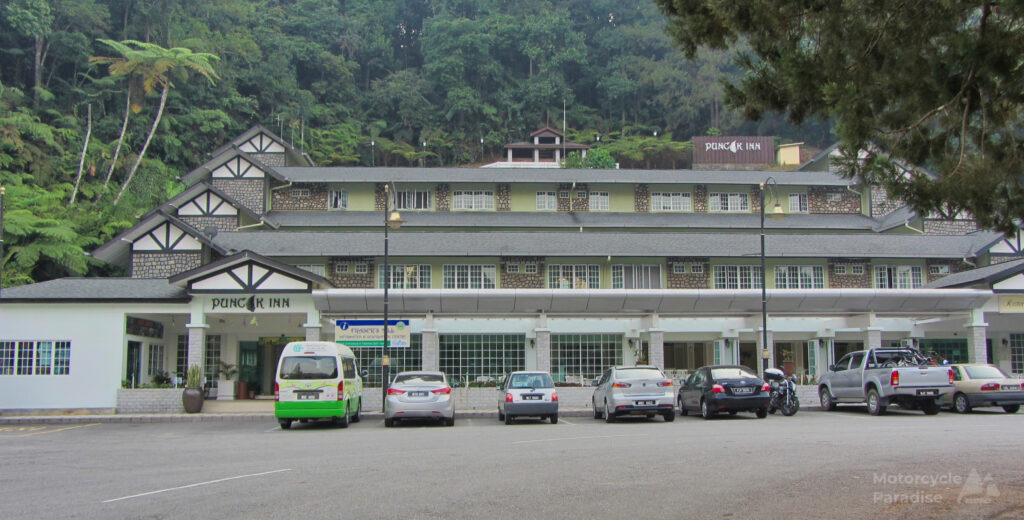 After a poor sleep at the noisy Air Asia Tune hotel in KL and a short nap on the overnight flight from Gold Coast I was feeling rather fatigued the next day leaving, which is never a good thing on a motorcycle.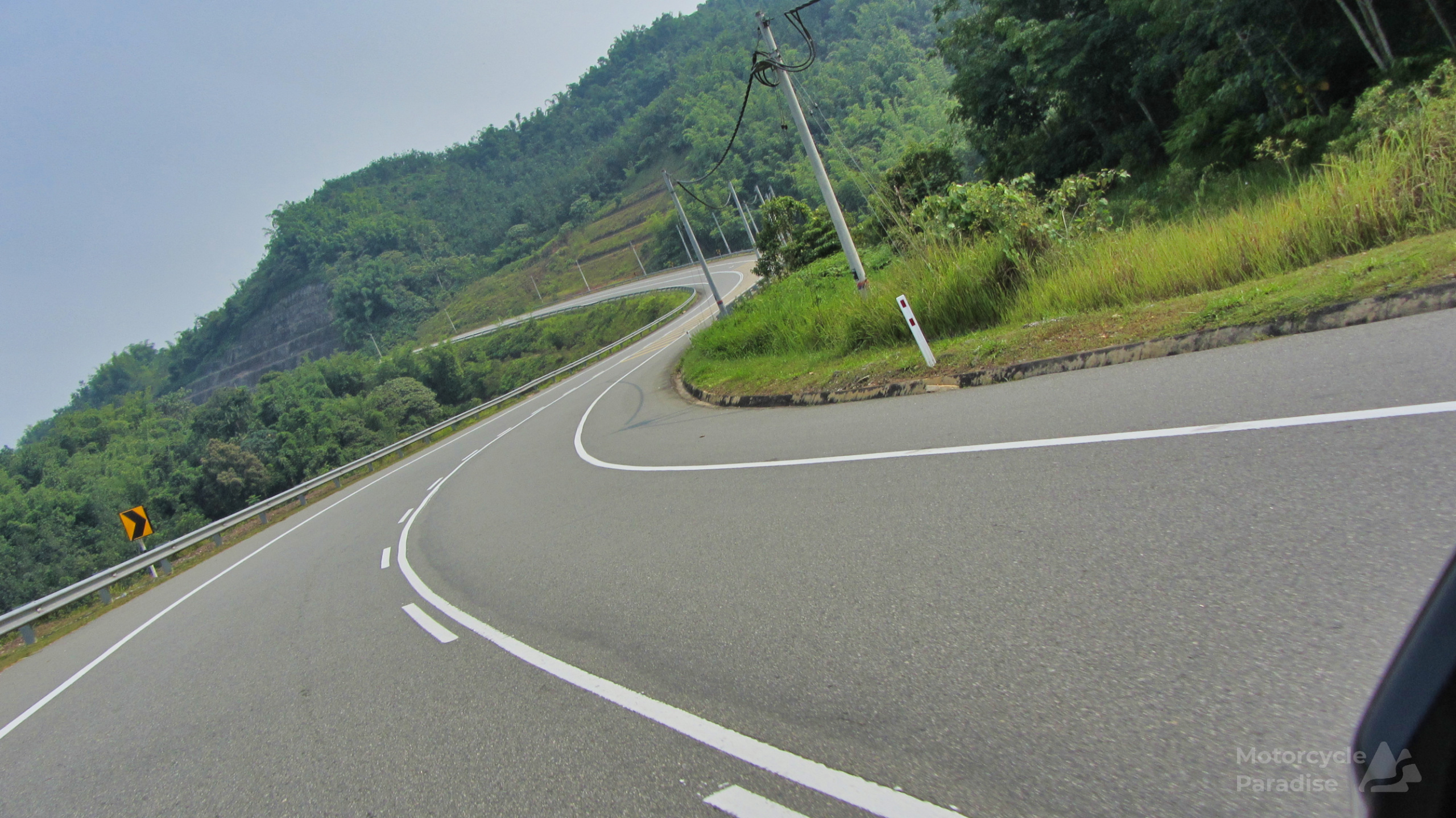 Riding east and down from Bukit Frazer the next day I was the only vehicle on the roads for a long way and it was nice to stop and take in the morning. Next I headed north to revisit what was my favourite road from last time the C156 and again it was wonderful. I was given a compact Canon camera recently so took it along on this tour and on occasions took it out of my pocket to snap a few shots on the fly which didn't really work with the button set for right hand operation all the photos were sideways.
At the top of the climb was some road works and a detour and I had a serious brain fade from being so tired. Workers were waving scooters past and I did not stop to check it out ahead and before I realised was on a slippery side track and well to cut a long story short I stopped to allow an oncoming scooter pass rolled back and fell over. Being dirt saved me and having crash knobs saved the bike but foot peg broke clean off.

I was assisted by road workers to get the bike up and back to the road and by a small repair shop in a tin shack to wire the foot peg on temporary. It was such a good job that I could continue my journey if I did not weight the peg more than just my leg while seated. I got a pack of large zip ties from a hardware store later and used them to further strengthen the patch job.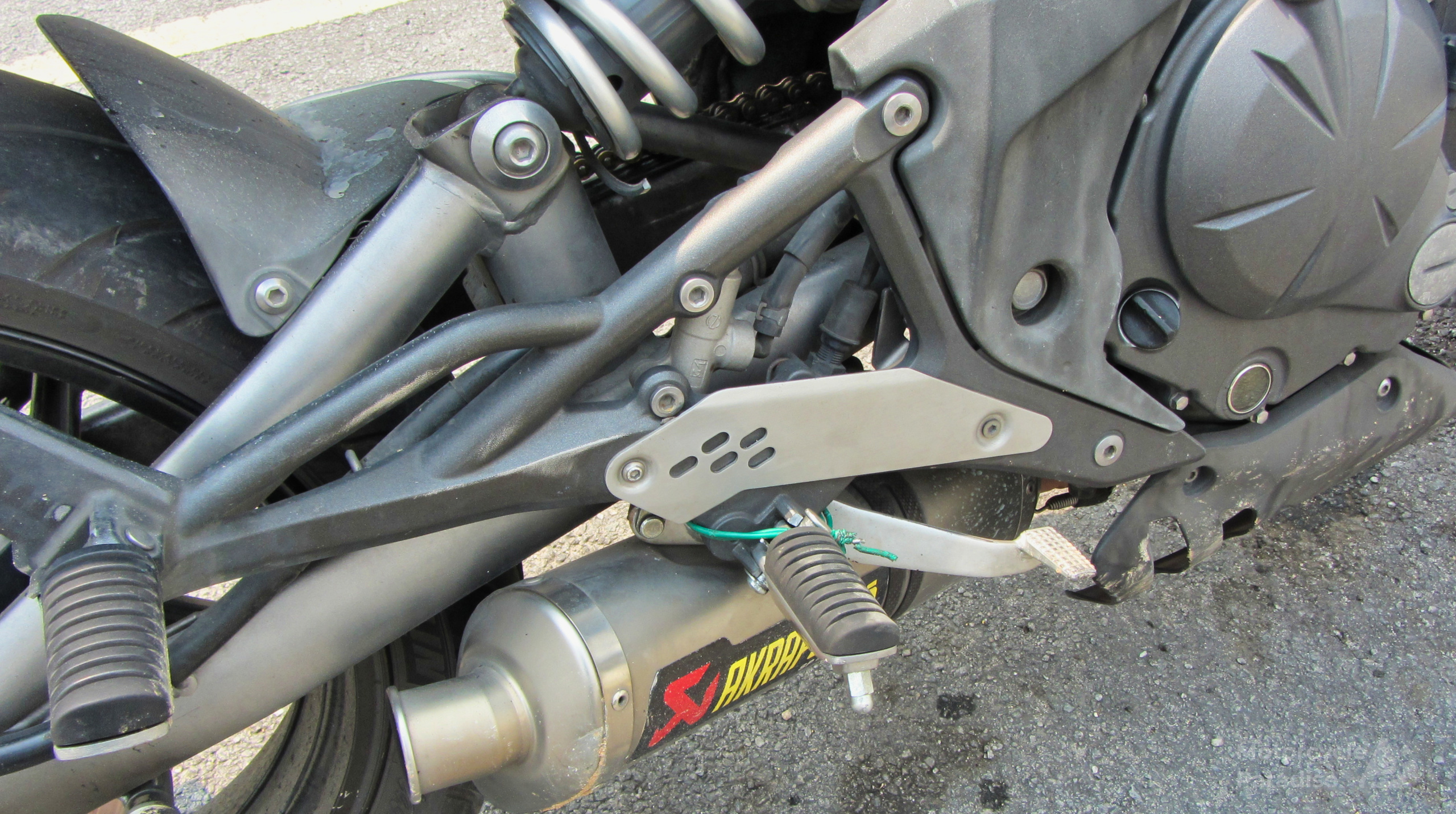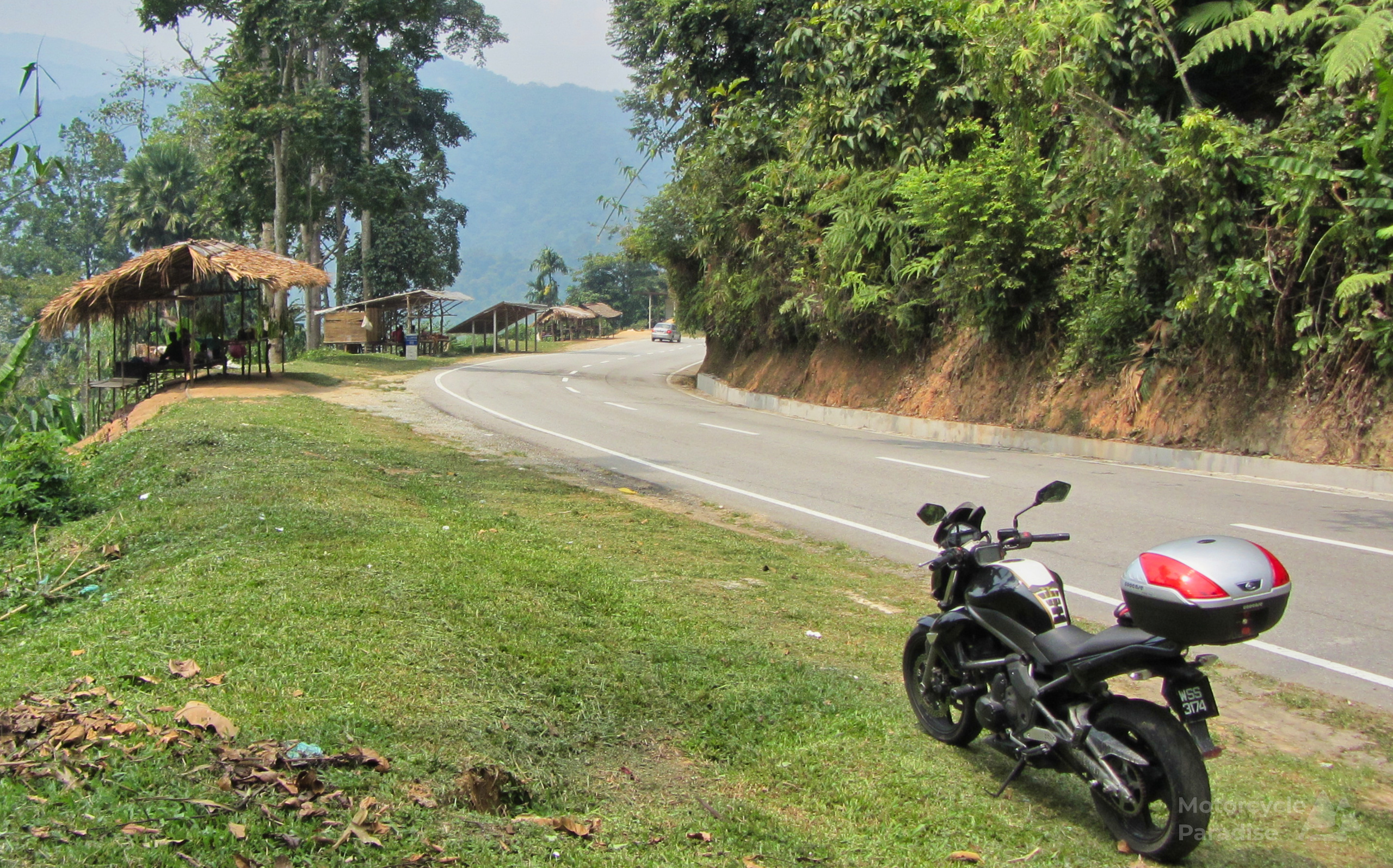 So glad I could continue.

I enjoyed an early light lunch overlooking the tea plantations in the Cameron Highlands then rode from Ringlet to Tapah on route 59. This is a very twisty descent from the highlands which while good would be more enjoyable coming up and with less vehicles.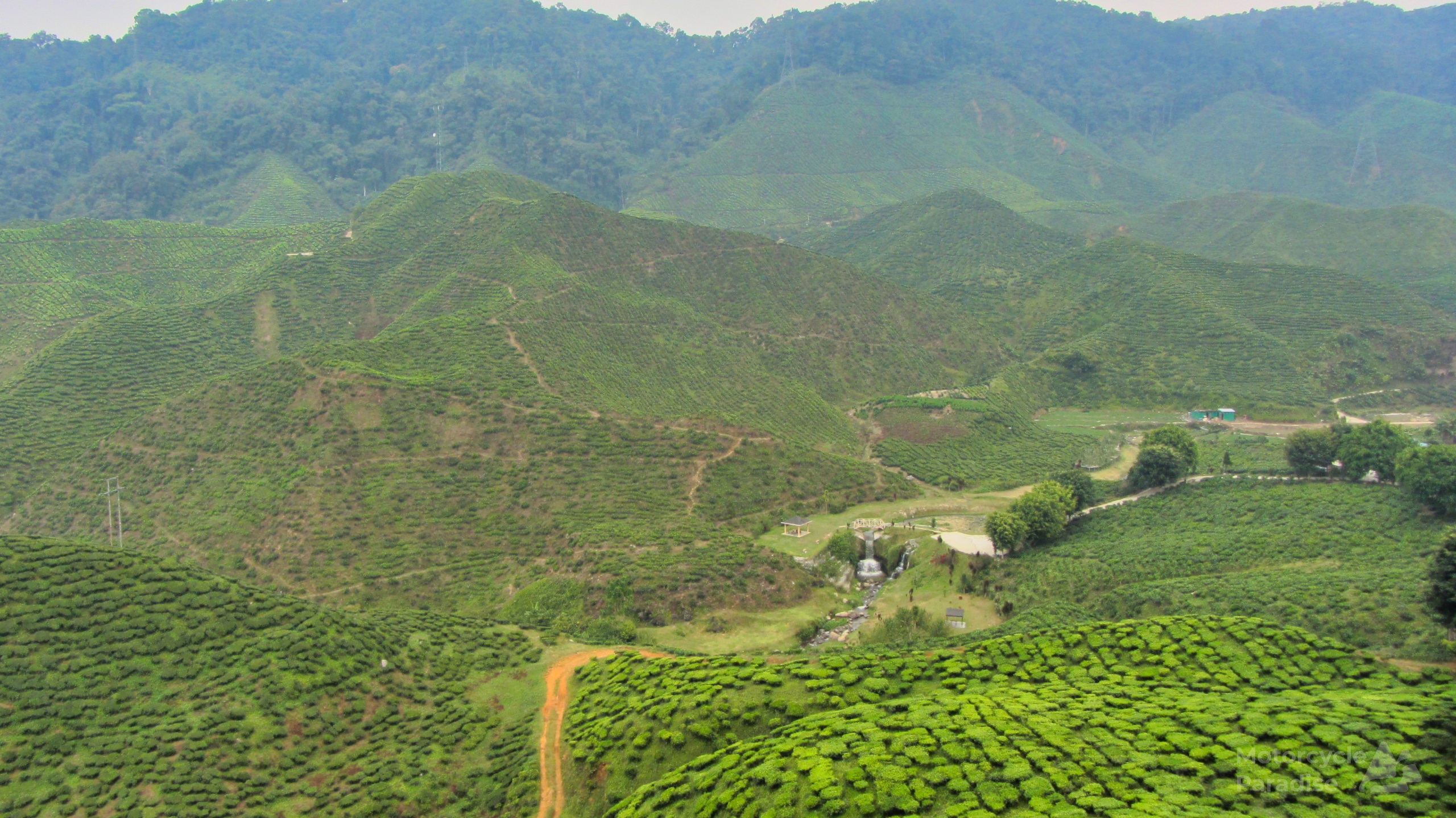 Then I blasted up the motorway to just before Ipoh where I turned off onto route A181 which climbs back up to the Cameron Highlands. This road … wow wow WOW! it is just superb. If you think of Burringbar range in Northern NSW then imagine it going for about 40km you might get some idea of how good this road is.
The combination of this and the 156 plus the tight twisty road that connects in between really offers just about any type of corner and all a rider could want. Next I rode down route 185 the North East descent to Gua Musang. More superb riding.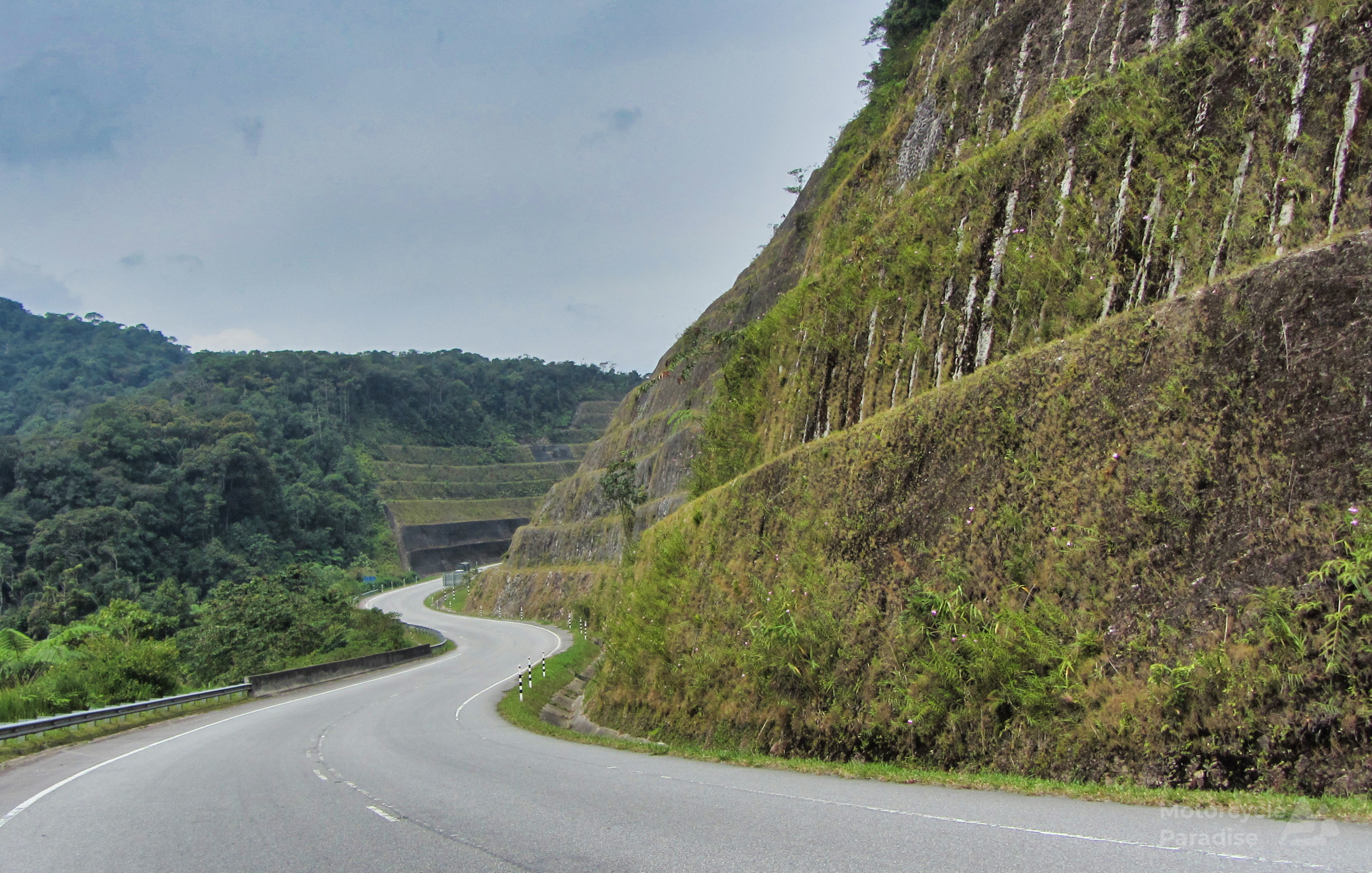 There were virtually no cars on this road which gave me the impression that I was really out on my own but then a new Skyline GTR blasted past me enjoying the road. With the super tax levied on imported vehicles in Malaysia the owner must have been a millionaire. Todays route here.
Gua Musang is a regional town and not much to see however I was the only westerner in town and I always like being away from the tourist trail. The accommodation was again very noisy and nowhere open to get breakfast the next morning so a yogurt and iced coffee from the 7/11 will do.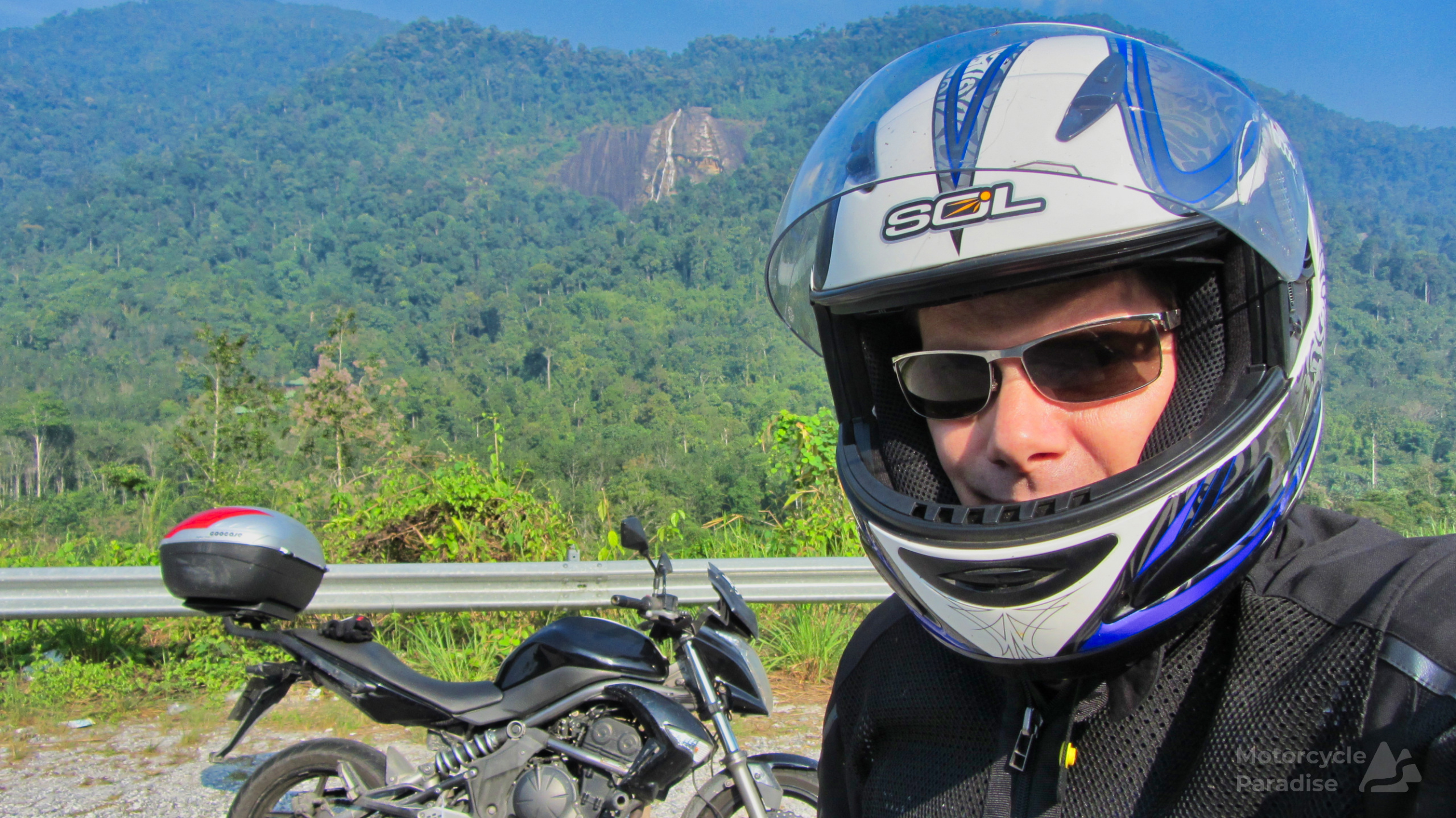 Today I ride north to Jeli, nearly on the border with Thailand. The D29 road up was easy riding, not heaps of curves but never boring, this then became Route 66, nothing like the famous one in the USA but some interesting road signs all the same.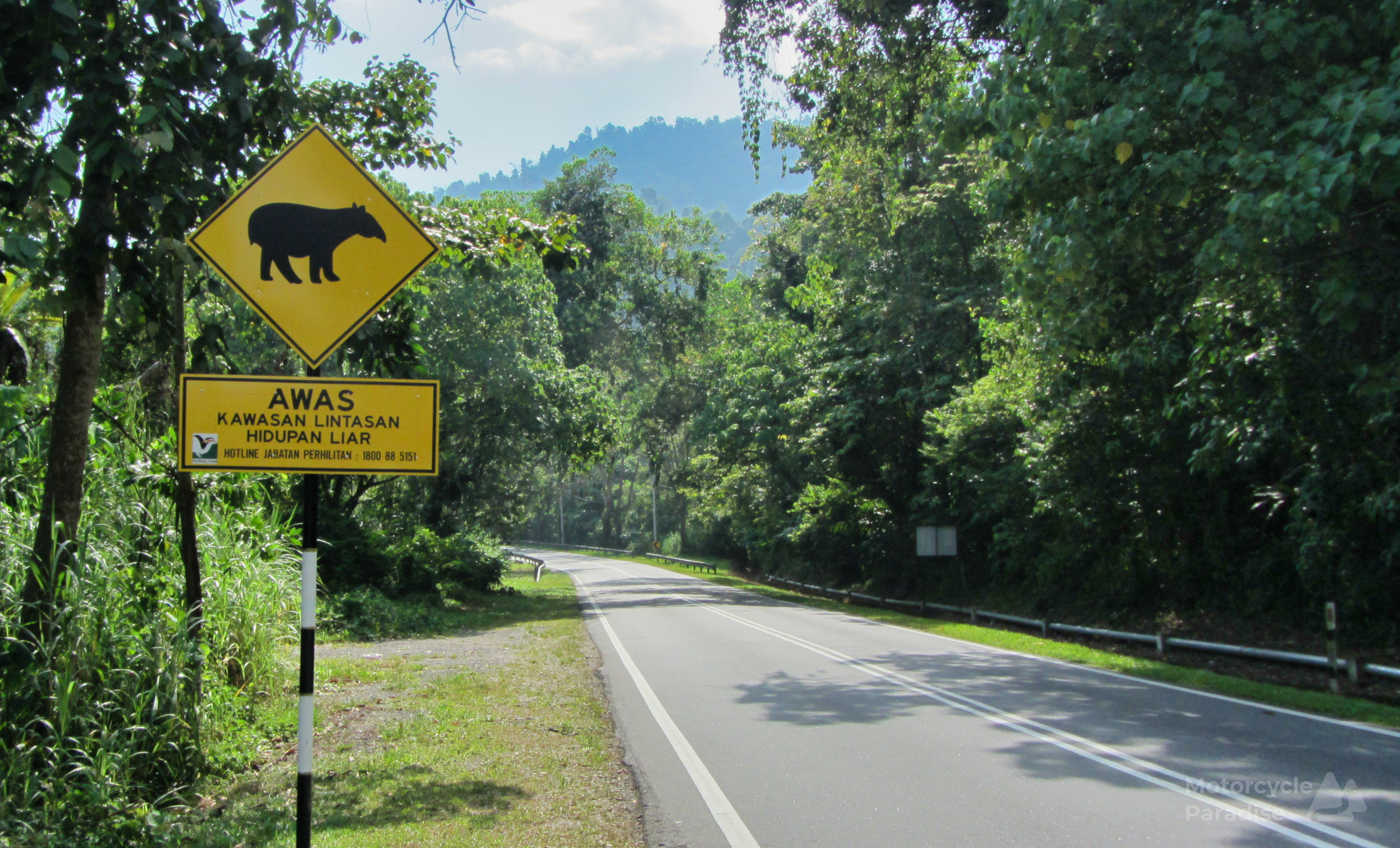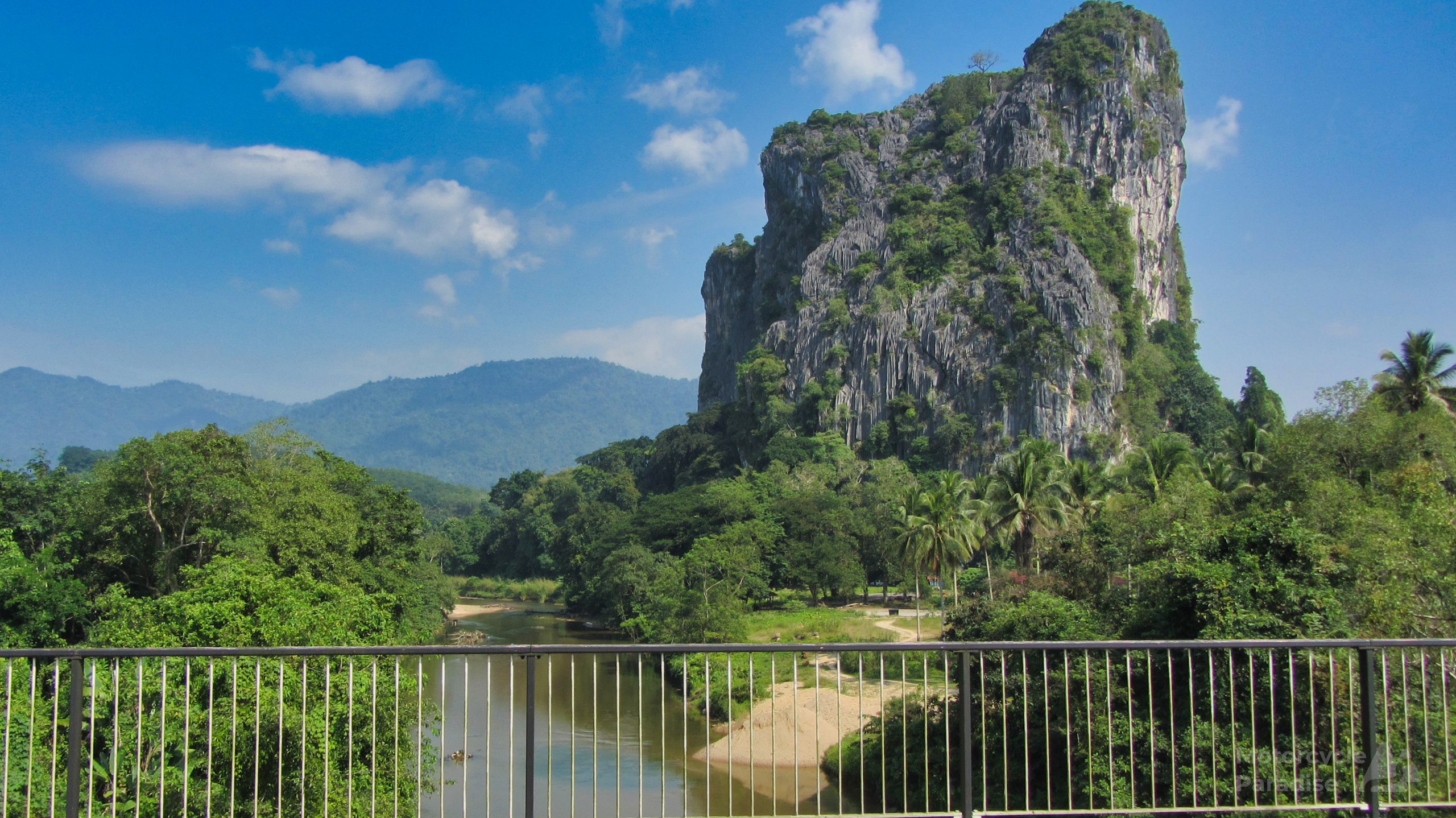 Reminds me of the rocky outcrops on Thailand as does the sign for elephants.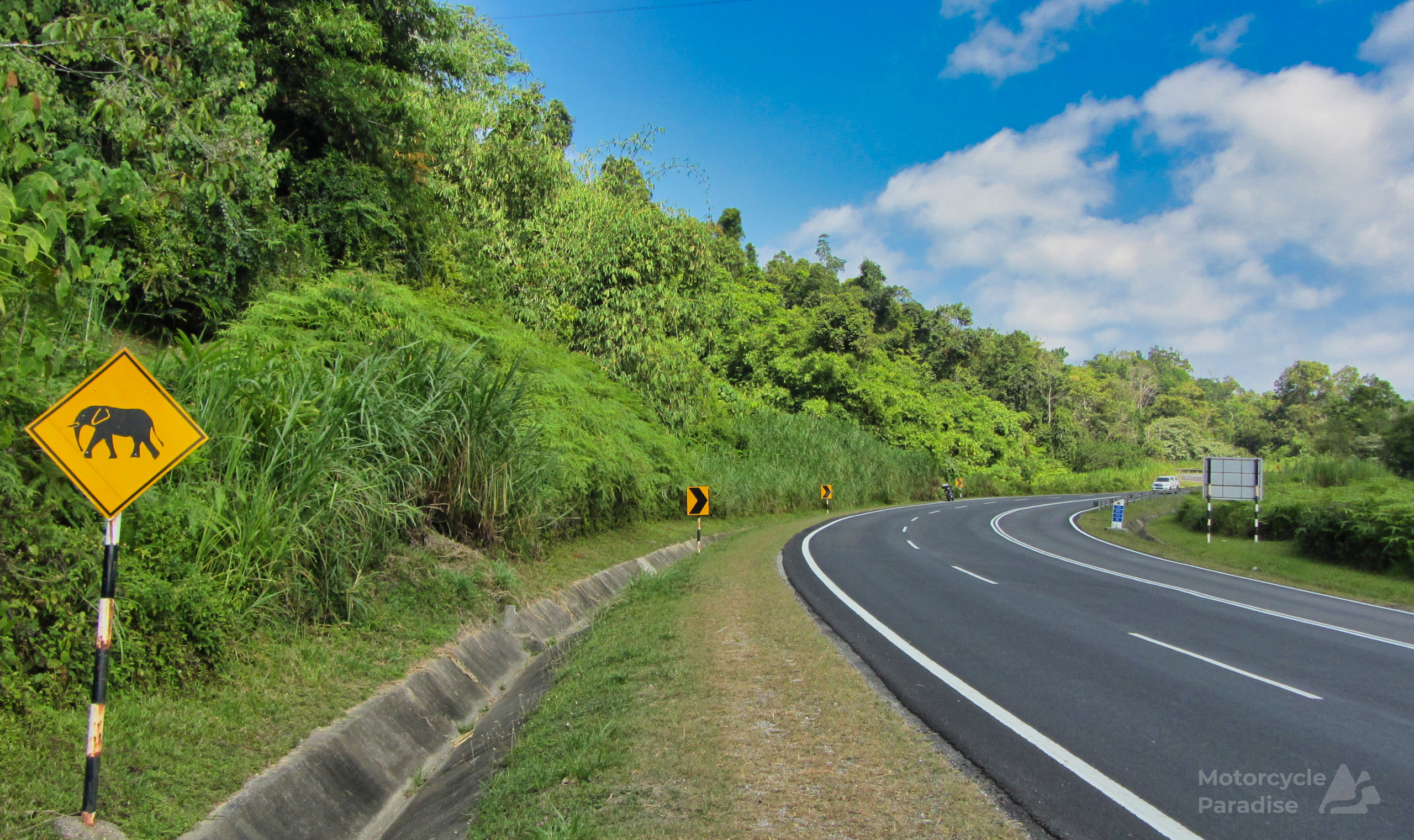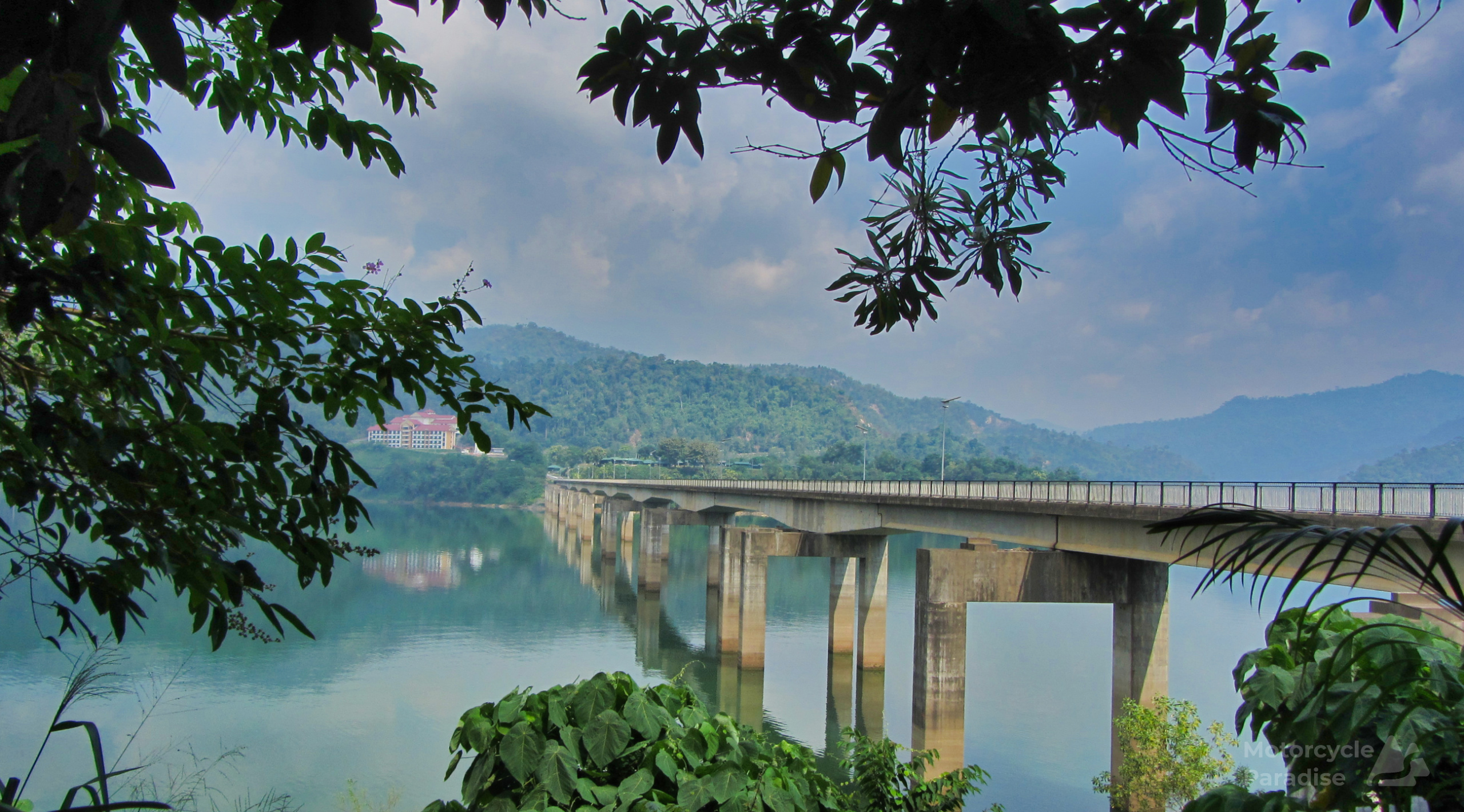 After Jeli I turned West riding to Gerik on route 4. The first half of this road is a superb ride up and along a mountain range which eventually lands you at a huge lake. I stopped at the Belum Rainforest resort on Banding island for lunch for a much needed rest as the curves just keep on coming, about 100km of them.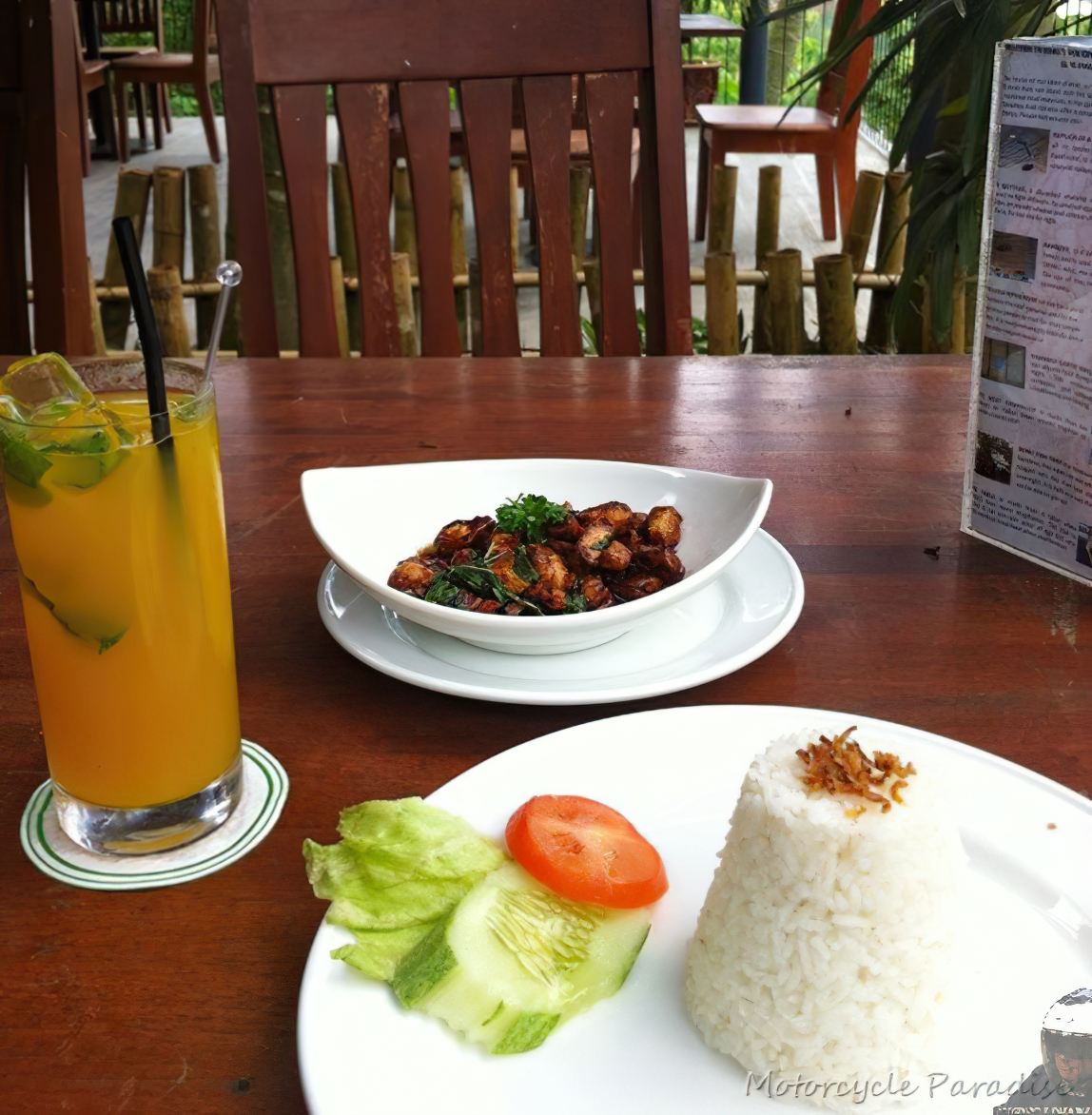 The ride into Gerik and back down the motorway was nothing special but I still had one more treat in store. I was staying in the Cameron Highlands tonight so I would get to ride up the A181 for a second time. What a great finish to another wonderful day of riding. Todays route.

The road climbs then hugs the mountains for about 30km of wonderful riding. Hard to capture, you can see the road in the distance.
Next time I ride here I will base myself in one of the villages in the highlands for a few nights as every road from there is terrific. The ER6N was a good pick for this this ride, the addition of the Akrapovic muffler really livened the engine up compared to the one I rode in Thailand and gave it some character too with a few pops and bangs on over run or change of gear.
The rear top box fitted was big enough to swallow my travel bag whole and the small screen fitted deflected the wind effectively.  Enough power to pass yet light and easy on the fuel, I never felt like I needed anything more from a motorcycle for this ride.
Last day and nothing open for breakfast in the town I stayed at. I should have purchased something light the evening before from bakery perhaps oh well, I head off in some heavy fog and it was quite cold being up high.
And to end the ride I chose to revisit what I called last time one of the best road I have ever ridden, I can't begin to cover how good the 156 is, you have to go.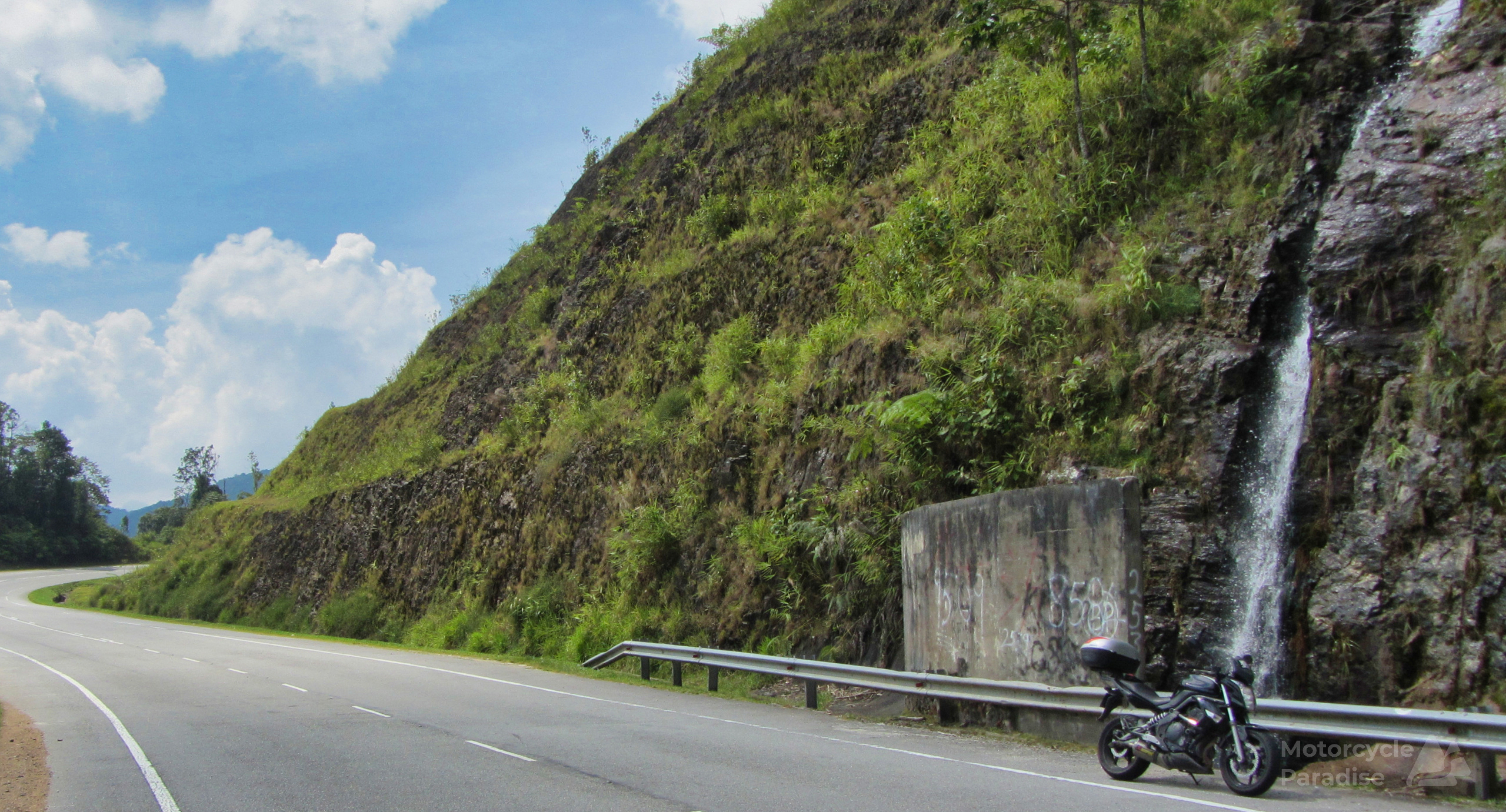 50 odd km of grinning so much it hurts!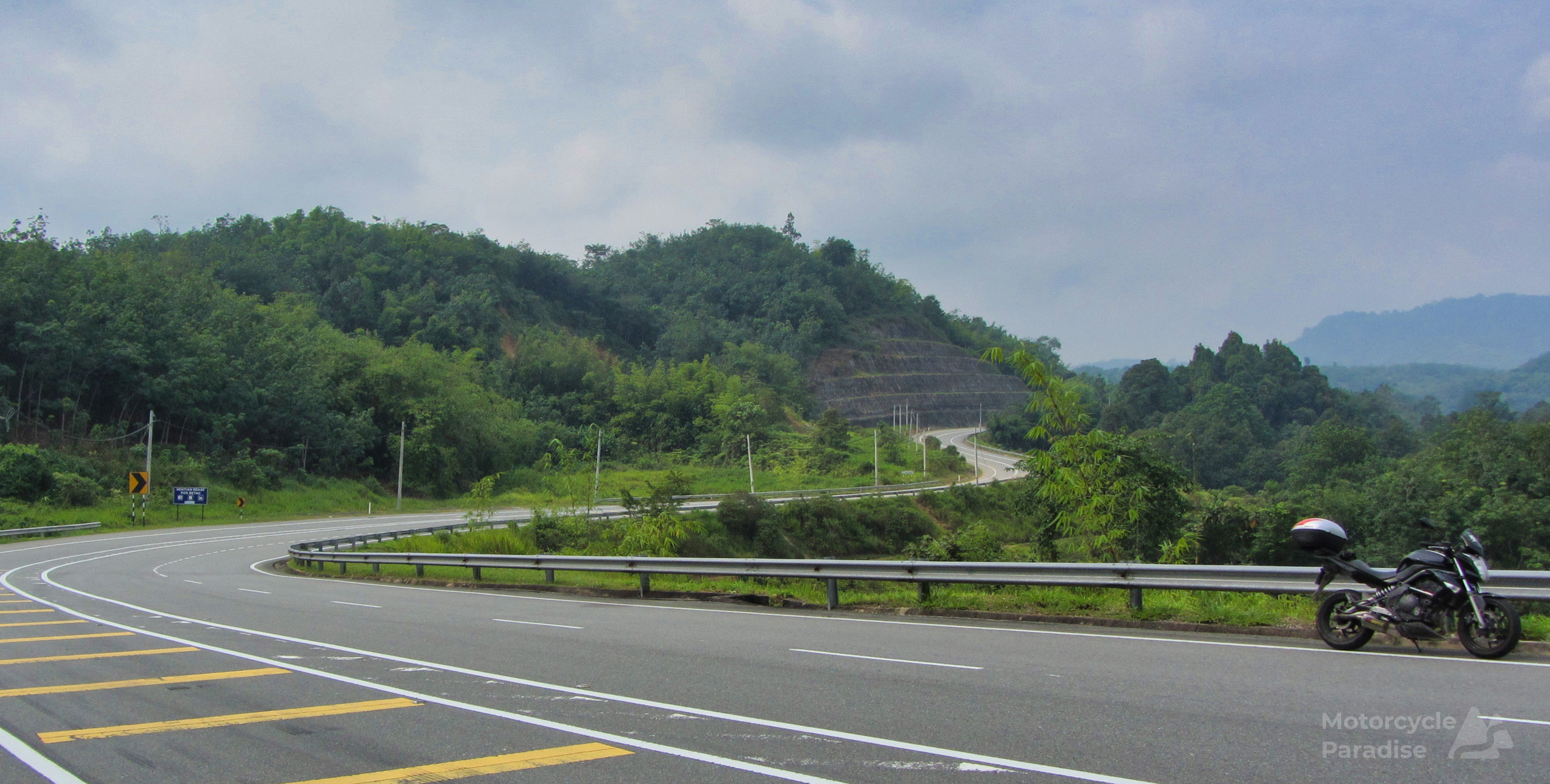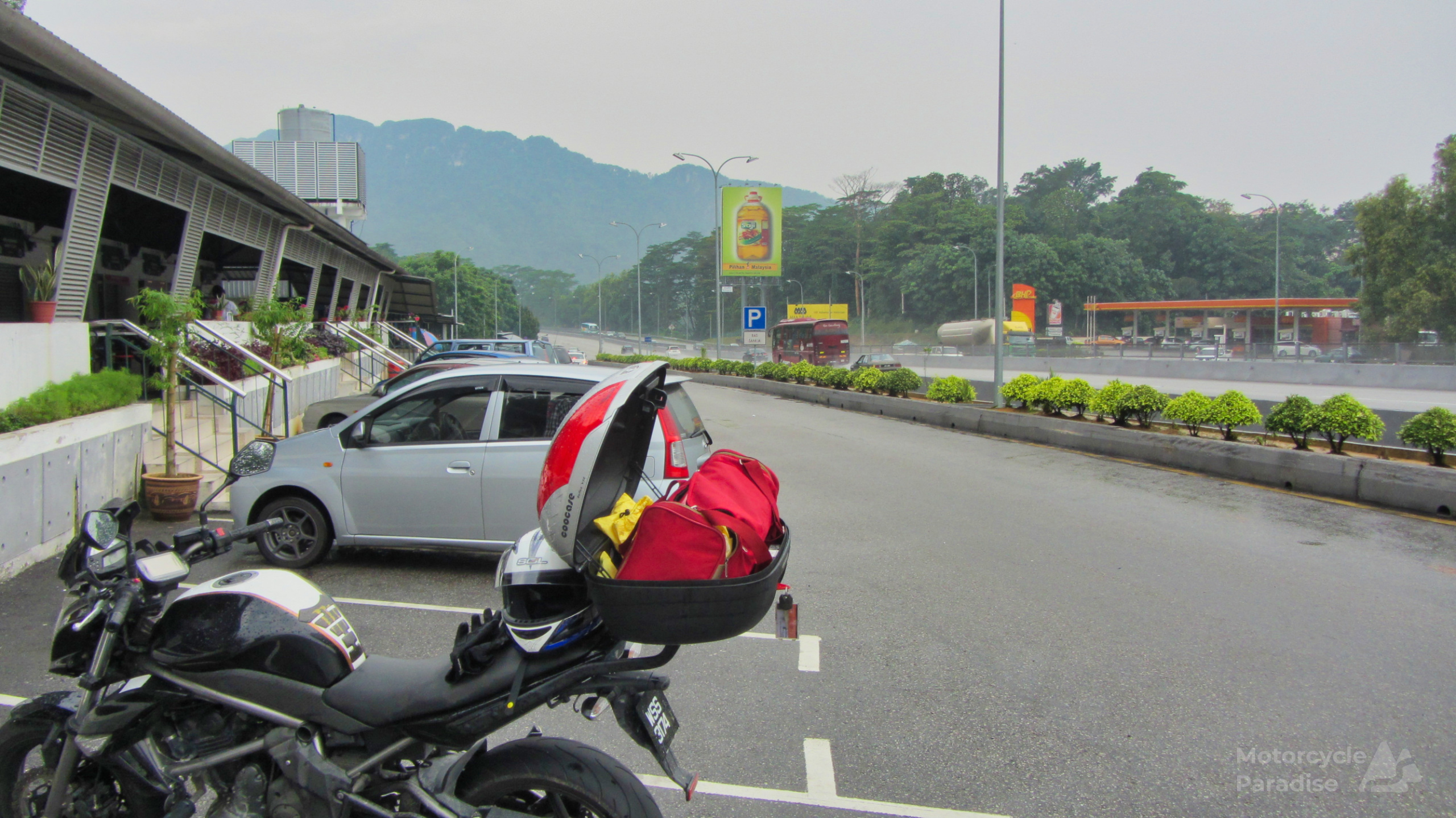 I had a trouble free ride back to KL. Approaching the outskirts of the city I noticed some real heavy clouds and seemed to skirt around them at one stage but then I got caught in a small storm. I joined other riders in tea shop, purchased a coffee and waited it out which took no more than 30 minutes. Most riders seem to travel without wet weather gear here.

As I mentioned on my last ride in Malaysia, underneath all the road over passes is always a dedicated parking spot for riders to stop in rain which I again forgot to photograph but its a nice touch along with riders being exempt of all tolls on the motorways!
KL expressway has some mega junctions, I took a wrong lane at one point and was stuck heading off in the wrong direction for about 7 km. I had some difficult navigation to do from there to get back on my route because I had no actual address so I kept zooming the GPS unit out to get a birds eye view and following a rough route to the general area I was heading to in a big loop. That's where a phone is far less useful trying to pan and zoom while riding and wearing gloves. Last day route here.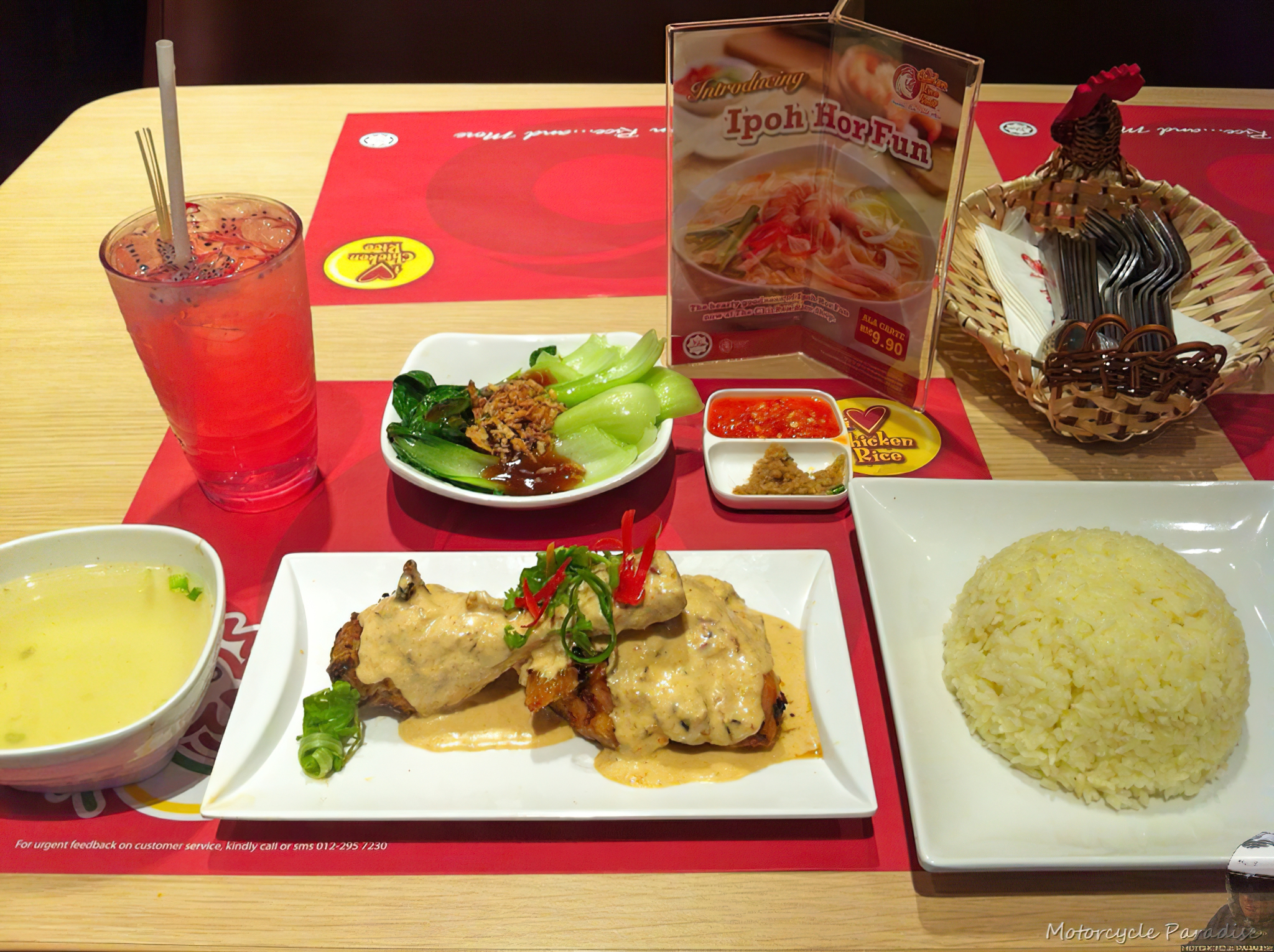 Back in KL I relaxed and enjoyed the great food.
Looking forward to going back.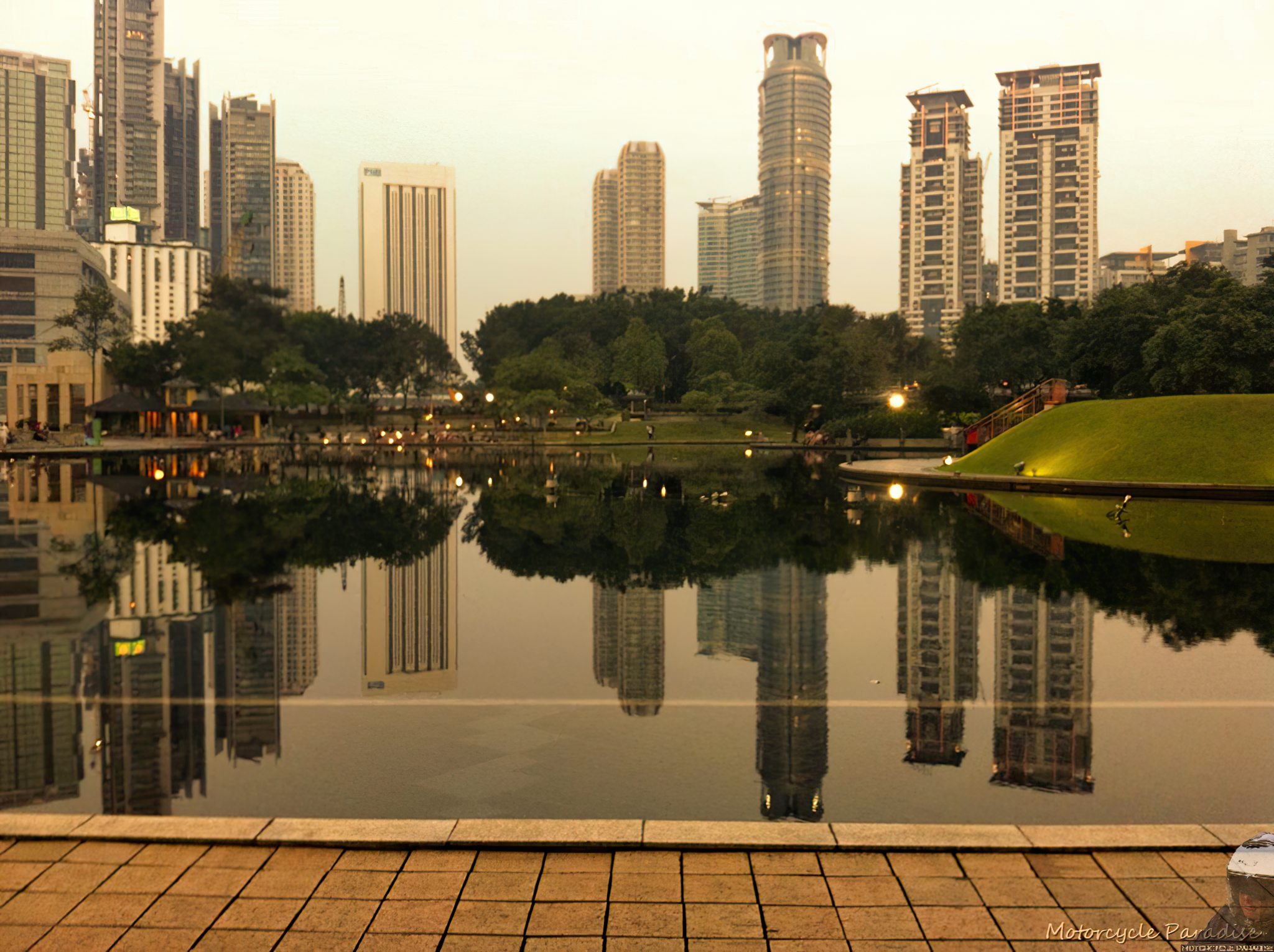 2021 note – alas I am yet to return but will once I can find affordable motorcycle rental and Covid has ended.