(2021 note – sorry about lower photo quality, this was photographed with lower resolution phone at the time and when I was still focused on 'road images')
For my first ride in Northern Thailand I decided to rent a motorcycle from Chiang Mai and chose Tony's Big Bikes. The rental process is smooth and fast and I was soon on my way.
I picked out a Kawasaki ER6N for this ride, a model made in Thailand, and rented a helmet and jacket as well. Many of the helmets were looking a bit tired but I managed ok with the one I picked and was happy it had a tinted visor fitted. The jacket was a Thai clone of an Alpinestars air flow jacket and was ok but each day my t-shirts ended up soiled from it so perhaps the jacket was well overdue to be washed.
As with some scooter rental places in Asia, Tony's will keep your passport as security in lieu of a credit card authorization and provide you with a photocopy to show at hotels. This did not prove to be a issue for me on this trip but I mention it further for your information as I was asked for my passport a number of times including by police and I would have been more comfortable to have had it on me.
When Tony's asked did I want insurance I naturally said yes but later examination of paperwork seemed to suggest there was no insurance on the bike merely a small medical cover.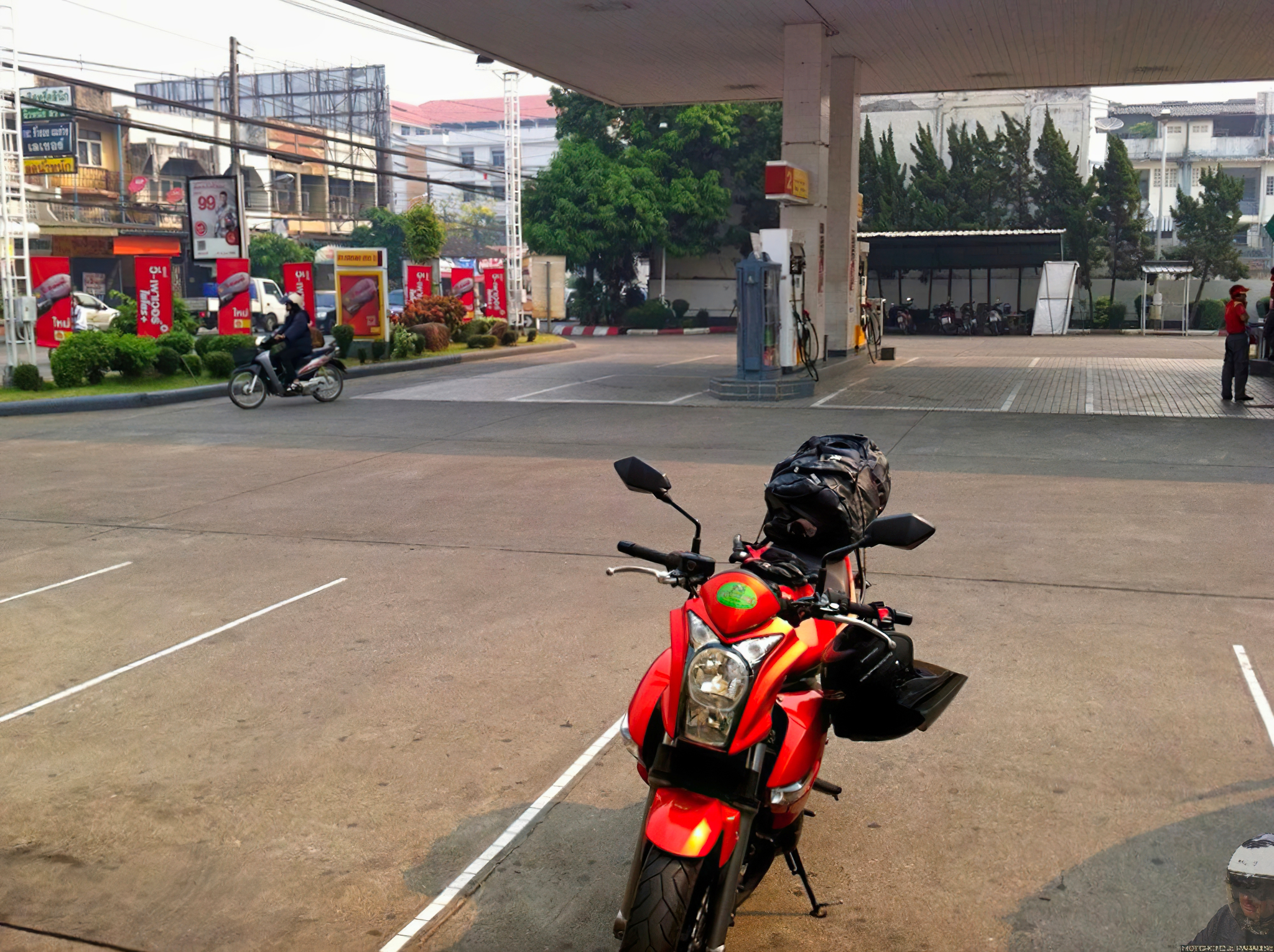 My route was inspired from reading the excellent Captain Slash blog. I decided to do a simple 4 day loop to first visit the roads around Nan then over to Chiang Rai on what is billed as the best road in Thailand then down to Mai Hong Son and back to Chiang Mai ,all popular bike roads.
My route day one was short and easy since I was picking up the bike and shop opening hours are well past the time I am usually on the road. My first issue was the bike had very little fuel in it.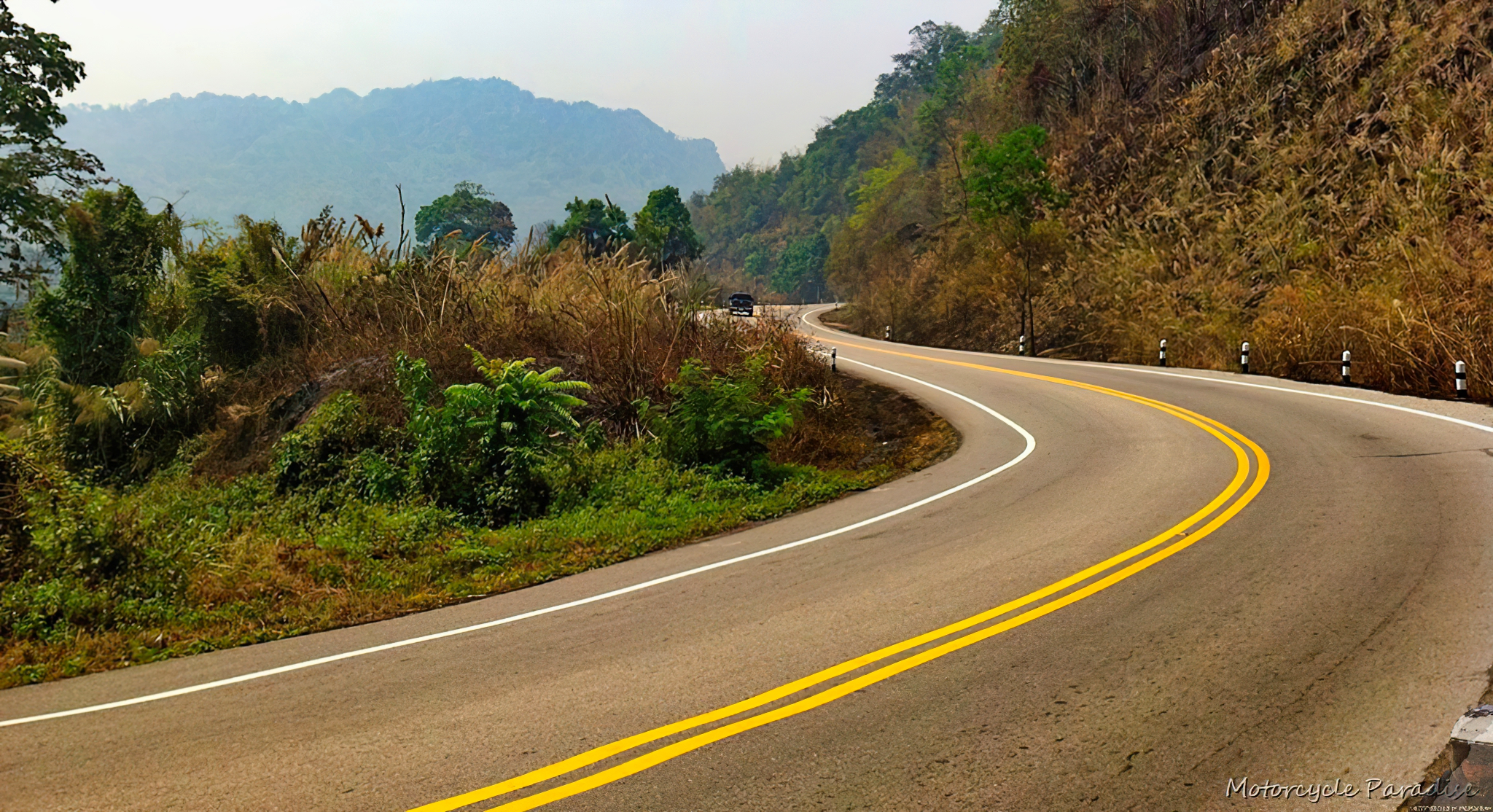 Great riding all morning on country roads. I did not stop to take in the sights much just enjoyed the riding.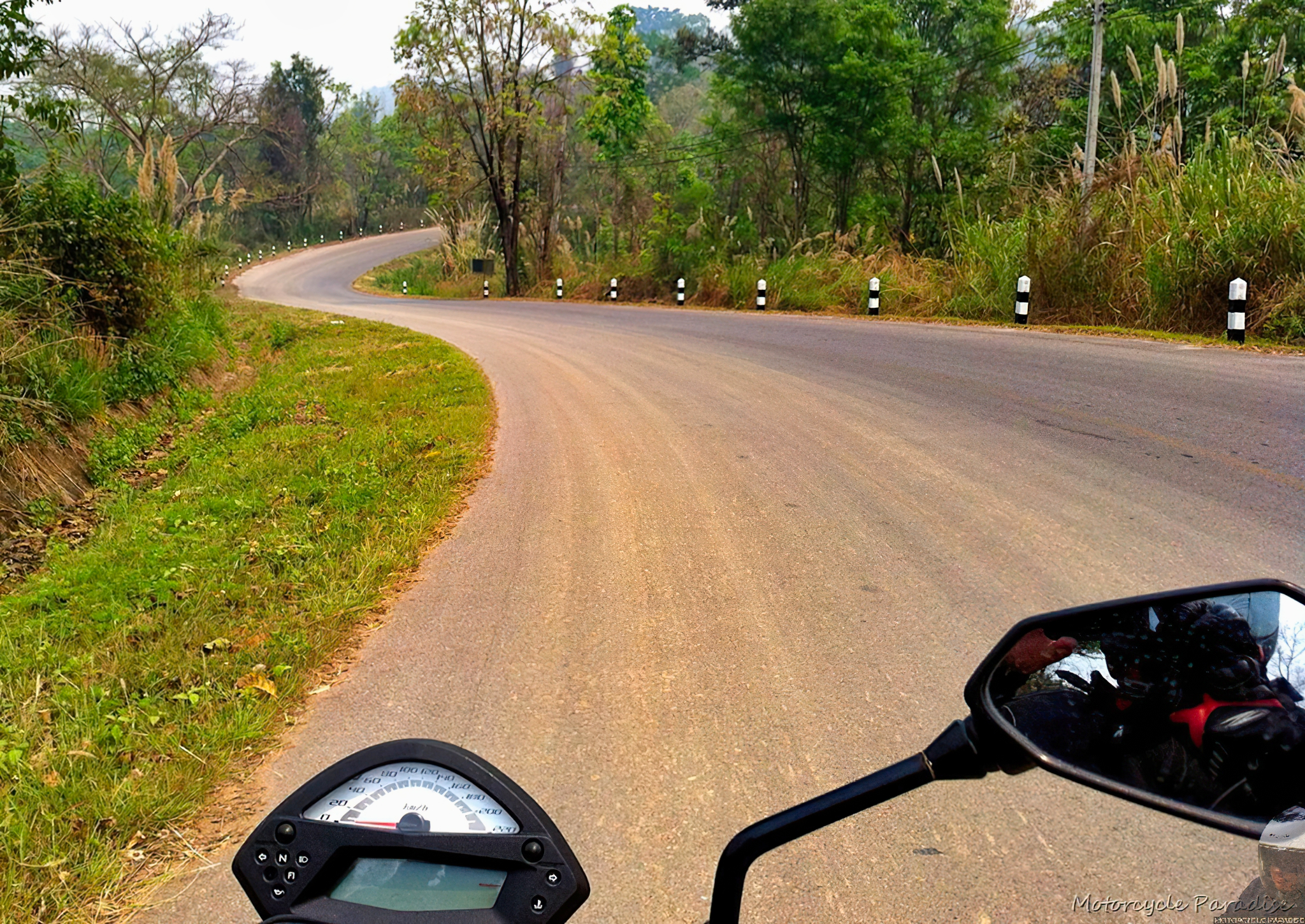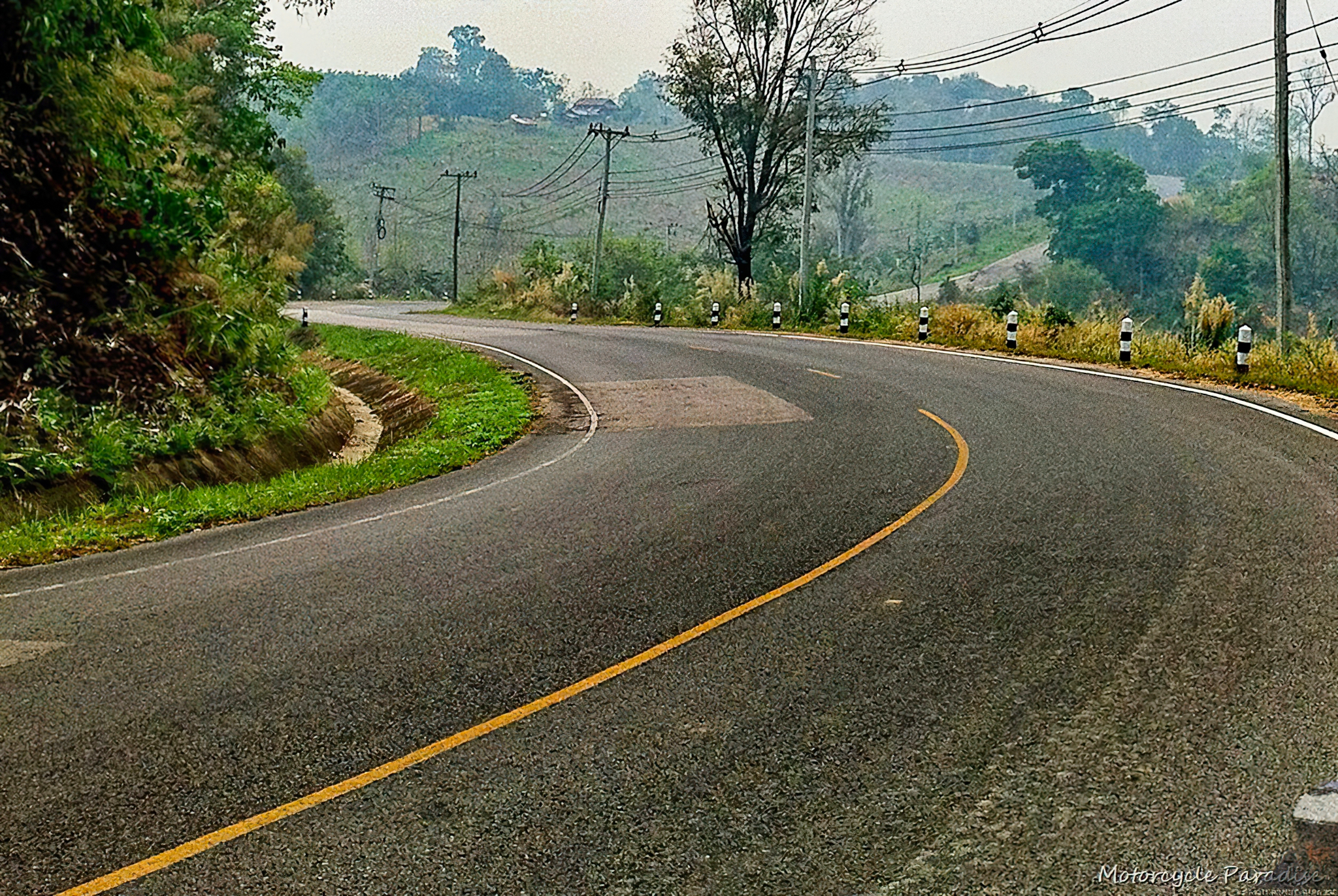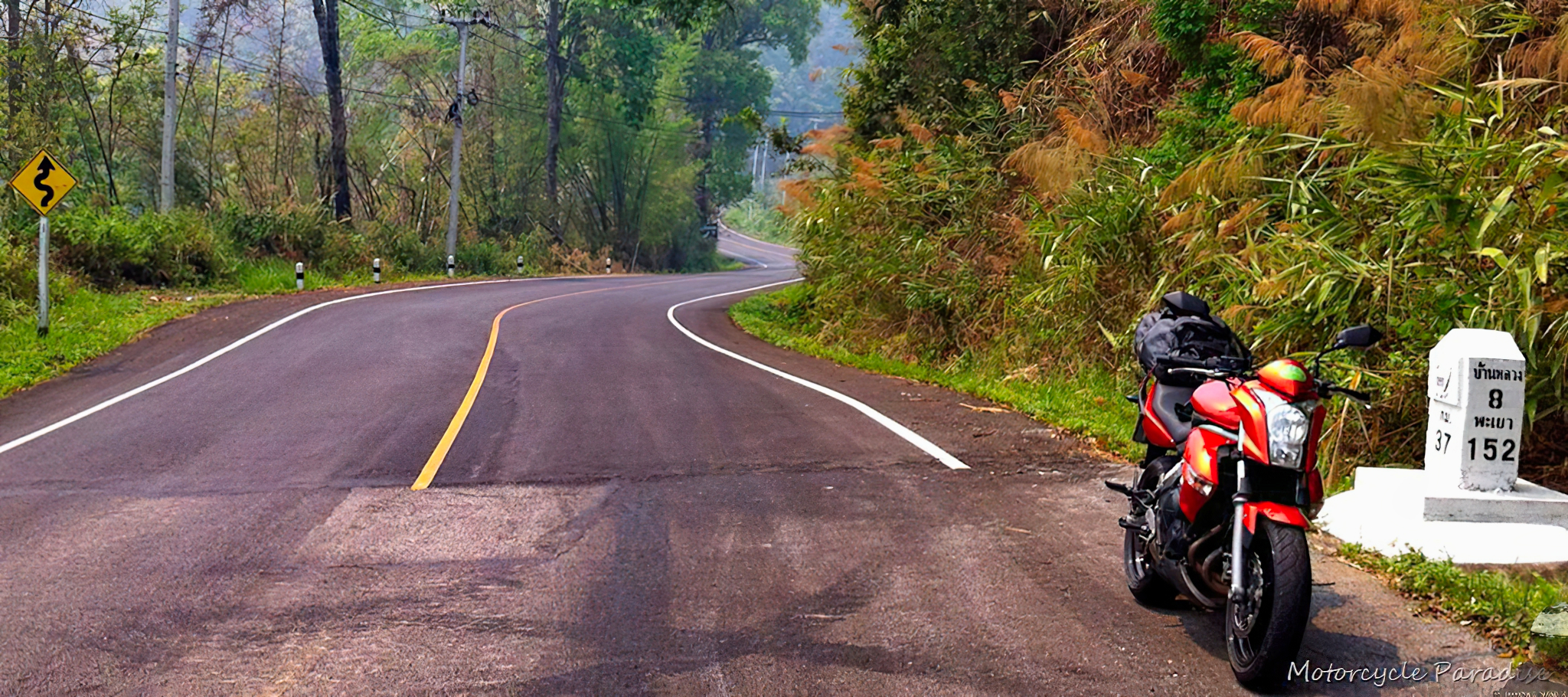 The day had really started to get hot by the time I arrived at Nan so I was grateful to arrive at my hotel early and get under the shower to cool down and get into shorts, sandals etc.
On tour once I arrive at a hotel and park the bike I do not get back on it unless I absolutely have to ride somewhere to get food – just nice to have that clean break from the riding gear until the next day. Setting out on foot once the sun had dropped a bit lower I was surprised to find not one single restaurant or cafe in any direction. I seemed to be staying out of town but found some local food stalls to eat.
Day Two my route was to do a small exploration of the roads to the east and north east parallel to the border with Laos. First riding south I branched off onto the 1162 with the sun trying to shine through the heavy smoke.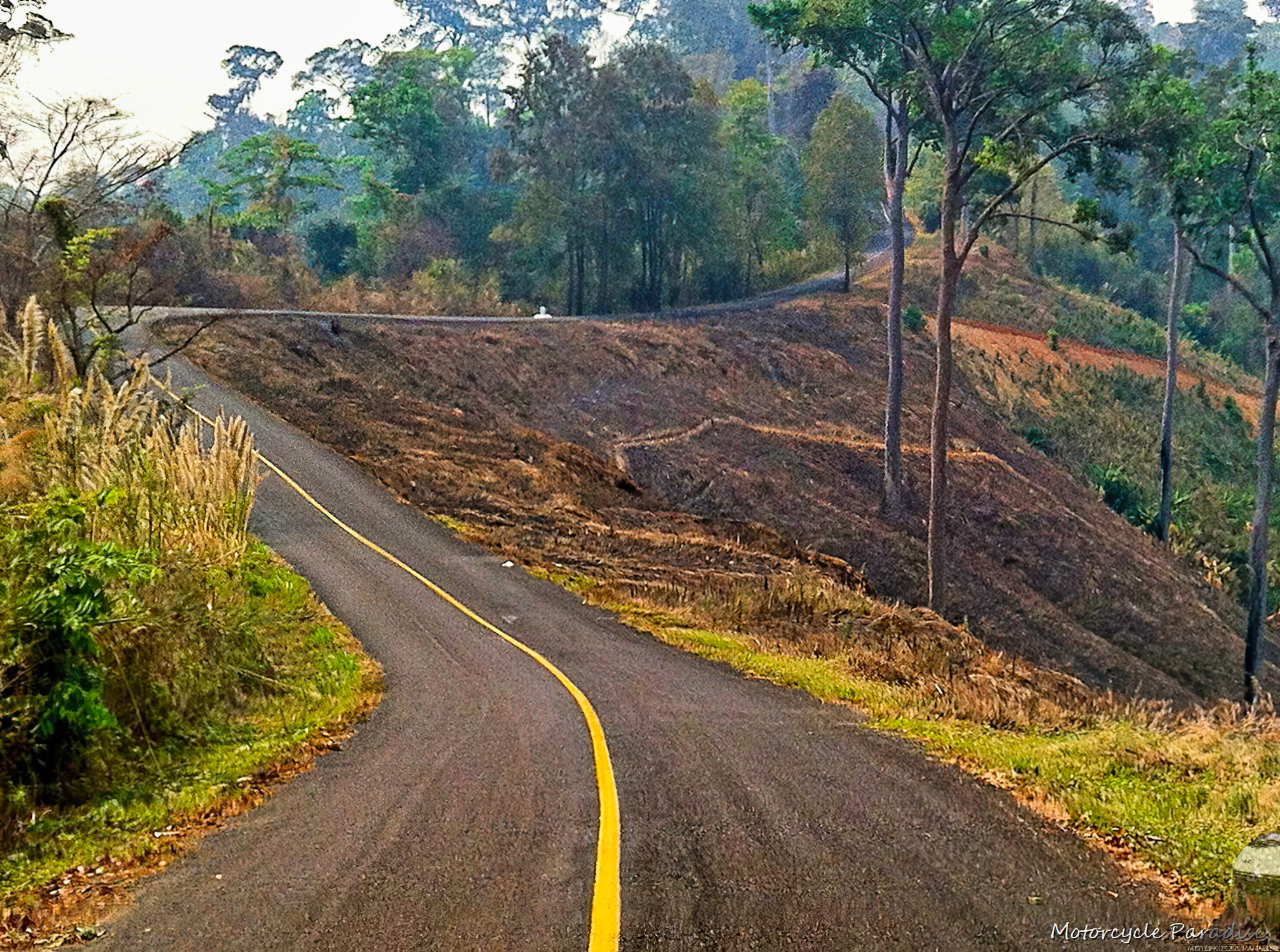 My route after 1162 was 1243 – 1168 – 1225 and the 1257 which was terrible before joining the 1081 which was good in parts and the 1256 also good in parts.
I was pulled up by a border police patrol on the 1257 but they laughed once I pulled off the helmet and said something which no doubt translated as "ah just a tourist".  The small villages along the way were interesting with every daily activity taking place in the middle of the road.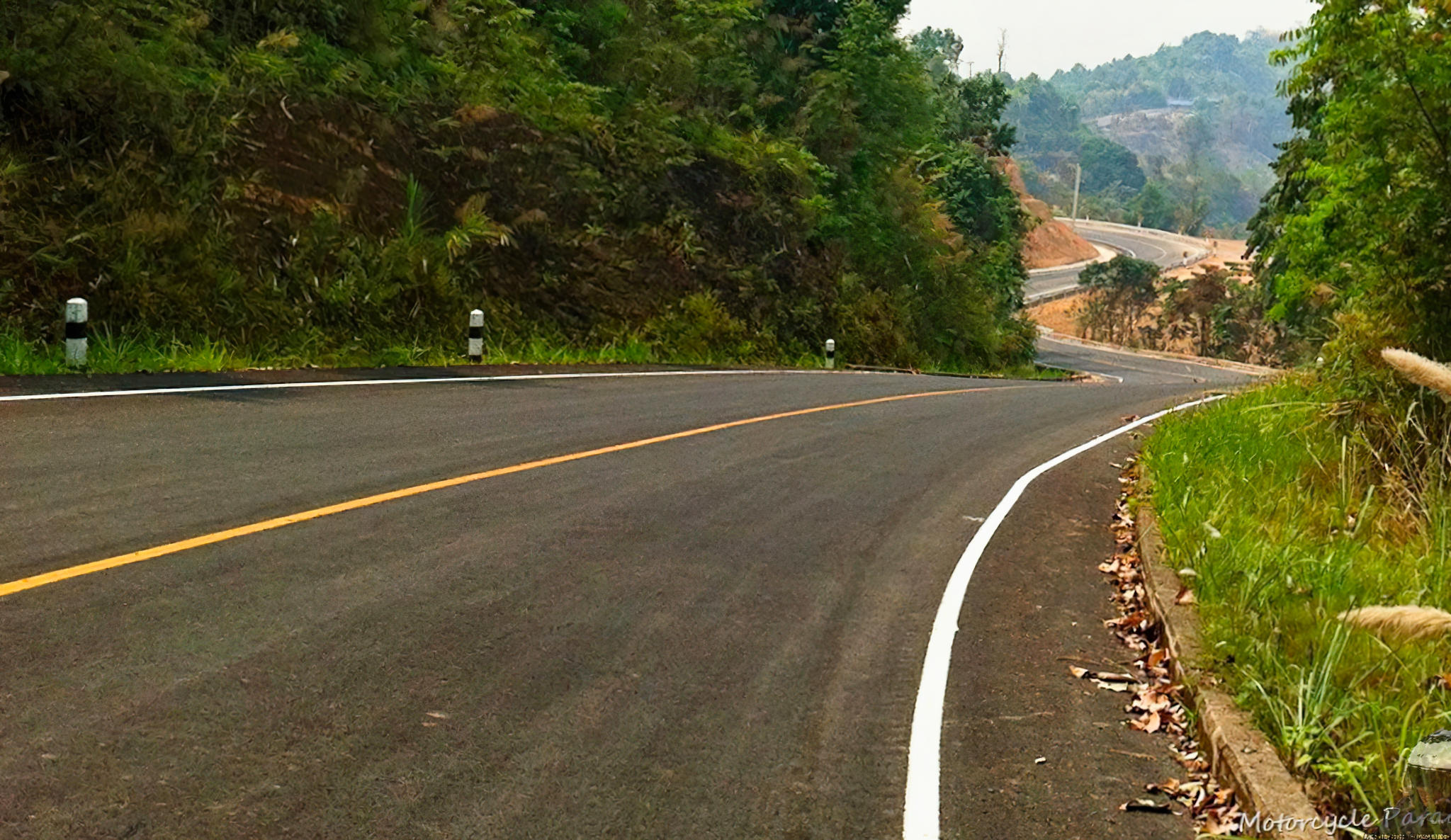 On my first day I had noticed the ER slipping around a bit and put it down to the brand new tyres that had not been scrubbed in. Day two I was still getting a lot of movement and the rear stepping out despite riding very sedately. I think it is combination of silt on roads and ash from the fires making a slippery layer where cars have not swept the road clean.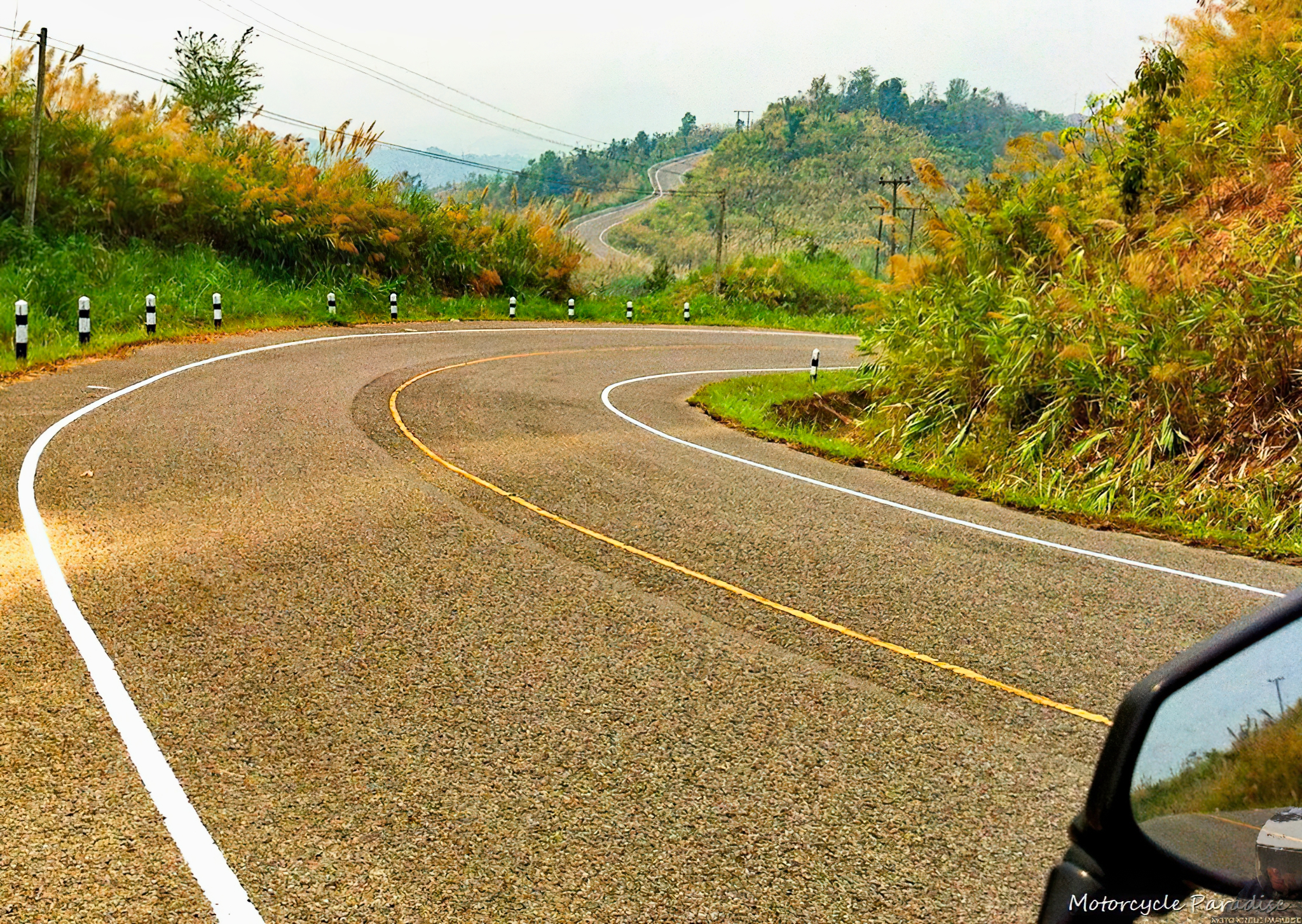 After the back roads of the Nan region I eventually hit the 1148, one of the best roads in Thailand. I only have one photo that came out any good due to the smoke.
I liked Chiang Rai. Smaller than Chiang Mai and far less touristy, friendly and still offered convenience, nice places to stay, eat and drink. This was low season so it may well change but Chiang Mai at the same time was over flowing with backpackers, Russian couples and Chinese tour groups.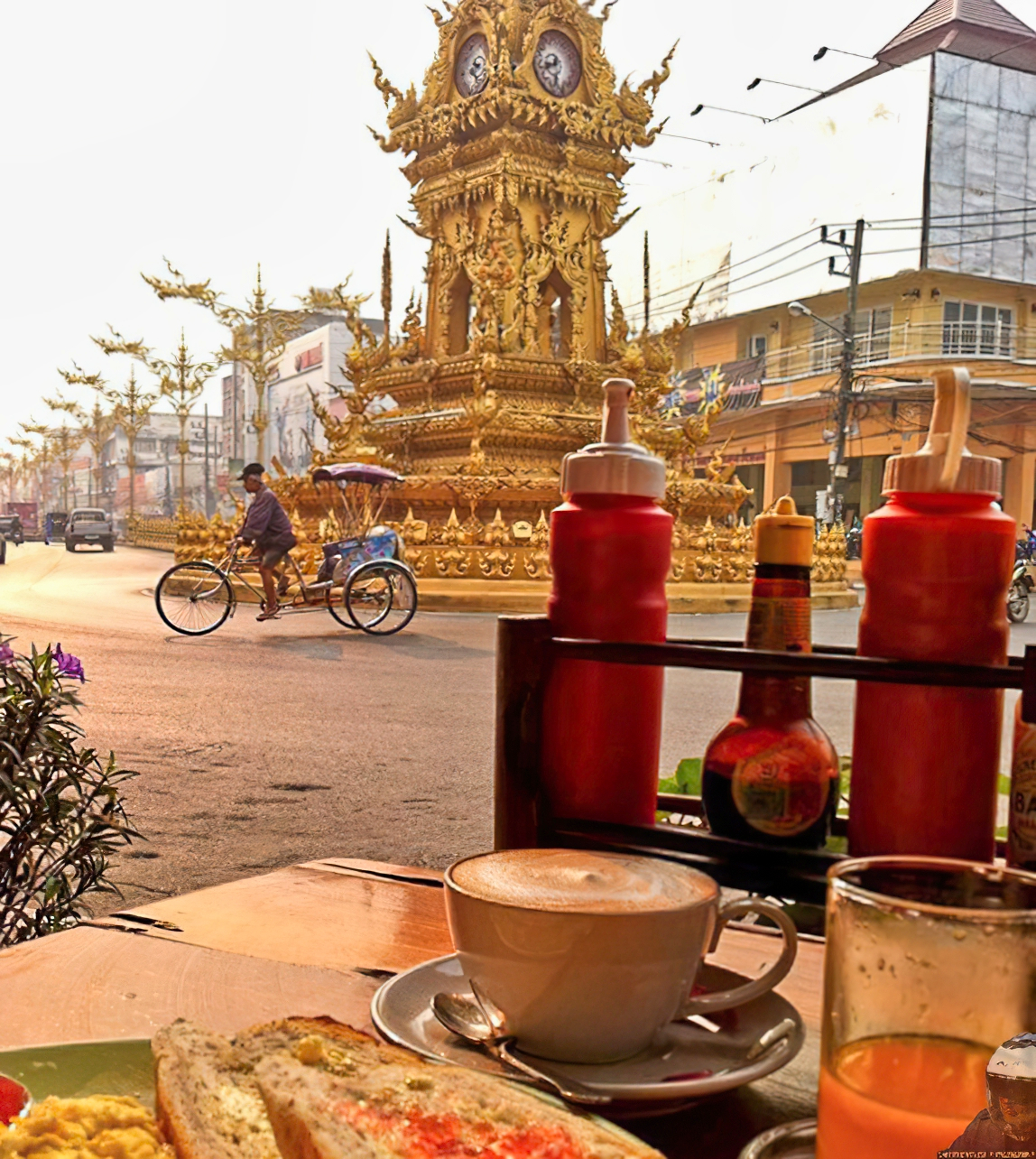 Breakfast with a view Chiang Rai. The ER is parked just off screen to the right.
My route day three took me along road 1089 near the border with Burma. I decided to stick to main roads and cut across to the 108 via the 118 and 109. Which to my delight were still excellent riding roads. I was by now thinking there are no straight roads in Northern Thailand.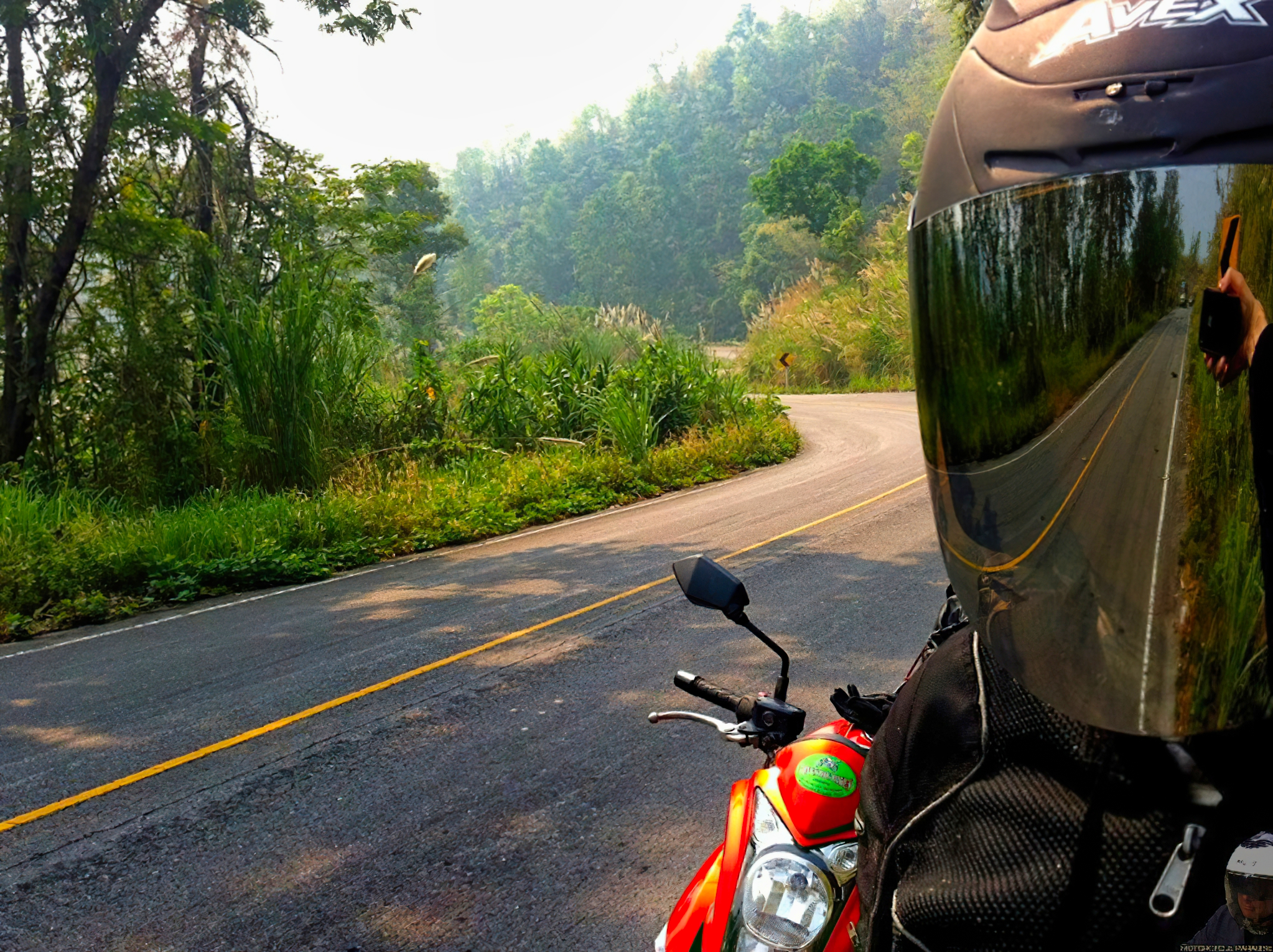 The days start quite cool the first couple of hours. I had to put two t-shirts on under the mesh jacket to cut the wind and then mid morning to midday is mild. But after lunch heat builds and rises quickly to the 30's.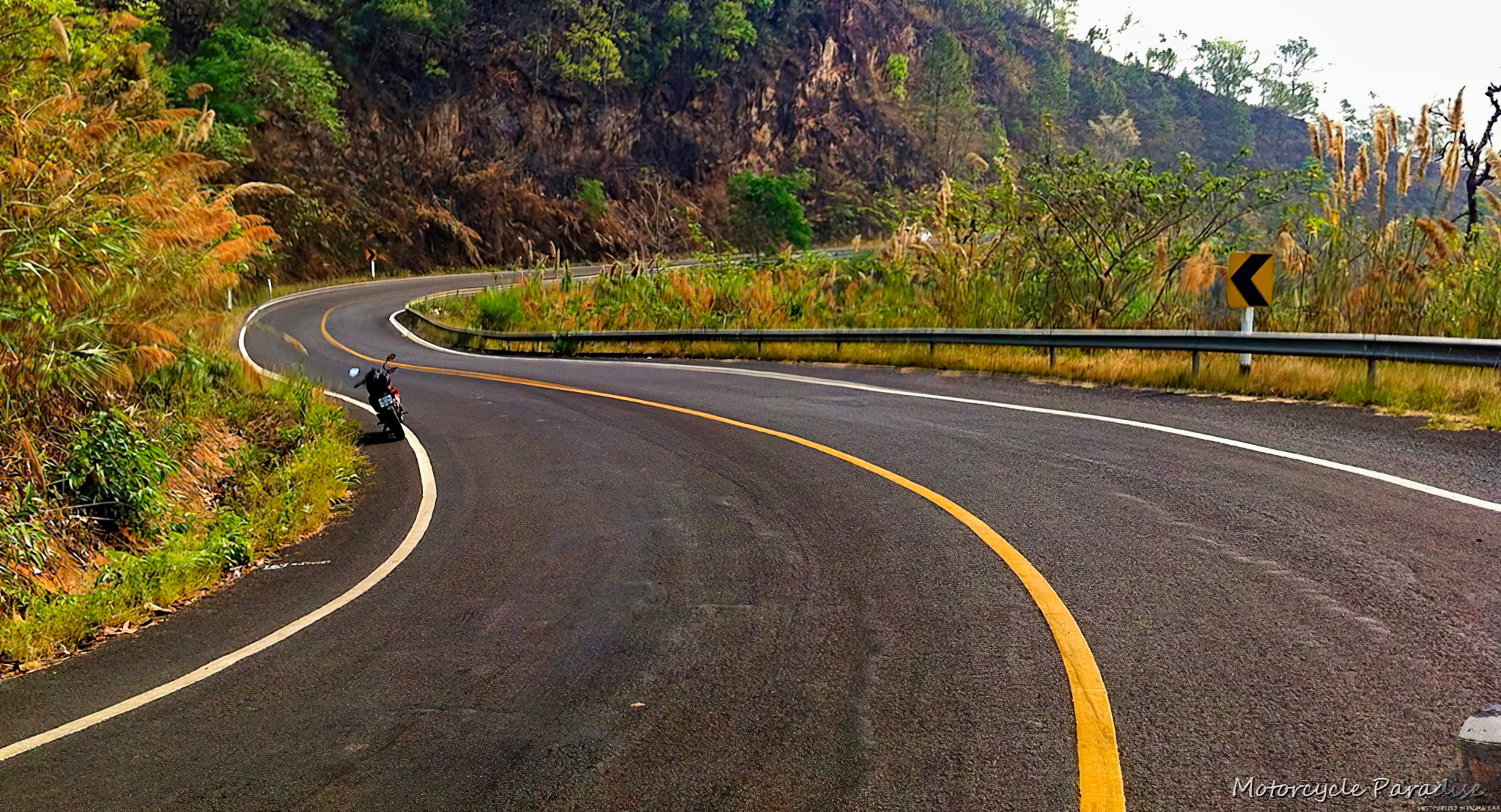 The 108 is a main road between Chiang Rai and Chiang Mai but it was not bad riding and anyway is the only option to get to the northern section of the Mae Hong Son loop. The 1095 started out less than great with the road chopped up in many parts and with a fair amount of slow moving traffic. The road improved and the traffic thinned but the amount of smoke increased and in many places fires were burning close to the road leaving a film of ash and a very slippery road.
I have plenty of dirt bike experience and riding unsealed roads does not bother me however these conditions offered less grip than a graded unsealed road and more like the unpredictable loose small pebble type of unsealed road where the bike is constantly stepping out so you can only ride near to upright. This pushed my arrival right into the fierce afternoon heat and I was very glad to get off the bike and wash the smoke and perspiration away. Apologies for the poor photos. I have an old model iPhone with all the limitations of it's camera. Mae Hong Son was small and friendly.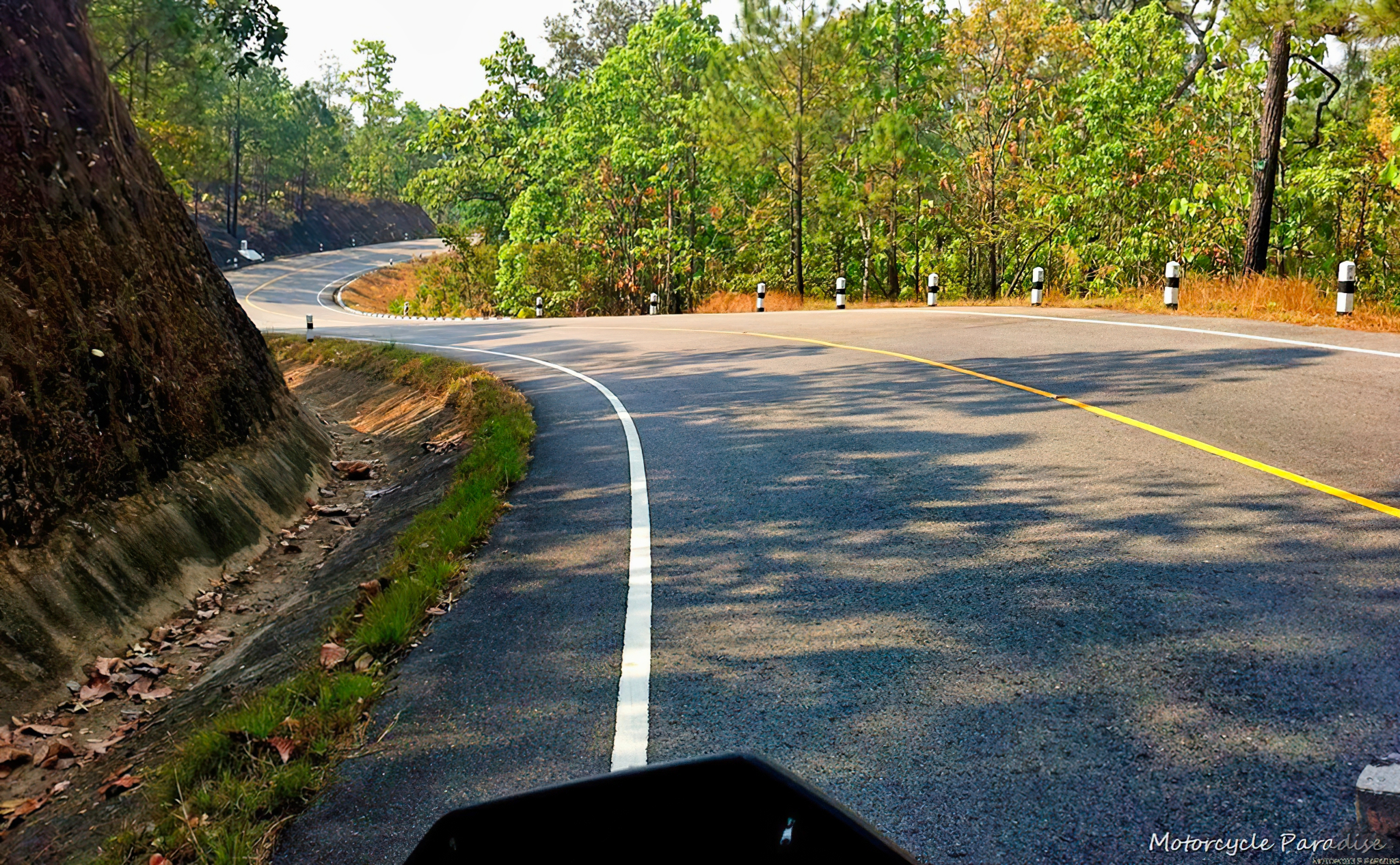 Leaving Mae Hong Son on day four the road turns into a absolute amazing piece of tar. I was a little hesitant thinking well this is mighty fine stuff but it will surely not last long – but in fact it goes on and on. As usual the best roads seem elusive to capture in a photo but imagine this sort of stuff below just never ending.
It was an amazing ride, just beautiful. After this I had plotted a route for day 4 over Mt Inthanon and this was a bit of a challenge as the road up from the west was in very bad shape. However down the other side was excellent. Sorry no photos I was low on fuel and low on energy so I just cruised down towards Chiang Mai for a late rest break before tackling the traffic back into the city.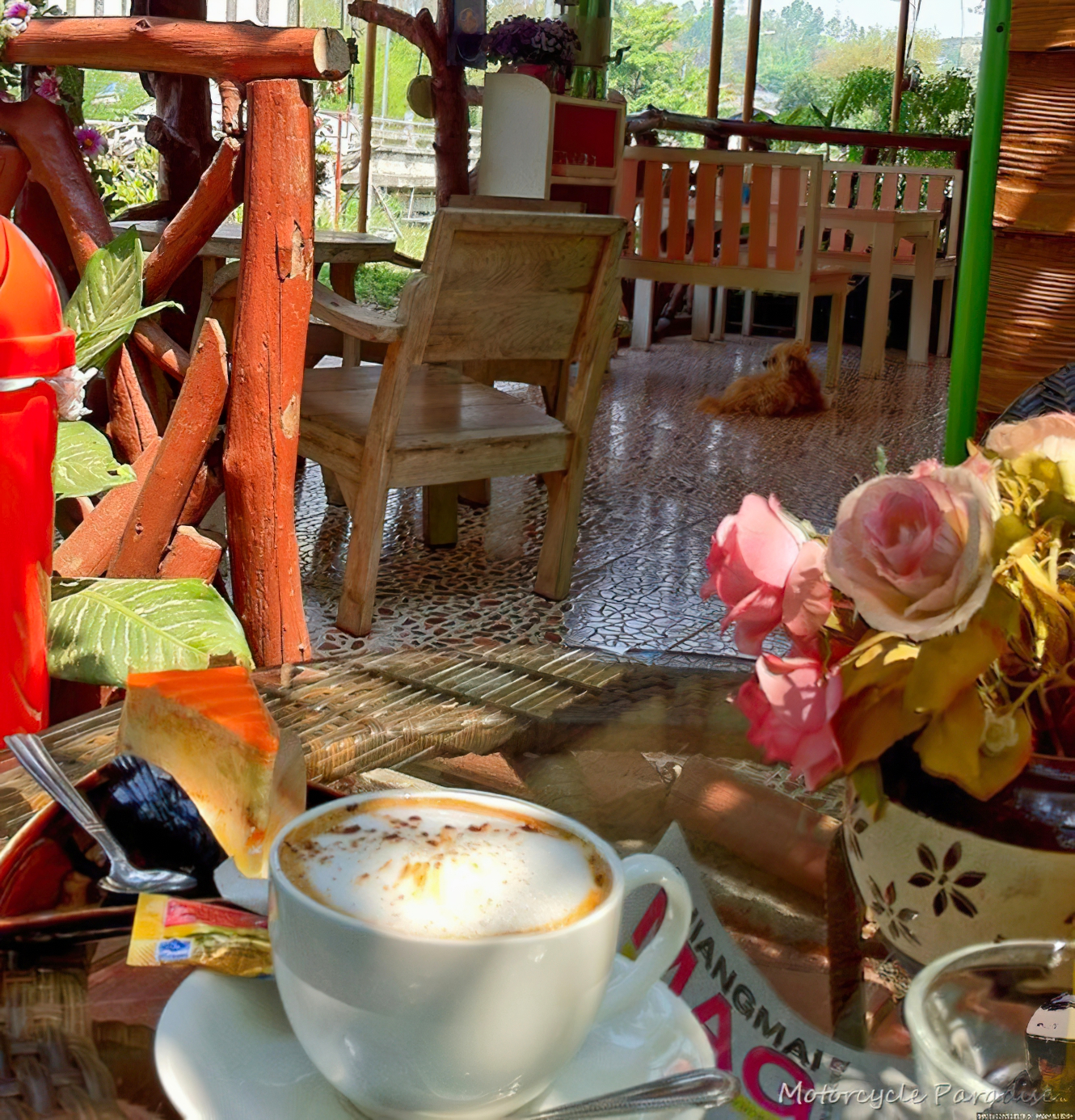 Above – doing it rough on a morning coffee break riding the Mae Hong Son loop.
The Kawasaki ER6N was a great bike for this ride. Light and nimble and comfortable. A heavier machine may have been a lot of work on the slippery surfaces and just not needed on roads always tight and twisty. I am not such a fan of small parallel twins. However since I was riding so conservative the engine in the ER6N rarely got any exercise.
I covered the miles in comfort but had a high degree of fatigue and smaller days would have been far better. I had a great time despite the air pollution and in fact I already have a draft plan to ride there again at Christmas when it will be cooler and no fires. If you live in the southern hemisphere you should put Northern Thailand on your must ride list, it was great fun.