2020 notes – It seems an odd choice now but I started my solo rides in SE Asia in Singapore. Photos have been updated and few more added however these came from iPhone4 and not much I can do now.
I had a few days layover in Singapore and noticed a company that organised motorcycle tours to Malaysia also rented motorcycles. It seemed to fit my timeline so I booked a bike and started to work on the details.
Big Loud Rides are in Orchard Road, Singapore and have some very nice Harleys for rent (or as part of a organised tour) as well as a BMW R1100S. It seems odd going to a shopping mall to rent a bike, but that's Singapore. I chose the BMW despite the overly sporty ergonomics.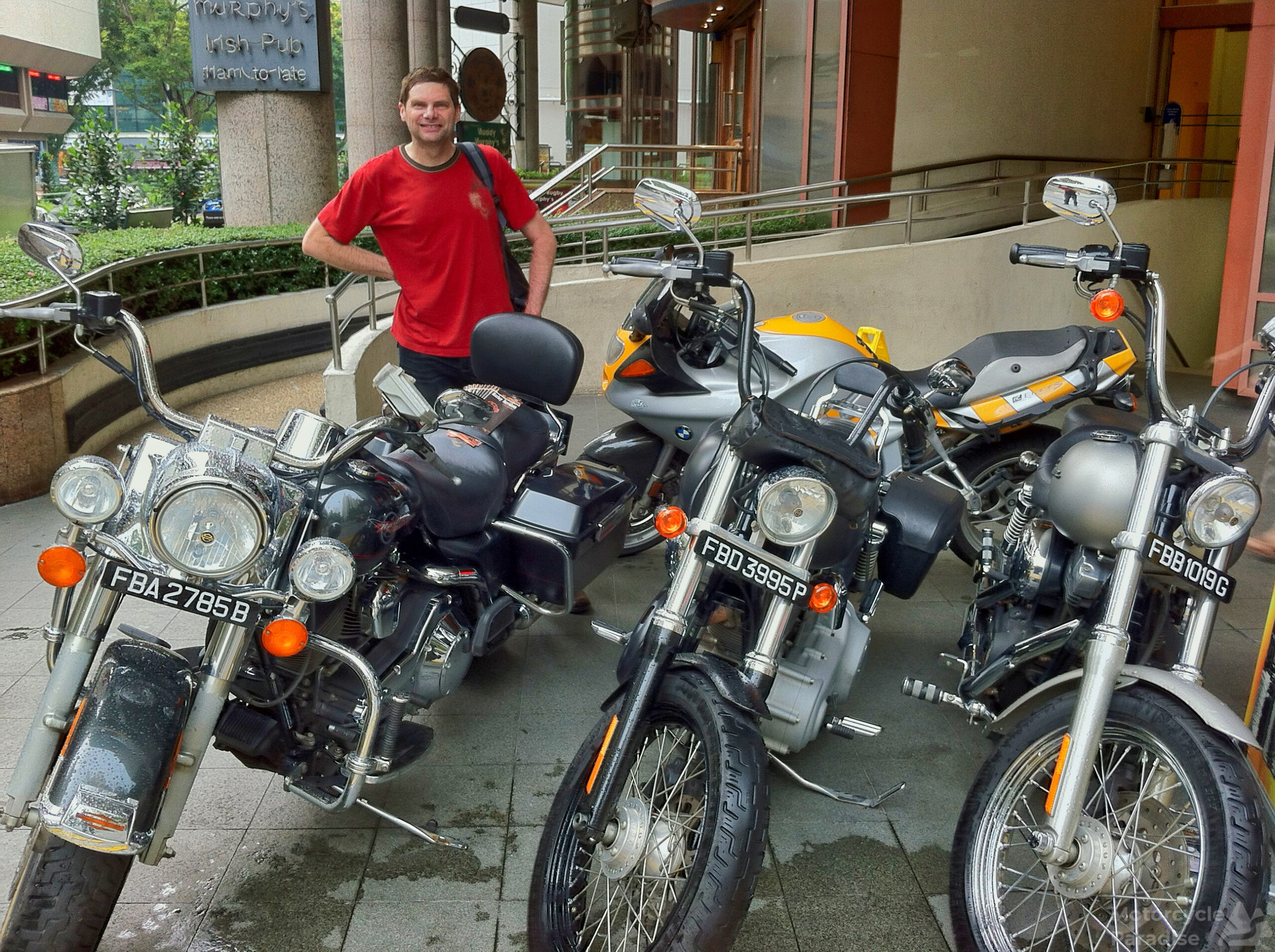 Singapore is a great place but big cities are never fun to ride thus I woke up early and rode out at the break of dawn. Need to have toll road device and card for Singapore.
I used the Tuas checkpoint to enter Malaysia which sounded the less busy option. The border crossing procedure is simple, you must stay to the left and use the designated lane for motorcycles, which I was pleased to find also meant skipping a huge queues of cars. No paperwork leaving and after the bridge from Singapore island to the mainland you will find a toll plaza with a motorcycle lane to the far left where you pay the bridge toll.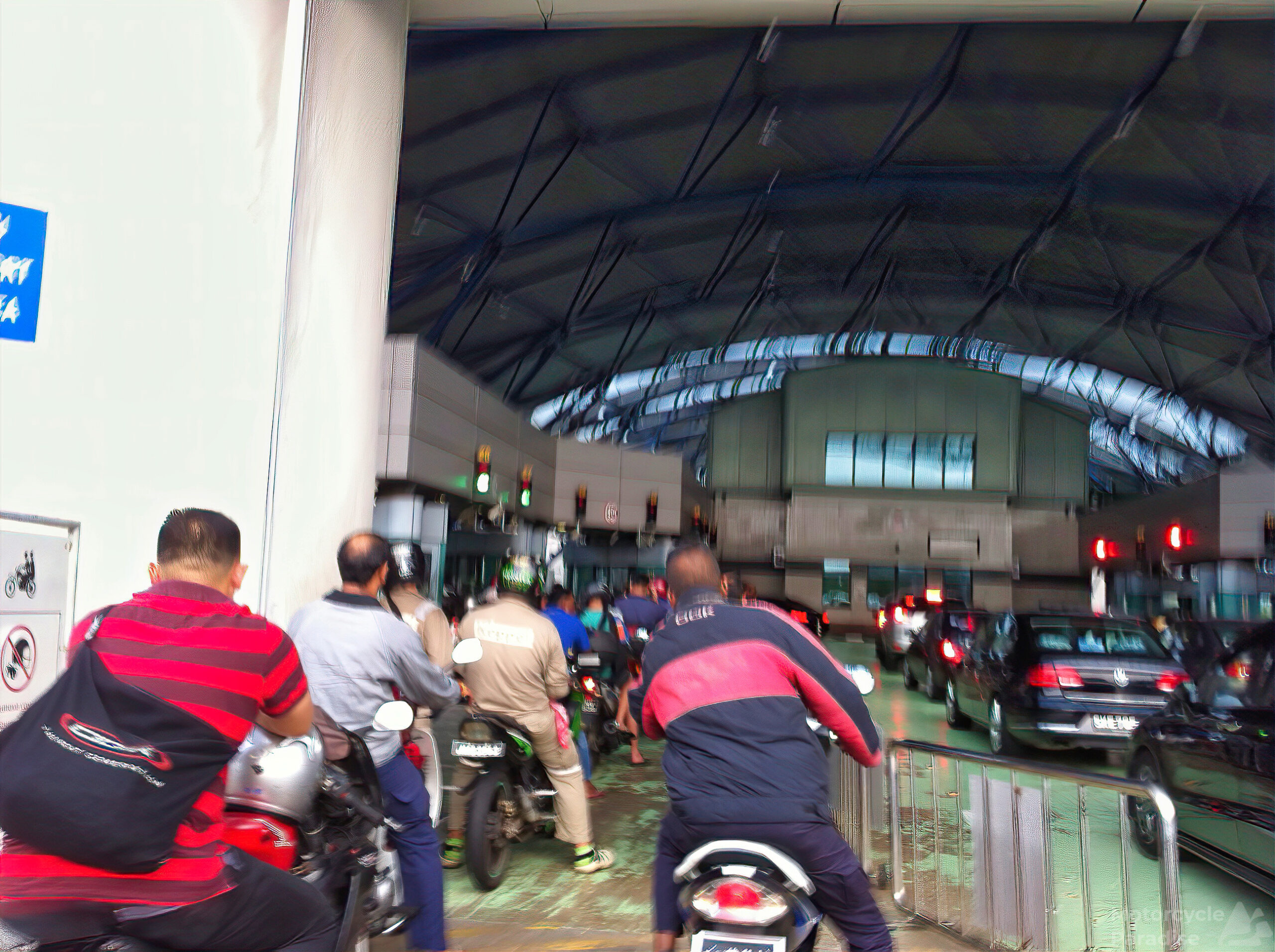 Sorry about photo quality.The whole process took very little time and soon I was in Malaysia and so I decided to stop and have breakfast.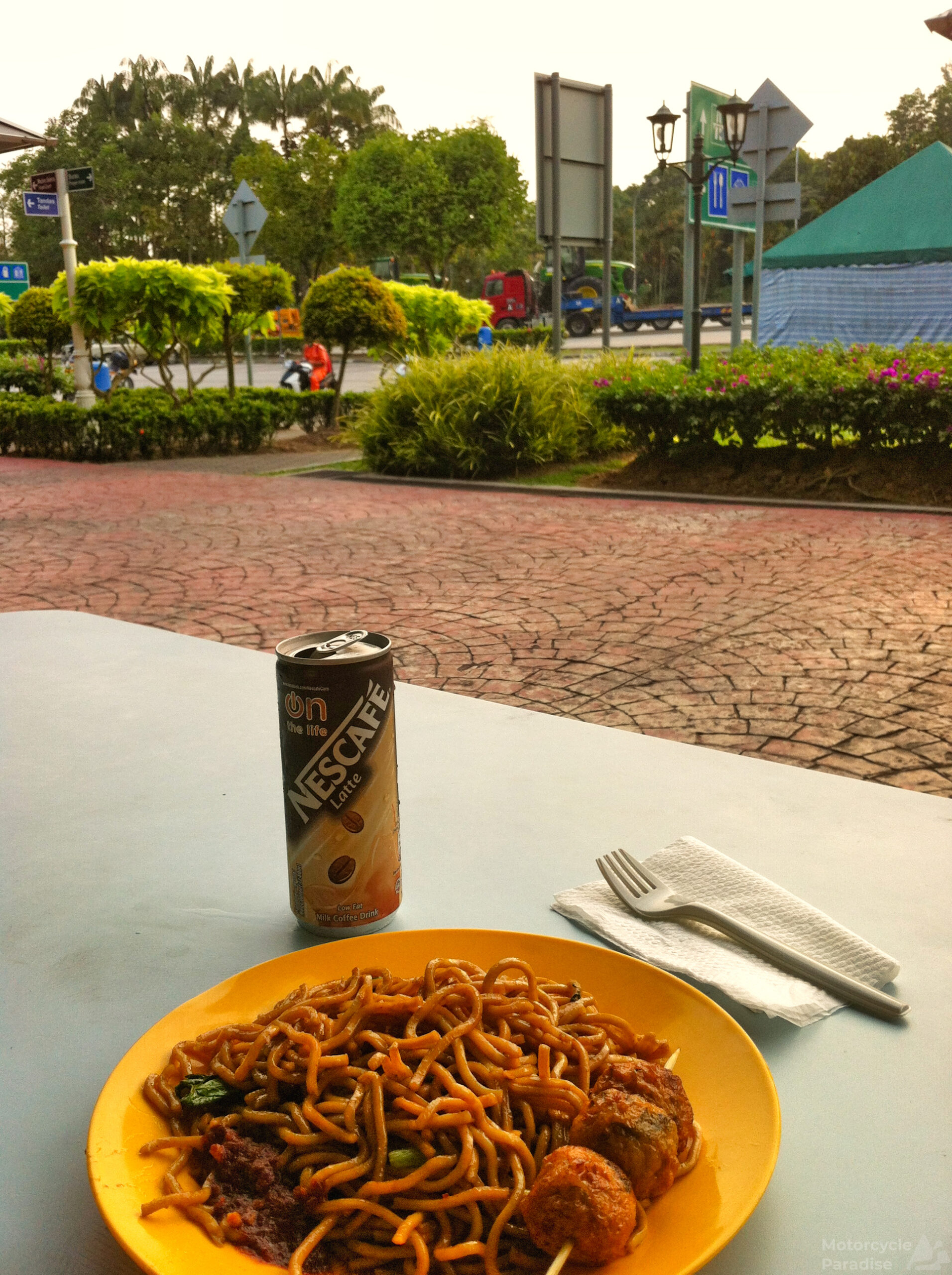 Motorcycle riders get good treatment in Malaysia. You pay zero tolls which never ceased to bring a smile to my face at every toll plaza. Make sure you slow in advance and get to the far left where there is a small motorcycle lane that goes around the outside of the toll plaza complex. Often these motorcycle lanes have a small rest area with shelter or a toilet for riders to use. This is not the only special treatment riders get in Malaysia, under most overpasses there is a special area off the highway created for riders to stop when it is raining to rest of put on rain gear. This is not an impromptu thing but officially signposted with exit and entry lane from the highway.
Of course towns present heavy traffic but the shoulder lane is the domain of motorcycles and cars generally make room for you there or to lane split if no side lane. I also noticed plenty of designated motorcycle parking areas, a pleasant experience coming from motorcycle hating Australia.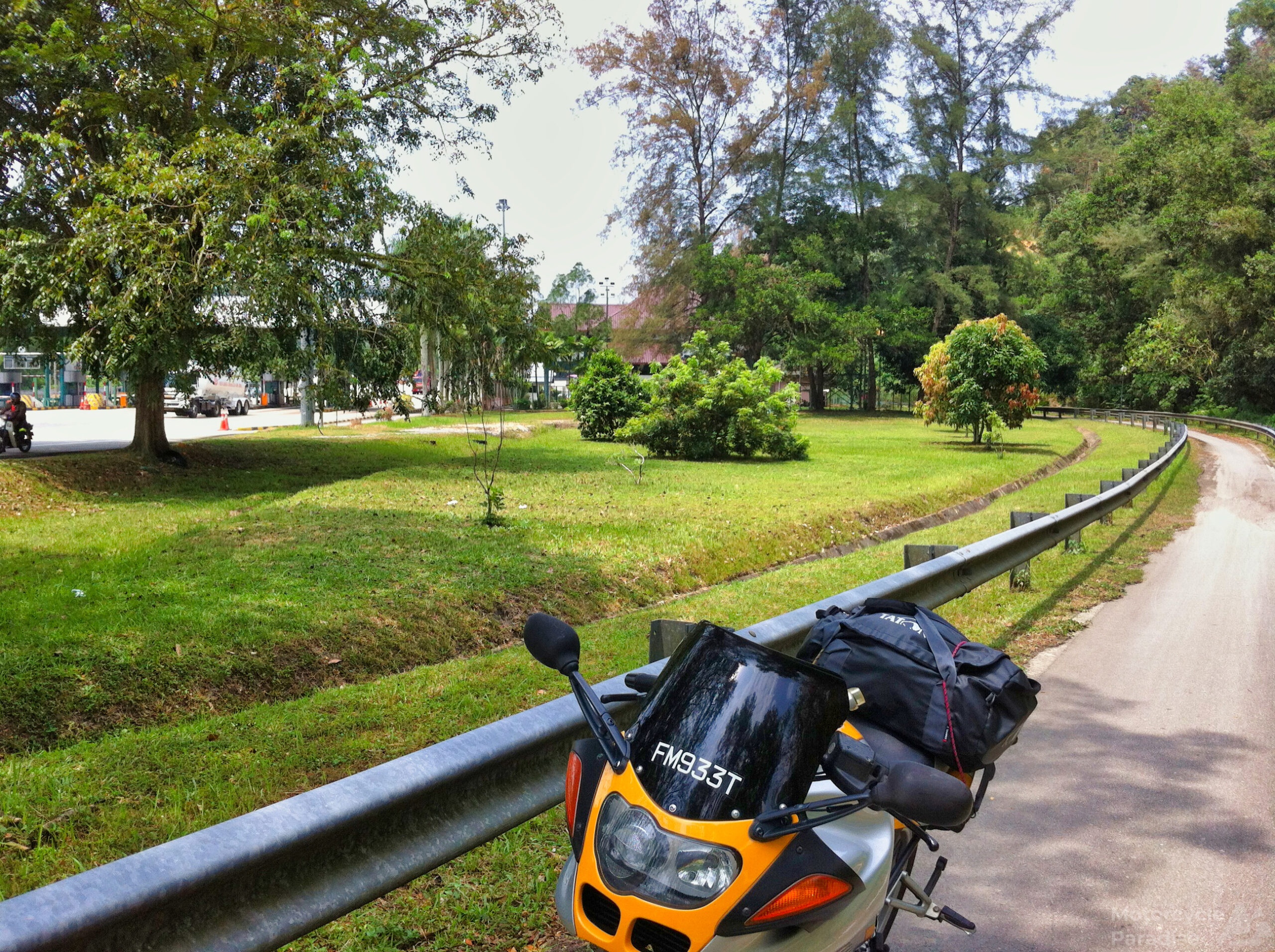 Riding from Singapore to Genting Highlands the motorway was fast but boring. Not until I reached route 9 from the Negeri Sembilan district that the road got interesting and indeed the road then is quite curvy to Bentong.
Just before lunch I stopped in a town to check my route and found myself in front on a KFC. Now as a rule I try not to eat fast food when I travel but it was hot and the lure of air con took me in to cool down. This turned into a interesting dining experience as I ordered the local meal box which as you can see comes with rice, soup, spicy sauce and had a unique taste as far as anything I have ever had from KFC.
From Karack to Genting there is a long multilane highway but with long superb curves, a wonderful bit of road.The climb to Genting Highlands is very steep and tight but one way road up and down and mostly multi lanes so still fun.At the top you have a theme park and many hotels. It would seem a very popular place for couples to come for an escape from the heat of nearby KL but worked ok for me to kick back as well.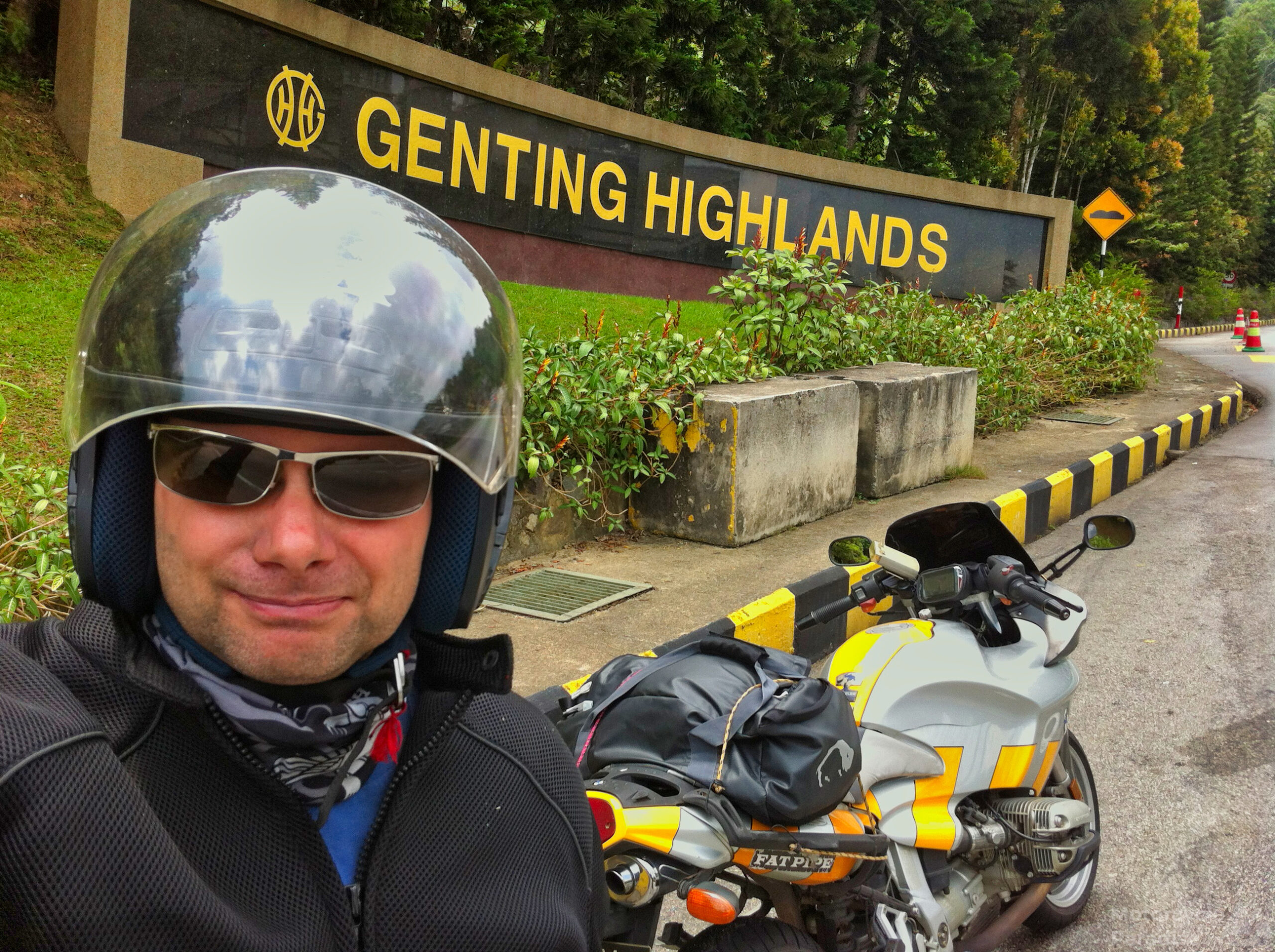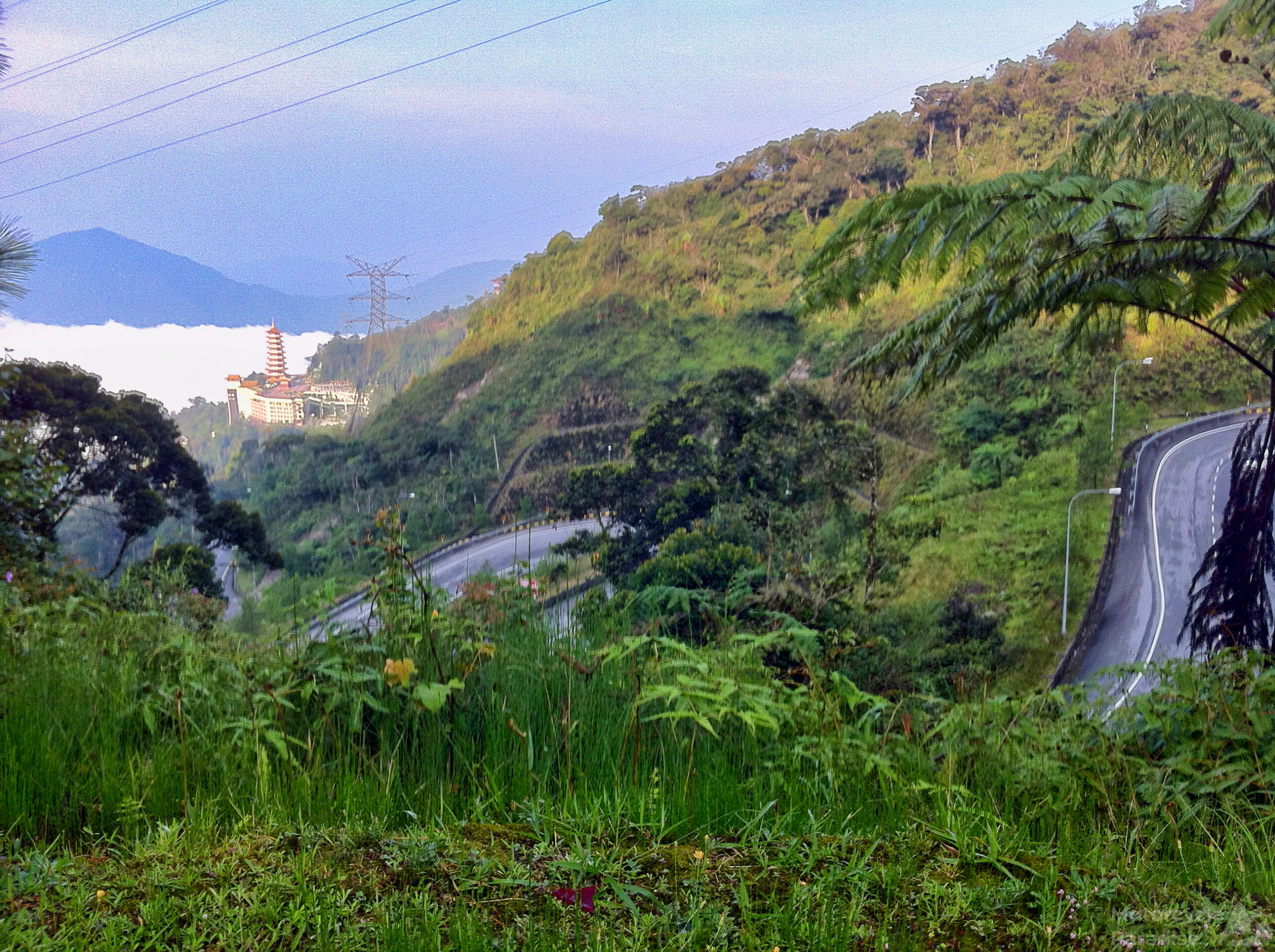 (2018 comment, wow my photos were so bad back then)
The next day I rode to the Cameron Highlands. The route I took was via the Raub district and then onto the C156 road which is one of the best roads I have ever ridden. The most perfect collection of long sweeping corners where you seem to be leaning the motorcycle over forever in corners that never stop turning. Smooth, grippy and almost no cars mmm … sorry I was just day dreaming a little.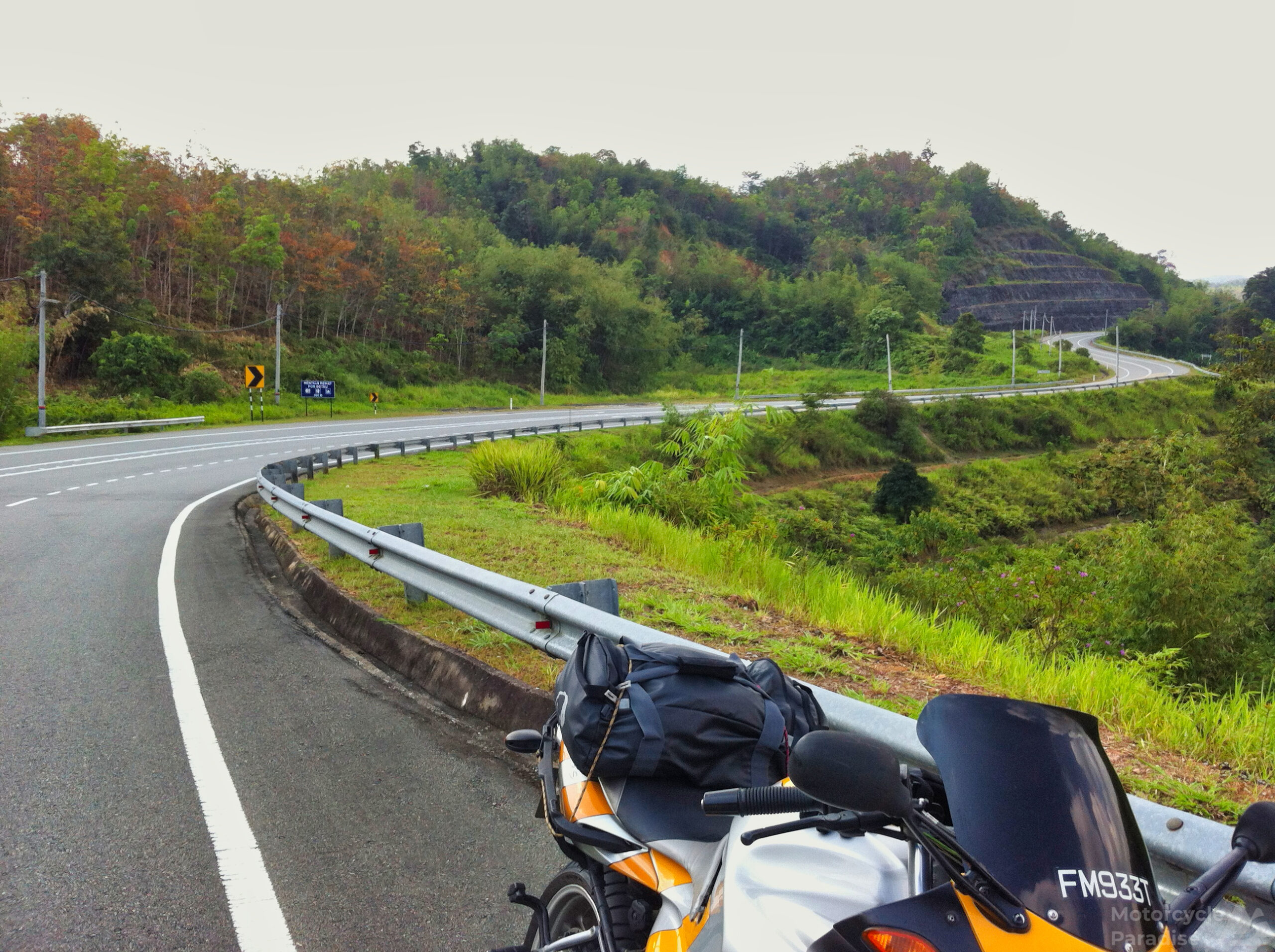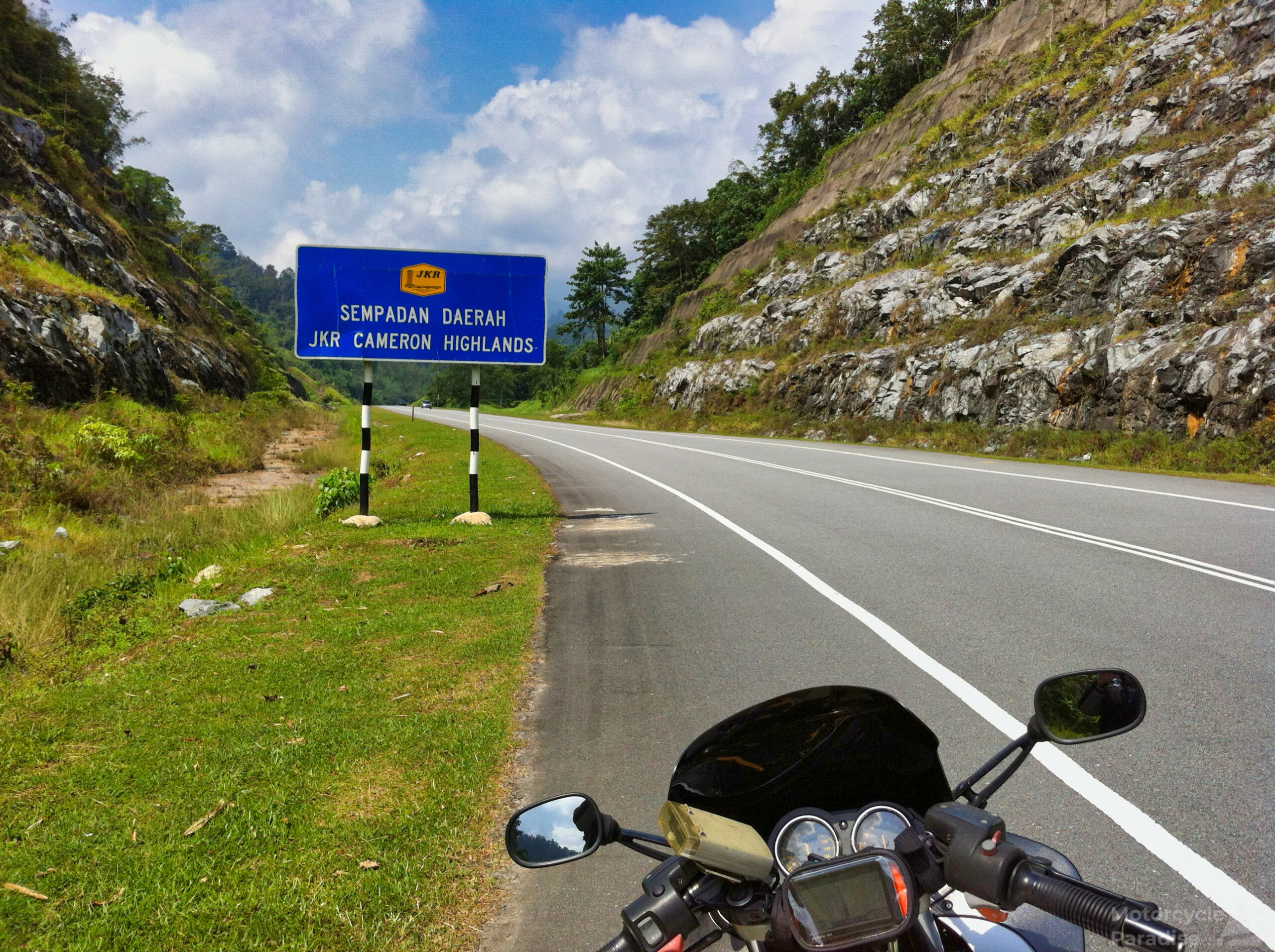 Nicely designed curves ahead sign.
More common variety tight curve surveying can be found on route 59 west and north from Ringlet but these roads were also busy with cars. I did not get to see my final target, road C181. I was always going to have to monitor how the day went time wise and by lunch I realised I would not be able to do everything I wanted so quickly decided to cut this and backtracked to enjoy a simple lunch at one of the tea plantations.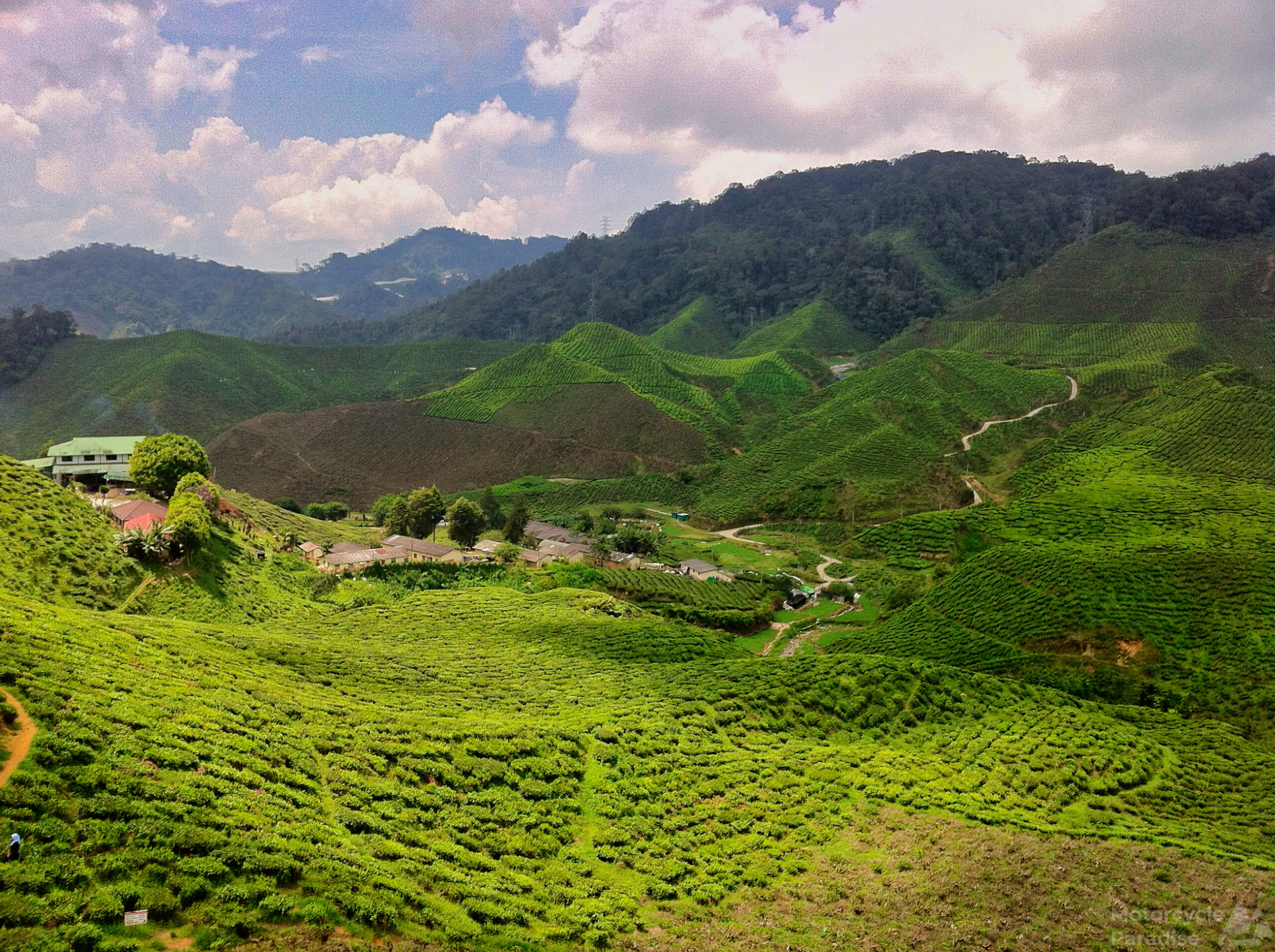 Everywhere I went people wanted to talk to me. I was the only westerner everywhere I went and people were friendly and genuinely interested. I rode back down the awesome 156 with some guys on 125 scooters who were streamlining themselves to do 100k using the gentle downhill gradients and then pulling some serious lean into the sweepers.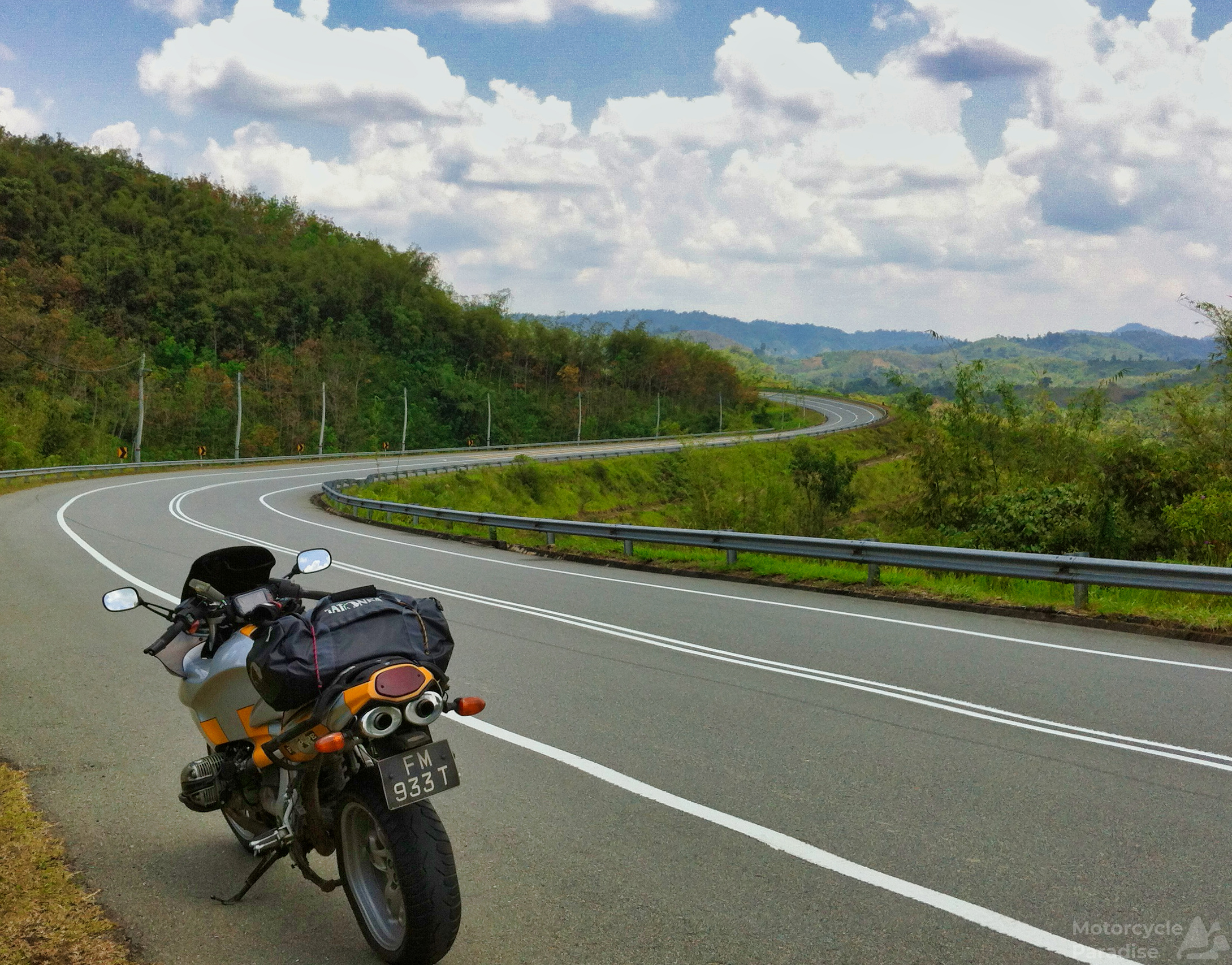 Looping back I stayed the next night at Frazer Hill. It looks like it has fallen on quiet times of late. Compared to Genting there was very few people and the hotels all looked a little past their glory days – but I liked it. It was very quiet and relaxing and my hotel had character and was interesting.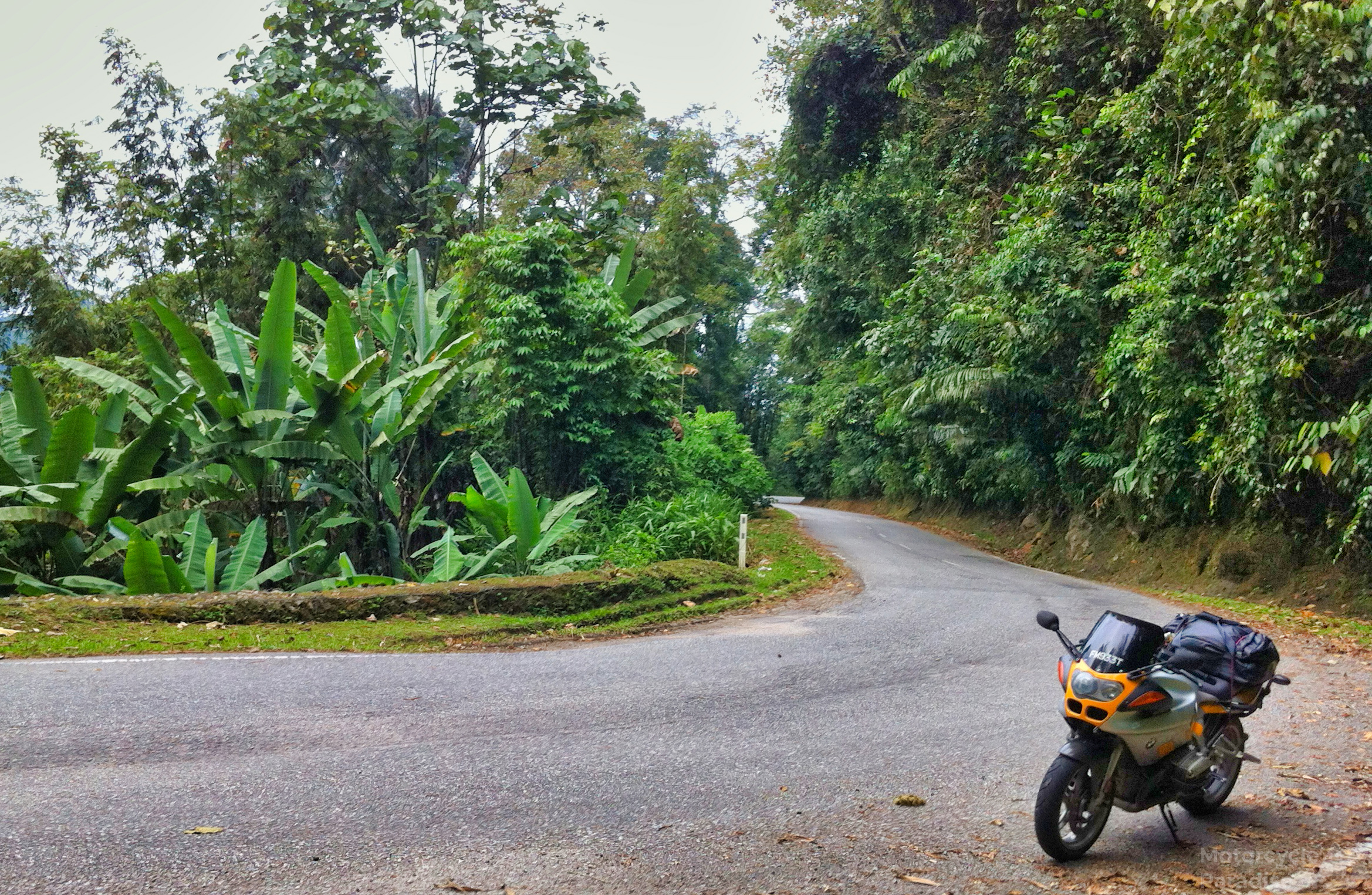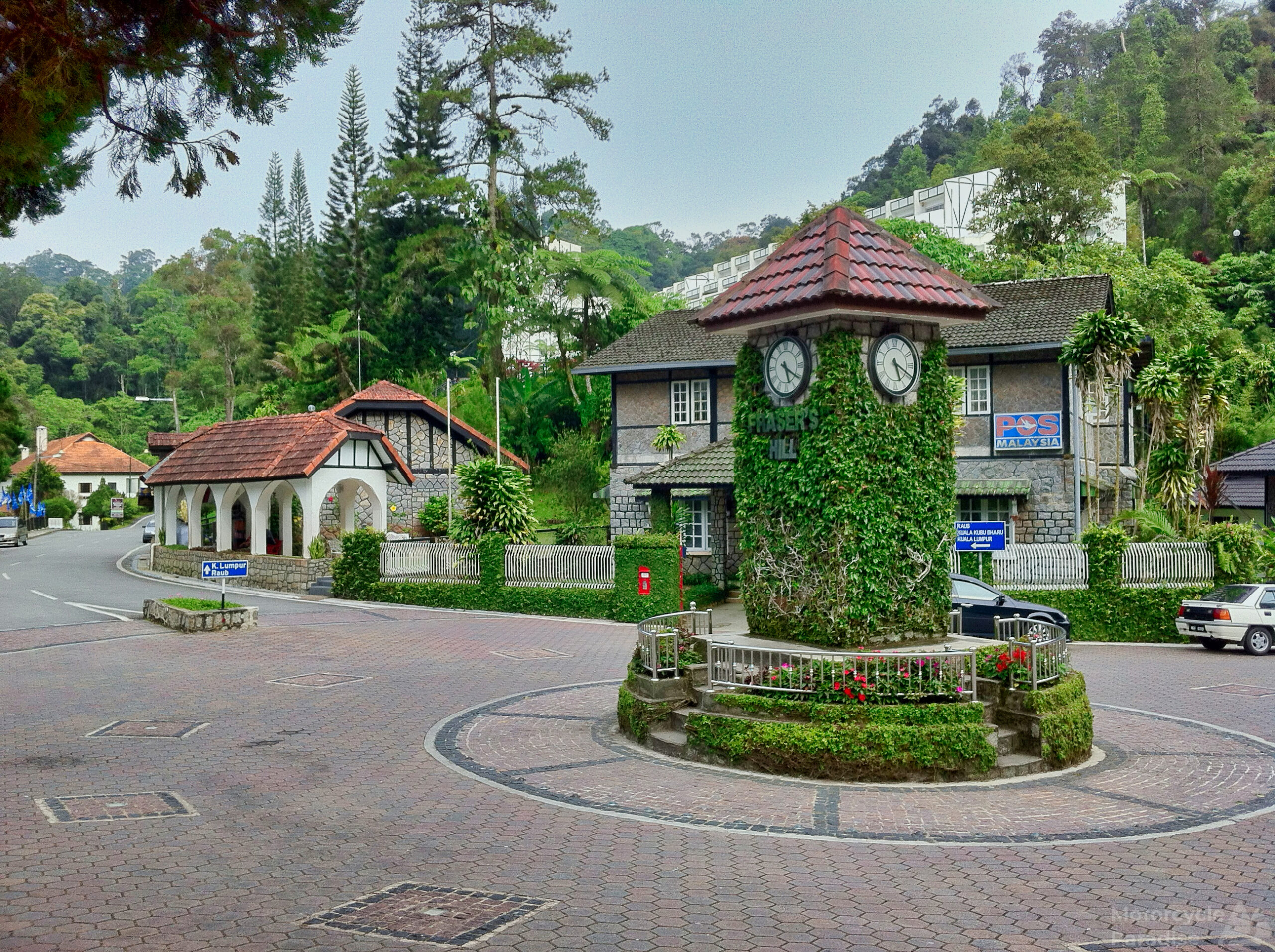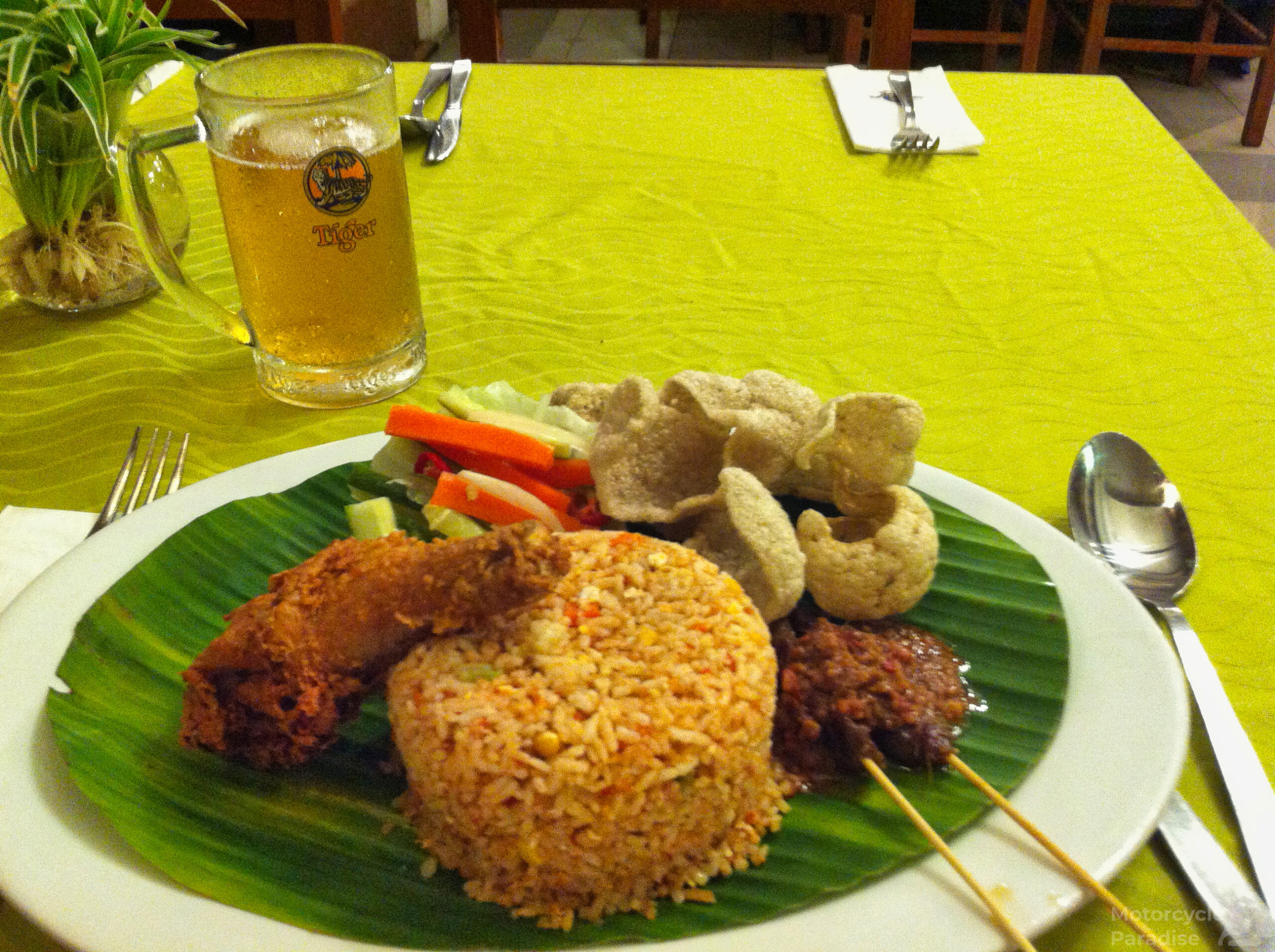 The road to there from the east is very tight and twisty and then the last 8 km is a one way road in and another 9km one way out of very tight curves. The BMW fuel light came on as I arrived at Frazer hill with just 170km on the trip meter. I had read this model had a woeful range and had been refueling before 150km but this still caught me by surprise. It was a worrying 50km to the nearest fuel.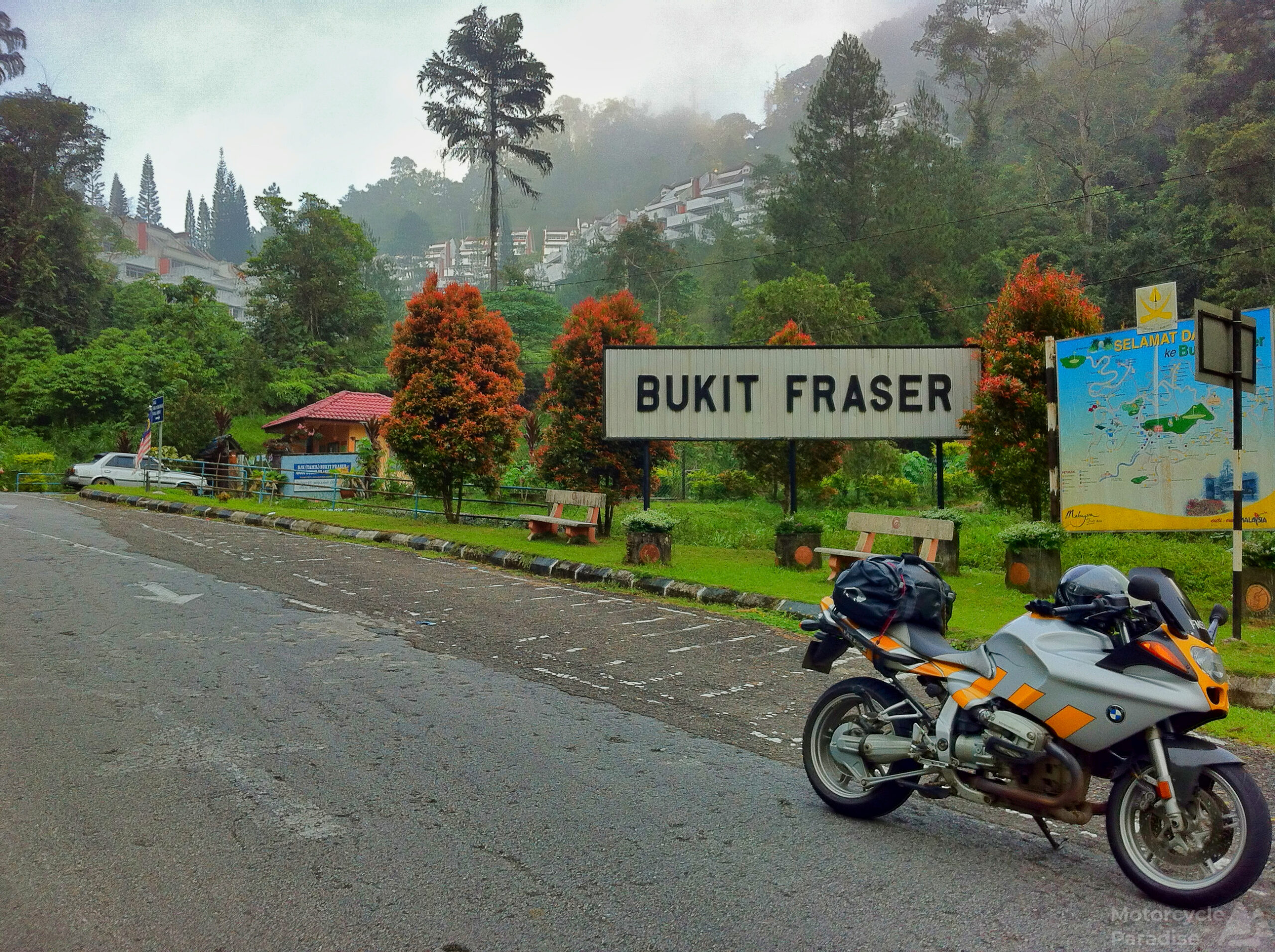 I got up for a early departure and the hotel manager who had met and chatted at length to me yesterday came to wish me all the best and assured me it was down hill all the way to fuel so I would be fine. The road to the west is superb curves, beautiful tarmac.
After this I changed my plan and decided to skip my route via more regional roads and ride back via Kuala Lumpur. Navigating KL I had read was difficult but really it turned out not hard at all. There are motorways that take you right the way past and only twice did the multi lane spaghetti type highway junctions get difficult when the GPS struggled to keep up. First time I guessed it right, second time I guessed wrong and ended up off the motorway for a couple of heavy km of city traffic before the GPS caught up and worked out how to resume my journey.
I just cruised back down the motorway towards the border, I could have covered this very fast if I wanted as speeding does not seem to be policed but the BMW engine felt rough above 120kph and the rental helmet then started to put too much pressure on my forehead. On the motorway there is the same huge service centres found all over the world which there have good options for eating as well.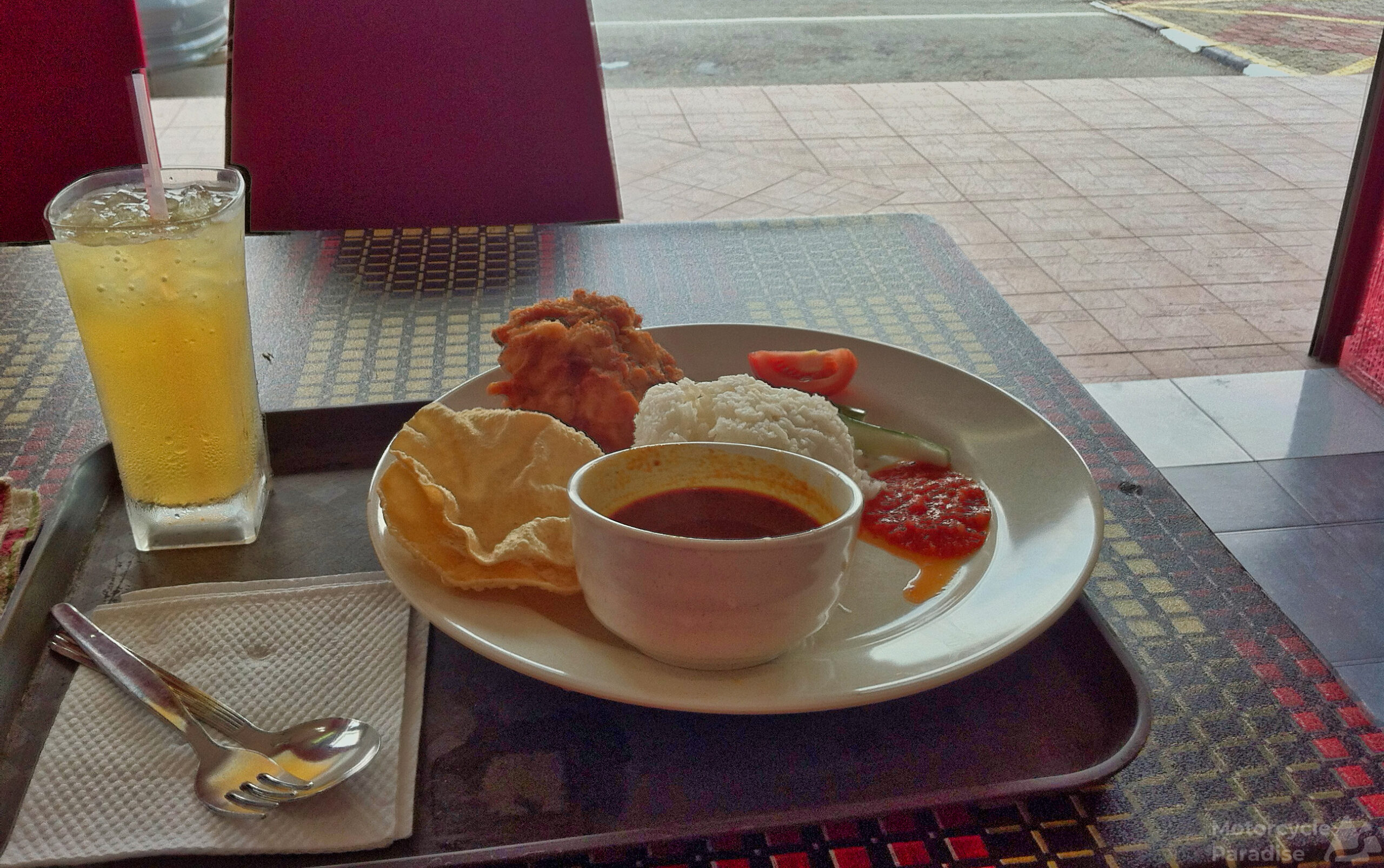 Lastly fuel is cheap, about 1/2 Australian prices at 80 something cents a litre for premium at my calculation. You have to pay before you fill up (only country outside North America I have encountered this) I used mostly Petronas petrol stations where I was able to use the pay at the pump via credit card facilities. This is way easier than going inside and getting a pre authorisation on my card.
Almost back to the border and I can see it is about to rain so I pull into one of those kindly provided motorcycle parks under an overpass and moments later a mild thunderstorm bursts and I am joined by a bunch of locals who assure me no need to don my wet weather gear, just wait 20 minutes. Re entry to Singapore took a bit longer, they went through paperwork with fine comb and seemed pissed to find nothing wrong. A guy on a push bike did not fair so well being told his bicycle not permitted.
Well to state the obvious I really enjoyed riding Malaysia and I will certainly be back in the future. I probably will try go further north to ride a loop via Gerik and Jeli but could easy enjoy a couple of days revisiting the highlands which were superb.