Update 2018 – still using this helmet – best I have ever owned. Replaced liner and visor and also have the N44 helmet to replace this one but find myself grabbing it when I go overseas as it is so good.
Update 2012.
The N43 is now released in Australia for anyone still thinking of one. Now with a few years of ownership I want to give a long term update. I have criticized the helmet in my comments below but I always end up back using it again. The reason is the vision is the best. After using it regular full face helmets feel very closed in. In fact you need to move your head about a lot to obtain the same vision you have standard with the N43.

Yes it is more noisy than a closed in helmet but that's the compromise, want a great venting helmet then it will not be a quiet. Always wear ear plugs and it will be no problem, Don't ignore and like every mature rider that ignored discover you then have permanent hearing damage cause it crept up on you.
I do find I get a pressure point effect with it occasionally. This is not the only helmet to do that but still no denying the liner is not as plush as a Shark of Arai and not as comfortable a design. I find wearing a summer Buff on my head eliminates this without making it hot in summer and also makes the helmet better in winter. 
The internal sun screen does not come down as far as I would like but you can force it down a bit more. Factor in the cost of a tinted main visor as the unlimited additional lower vision means lots more road and instrument glare. I have their light smoke visor and the combo with internal screen covers shady winter roads to blazing late afternoon summer sun.
Final verdict is not perfect but if I was purchasing another helmet it would likely be one of these again.
Original post below:
As you may have spotted in my last post I purchased one of the new Nolan N43 helmets recently.
I first ordered one from a eBay retailer in Italy. This is where Nolan are based and the helmets seem much cheaper from Italian retailers. Unfortunately the seller tried to increase the shipping from 20 euros to 120 euros after the sale. Eventually I got the sale cancelled and decided to purchase from Germany where the helmets were slightly more expensive but the retailers seemed much more professional and had no problems with shipping.
I ordered the white with black splash graphics, which is more expensive than plain colours however makes a difference to the look of the helmet and appealed to me enough to option the graphics.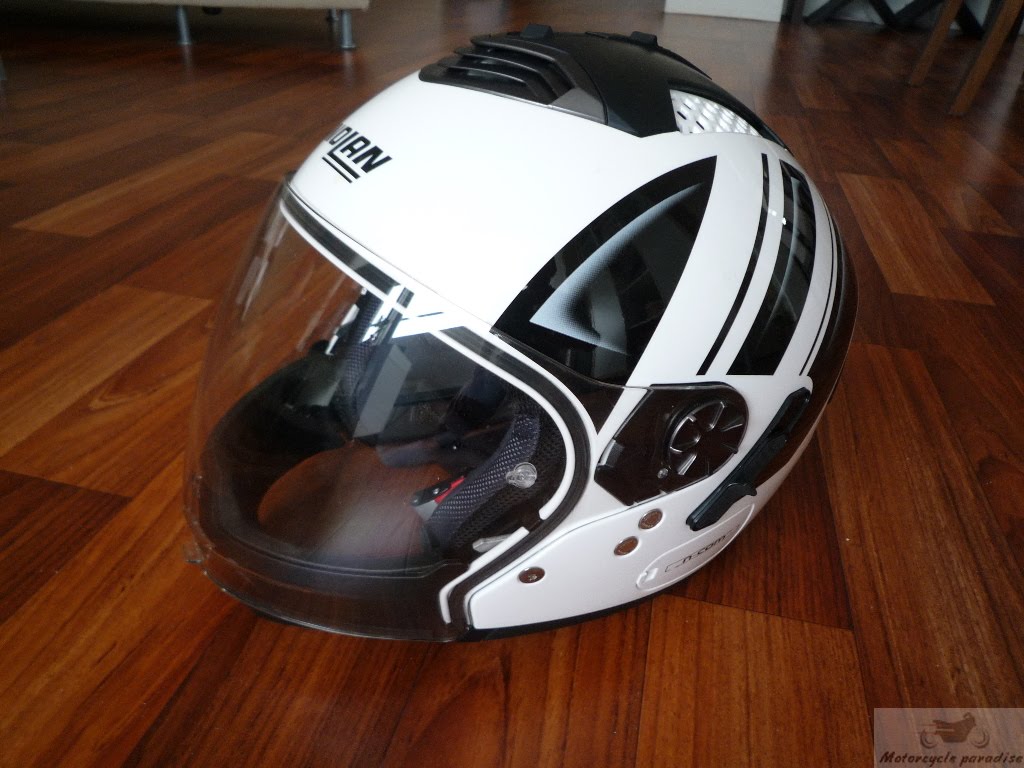 To the helmet itself. The finish is very good, it has a feel of above average quality to it. The liner is quite comfortable, it is not up to the plush level of a Shark or Arai however it is well above the budget liners. A slightly less dense weave in my experience translates to less perspiration in summer than the super plush liners which I find to overly warm on humid days.
Now to that unique design. the helmet has a smaller than normal chin bar area. This is made of a super strong material to let the helmet pass the strength tests for a full face yet offer forward vision comparable to a open face helmet. The amount of forward vision you have is incredible and whilst the gains are in your lower viewing area I was delighted with the result.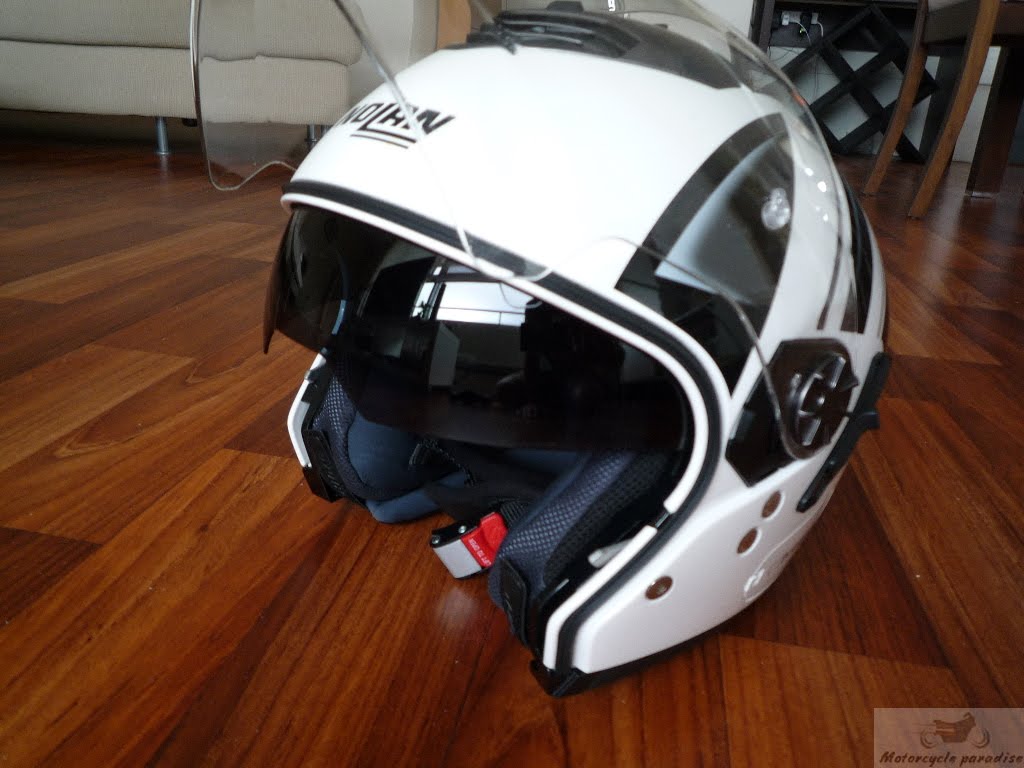 The chin bar can be detached to convert to a full Jet style helmet. In use I found the chin bar to be so low in my line of vision that I could barely focus on it so for me it felt like a Jet helmet but offered the normal full face protection with the bar in place and I could see little difference with the bar removed however some people no doubt will find this option appealing and it's amazing what Nolan have achieved to make this work.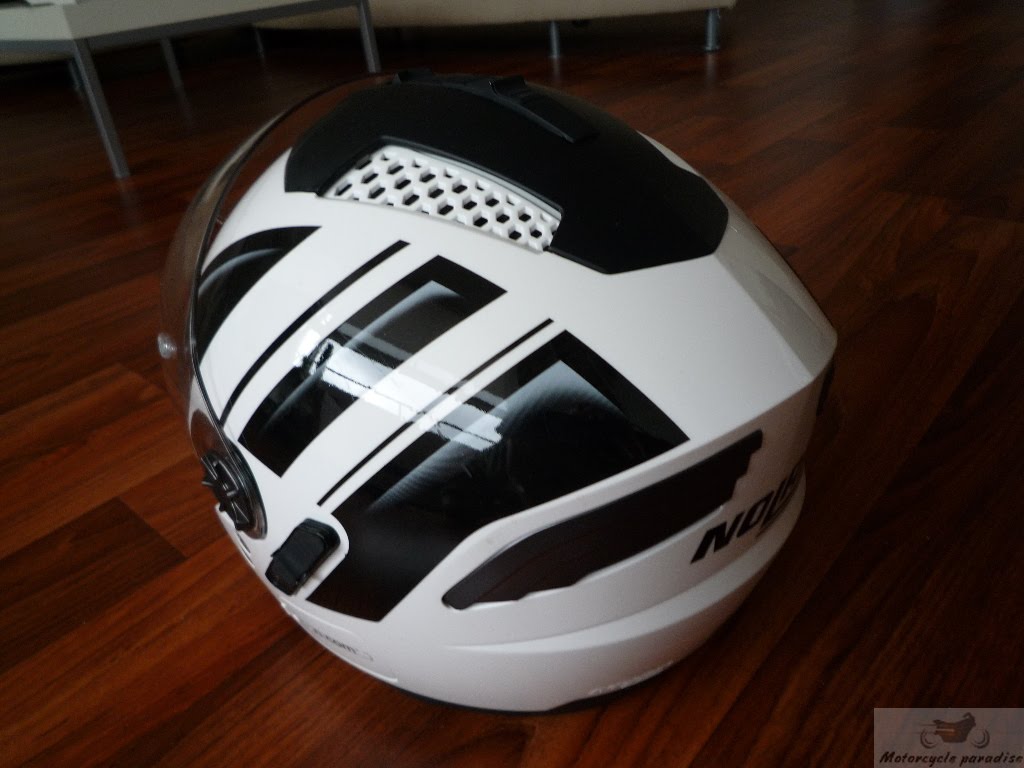 The helmet has these massive vents on the top as well as a series of venting at the rear. Without a doubt it disperses heat from inside like no other helmet I have ever tried. I was wondering if such large vents would make much noise however it is not as bad as i imagined.
The helmet has wind noise similar to other good vented helmets on the market however less than noisy helmets like KBC. It doesn't get excessive lower helmet wind noise but is more than the quietest helmets. By this I mean the wind noise that full face helmets generate at the area between their bottom edge and rider's neck at highway speeds.
Now to a couple of things that didn't work as well as I had imagined.
The internal tinted secondary visor can be operated by a slide control on the side of the helmet. This is easy to use however the tinted screen doesn't come down as far as I want it to. Related to this then is the fact that you now have this extra lower forward vision however the tinted visor only shields straight ahead vision from glare. So you are exposed to more glare from the road and dash that was obscured previously from your line of sight. (fixed when I installed a light tinted main visor)
The great thing about this sort of system however is in the rain forest or mountain roads where it is impossible to make out the road condition clearly with a tinted visor I could slide it up and see clearly the condition of the road. This would be doubly valuable on winter mornings when with a tinted visor you often cannot make out the still damp sections of road hidden in the shadows.
Back to that new lower vision, something that all Jet helmets must suffer from is you have no breath guard or ability to have the visor slightly open to draw in air as the Jet style visor goes to the front lowest point of the helmets. This was not such a big issue for me in use so far, the small vent in the main visor itself keeps it clear. In towns going where the speed was very low I flipped up the full visor leaving the tinted one down and this worked very well, better than flipping up a conventional visor as your eyes are still protected by the tinted one yet your face has extra amount of cooling air upon it.