I think every biker has a few roads on their bucket list. The Transfagarasan in Romania is one such road for me.
I knew about this road well before the three stooges of Top Gear made it famous by calling it (in Clarkson's voice) the "Greatest road in the world" and I had booked to go there long time ago but injury (non motorcycle) cancelled that trip. I am more aware now days that some of these places are just hype but I am going for a look anyway. The journey is the destination.
Prelude
Poland
It was a 30 hour journey from Sydney to Warsaw thanks to flight delays and stopovers. I flew Vietnam Airlines in Premium Economy but it's premium only in name. 2-4-2 seating in a 787. Compare that to Qantas premium layout of 2-3-2 in a huge A380. Maybe I'm sounding like a snob but after flying 100's of times in sardine seating I have simply reached the end of my tether and will pay extra for room or not fly anymore.
After much needed sleep in Warsaw I took a train to Zory to meet a friend and fellow rider who graciously put me up and took some time off to show me around.
First thing I did was to visit Auschwitz-Birkenau. The WW2 Nazi concentration camp that is located in Poland. You have to book, entry is by tour only but they have some tickets every hour left over for people who cannot access internet and thus we were able to arrive and join a tour.
Took everything I had to remain composed on this tour. The scale of the camp, the cruelty, the number of people exterminated, the evil is beyond comprehension. One thing stays in my head, the tour goes for three hours and my stay there was longer then most people who were executed upon arrival.
I also toured the beautiful rocky landscape of Adrspach in Czech Republic then joined a tour visiting one of a huge network of secret underground bunkers Hitler was constructing where rocket weaponry was being worked on which could have changed the outcome of the war.
I had a wonderful time in Poland thanks to the people I met and stayed with.
The Ride
I start the ride in Krakow Poland. My bike for this tour is the humble Honda CB500X, a model I have rented many times in Thailand. I mostly choose it because it is cheapest and that was same here. Bike rental for a mid size model like this in Poland is not expensive yet Krakow is still close enough to the Alps or Adriatic coast to launch your tour from so give it a thought.
Day 1. Poland, Slovakia.
A little bit of GPS navi confusion to start any ride is always on the cards. The very place I do not want that is exiting big city but usually exactly where this will happen and today was no exception. Fortunately I knew the name of main city to the east I was riding towards so simply followed signs and once out of the city stopped at a Macca's for breakfast and to reload my route.
I was running MyRoute App navigation on phone in pocket to my bluetooth headset at same time with identical route but the app seems terrible. It's volume is very low making it impossible to hear once I was moving. It also seems unable to continue past a waypoint skipped even though this is a feature promoted (and sorely needed on phone navi apps) Thank the stars I brought my Garmin. 14 year old and still better.
After my late breakfast I could catch up a little as 140kph is the legal speed for highways in Poland. Locals seemed to be doing 160kph. Seemed really fast to me after Aussie roads. If you have a CB500X then get the same screen this one has by Puig it works superbly.
Then some backroads in the scenic south east of Poland. I did not photograph much today as my ETA blew out with a couple of roads closed requiring detours but lots of pretty villages with interesting churches and green rolling hills.
Crossing the border to Slovakia it too is quite scenic and full of Skoda cars being where they are made.
Tonight I had a nice dinner at nearby Italian restaurant at a low price as was my older hotel room. I know camping and having thousands of dollars in gear is very popular now but I prefer to spend my money to have a hot shower at end of each day and a dry room to sleep in at night.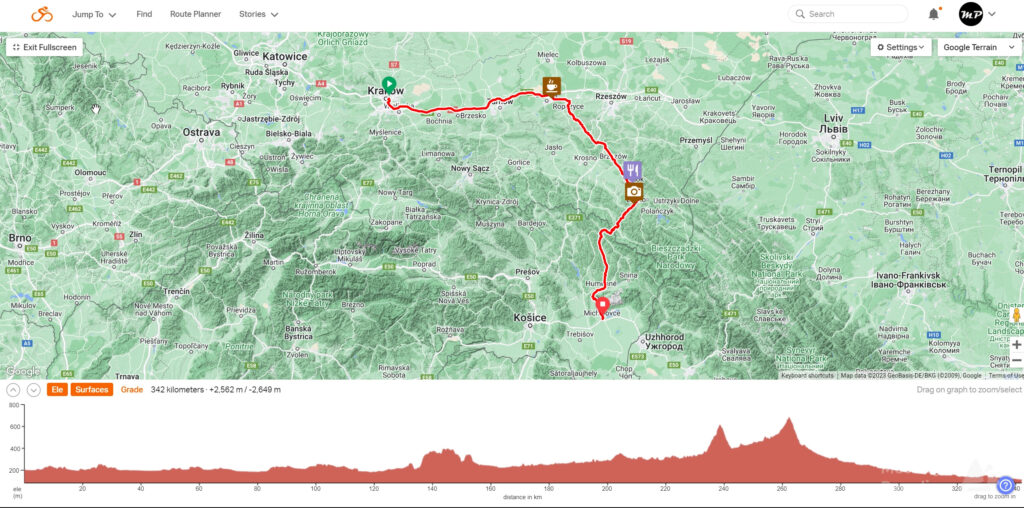 Day 2. Slovakia, Hungary, Romania
I had read a number of times that the Transfagarasan was nice but you had to ride too many ordinary roads to reach it. I guess I could say today was not the most exciting roads however it was still interesting as my first time to visit Hungary and then Romania.
Two days, four currencies. Thankfully cashless is catching on and I have been able to use my credit card almost every shop. However I am carrying some cash just in case.
Huge traffic jam at the Romanian border. I was initially in the lane for 'other passports' but actually you have to use the EU passport lane with an Australian passport. Took me an hour to clear the border. Then the timezone changed an hour later in Romania so my early finish evaporated but the weather is great.
Two litre beers for about $4.00 Australian.
I visited the Merry Cemetery in Sapanta Romania. The tombstones are brightly painted with images describing the person buried.
I am staying in a beautiful apartment tonight in a town that is close to Ukraine.
Pretty streetscape of Sighetu Marmatiei town Romania which my apartment was a few minutes walk from.
Decided to prepare something simple in the apartment tonight for dinner with some nice wine from Moldova I found in supermarket and reflect on how fortunate I am to have beaten cancer and for now be able to again do what I love – motorcycle touring.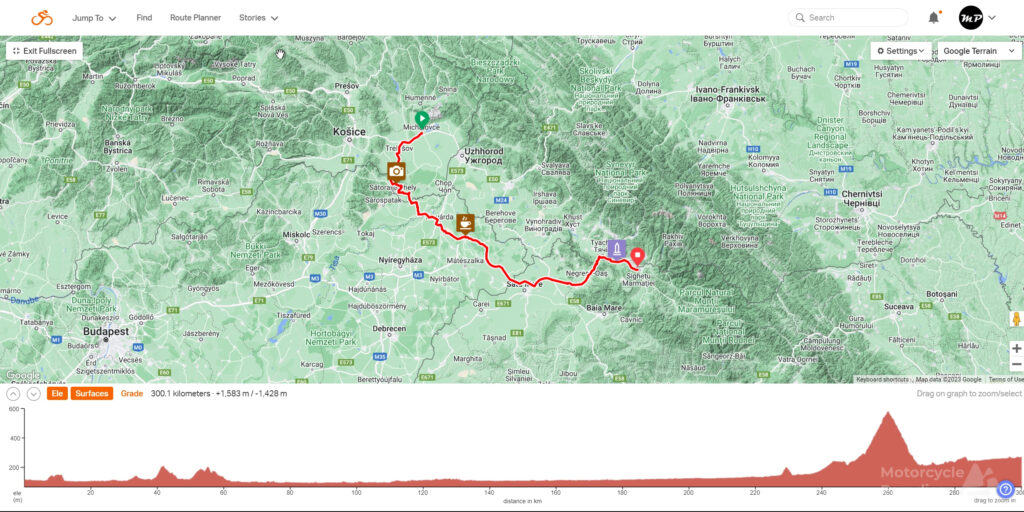 Day 3. Romania
I used the excellent web site Moto Route to plan my ride in Romania. It's is a blog and free best roads guide for Romania and today that planning paid off.
Fog in the hollow – good day to follow. Alberta farmers saying. Beyond that ridge to my left is Ukraine.
Romania in the mountains is very scenic and excellent riding too. Today began in town but soon moved to the mountains and the roads have just been great.
Going down the other side the road opened to offer great views.
In the middle of these mountains was a nice cafe I had found on google maps when planning the route and was delighted today when I found it in real life and to eat a delicious light lunch there.
Another excellent mountain road! Romania really delivers today. Superb.
And the curves keep coming.
This is a side Romania which I have not seen published much by other riders. Almost 300km of continuous good motorcycle roads today.
I'm finding my routes on this tour a little demanding. Around 340-360km a day is too long for me now. I was going to rent a new BMW R1250RT for this tour which would have made the miles easier to cover but it was three times the price so my cheap charlie nature kicked in and I went with the CB500X.
Stopping to photo this bridge I met a couple who had a family member in Brisbane Australia. Always a small world.
Not the Italian lake district, this is still Romania.
I rounded out the day riding this deep gorge which reminded me of the cross island highway in Taiwan. Amazing day of riding.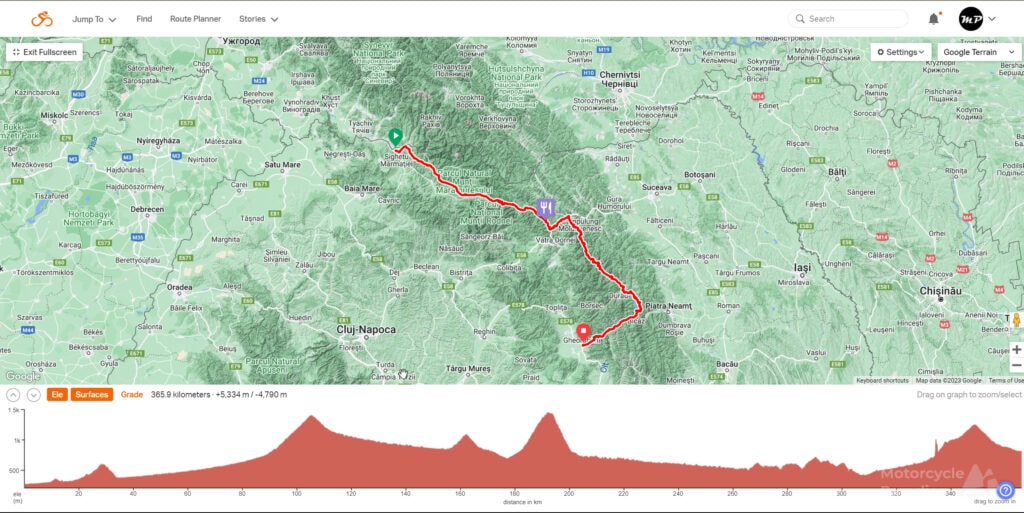 Day 4. Romania.
I had the choice of visiting Dracula's castle but I'd rather focus on riding the mountains. I'm old enough to know what I like and need only please myself. There is plenty of interesting other historic buildings along my route each day to satisfy.
The Romanian gas station chain called Rompetrol has been a delightful find for me. They have some decent fresh food and good coffee and usually a nice separate quiet area to eat.
But I cannot sit still for long today because I am close now to one of the main roads of this ride.
The first half of the Transfagarasan ascent (northern side) is not unlike many other mountain passes. It was fairly new hotmix and I got a nice run with few cars. Above I am stopped before the much photographed high section where the mountain has it's own climate. The road zig zags straight up into the clouds.
There is many viewpoints in the upper section all with bikers taking photos. I'm shooting in misty low clouds with a phone so this is the best I can do but I'm really happy to have good weather and the road open. It can be already closed with snow in September.
The southern side was bright sunshine but not as photogenic.
The road follows a lake shoreline after this and is a very tight twisty ride for considerable distance before you drop down further again.
Well that is one big bucket list item ticked off and tonight I am staying in a lovely hotel at the southern end of the pass with quite a few other riders.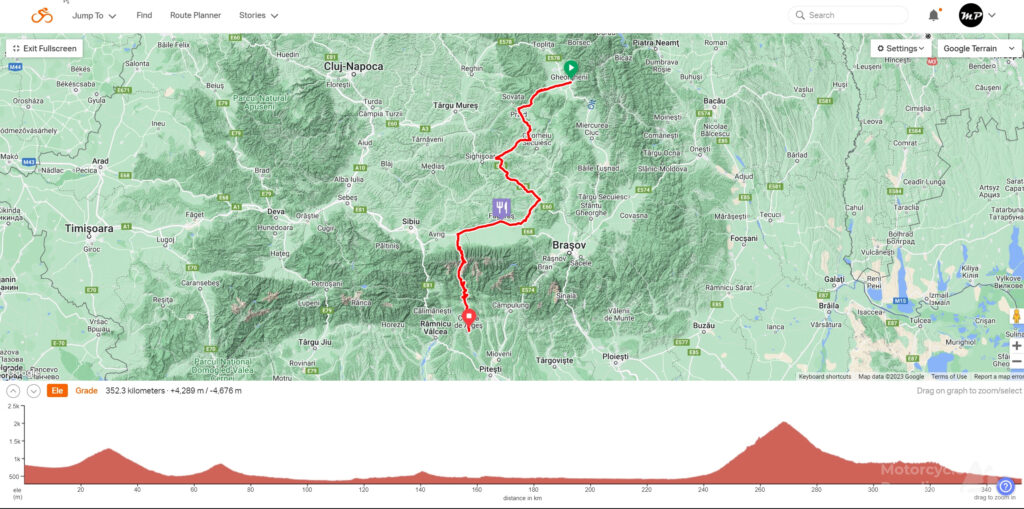 Day 5 Romania.
The weather is still holding for me and today I have another famous road, the Transalpina which by all accounts is much better than the Transfagarasan.
Build it and they will come exists everywhere. Some guy has built one of those upside down illusion theme parks in the middle of nowhere and painted all the trees to get passing cars attention (but car park was empty).
Finally I managed to have a picnic lunch on this tour which is something I like doing whenever possible. Here I am half way up the Transalpina from the southern ascent which needed a drone to photograph.
The road climbs further then there is a spectacular high plains section.
Really a spectacular road that I am not able to capture as well as I would have liked but I hope you get the idea.
I did not successfully photo the northern decent (again needed a drone). It was superb but then what I think makes the Transalpina one of the best motorcycle roads in the world is the next bit a forest and lake section which is an additional 100km of well surveyed curves with low traffic.
This when combined with the mountain passes and the upper high roads combines to make the Transalpina one of the best rides I have experienced in the world – it's in my top five roads which is not something I say without careful consideration. It offers everything a rider could wish for in very generous servings with low traffic. Put it on your list. There are some nice hotels on the route in the alpine village and in the lake area to north. If I was returning here I would stay an extra day right there on the Transalpina.
Day 6 Romania.
Today had less good roads. I would not call my route bad however the morning half could have been improved.
I was skirting around a mountainous region because the interesting route there Google showed as gravel and I was not really interested to ride that on a bike like the CB500X with road tyres. Actually I'm no longer interested to ride gravel much at all frankly. I did all that when younger on light weight moto-x bikes purpose made for dirt that could be slid around and jumped and crashed without any care so riding big road bikes on dual purpose tyres now that you have to baby so they remain rideable at days end doesn't appeal to me.
There was still some nice roads and more wooden churches and then late afternoon I enjoyed an excellent curvy road suggested by the motoroutes website.
My final night in Romania is in the town of Oradea. It has a pretty city centre and I enjoyed a great pizza at very reasonable price. Food and drinks are quite affordable in Romania. The people were all friendly and I think it is an underrated destination.
Day 7 Romania, Hungary, Slovakia.
My luck run out with the weather but I cannot complain, it has been fine summer like days for all the roads I set out to ride in Romania on this tour – how lucky was that!
I dodged light showers until lunch then tried to sit out heavy rain at a gas station rest area but the Windy app showed there was no wind movement and the rain was not going anywhere so nothing for it but to put my rain liners in, my neck gator on and hopefully ride clear of it.
I find inner rain liners in jackets can hold but inner liners in pants always fail where your bum sits on the seat. I think the sitting pressure stops the Gore-tex from breathing thus working and today I felt my bum was soon wet and the water then works it's way to other lower body parts. Fortunately it was not too cold and I was correct that I would ride out of the rain once clear of the mountains but it was a slow sloshing affair for a few hours.
My so called water proof Eagle Creek bag leaked like a sieve today. I have no idea how so much water could get inside when only the zipper is supposedly not waterproof. And then my inner bags leaked so I ended up with everything wet. Must do better job of this in future, get some garbage bin bags like I used in Japan and put the whole bag inside one.
I have a excellent apartment to get things dry tonight in the very pretty Slovakian city of Banska Bystica.
Lovely city centre.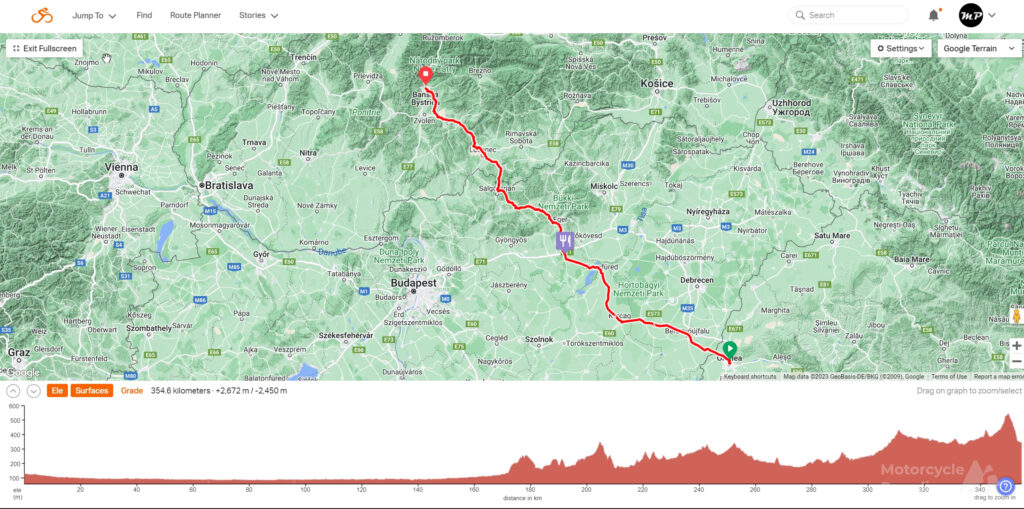 Day 8 Slovakia. Poland.
My route out of Slovakia into Poland was superb riding. Country roads like above then curvy mountain roads.
However my routing across the border in Poland was not so good. There is many recommended motorcycle roads in this mountainous region which is one of the popular destinations for Polish riders but I did not know the town of Zacopane is insanely popular tourist destination and would be gridlock with cars.
I elected to cut some of todays route as the roads around Zacopane were at a standstill with traffic. It is a beautiful region however but in hindsight I could have planned better. Pleasant riding all afternoon until I was quite close to Krakow where traffic ramped up but not a difficult return of the bike.
Back in Krakow I have a weekend to rest up. Krakow is super touristy town. Full of Brits that flew over on budget airline tickets and so many 20 year old digital nomads in every coffee shop moaning about life.
Good opportunity then for me to stay in my apartment and knock out this ride report over a excellent bottle of wine or two.
I enjoyed riding Romania but I must say people drive really aggressive in this part of the world and there was rarely a moment to relax while riding as always some lunatic tailgating and passing at breakneck speed.
Something I was thinking about while on this tour was how much I miss the calm of riding Japan and which other countries have let me feel at peace while riding. Perhaps I'm starting to value that feeling more and seeking less the feeling of adventure. Maybe just a case of too many km per day this ride.
I already have a few other rides booked (six actually!). My next destination is Georgia which I expect will present me with a few challenges but is a country I wanted to ride sooner rather than later.