I have been using Alpinestars thick boot socks for about 10 years and they have been versatile 3 season Autumn to Spring items. I was considering to get them again but am doubtful the quality would be the same given how poor the Alpinestars items I've purchased more recently have been compared to their older products.
The local Japanese items I looked at had usual marketing spin but were very simple, not likely better than regular sports socks in cold weather. Underwhelming is a recurring theme when I look at Japanese riding gear and the two big Italian riding gear brands. We as consumers put a lot of trust in big brand names and Made in Japan which is a huge brand in it's own right, but complacency has crept in and that trust might be misplaced of late.
Rather than just look at motorcycle specific boot socks I started seeking out other sources and it seemed that skiing or snowboarding gear would suit riding here in Autumn and Winter. Possibly better than general purpose motorcycle gear.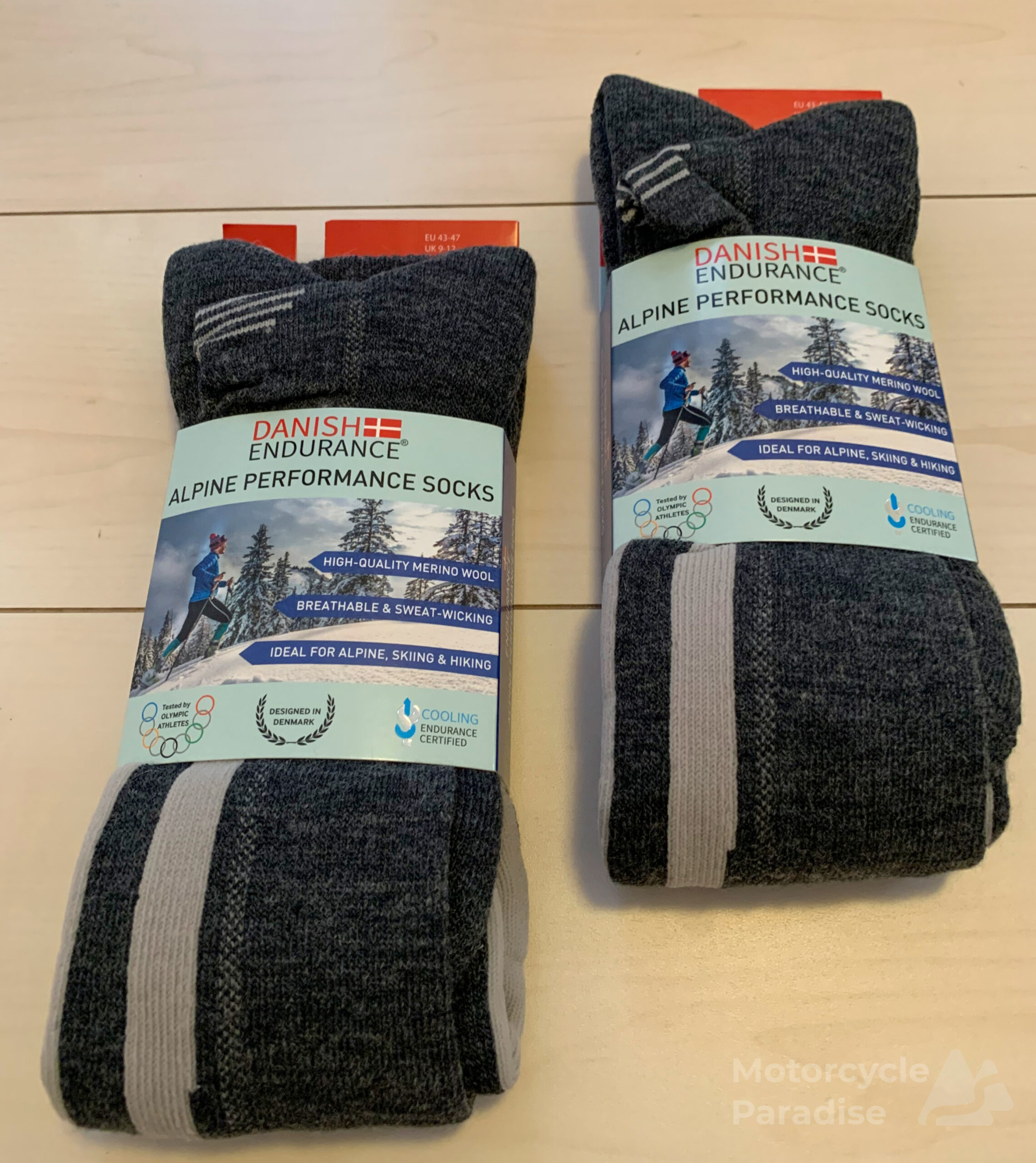 These socks by Danish Endurance are a blend that includes merino wool. They are very warm but still provide wicking of moisture to keep feet dry. They have a double or thicker layer on the front facing lower leg area as a wind block and leg warming function.
On the road
Performance wise they easy beat the Alpinestars boot socks in cold conditions. First of all they come up to almost my knees but unlike other high socks I have tried these remain all day comfortable. My legs are always warm with these even in near zero temperature and that thicker layer works a treat on lower legs that get exposed to cold drafts when pants ride up a little on bike.
Wearing my regular TCX Explorer Gore-tex boots with nothing else, no heat pads, I never once had cold feet on my recent winter and autumn rides where my boots were in very cold wind and even exposed to freezing cold sleet. These are seriously good (as are the TCX boots).

I'm guessing you are not going to want to wear them in warmer conditions. I might try them in Spring and see how they handle a mid season day and report back but I'll be keeping them with my Tourmaster Cold-tex 3 gloves for the cold days.
It is a great feeling to be totally warm and dry on cold days. Actually with the right gear I have come to enjoy the cool weather riding possibly more than the hot weather – which is quite some turn around given I hail from the tropics and used to think it too cold to ride under 10 degrees. Now the only thing that stops me is ice or snow.
A part of that is riding the FJR with its full fairing, screen and grip heaters. I don't think I'd enjoy riding a naked bike here in winter as much but with the right gear including things often overlooked like base layers and socks then I'm sure anything is possible.
No affiliation.