From Shari in Hokkaido I turn my wheels south and start my return ride, however I have quite a bit to see along the way.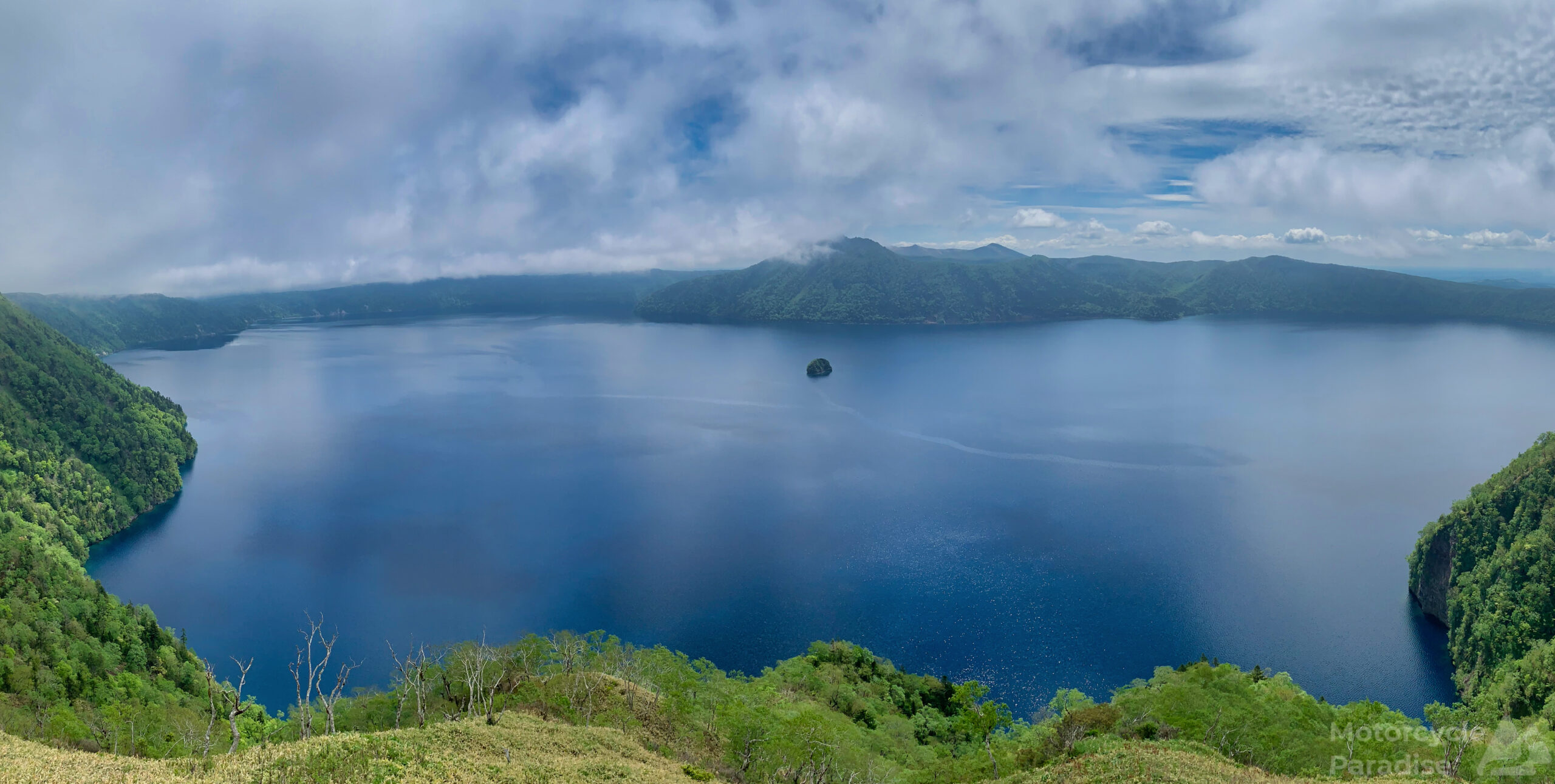 I get lucky at Lake Kussharo caldera, the morning fog and low clouds obscured the lake when I pulled up but lift for me before I leave.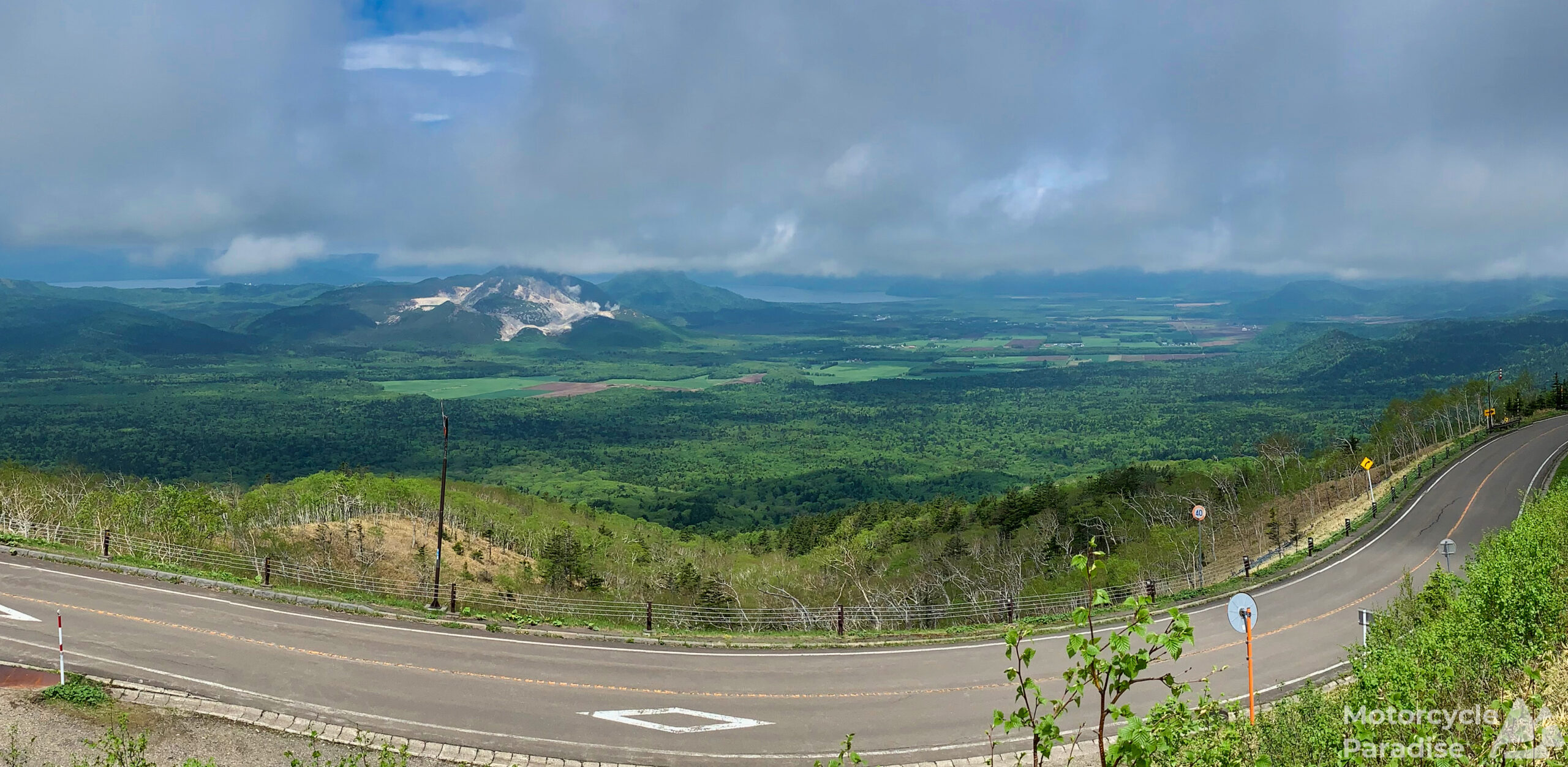 Japan has 111 active volcanoes. I am riding around that one and to the other side of the lake to another mountain to look for a viewpoint I saw on Google street view.
And here it is, what an fantastic facility the local community has built here. It always delights me that in Japan most any mountain with a nice view there is an observation platform built so it can be enjoyed. It must be stunning on a fine day.
Grey skies all morning but they cannot dull the riding pleasure on excellent sweeping roads.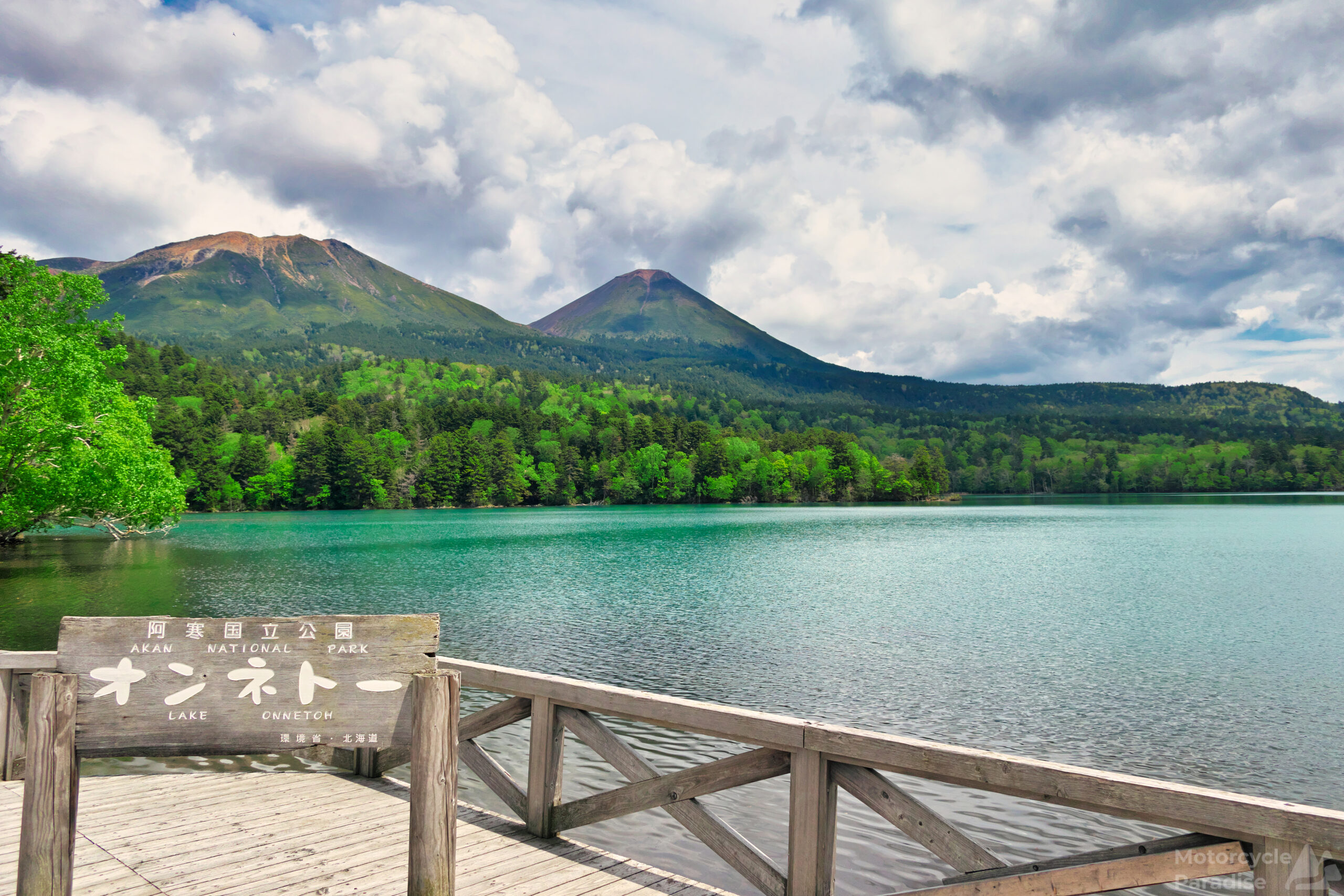 The sun pokes through briefly to enjoy today's picnic lunch beside Lake Onnetoh (above) but weather deteriorated by the time I reach Lake Shikaribetsu below.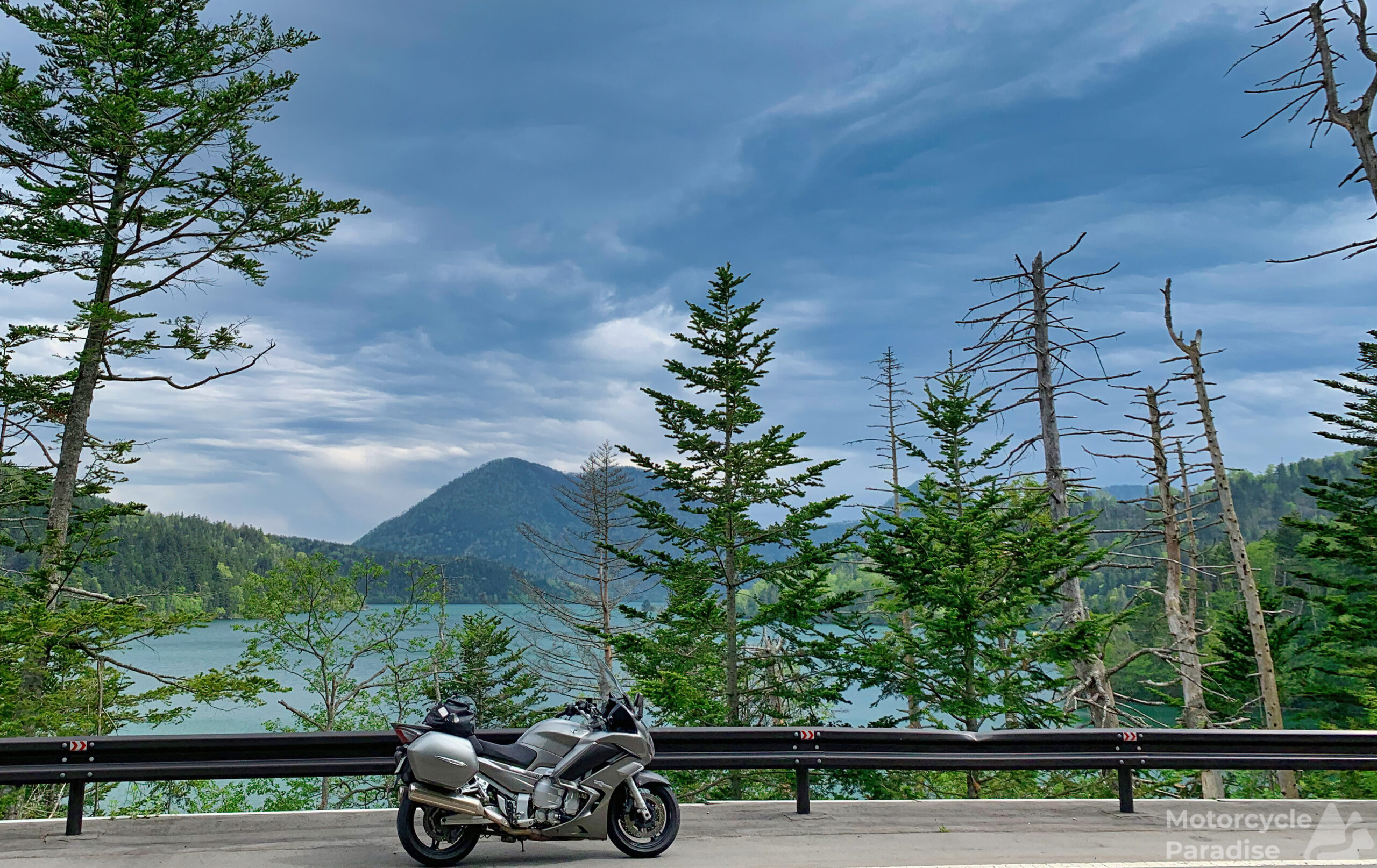 However the riding remains of a very high standard. Superb roads with no cars. A few times I stopped and always had the place to myself. Peaceful, very enjoyable.

From the above point I am riding through those hills ahead and mountains beyond in an wide arc to the left to where that rain is to bring me into Furano. It may not look so inviting but actually more scenic than a photo can capture on fantastic sweeping roads with no cars. I totally enjoyed the afternoon avoiding any steady rain until the final 10 minutes.
Furano is very popular destination in Spring and not easy to find a room. There are six guests at the huge hotel I am in tonight. Tough times.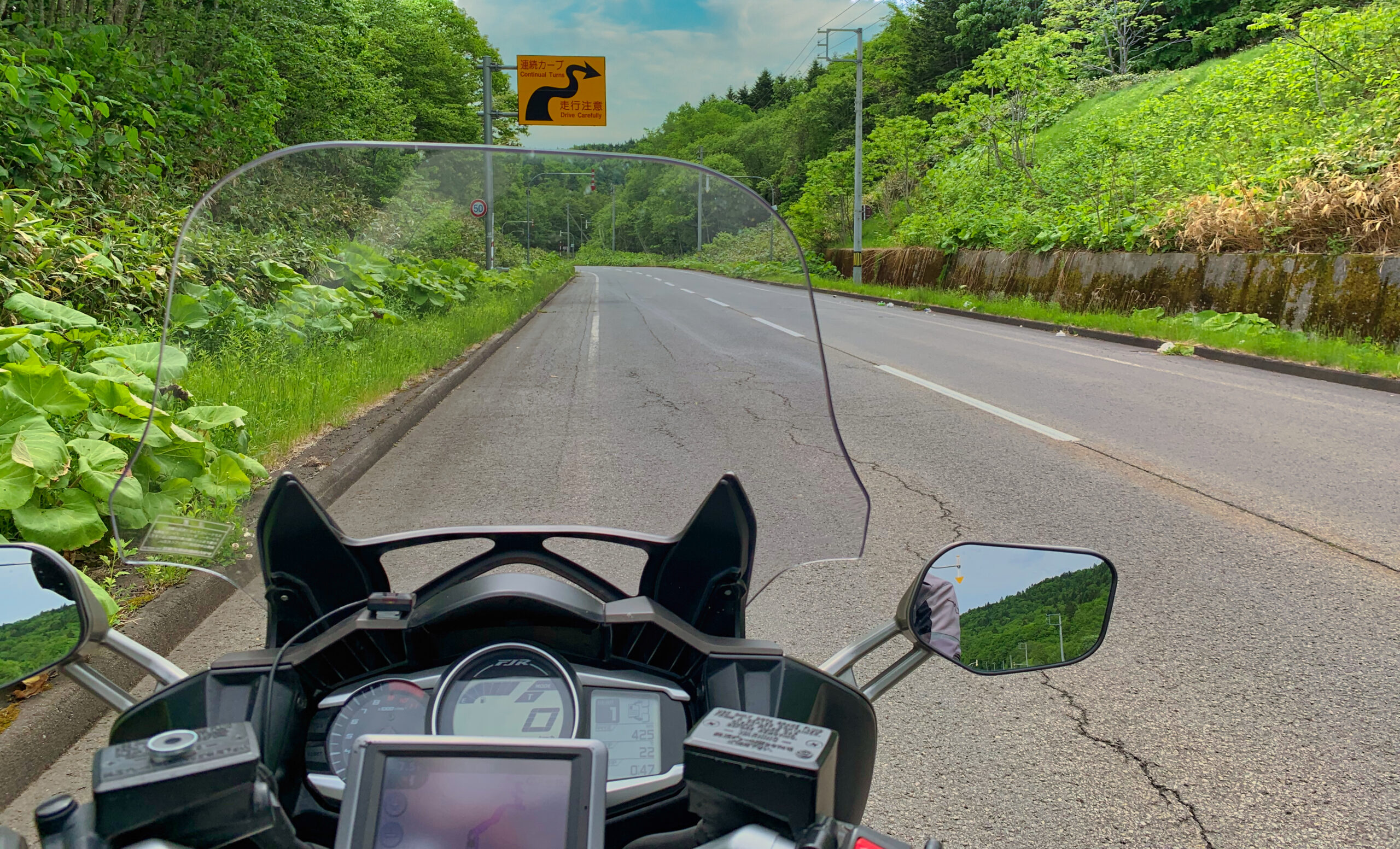 I start day 13 at the local jetwash and blast off 100's of dead bugs then find my front tyre has been underinflated by nearly 10psi since Aomori. That shop sure made a mess of my tyre fitment.
But this sets me up for what was my favourite road the first time I visited Hokkaido. Alas route 452 is going to fall victim to Japans never ending road straightening. Like many rural roads that are already fit for purpose there is a new elevated version being built. The sign above says continuous curves but better come soon to ride them.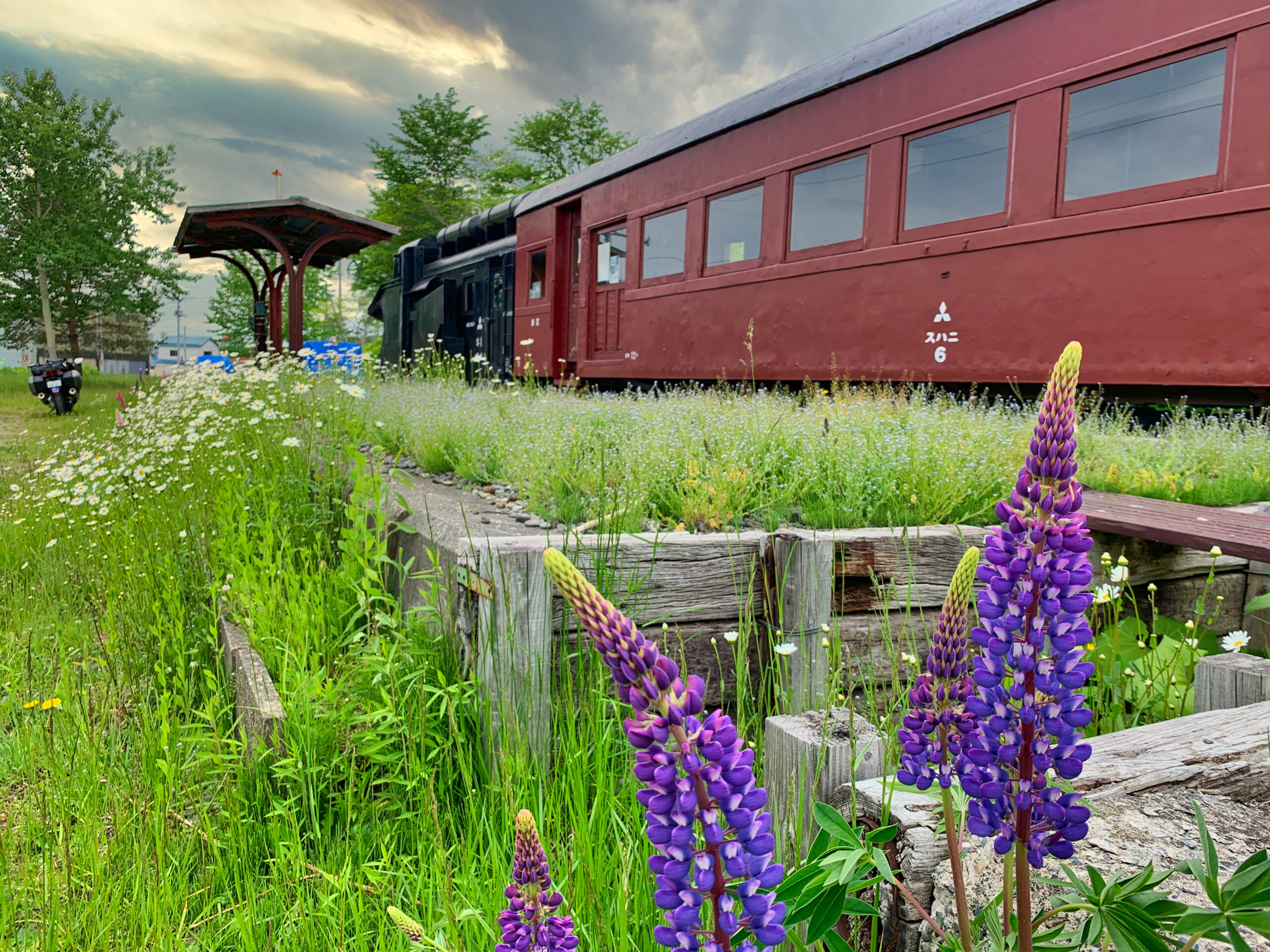 An interesting item on 452, the final resting place for old rollingstock that used to ply the line. Always a shame to see this (being ex rail). However rail is expensive to maintain.

Blue sky and odd Japan strike back! I found these Moai at a park south of Sapporo.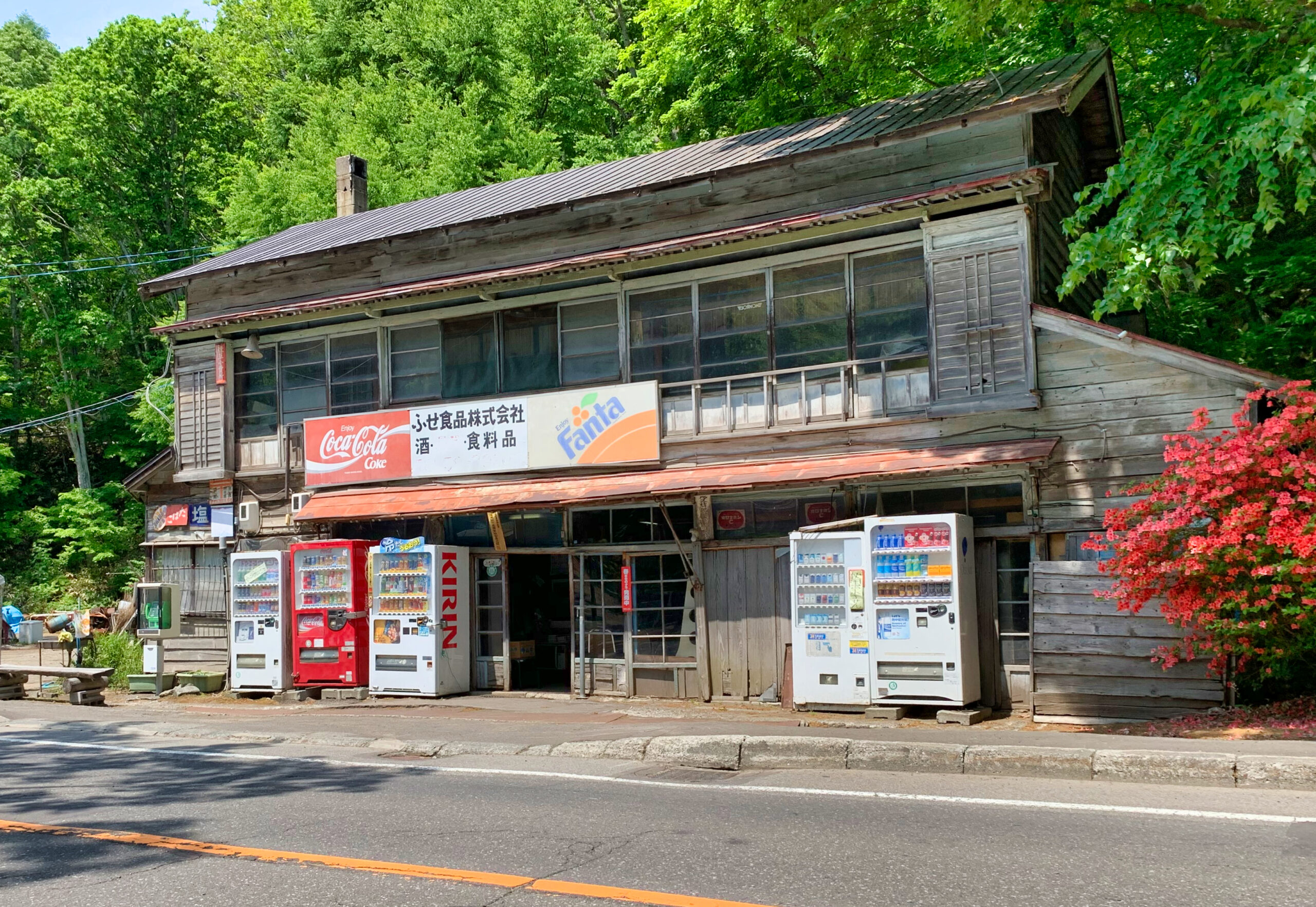 I am poor at capturing the urban decay in Japan but I like how this shot came out. Some very good riding in the countryside south west of Sapporo but I did not capture it well.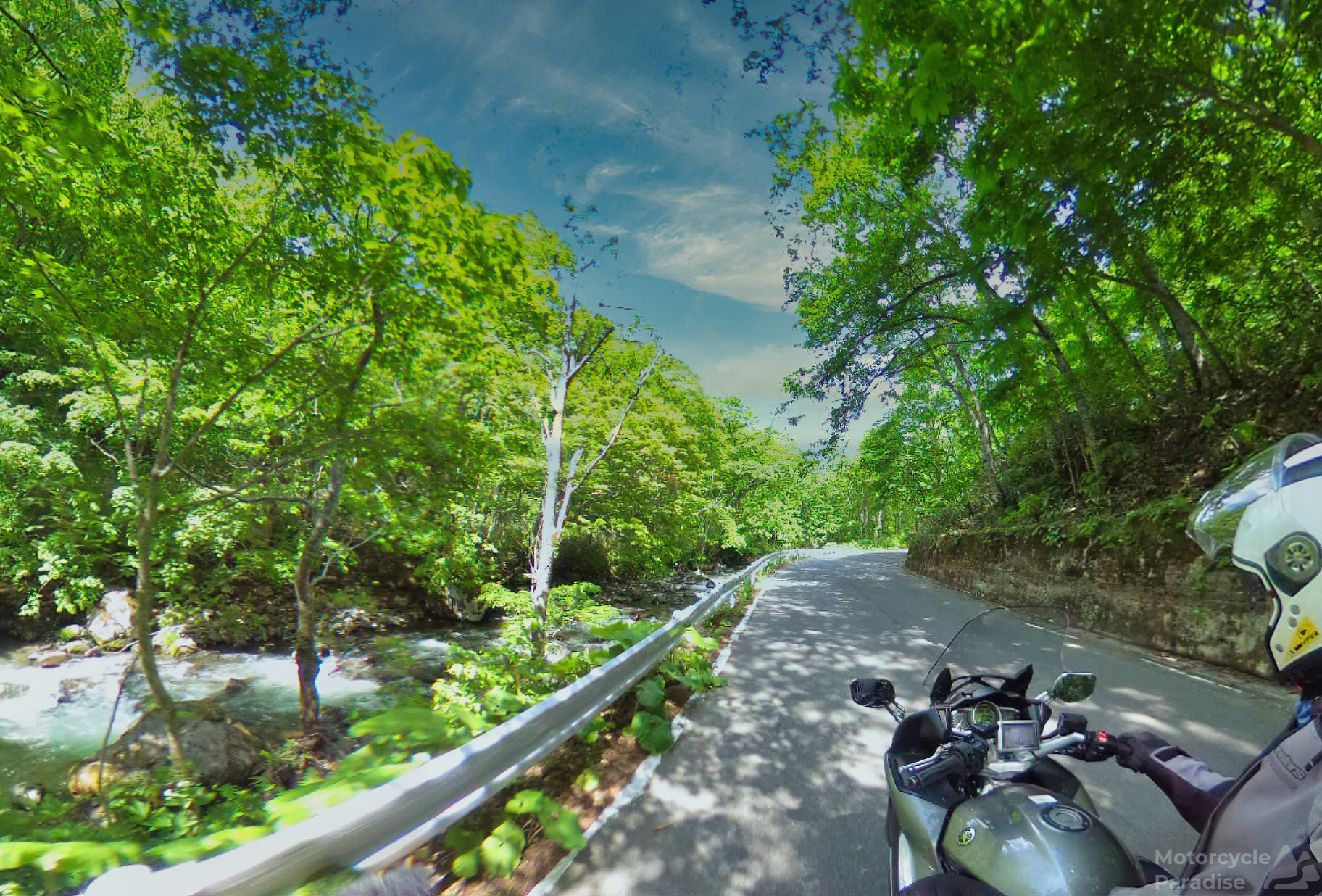 Next I am riding to perhaps my favourite place in Hokkaido, Cape Kamui. However I have long wondered what the road that runs from Shakotan across the range is like so today I turn off and it is magnificent.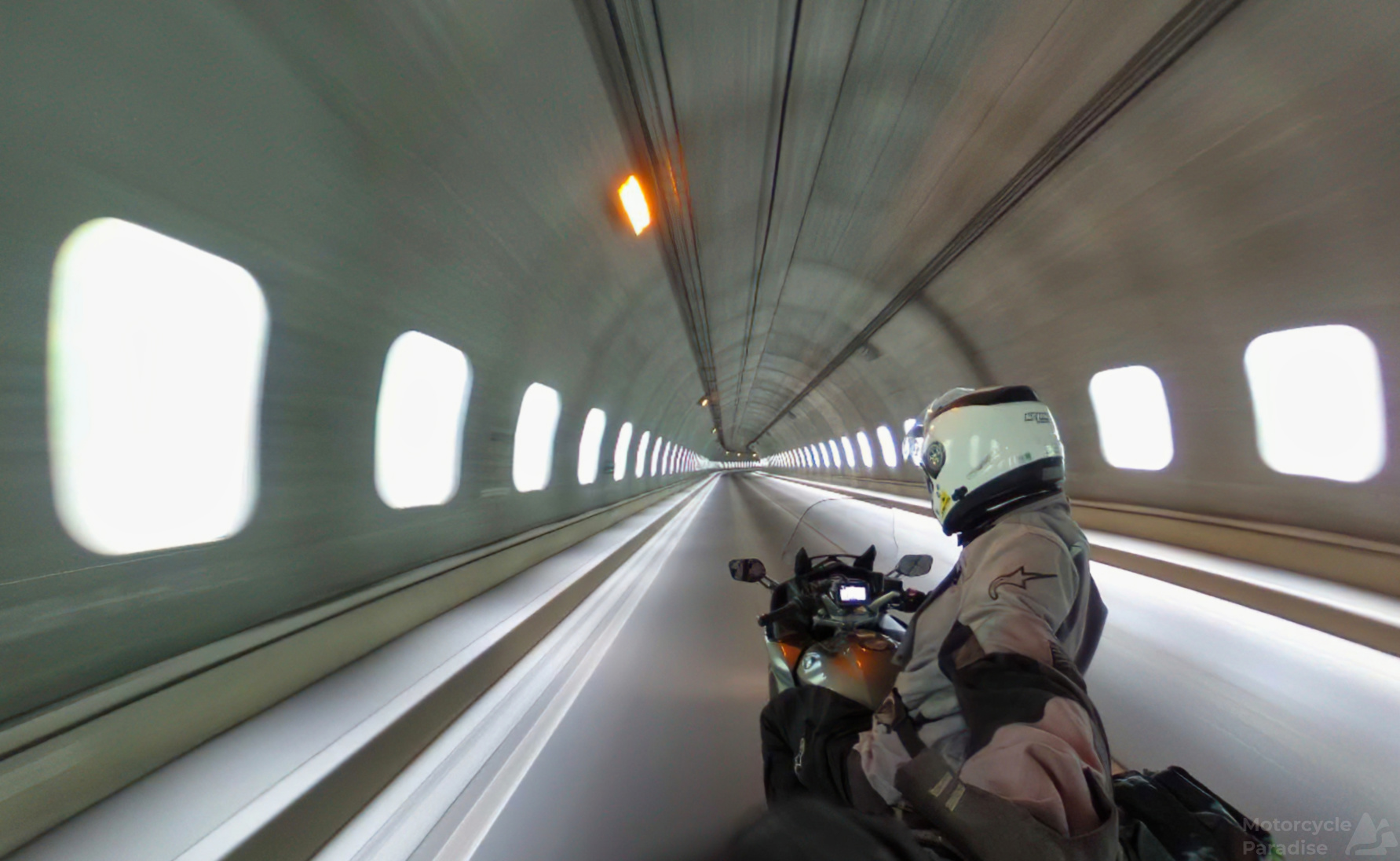 Well surveyed with many interesting snow sheds like above and then sweeping descent on the southern side below. It's another beautiful road for motorcycles in Japan.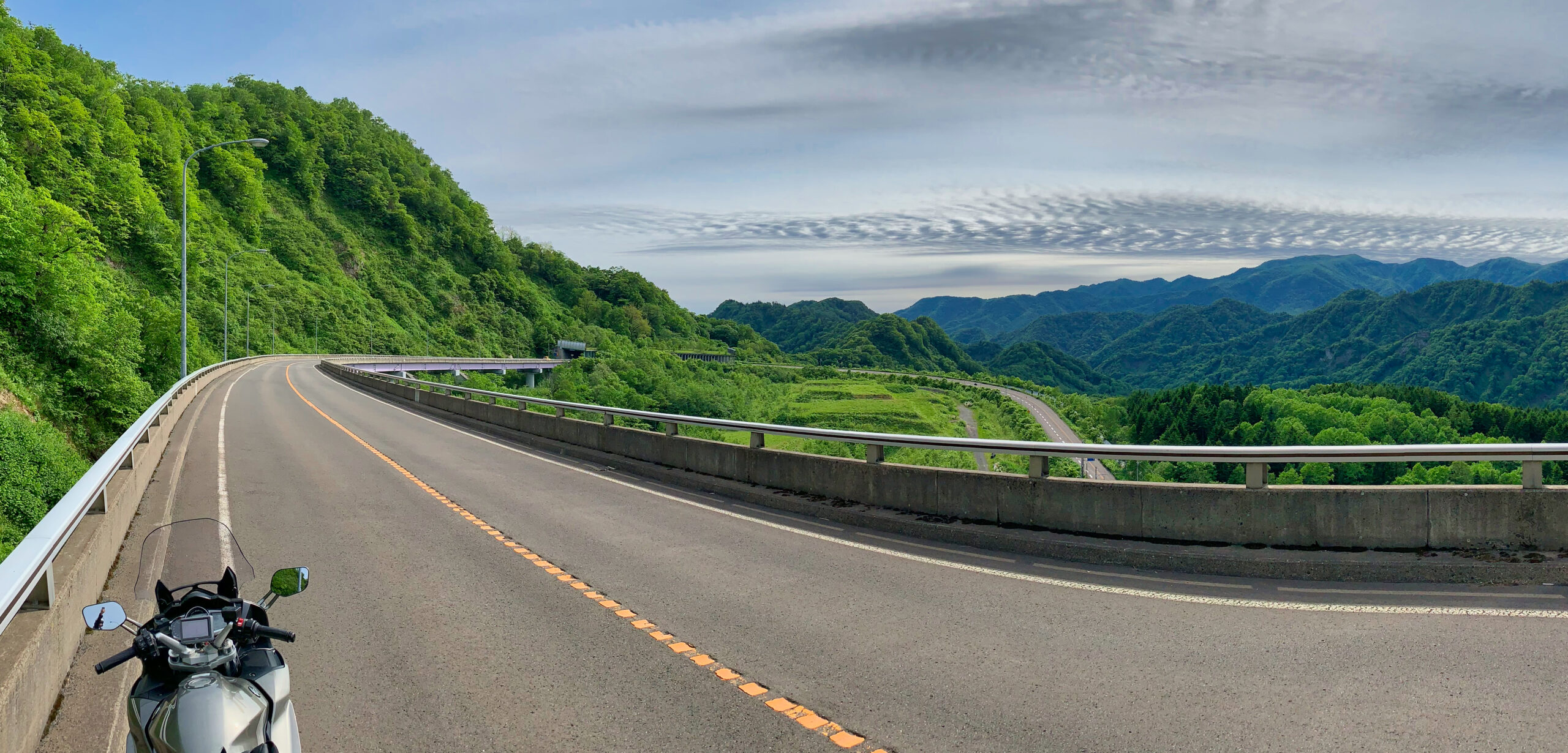 I have to hustle a bit as they close the gate to the cape about 4.00pm, well that was my excuse to wind up the FJR a little on the superb coast road (wink).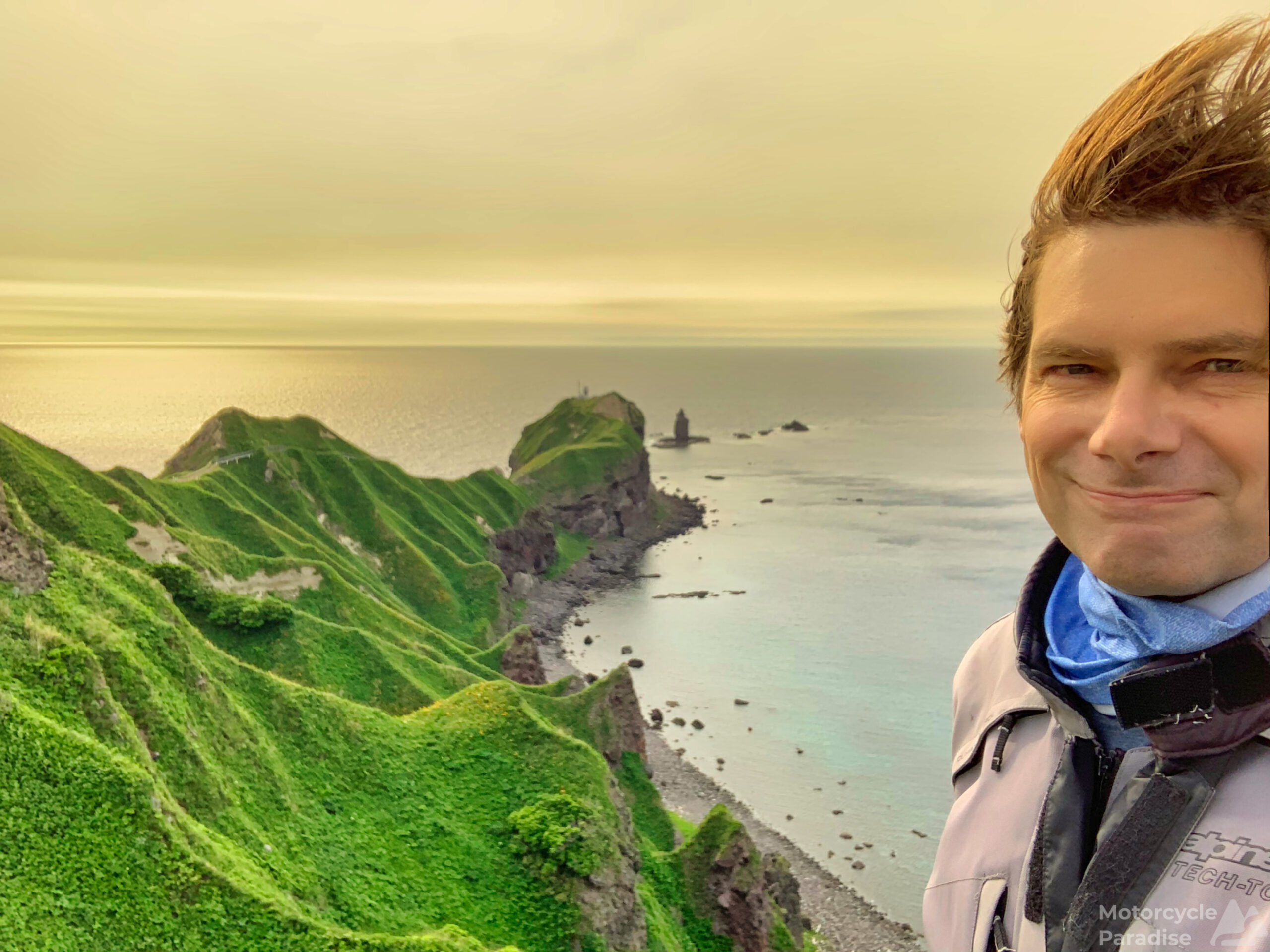 And then I arrive. What a spot! It's windy today as my 'lockdown length' hair demonstrates. I said it before but it is worth noting again. Helmet hair is better than office hair.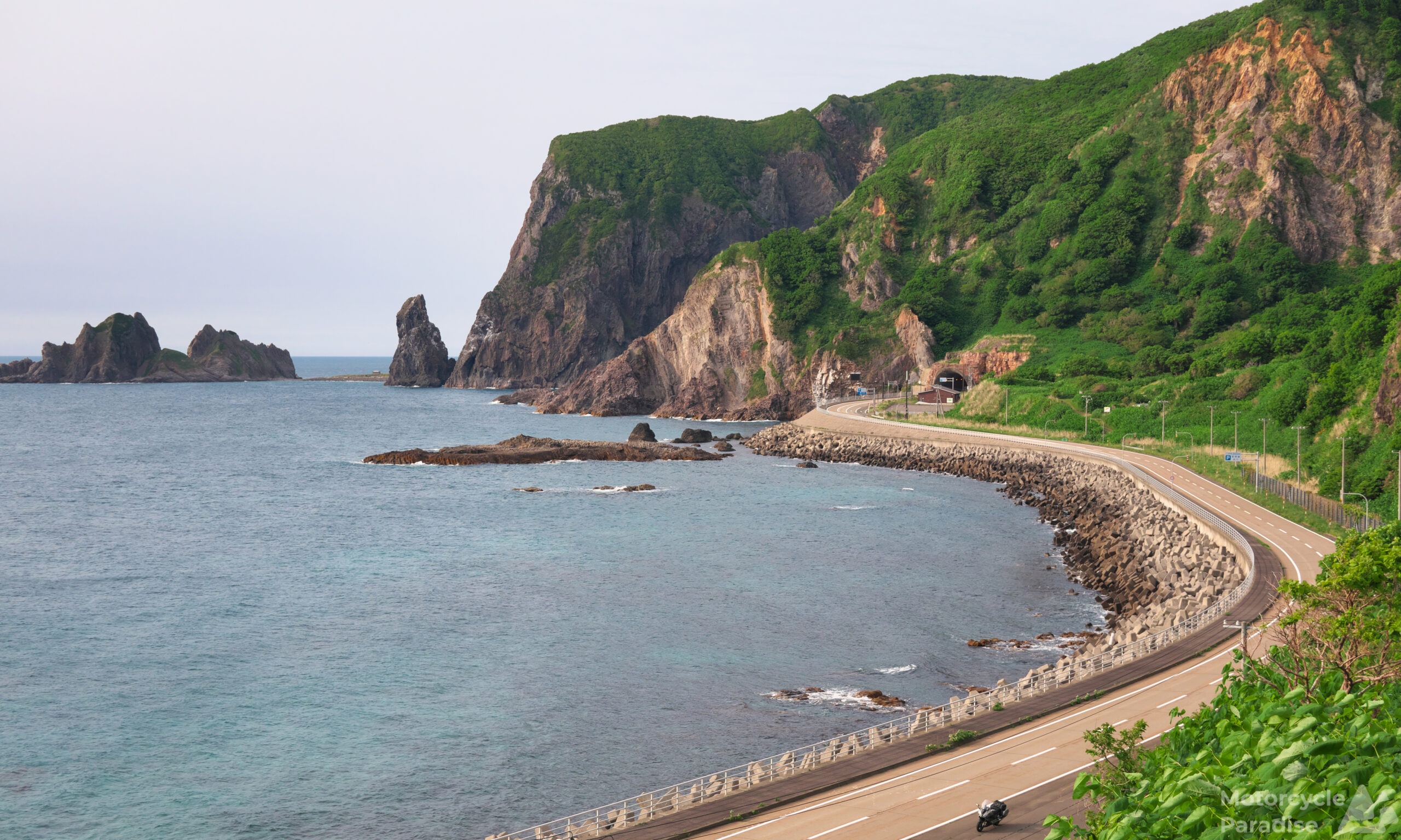 This is the coast road I was talking about. I'm out of superlatives – just look.
I could do with a drone but DJI tuned down the mini mavic too much for me by deleting the panorama modes. Perhaps it's better to hike and see things with my own two eyes but I will get a drone one day.
A mountain in Japan many Australians have heard of is Niseko, the popular ski resort. The skyline rides well this is morning of day 14 on tour. Some snow still around but it lacks a decent viewpoint.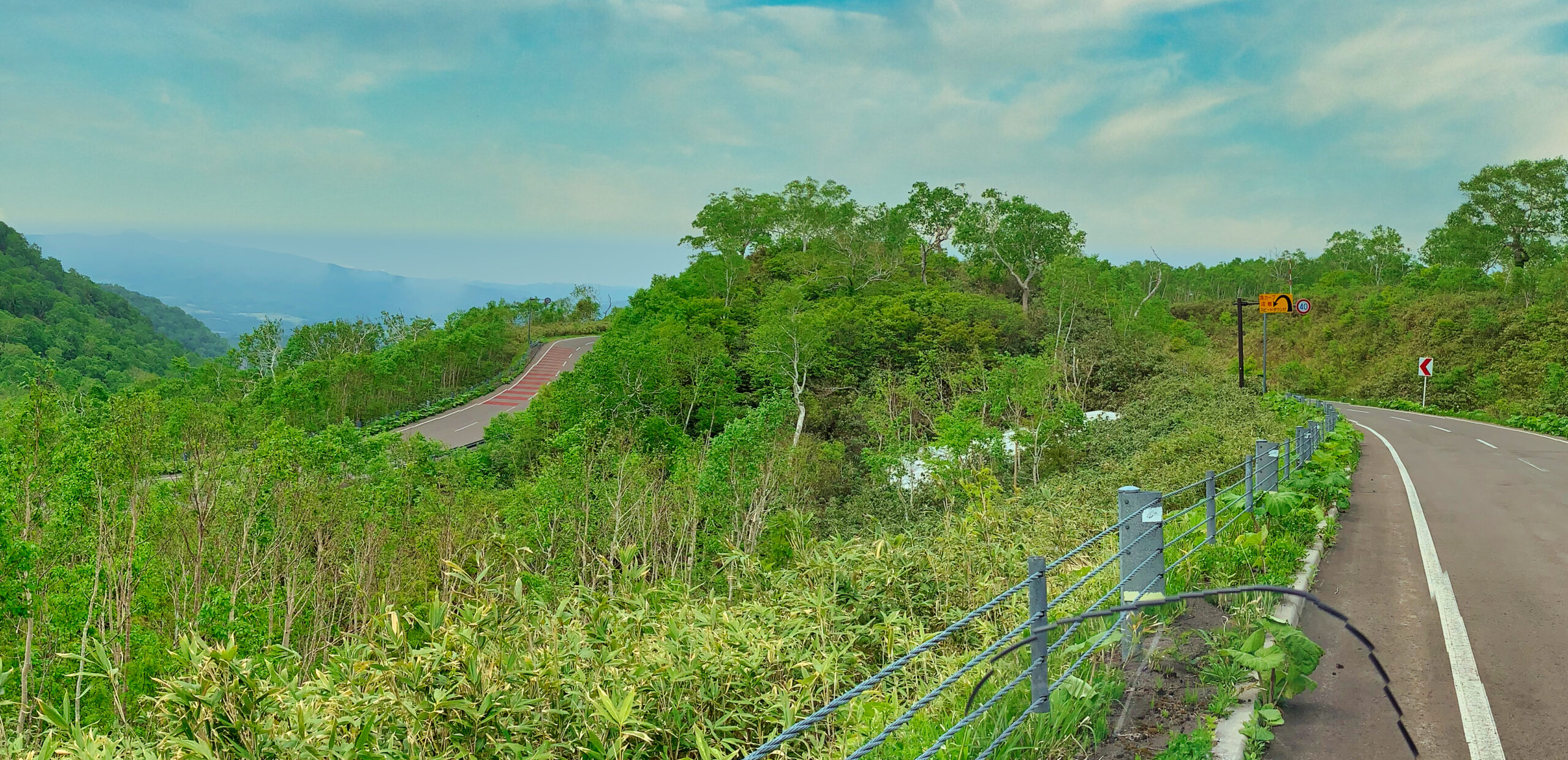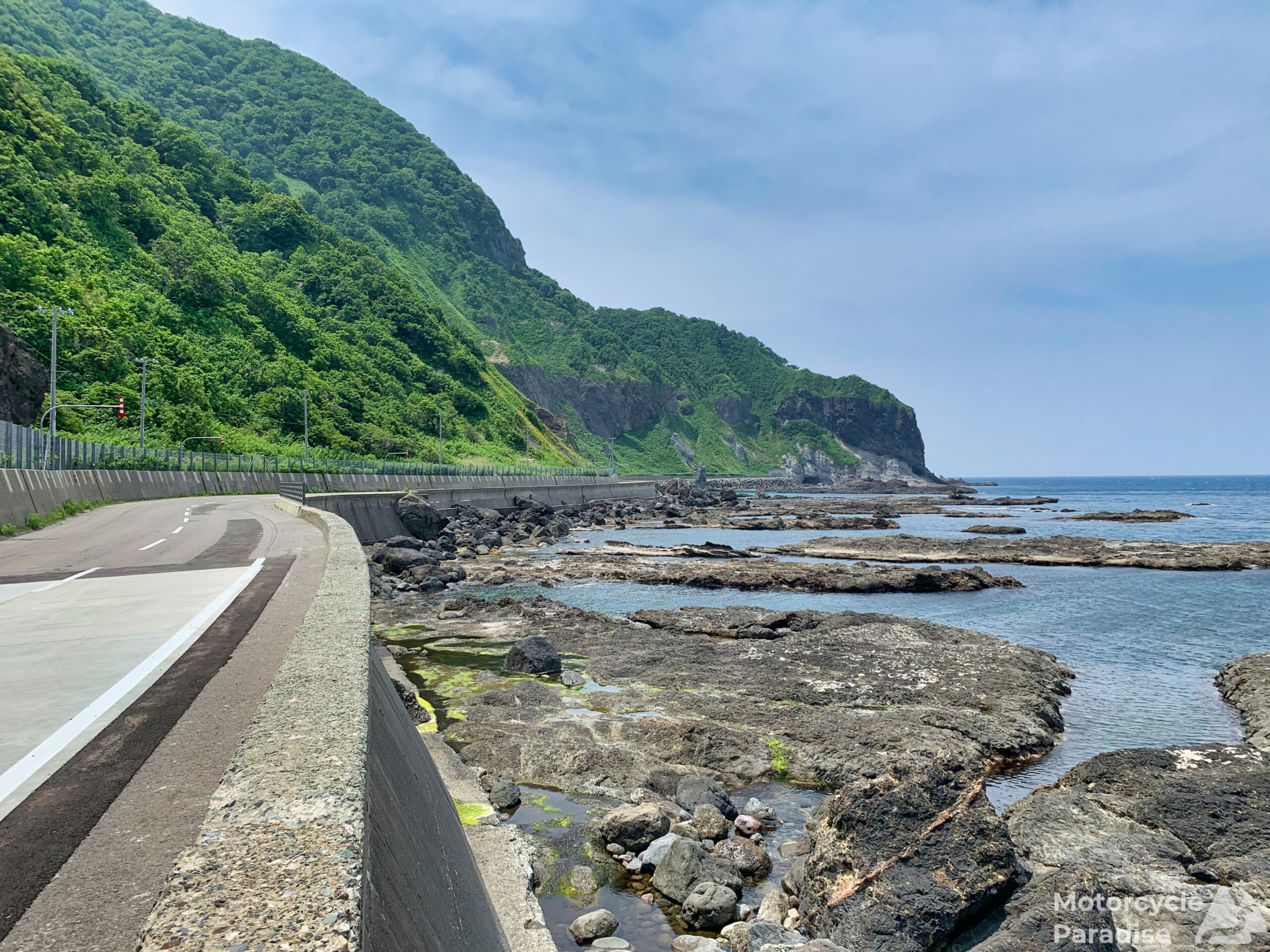 Wide farm roads down to the west coast which is a nice ride south but the road is being relocated inside tunnels more and more. In a few years you will only glimpse the ocean occasionally.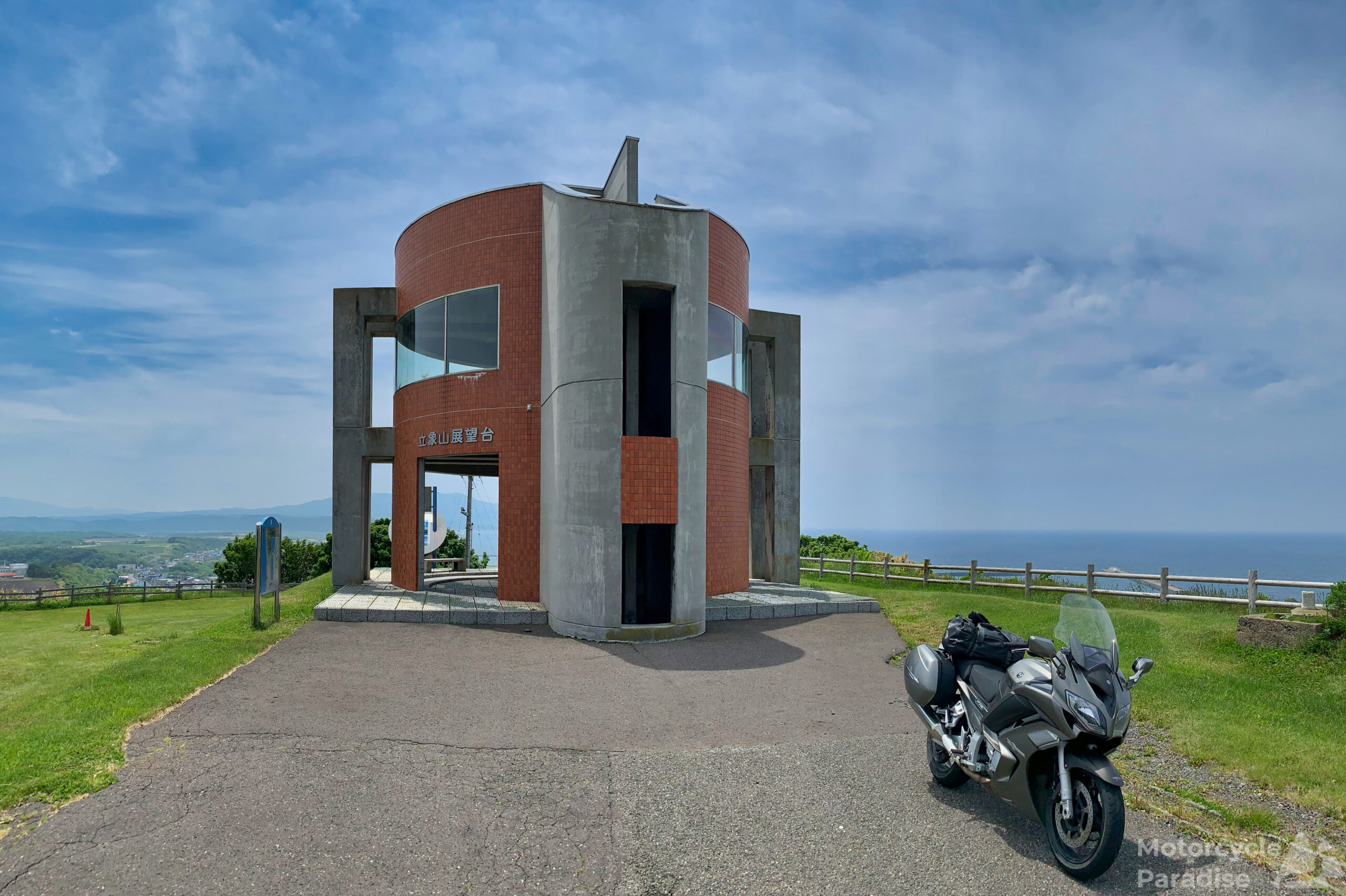 Riding below this ridge I said to myself, I bet there is a viewpoint up there …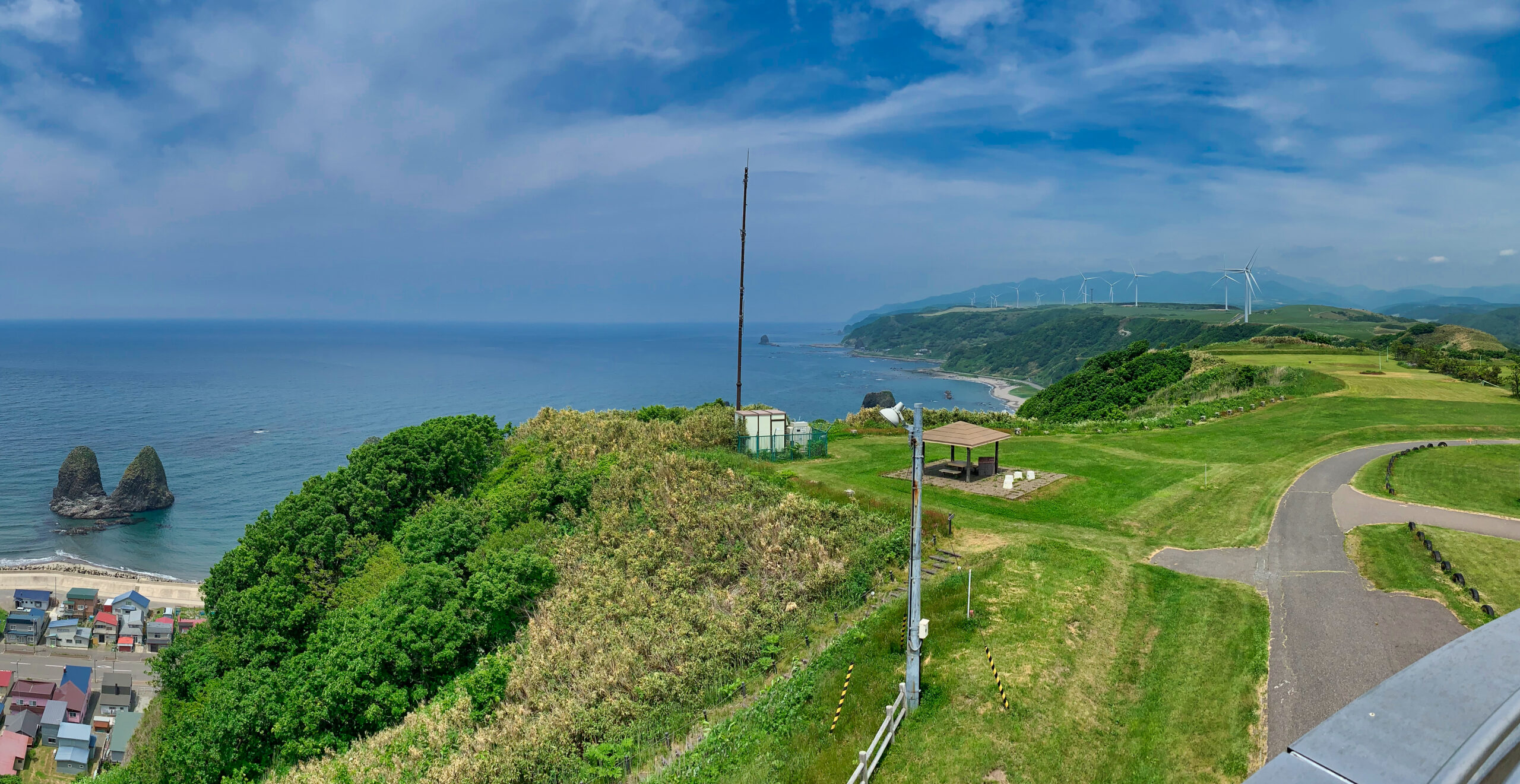 Quite a view it is too. Would be great spot for todays lunch but a little early.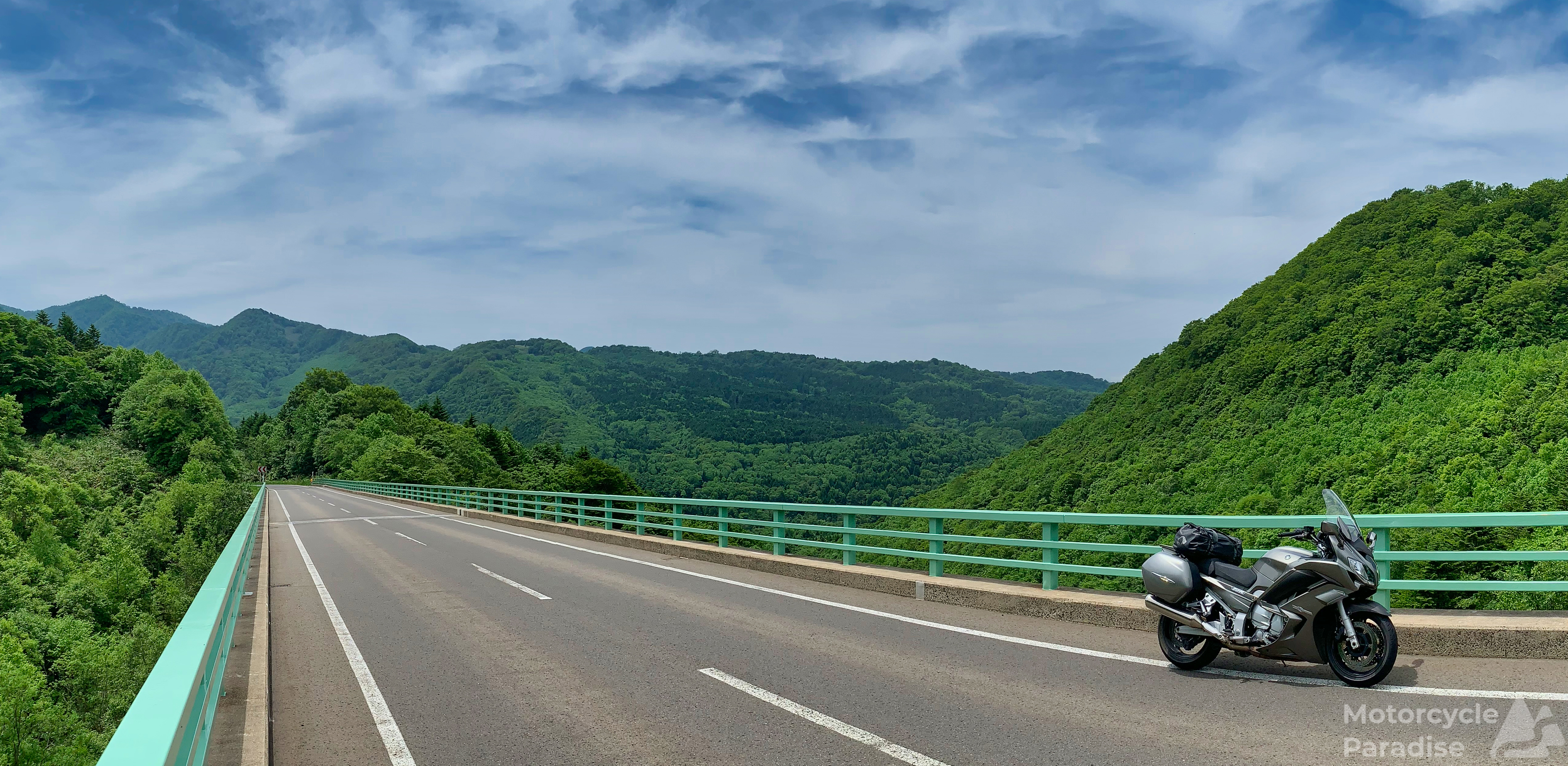 I move inland away from the west coast and find impressive roads here and superb riding. I've clearly under rated Hokkaido. Partly because I previously took the usual routes that are suggested for riders. This trip I just explored my own way and every time was rewarded with terrific roads.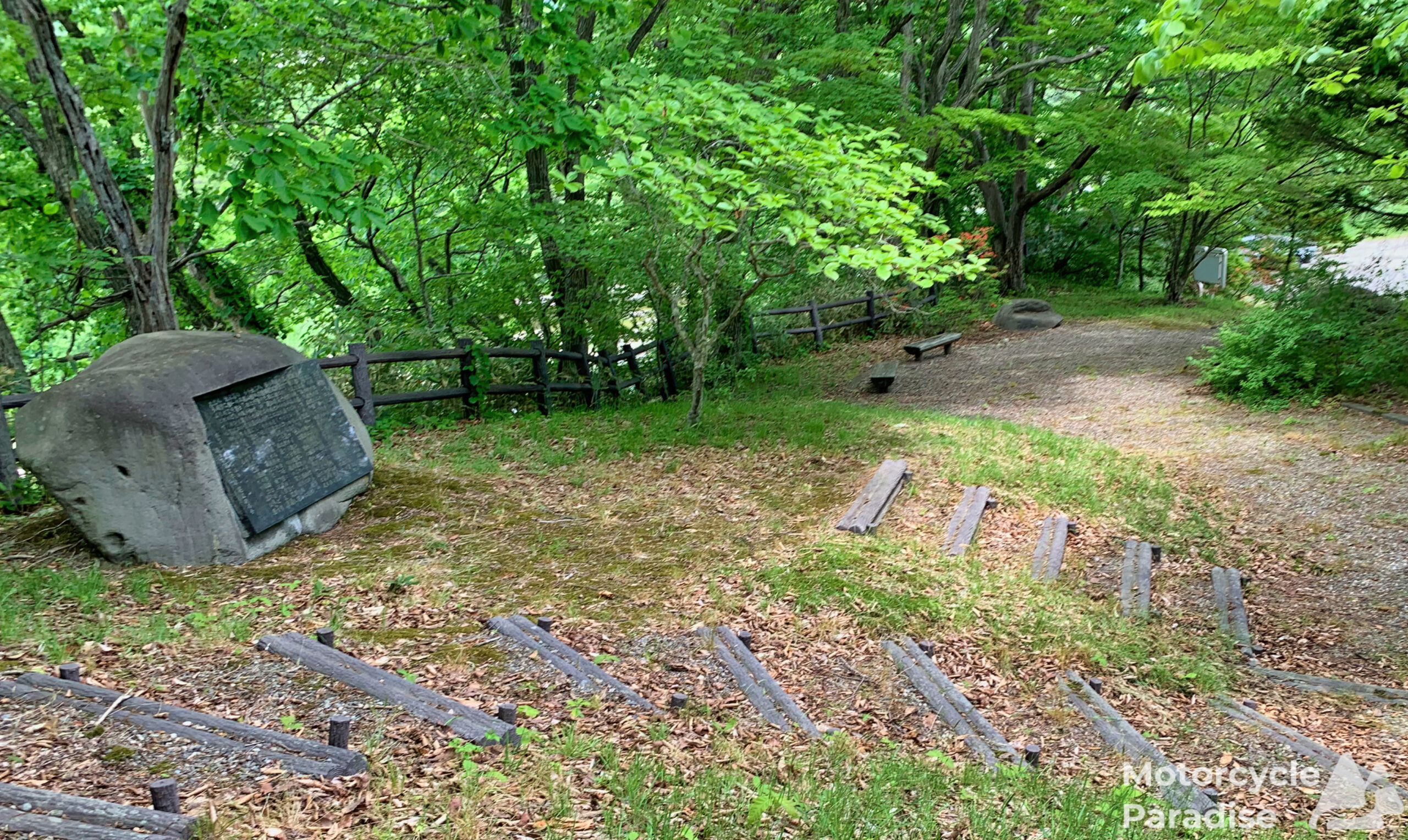 Last picnic lunch in Hokkaido next to a beautiful stream that escaped my photographic efforts.

I continue to discover nice riding roads all afternoon.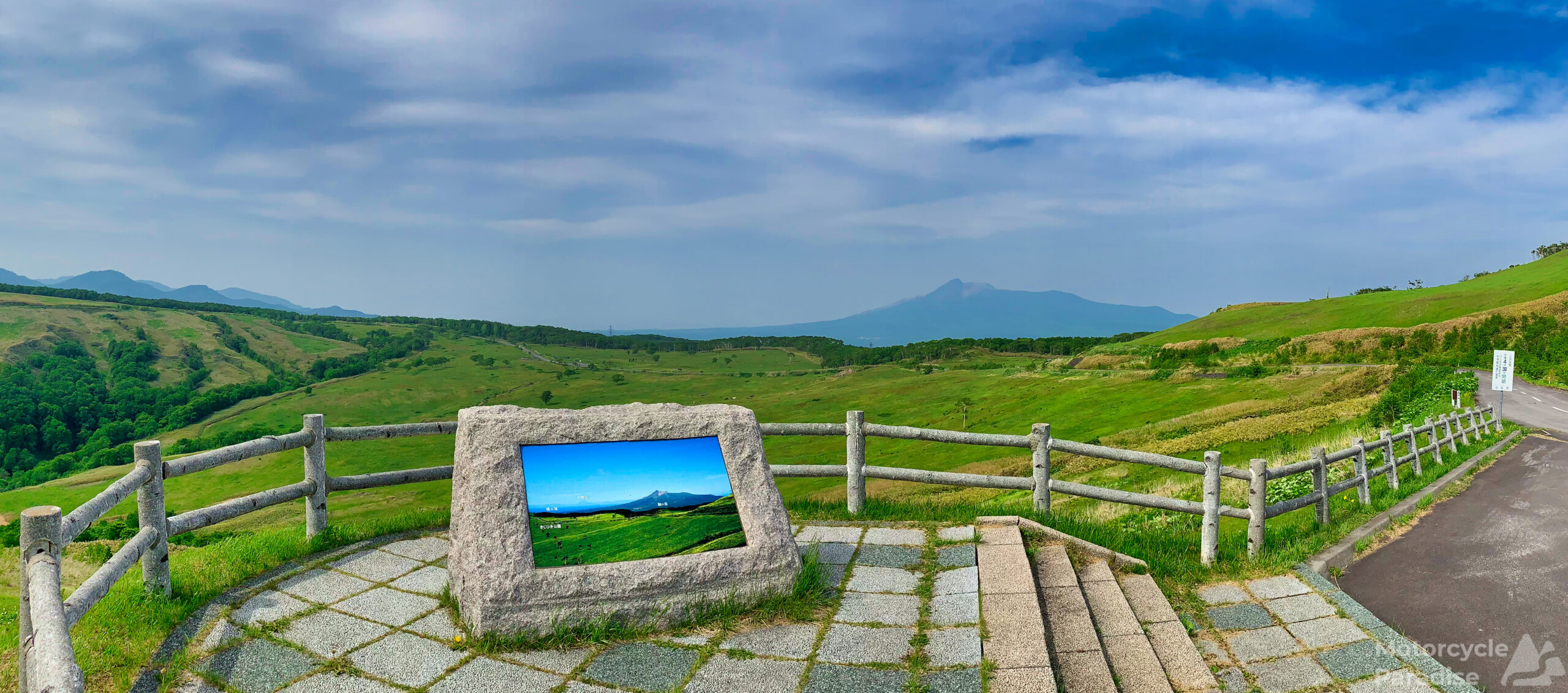 Not as clear as the photo on the rock but my eyes are able to 'dehaze' the scene more than Luminar to give me a good view of Mt Yokostu smoking away and of Hakkodate city to my right. I still have one more high dairy fields road and viewpoint on my route but I decide to call it a day here and make for my city hotel to get there before the rush hour.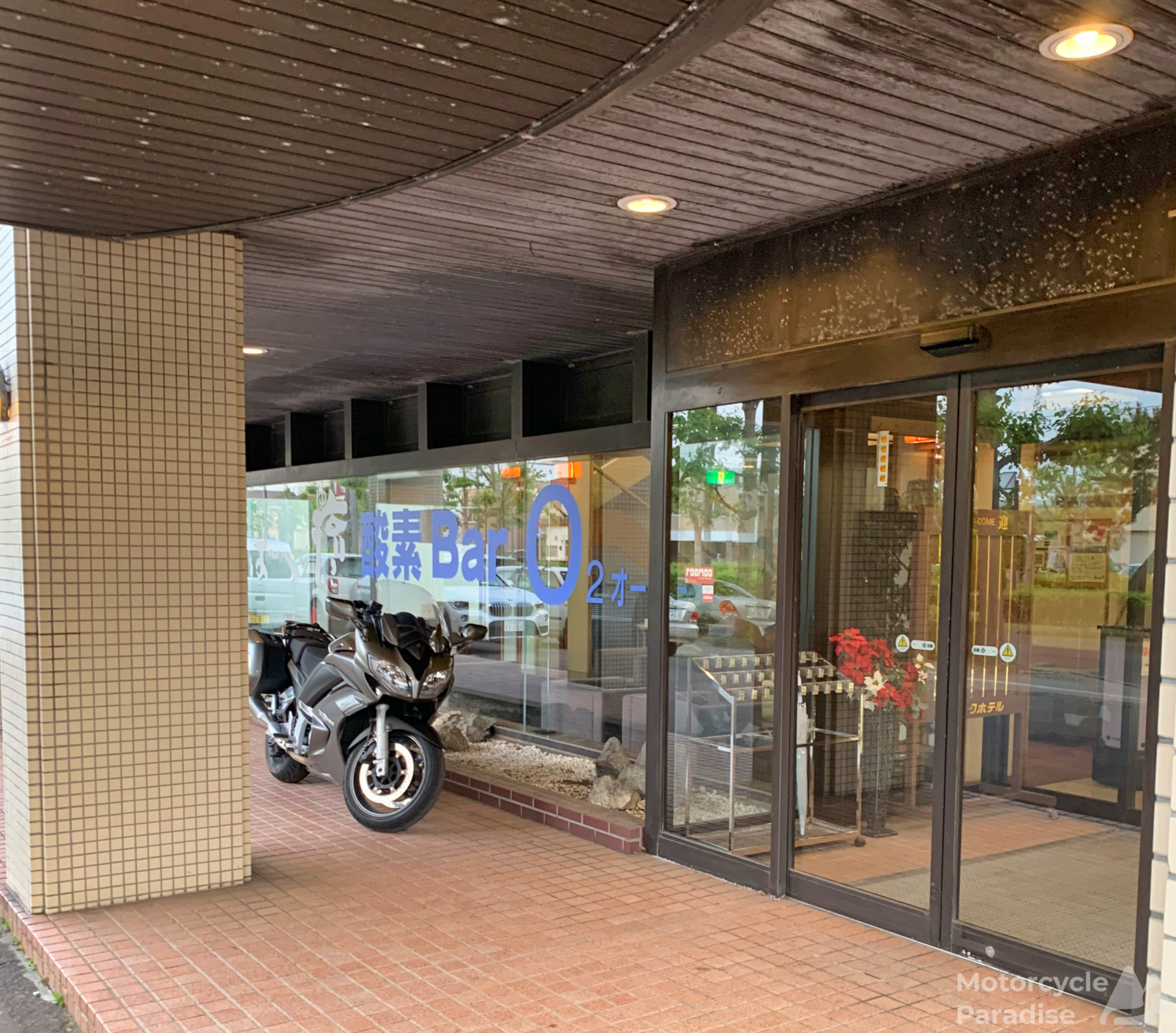 How's this for bike parking. I stayed here last time and manager always directs bikes to park as such and built ramps either side. Hakkodate Park Hotel, older rooms but handy to the ferry, $24US a night. (no affiliation)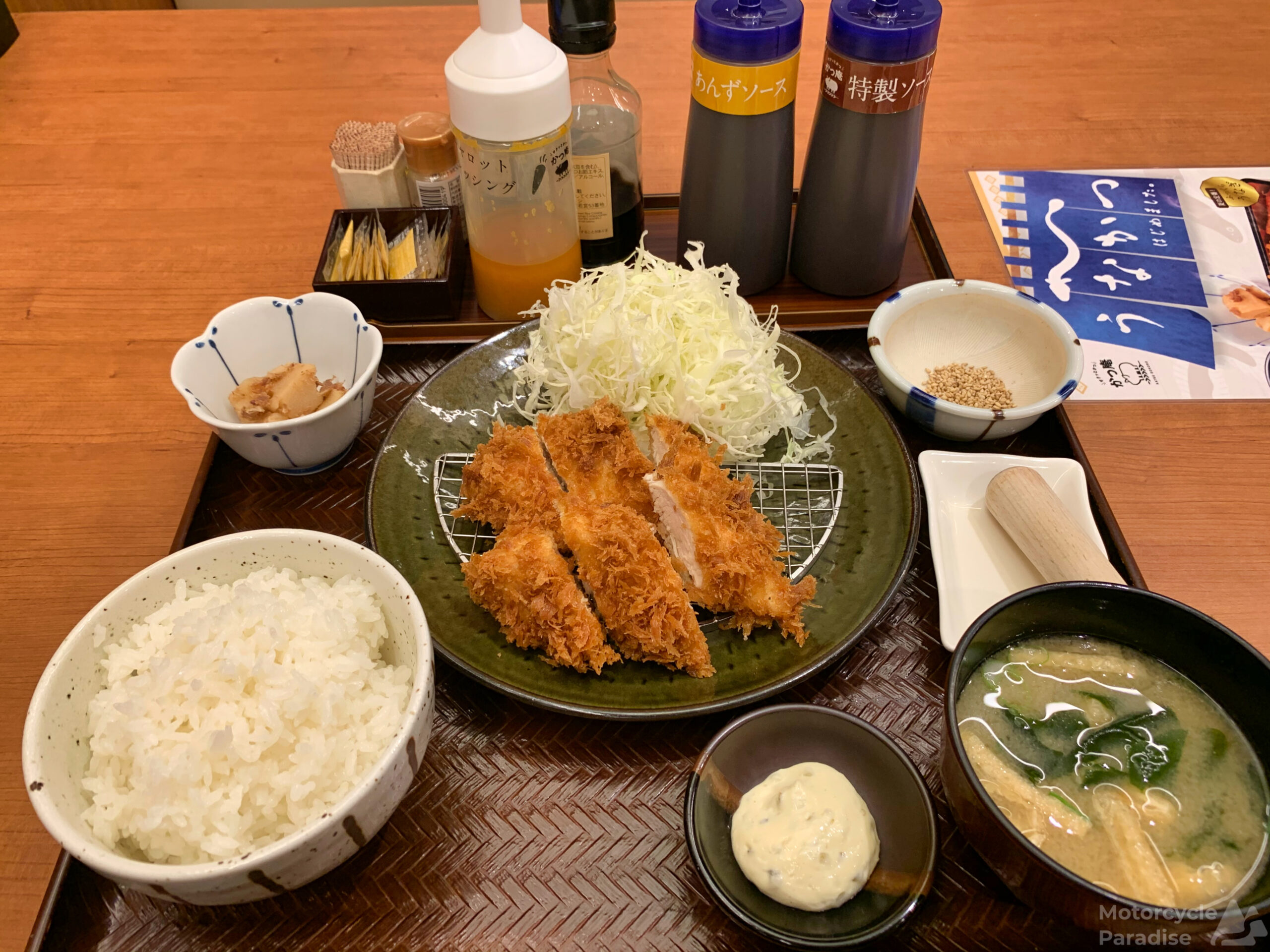 I have not been eating out much this ride, mostly because the virus restrictions have only just lifted and things are still returning to normal but I could not resist tonight when I spotted one of my favourite chain restaurants which specializes in set meals like above that have the main item of cutlets of either pork, chicken or mince. I always get chicken, you grind the sesame seeds in the mortar then add the sauce to it then dip the crumbed cutlet in that. 590Y with free unlimited iced tea.
My incredible luck with weather finally runs out. Whilst I have had some light showers and couple of days that ended a little wet I basically have gone 14 days without any serious rain. That's unheard of in Japan where it rains a few days every week. Early June, riding north – keep that in mind.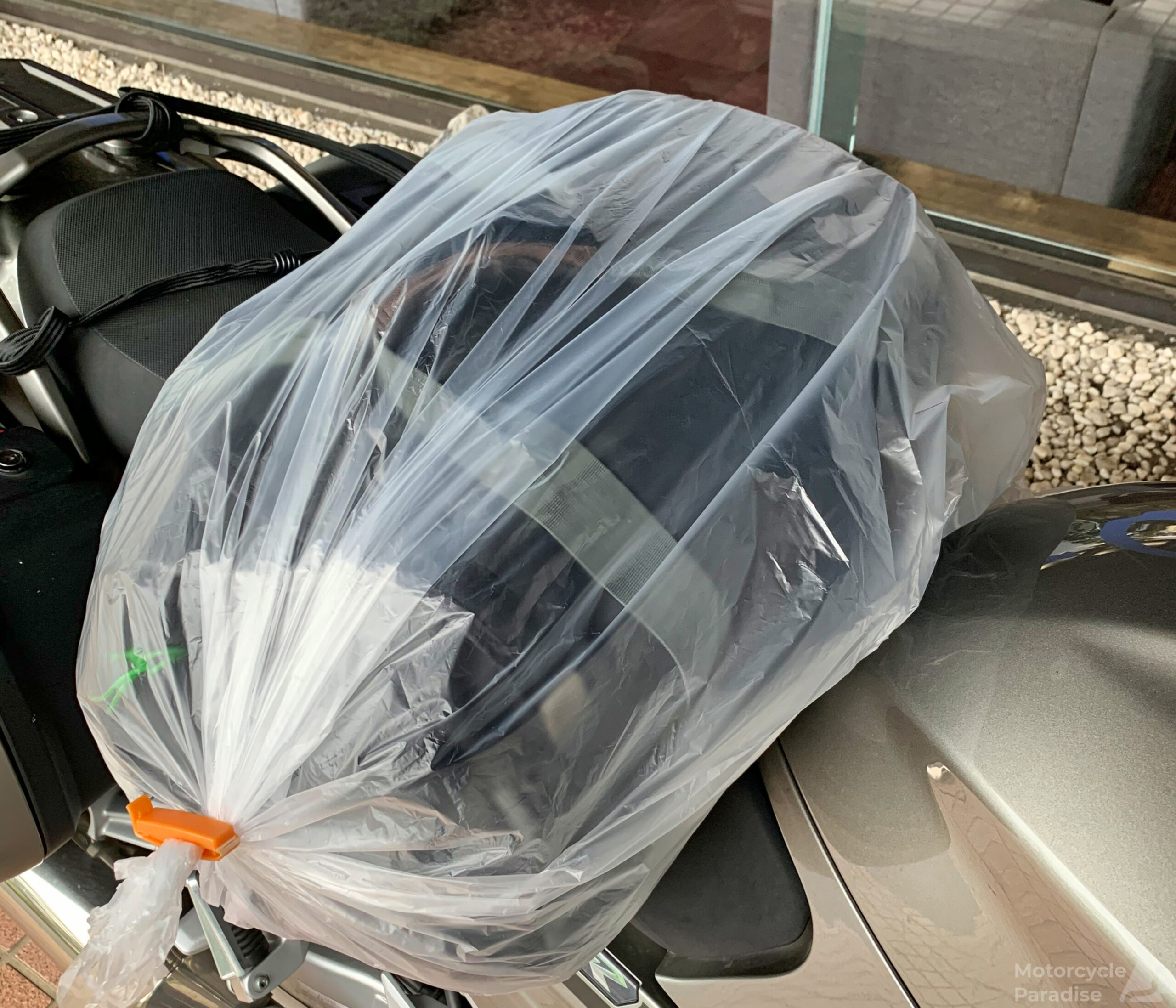 Today I am going to be able to test if my latest treatment to try restore the water resistance of my rider gear using wash in treatment has worked. Not taking any chances with my bag, XL plastic bag and clip will ensure all my electronics and clothes are dry, bit of non slip kitchen liner on seat.
I get caught at every traffic light so what should be 5 minutes to the port takes 15 and already I can tell my jacket is not going to hold but I have a simple plastic rain coat with me. I enjoy a dry warm nap on the ship.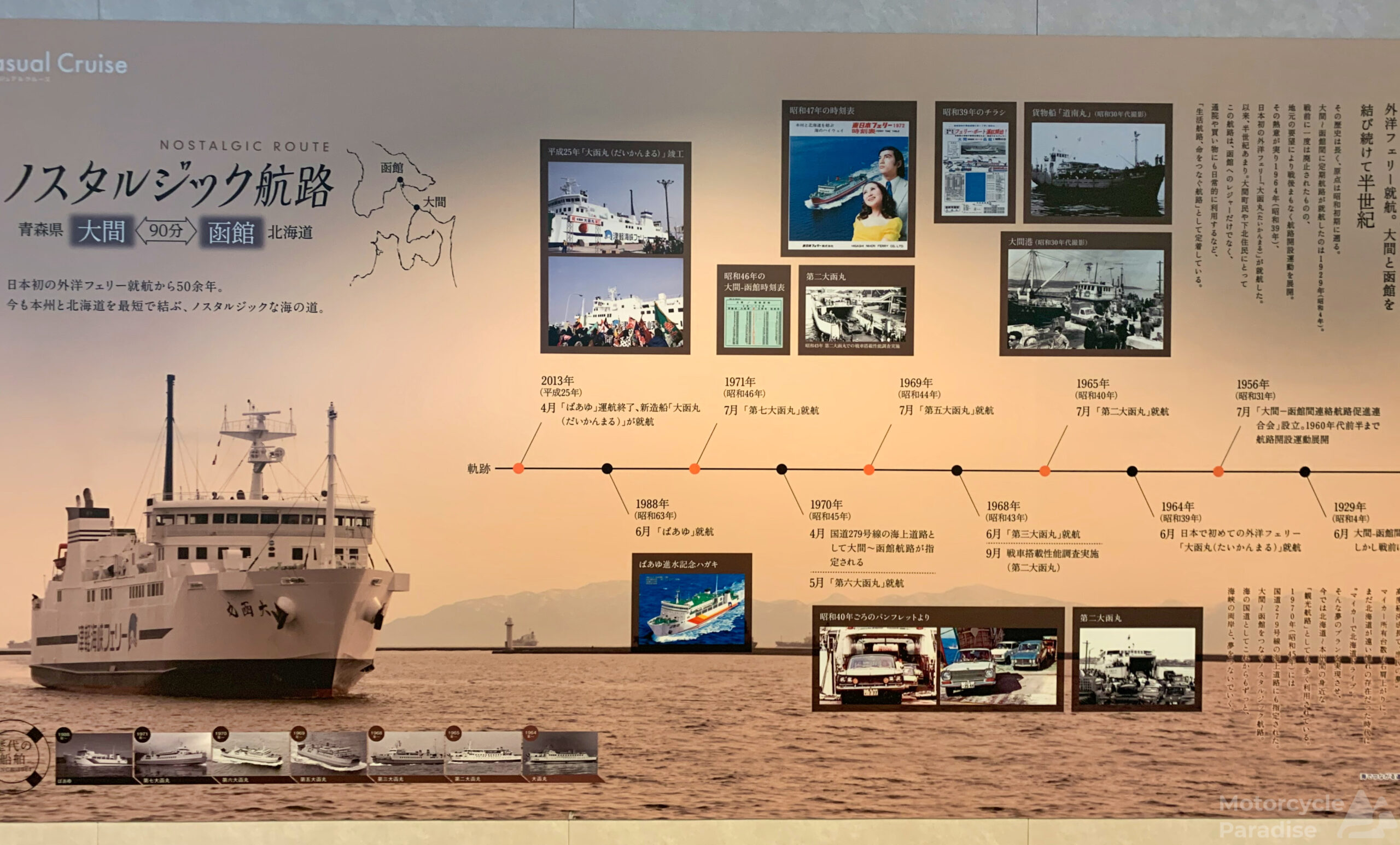 From Oma I have an excellent ride planned for today with many viewpoints but the radar shows no chance of that happening.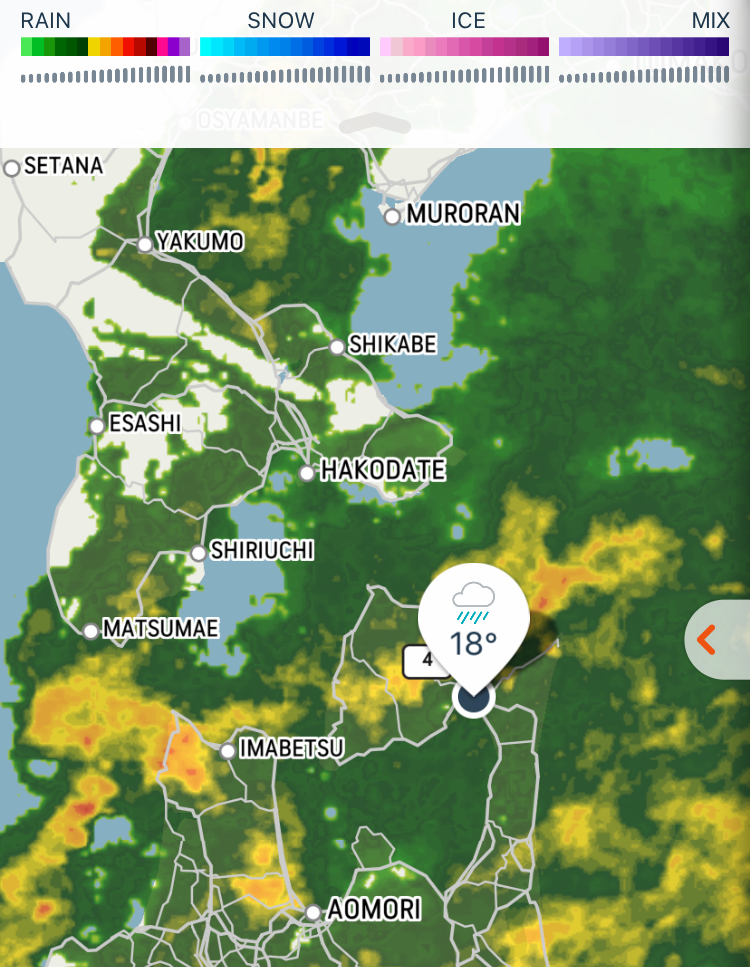 I slosh it directly to Mutsu, literally, with cars throwing up walls of water. Slow and steady does it. I don't mind riding in rain if I could stay dry. But my gear always seems to fail me and today is no exception. I find a coin laundry to pass the time before I can check into hotel which in Japan is never before 3pm so I have a few hours to kill but am in the perfect place to do so with all those dryers.
My Alpinestar 'Drystar' pants are soaked through. I change right there in the shop and throw all my washing and wet stuff into the nearest machine. My Held Goretex gloves are also soaked through. I think they are too old now. I put them and my boots into a shoe dryer then sit back with a steamy hot 'don-bee' udon from the nearby convenience store to warm up.
I post on a Gaijin rider Facebook group about rain gear and the short version is I am given a link to an reputable video that shows my Alpinestars Drystar gear is barely even mildly water resistant. All this time I thought it was because not sealed right or needed the outer coating to be restored when in fact Alpinestars are just using poor quality materials that don't work.
I'm a bit upset. My ride in Ireland was made very difficult due to being cold and wet and maybe if the gear had done what it is marketed as doing I might have been able to deal with my shoulder injury at the time better, might have been able to continue that trip. Also I am always showing myself in their gear on this site which might be taken by readers to mean I recommend the brand when it turns out they are selling stuff that doesn't work. Well all that stops from this point forward.
Next morning the rain has ended and clouds are breaking up.

I have already ridden my original route for today when I got my new tyres in Aomori so I can enjoy to go exploring. This fancy bridge is on a very remote road that serves just a handful of farms.
The road crews everywhere are out with their slashers mowing and I am really enjoying the small of fresh cut grass. Simple things make me smile the most.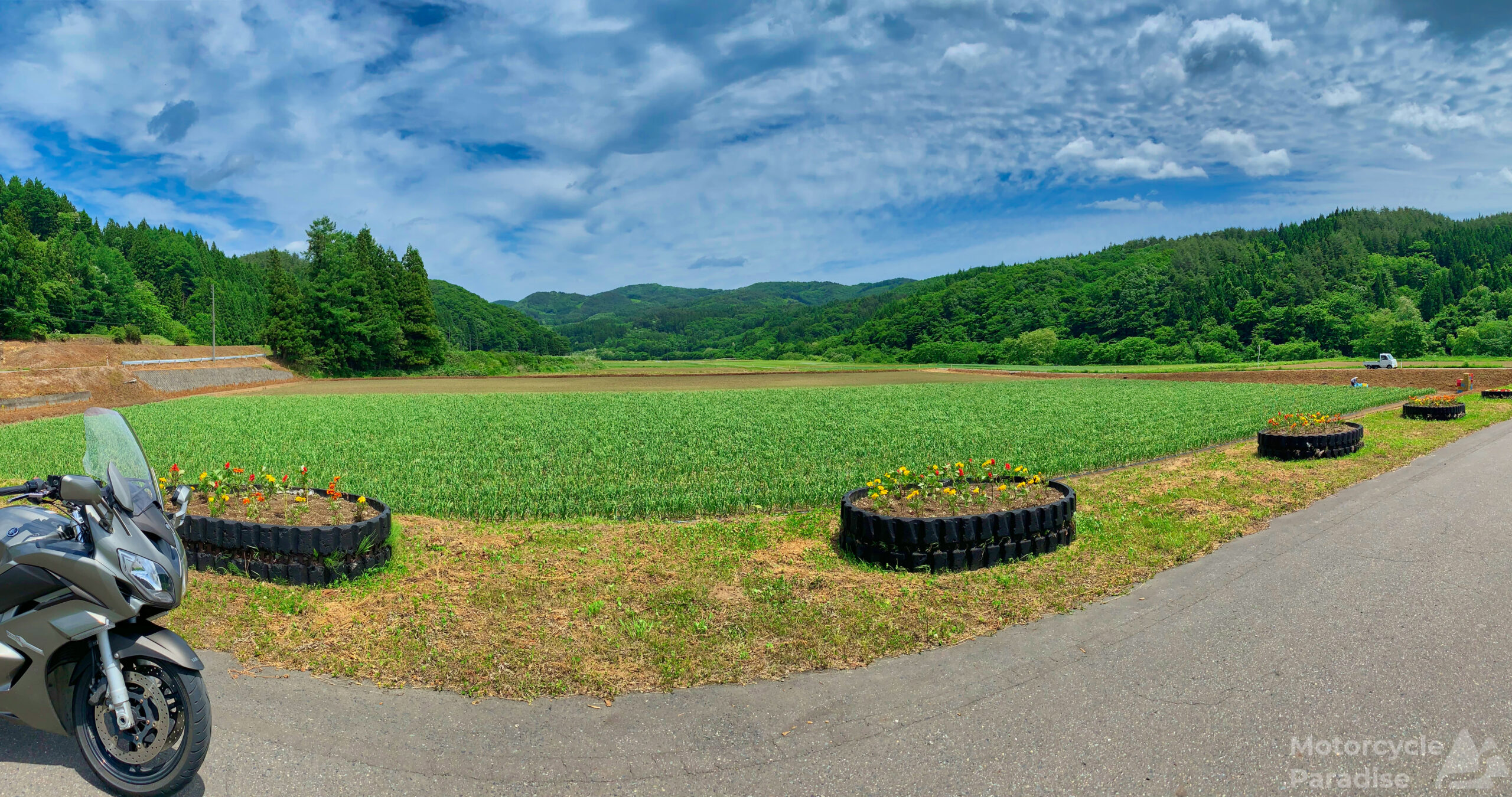 Rural Japan is lovely.

I've made an unbelievable find this morning. Another hidden forestry road that barely shows on maps but runs for about 30km per above and opens to views like below.
Gliding by this garden I get the impression this side road might be interesting, so I turn around.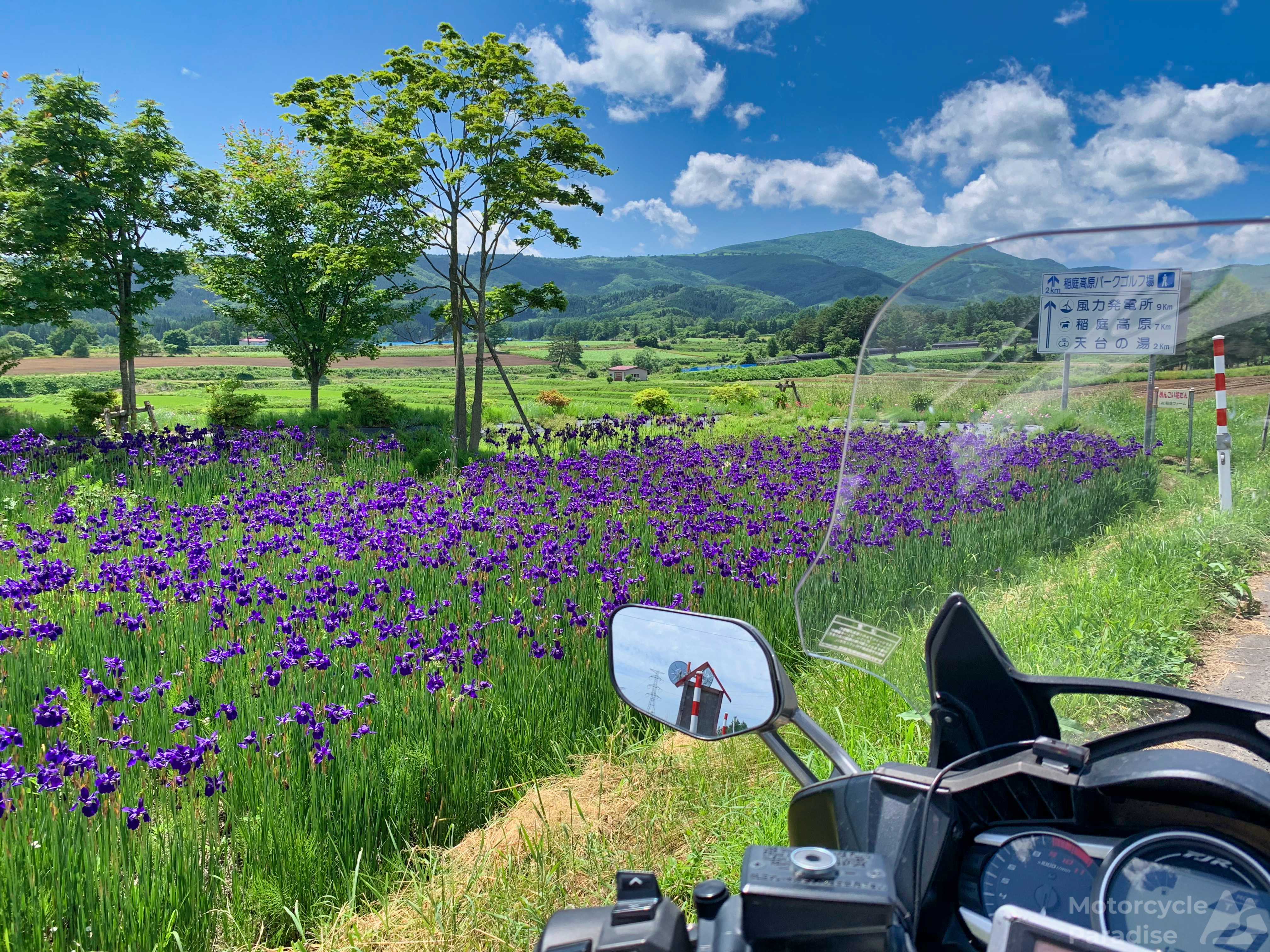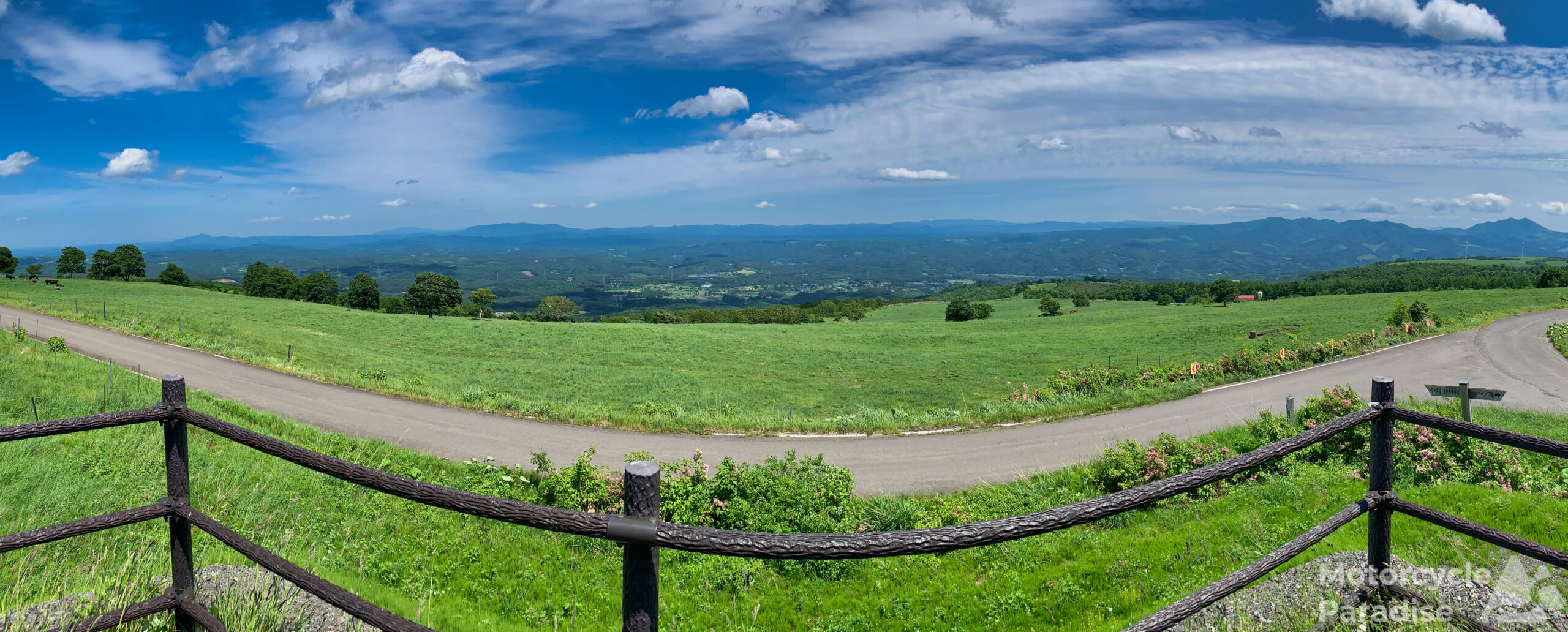 The road takes me up to this spot. I set up my camp chair and make this my lunch break. Just one car arrives then seeing a foreigner here gives a look of shock and drives away. That used to bother me, now I like it. Be scared of foreigners and go away so I can enjoy the gentle breeze and think with greater equanimity.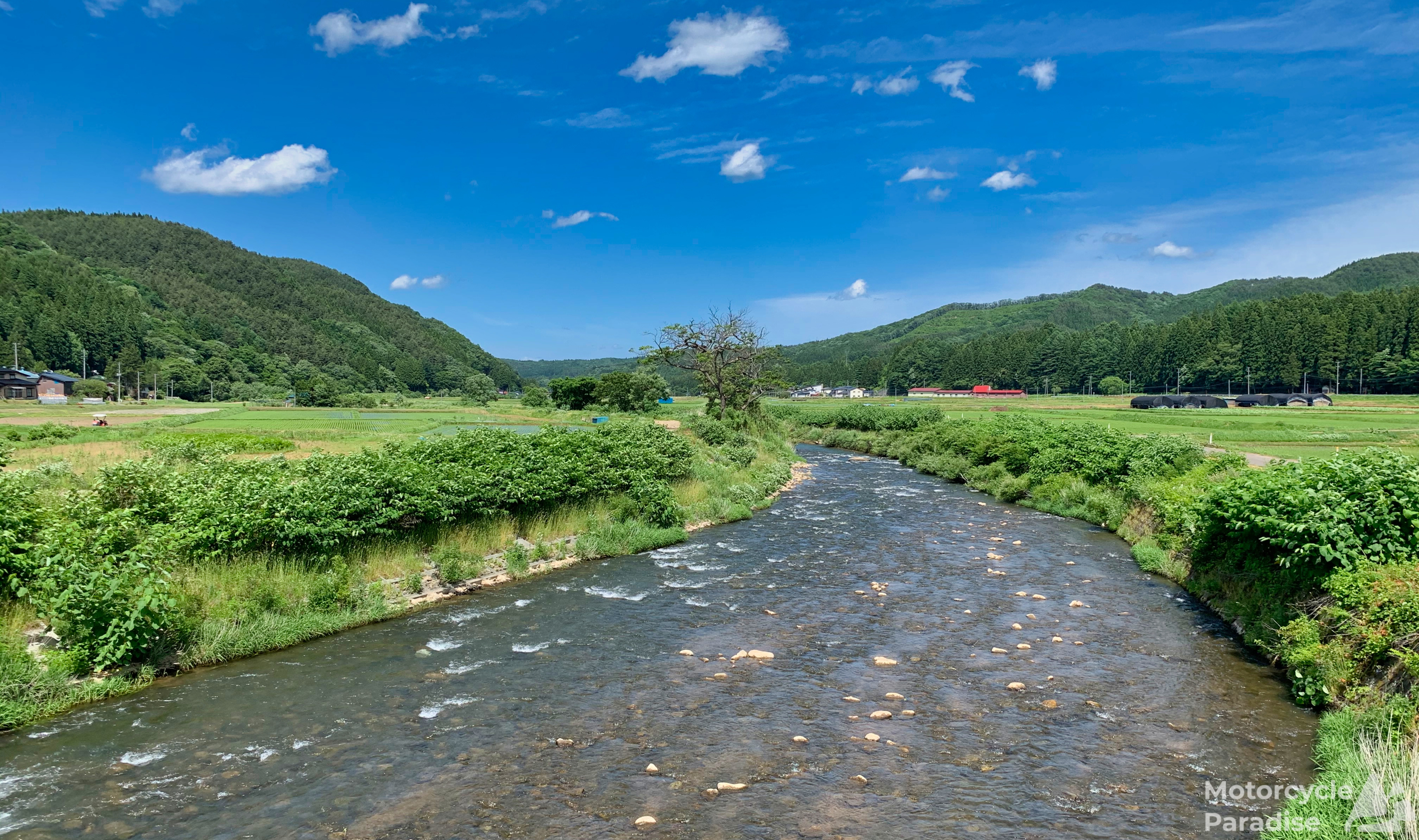 I do a bit more meandering down in the valley. All the layers of green continue to delight me in Japan. It's always such a stark contrast to the low scrubby brown lands I grew up on.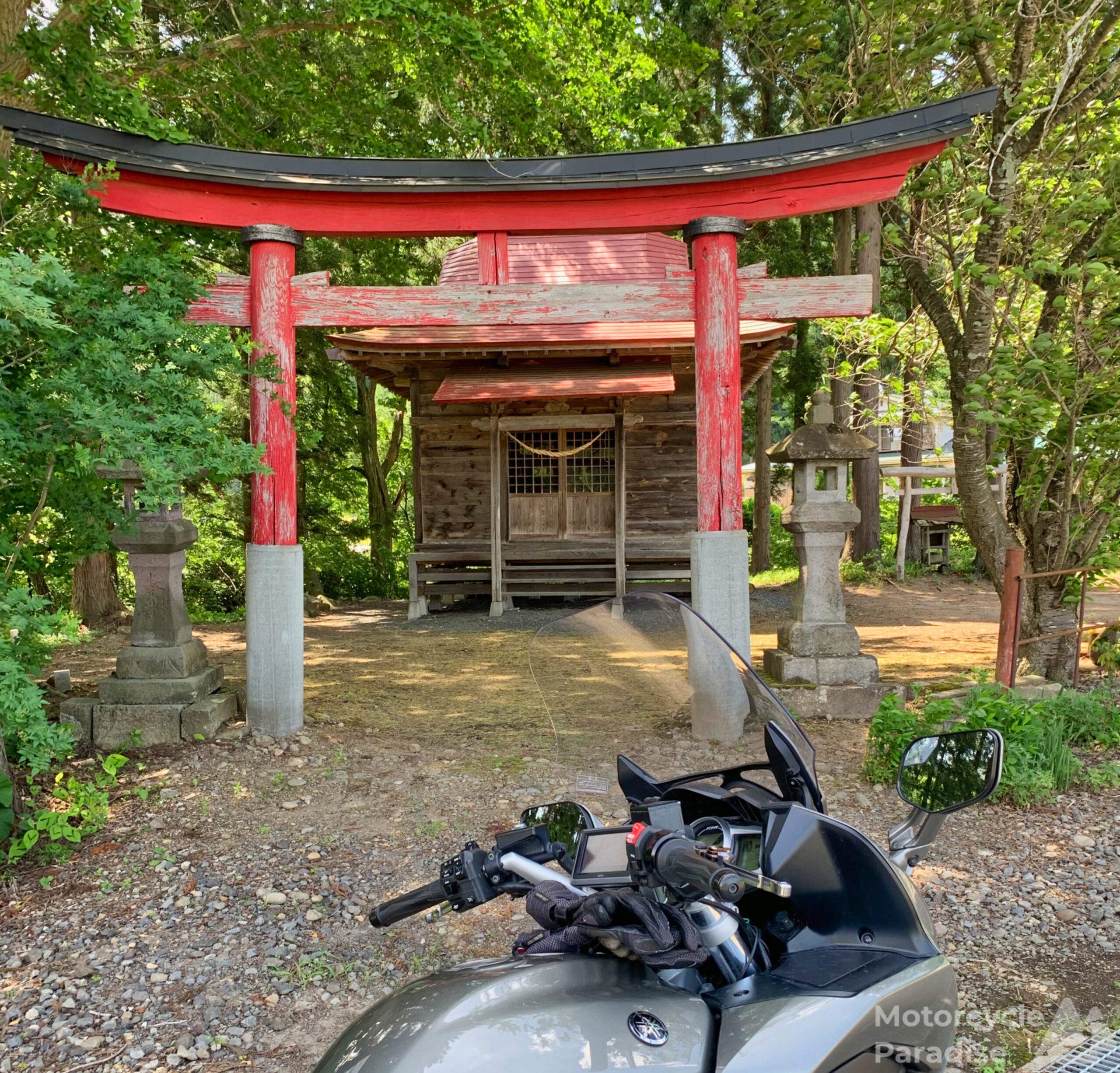 Eventually I need to turn my wheels east and return to main roads then after a 20 km detour when taking wrong ramp on expressway (rolls eyes) I make my way south to Mt Hachimantai. Some snow up high where trees still in early Spring mode.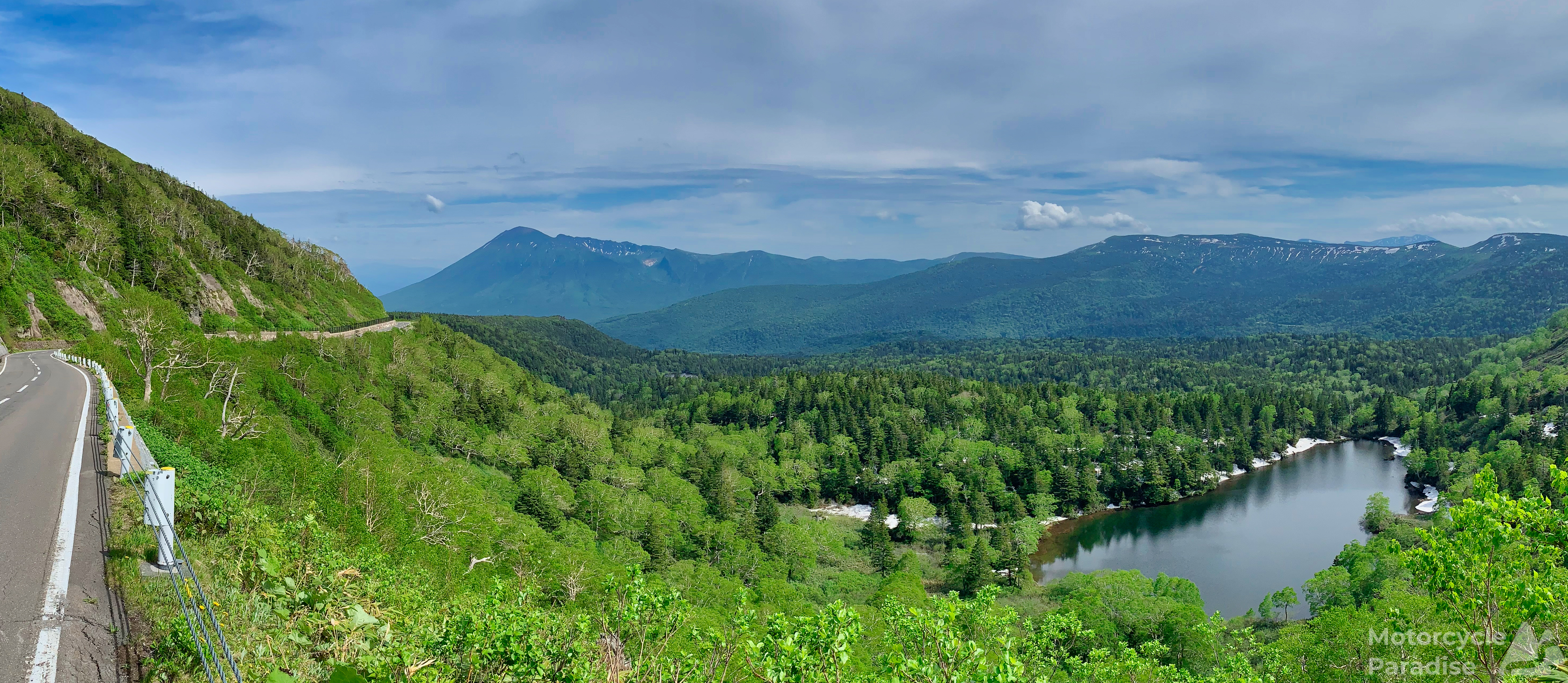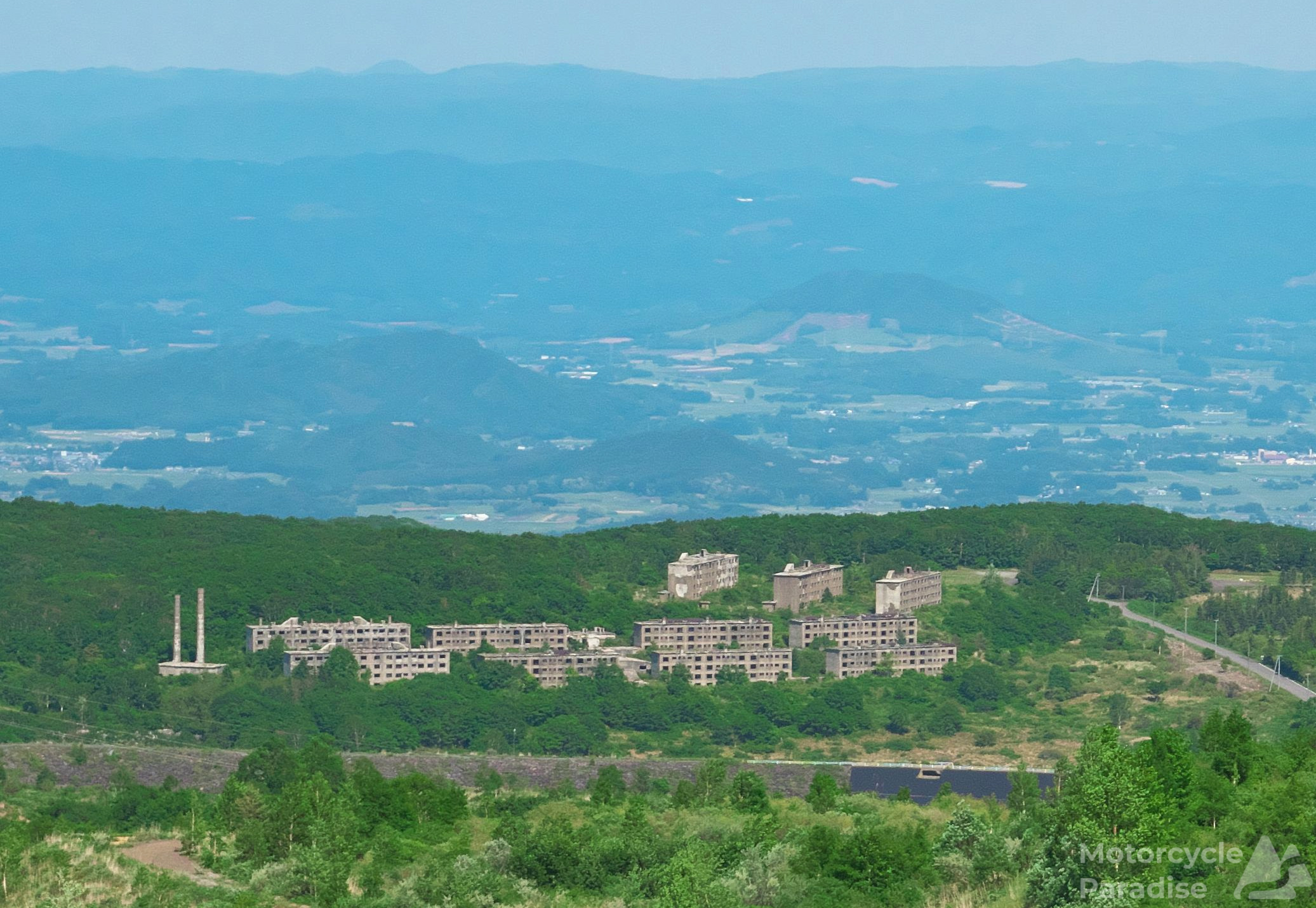 There is a ghost town up here where a mine used to be. I've been there on one of my previous rides so did not revisit today as it has been a long but rewarding one so I take the Aspite line down and then to my hotel.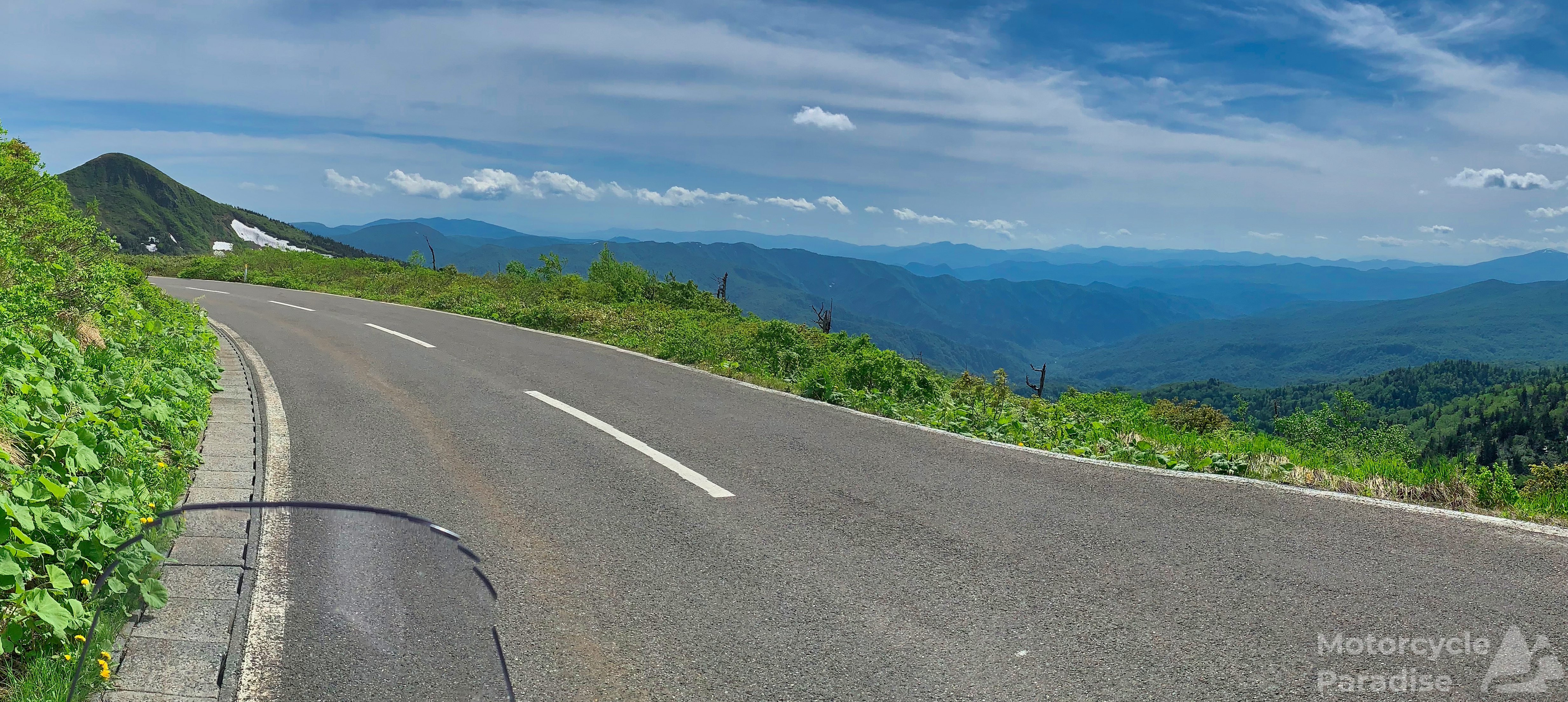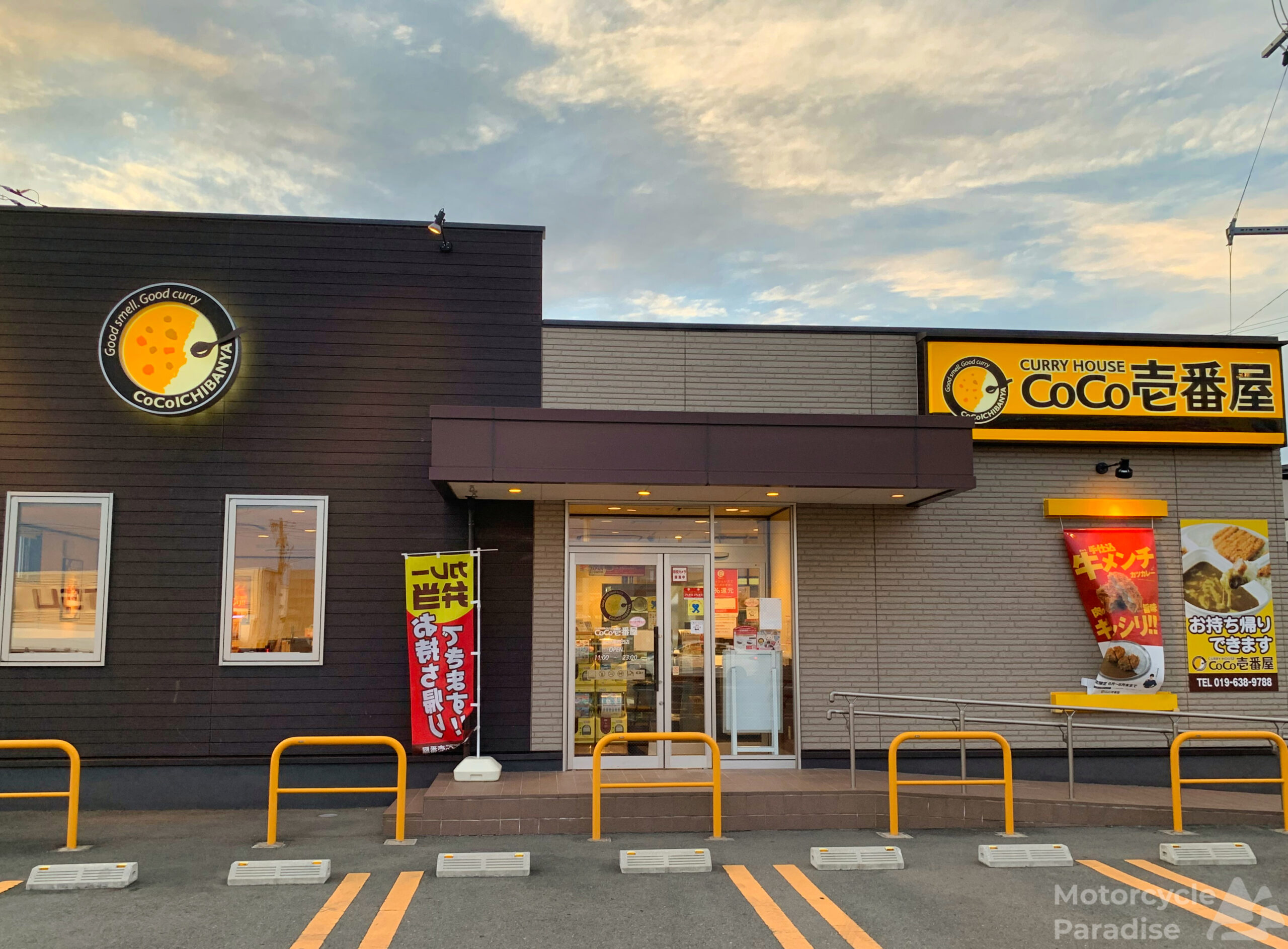 Another chain restaurant in Japan I like. It's a localized take on curry and I was pleased to find this newly opened shop near my hotel.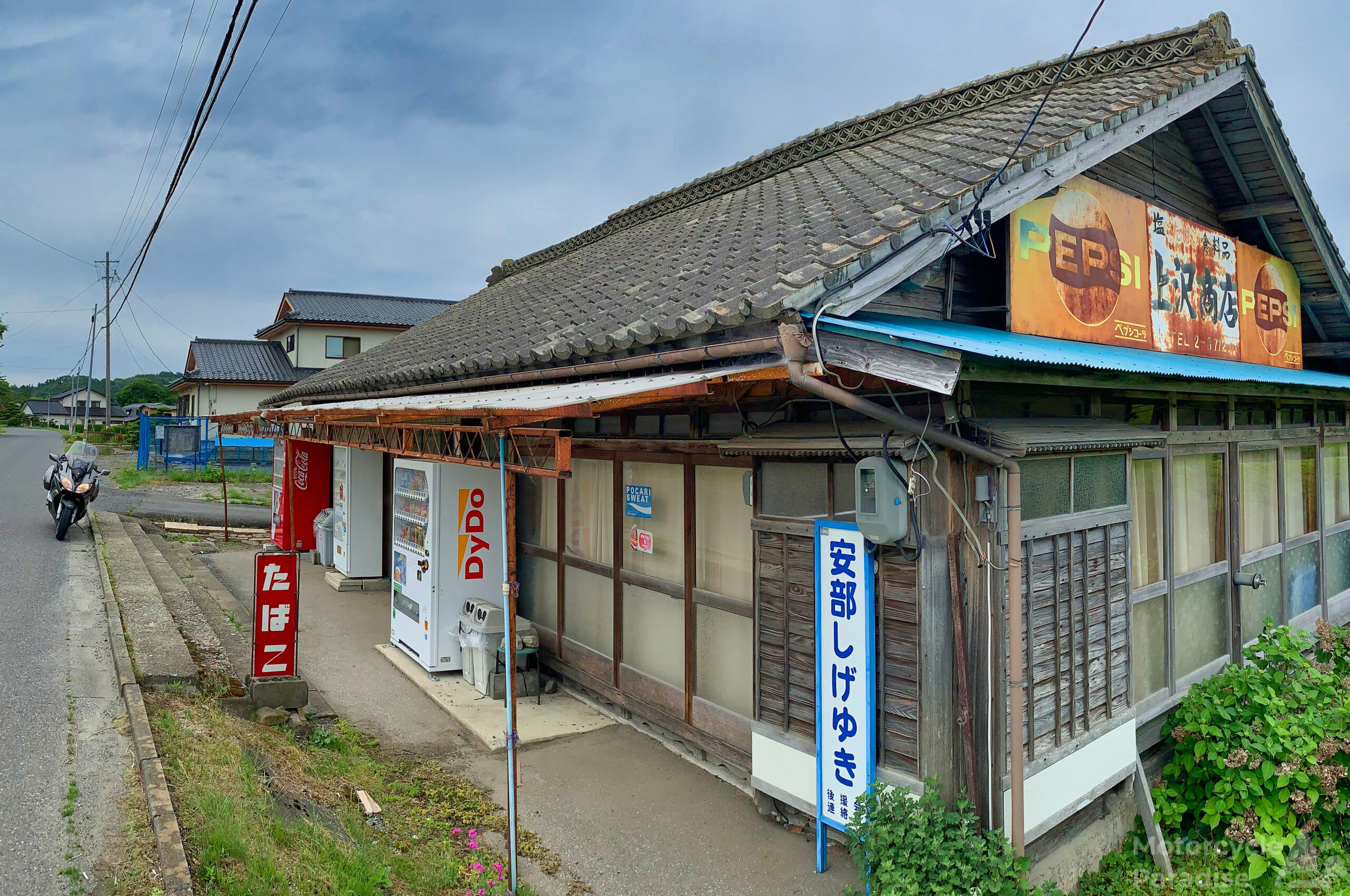 My penultimate tour day is washed out grey. I stop for a hot can of coffee at this old shop that now just has vending machines, a common sight all over Japan.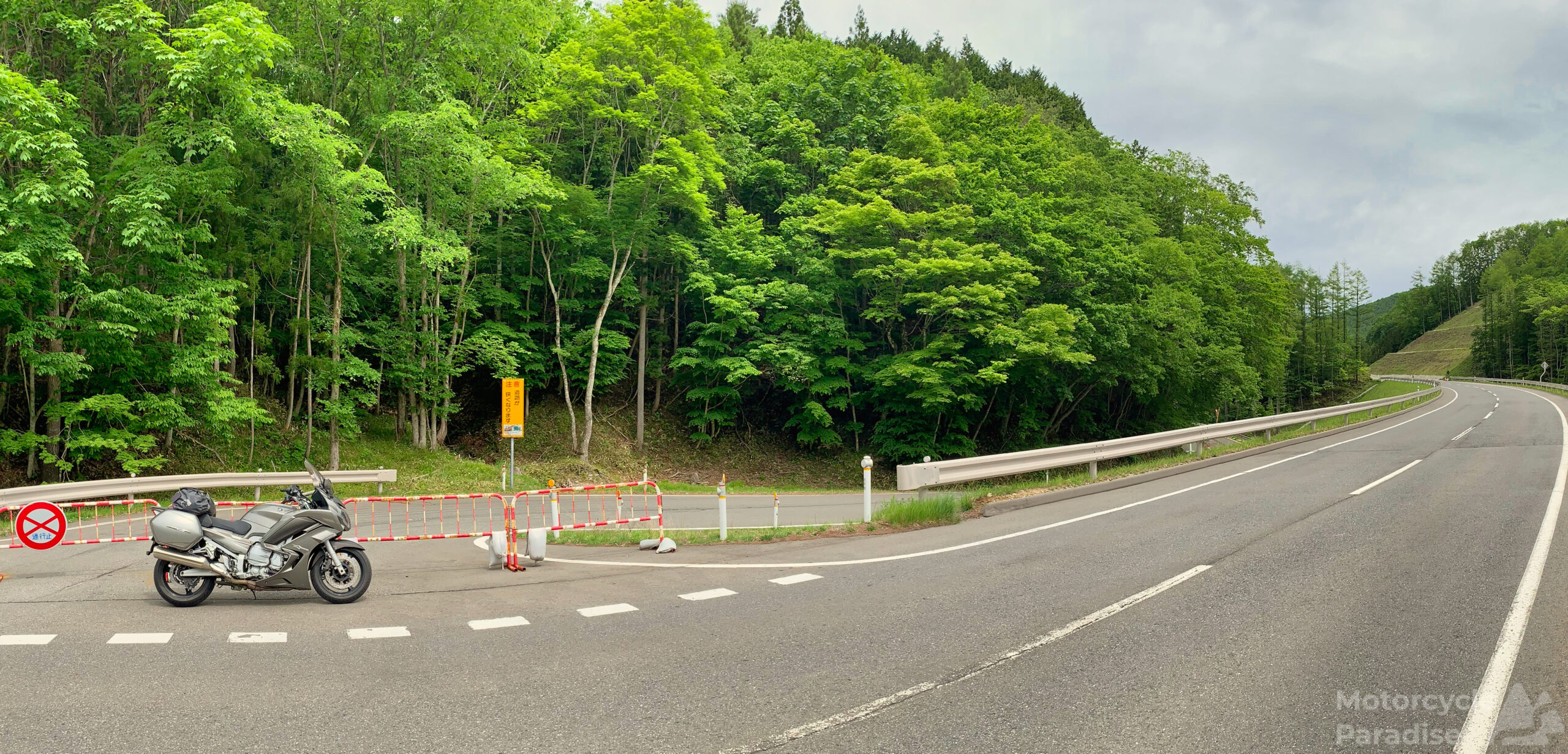 This is also becoming a common sight, the original mountain pass I wanted to ride has a multi km tunnel underneath and old road is now barricaded, thus lost. But with so many hundreds of amazing roads here no chance of everything becoming a tunnel for a while yet.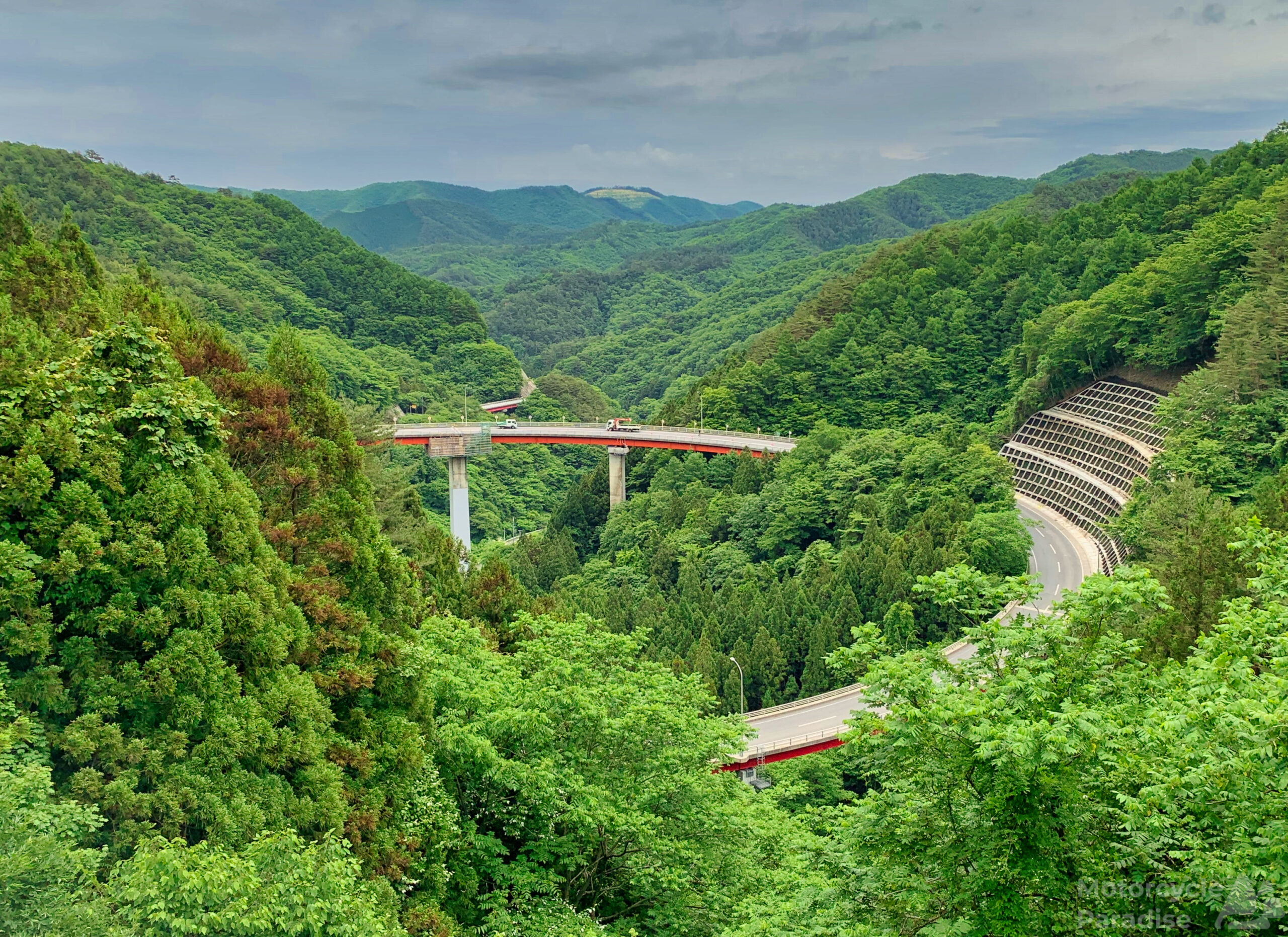 This is a complex circle bridge on a rural road. Still amazes me the extraordinary amount of infrastructure here while in my home country politicians argue for a decade and still cannot build a thing. Probably somewhere in the middle would be good balance but 'Frankly my dear, I don't give a damn'.
I arrive at the end of today's route, the superb Cobalt Line in Sendai. The viewpoints are overgrown and the skies gloomy however today has been nice riding even if not very photogenic.
My final day is all expressway. Leaving Sendai I ride past all these electronic signs with odd numbers and not until I stop later I have the realization they were radiation readouts. Yes I was on the coast highway passing by the area affected by the disaster. Well I was bombing along on the supersonic armchair FJR so was through there in very short amount of time haha, but actually the signs just show the levels are normal. No risk.
This ride turned out so much better than I could have imagined. Not bad considering I had no firm plan until couple of weeks ago. Today is wet from mid morning as I ride into the summer monsoon but at around 130-140 the full fairing and screen keep much of it off me.
Some trivia that popped into my mind while on the expressway; I managed to ride every day (bar last) on one tank of fuel. Love having 450+km range not having to think about fuel. I took about 2000 photos, selected about 100+ for the ride report of which only 6 come from my Camera. The phone lacks dynamic range but its computational photography gets more shots for me, something I should remember when I start feeling that new camera lust next time.
An aspect of Japan that people might not imagine, there is loads of wildlife. Animals seen on this tour, include many monkeys, deer, foxes, raccoons and one wild mountain goat. Fortunately no bears which there are plentiful in the north and dangerous.
Time to go looking for new rider gear when I get back, do I buy expensive goretex or make do with lesser gear like I have done… Also the bike needs some major work now, decisions to be made there too. But I am starting to digress. Hope you enjoyed this small look at Tohoku and Hokkaido.