I wrote an article about my packing for the multi country ride I made to South Africa and Oman awhile back and what to take is something people continue to ask me about. I just threw all my gear together for a short ride in Vietnam and took some photos of what I pack when travelling light.
My method for places in SE Asia involves a 40-45L size duffle bag that has backpack straps that unzip letting me pick it up and move about easy. This then doubles as my on bike bag strapped to rear seat. I also use a messenger bag, this is my carry on flight bag for all the battery gear not allowed to be checked in and also has a few clothes in it. My helmet gets packed full of ride related things and sits in my main bag. Once at the destination it comes out and the items from the messenger bag replace that space and I'm ready to ride.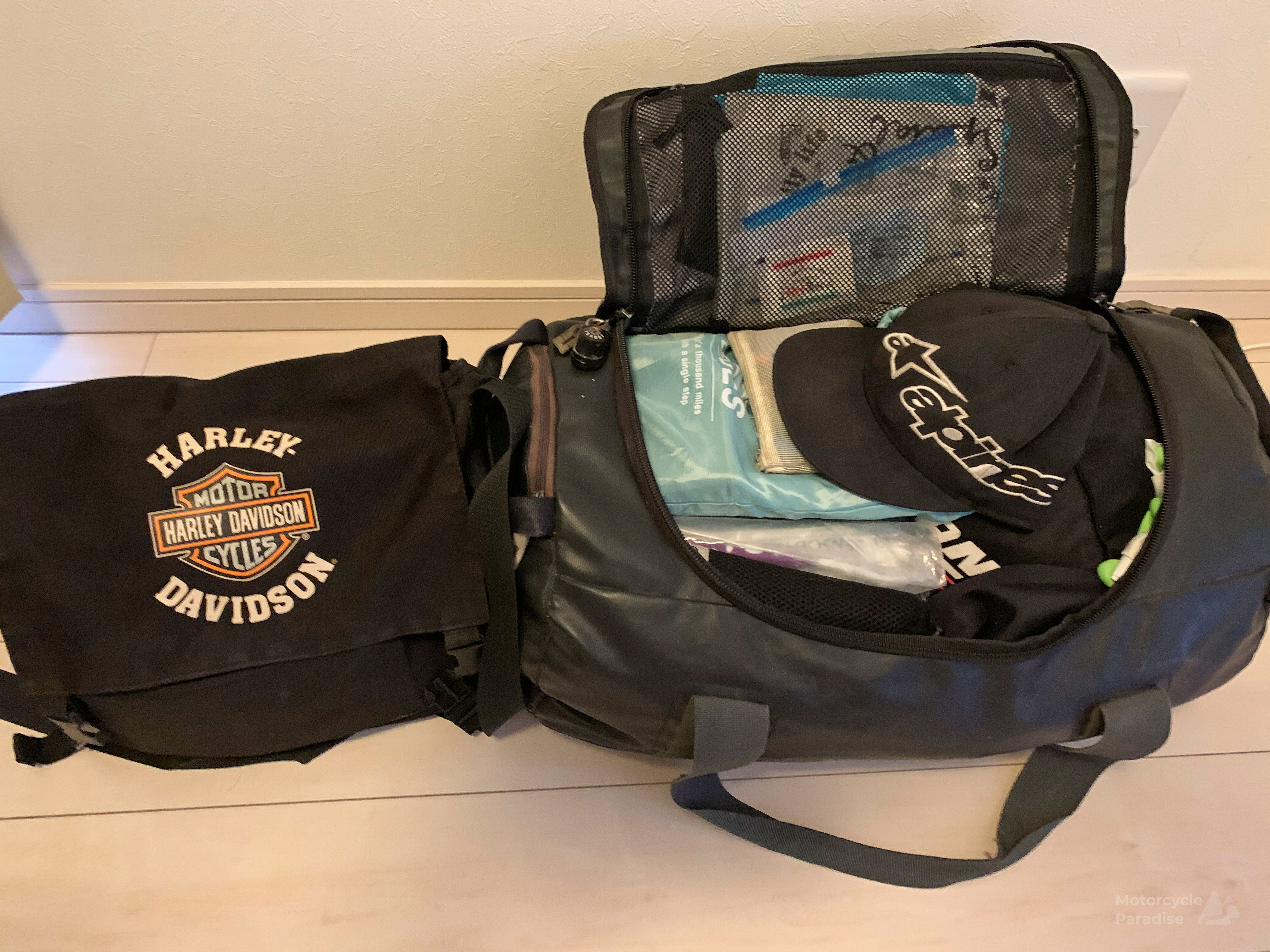 Some people are worried about putting helmet in check luggage but i do it all the time, it's not made of glass. I ask for a fragile label at check in. This puts your bag on top not under other things and also your bag will often arrive on the luggage belt sooner in one of those trays rather then by itself. Airlines do not forbid helmets however the airport security nazi's make their own rules and will stop you.
I'm going to break down what I take but while talking about check in I always have a luggage tag with name and number and email. It's not if, but when your luggage gets lost. Also I always have a photo of my bag on phone to show staff.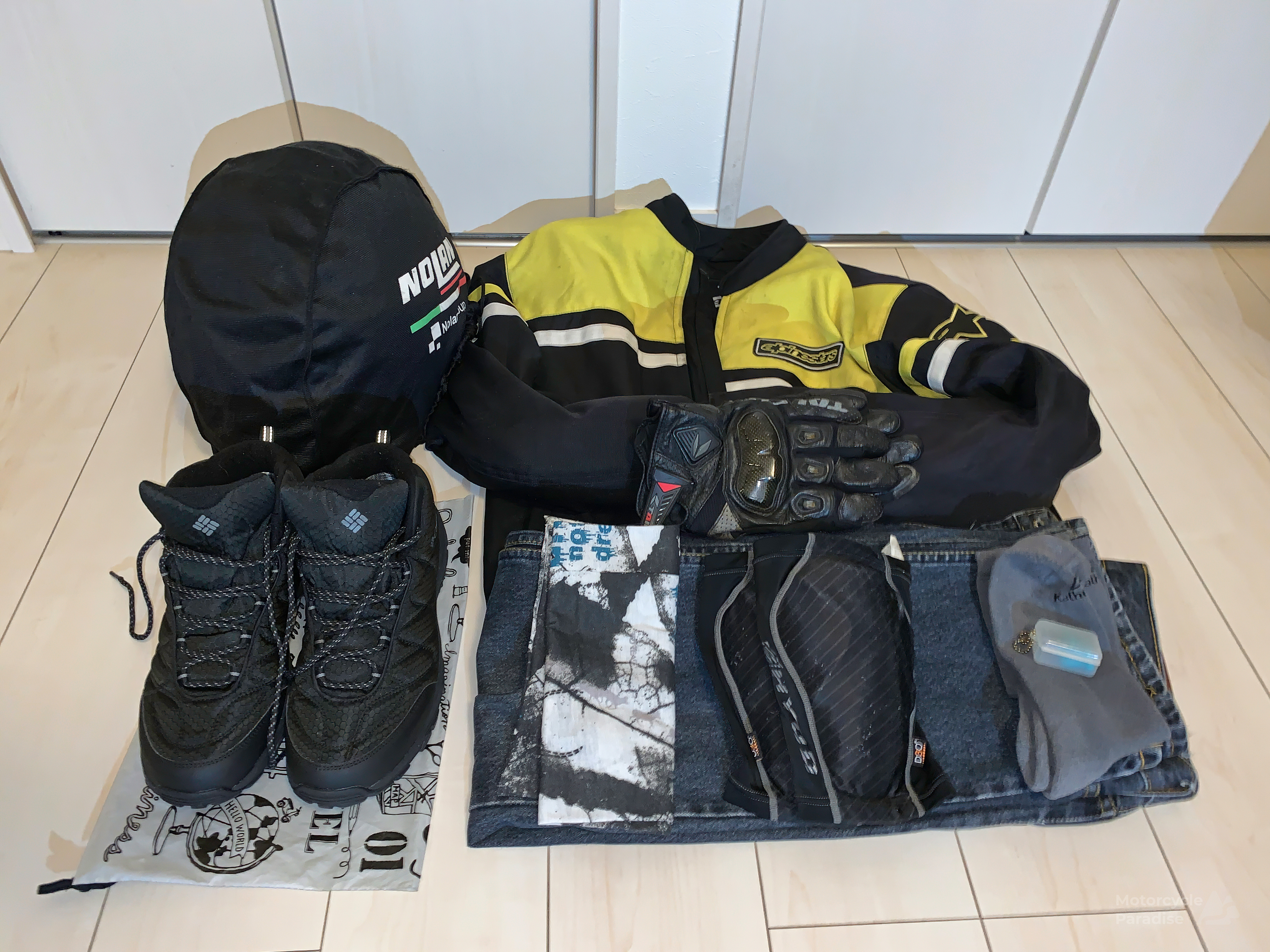 My ride gear for this trip is minimal. I'm riding a 150cc road trail bike at low speed, probably 40kph average. I'm taking my old Alpinestars WP10 jacket minus it's liner. Tip – remove the back protector of jackets and lay that flat in bottom of your bag to permit easier packing and place the arm and shoulder amour all curved together. This is a waterproof jacket lacking venting but somehow manages to not be too hot if opened up. Add a mid layer and its reasonably warm.
Gloves are my RS Tachi summer shorty leather items. I was planning to bring my BMW City 1 pants but they have had their day, so I am making do with regular jeans. Vietnam is where half the rider gear is manufactured so I will look at shops there. I will use under jeans knee pads, these from Hyod are very comfortable. Shorty hiking boots are new for this trip and double as my daily shoes. They are actually goretex lined and the tongue of the shoe is sealed at either side. Coolmax mid length socks and a summer Buff. My helmet as always the Nolan N43 Air and a set of ear plugs are still essential to me.
Secondary ride gear I am taking. Neoprene bicycle rain shoe covers (top left). The shoes are waterproof but without this the top will let water run straight in. Bicycle ultra lightweight rain pants (right of shoe covers) These have proved better than motorcycle pants and they breath. Puncture repair kit for tubes and a 'twist and go' puncture seal for tubeless both of which are with me every ride regardless. An ultra lightweight spray jacket (black rolled up) this can also be used off the bike but main purpose is add second waterblock layer and this too breathes unlike motorbike rain gear. It has a hood and high neck so helps to seal that area and I use in conjunction with my jacket in rain.
A hat for off the bike to hide helmet hair. Soeasyrider GPS case. Garmin Nuvi 760 GPS. Power bank that runs the GPS and sits in same case. Stretch cord. Holts fix a flat – baby scooter size can (much smaller than the bag looks). I always bring this also even though rarely going to help if on bike with tubes but in dire straights maybe. Shoe shifter protector, this is to stop nice shoes being ruined. I read some guys who said this looked silly. I think what is silly is ruining a good pair of shoes in the delusion you look cool to other people. But I digress.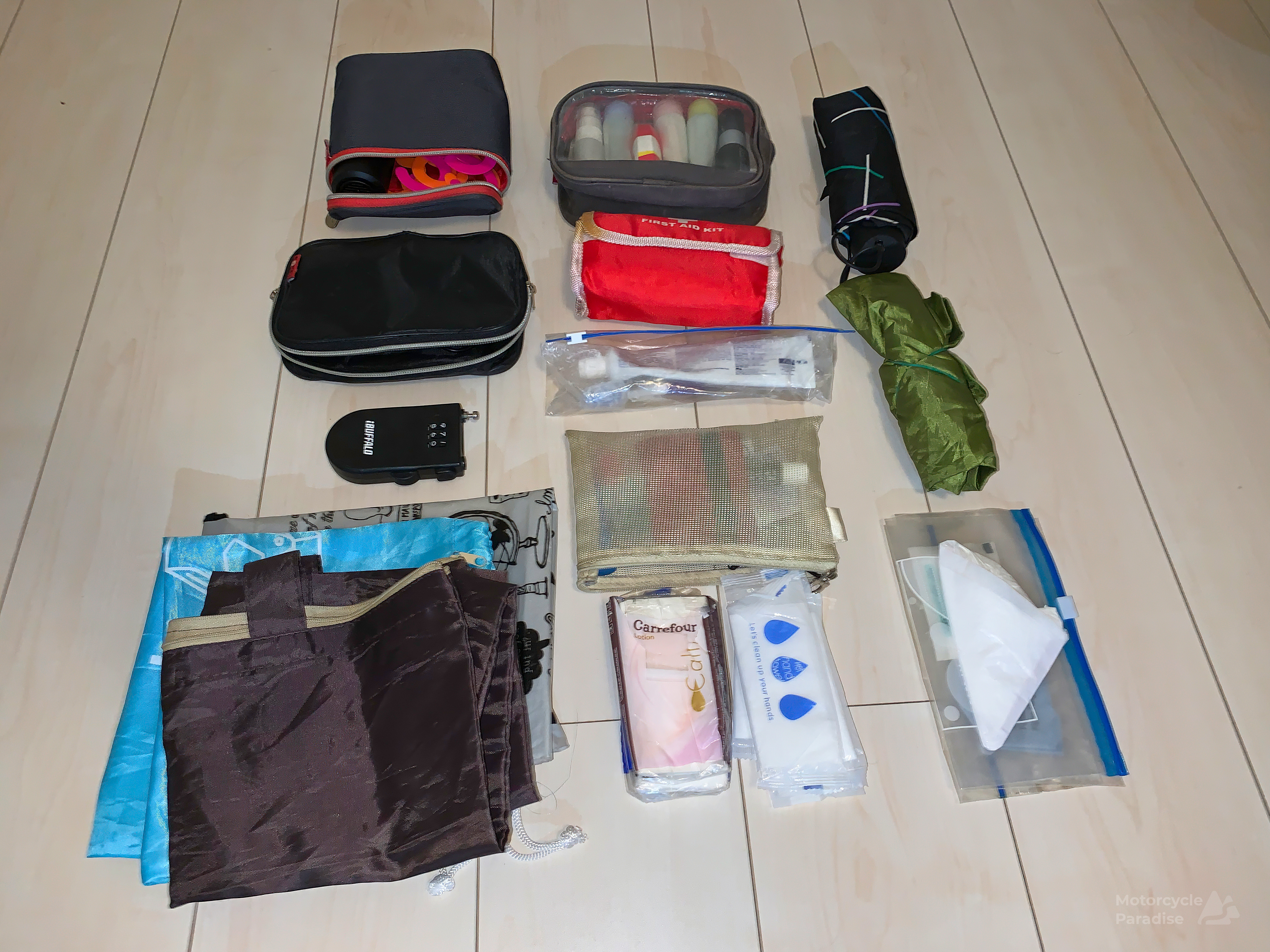 I use a set of small bags to hold things and I always put the same things in the same bags. This is very helpful for not forgetting any item and then assists me in packing main bag in a consistent manner.
What's in them? From the back I have one bag that holds deodorant and oversized pegs with hooks that I use to hang up clothes that I hand washed each day (this along with shower is first task when I get into hotel room) I have toiletries case that has small containers I fill with soap, shampoo (because some hotels in SE Asia supply nothing), sunscreen, aftersun moisturizer (Yes I have fair skin and burn). Febreeze which I spray into helmet, shoes, jacket end of each ride day. Another bag I keep all my electrical wires and USB charger and power plug adapters. The red bag is my medical kit. I have bandages but mostly its medicines for cold and flu, headache, diarrhea, upset stomach. The other bag in frame has miscellaneous items, UV 50+ lip balm, plastic spoon and fork (always handy) nail trimmer, anti-fog visor wipes, micro cloth for camera lens, some hand wipes that I collect here as overseas often nothing supplied when eating and pack of oversized tissues as no toilet tissue is common situation.
Some other items I take in above photo includes an ultra compact umbrella, green rain cover for my main bag and security cable lock. Couple of spare zip lock bags and plastic bags. Two laundry bags and large brown nylon carry bag for bringing things from supermarket into hotels that say no outside food of drink (I pay my money so I will do as I wish thankyou). And toothpaste always goes into a ziplock bag because they have habit of leaking in planes.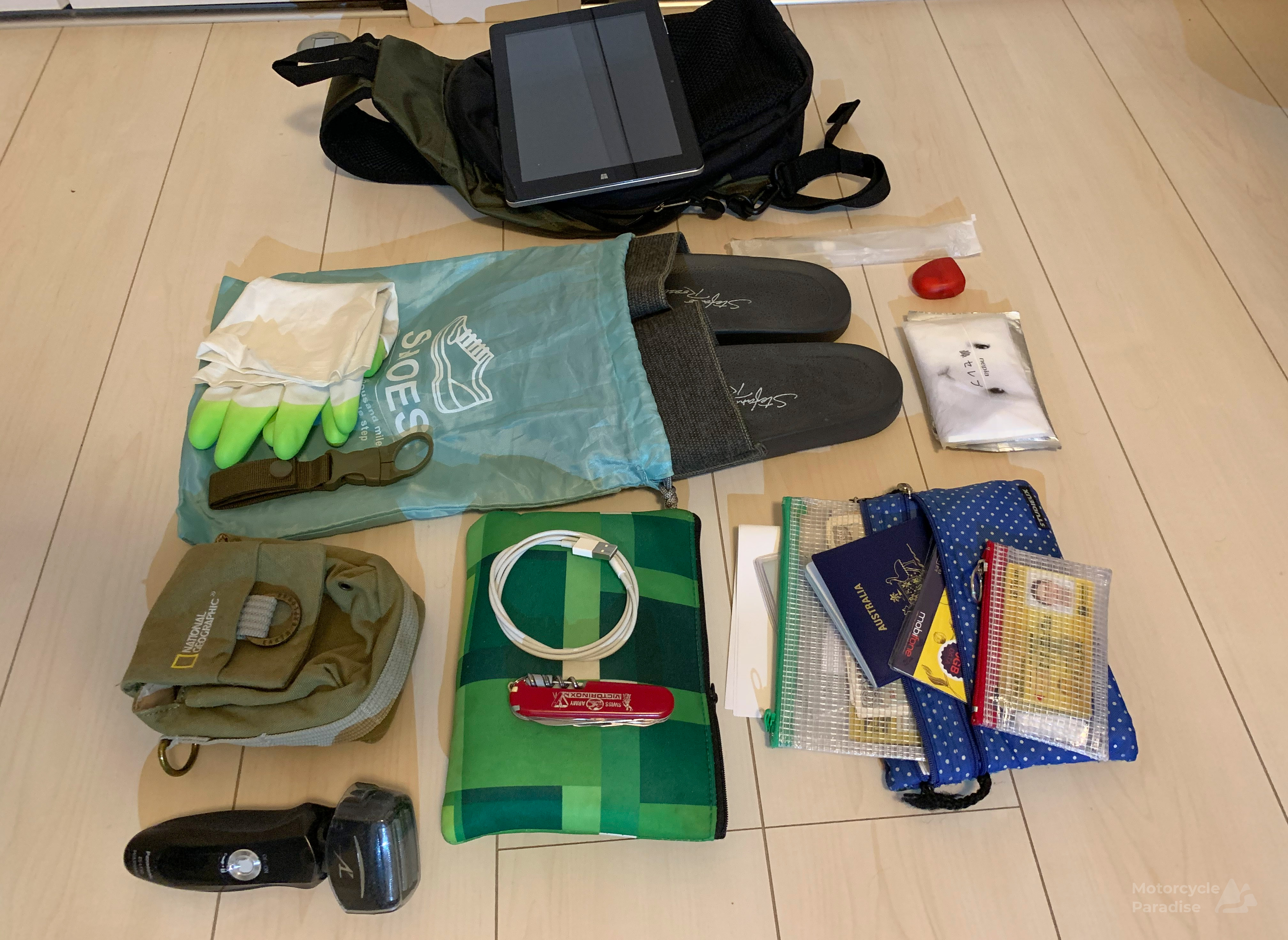 I may take my tablet computer, no need really for it this trip. I will take my camera no I ditched that also this trip as I have new imaging gadget to test and my phone takes better photo anyway but I am taking my mini tripod. I always bring sandals with me and dishwashing gloves. These allow me to hand wash clothes in basin using hot water that would otherwise burn hands (and can be worn under riding gloves in rain). My swiss army knife also gets packed every trip, and latest handy item is the water bottle holder that I used so much on my Turkey ride.
Of course in my carry on I have all the usual documents, plus I carry spare credit cards and cash separate in case my wallet was lost. Other items in that small blue flight bag are tissues and soft silicon ear plugs for screaming babies. Headache tablets, the power cable for phone as some planes now have USB outlets. Earbud headphones, eye mask for getting some rest, micro size lip balm and a small ballpoint pen because you still have to fill out arrival forms so don't be one of the gooses at the arrivals hall waiting with 20 other people for the sole working pen.
In my carry on bag I always have a travel toothbrush kit and a change of clothes in case my bag is lost or for other uses like if flying out at night having been walking around all afternoon in tropics. I will often use airport lounges and take a shower and change clothes. Whilst some airports have great facilities like Changi or Narita, many are poor or they charge ridiculous amounts for food. Doha $26 for a coffee and sandwich is just one example where being a member of a lounge scheme let me relax and refresh for about same price.
Finally clothes are the smallest part of my packing. I am taking four quick dry non cotton t-shirts that I can easy hand wash (but once stopped more than one night I use laundry shop) plus 1 regular cotton t- shirt which I prefer for flying and one warm base layer type shirt I can layer in a cold snap. I take one thin warm top which I wear on the plane if LCC as no blankets are provided and this is also a mid layer on bike if needed. I can combo the thermal base layer with extra layers of shirts and fleece and even add the spray jacket in extreme case of returning to Japan in cold snap.
I'm taking two pairs of jeans this trip, 6 underwear and four pair of socks. I shall be washing things daily and off the bike wearing sandals. One full change of clothes I am wearing, a shirt and underwear and fleece top in carry on so only some underwear and socks, four shirts a pair jeans need be packed, very small space needed. I have obtained a 100% non metal belt I use now flying, one less hassle at security check points.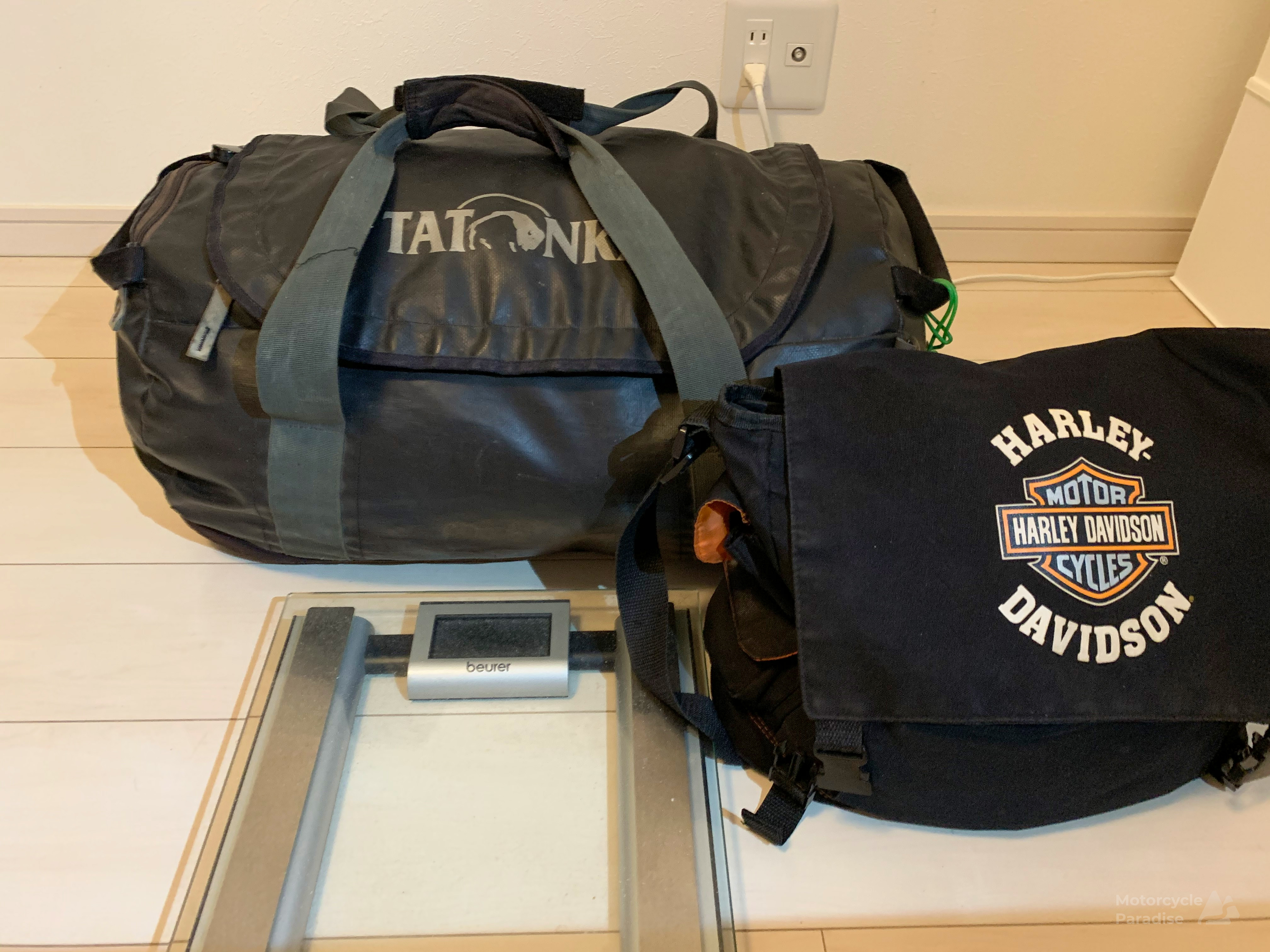 You may think how does that all fit – well it does and I'm already packed. This photo is deceptive, the messenger bag is actually narrow and a fraction the size of the Tatonka bag (and the dust on the scale readout is under the glass not able to be cleaned just in case you were wondering)
The main bag tips the scales at 10.5kg. The messenger bag actually weighs nearly 3kg since it has all the battery items, GPS, power bank, shaver, onboard camera, regular camera, tablet computer ( I went minus the camera and tablet and much lighter).
A couple of final tips. Have e-visa e-tickets printed out. Check in will ask to see your visa. Airport security can demand to see your ticket before check in. Visa on arrival will demand to see your return ticket. I also have my travel insurance policy printed out and emergency information. If something was to happen you want people to be able to access that quickly.
Hope this might have been of some small assistance. Looking forward to this next ride.