I've had an interest in Sicily since childhood thanks in part to some of my family having grown up with the Italian community in Innisfail North Queensland which had a strong connection to Etna region Sicily.
Boarding a plane from Spain was comical. Every culture has it's quirky nature, none more so than Australia, but I am always amused how some people cannot form an orderly queue be it at a shop or service counter everyone will push in so the boarding gate had four different lines all pushing in front of each other. Fortunately I like to board last – the less time inside the better.
Coming into Catania I was surprised to see the amount of air pollution in the countryside, there were fires visible burning everywhere much like you see flying into SE Asia.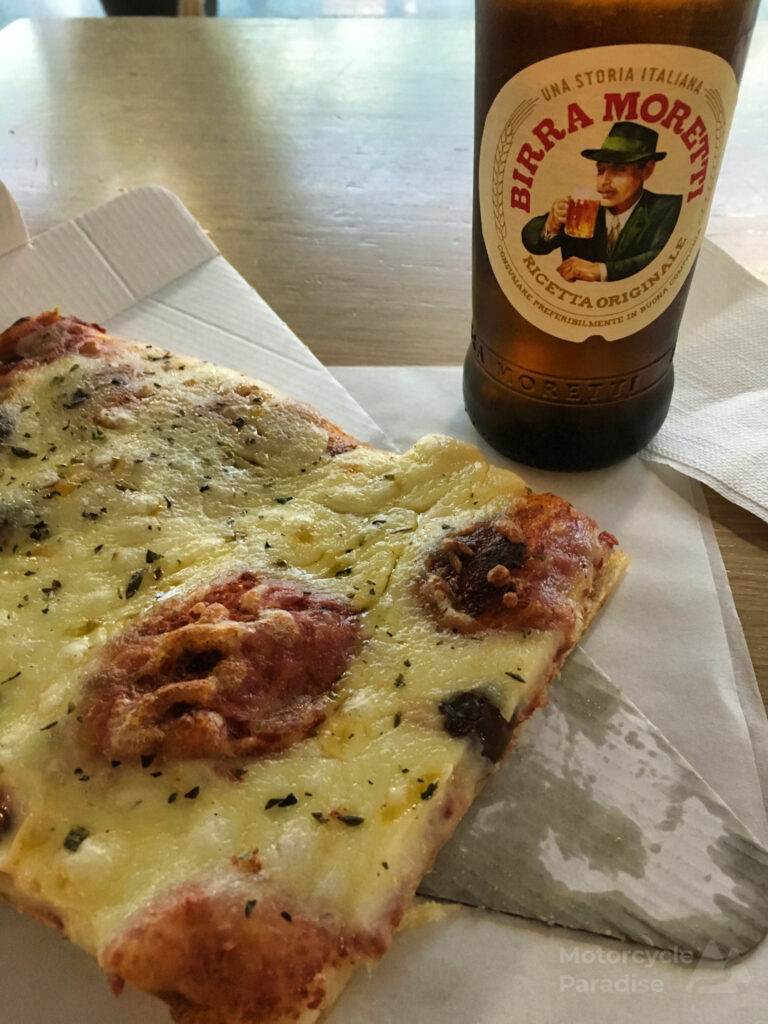 First order of business arriving Catania from Barcelona was some lunch. This is a great start.
Surprisingly I can still remember some of the Italian I was taught as a young child before starting school despite never really using it. That is the age to learn languages, your mind seems able to pick up anything. Recently I have spent years on and off trying to learn Japanese and cannot even master the basics.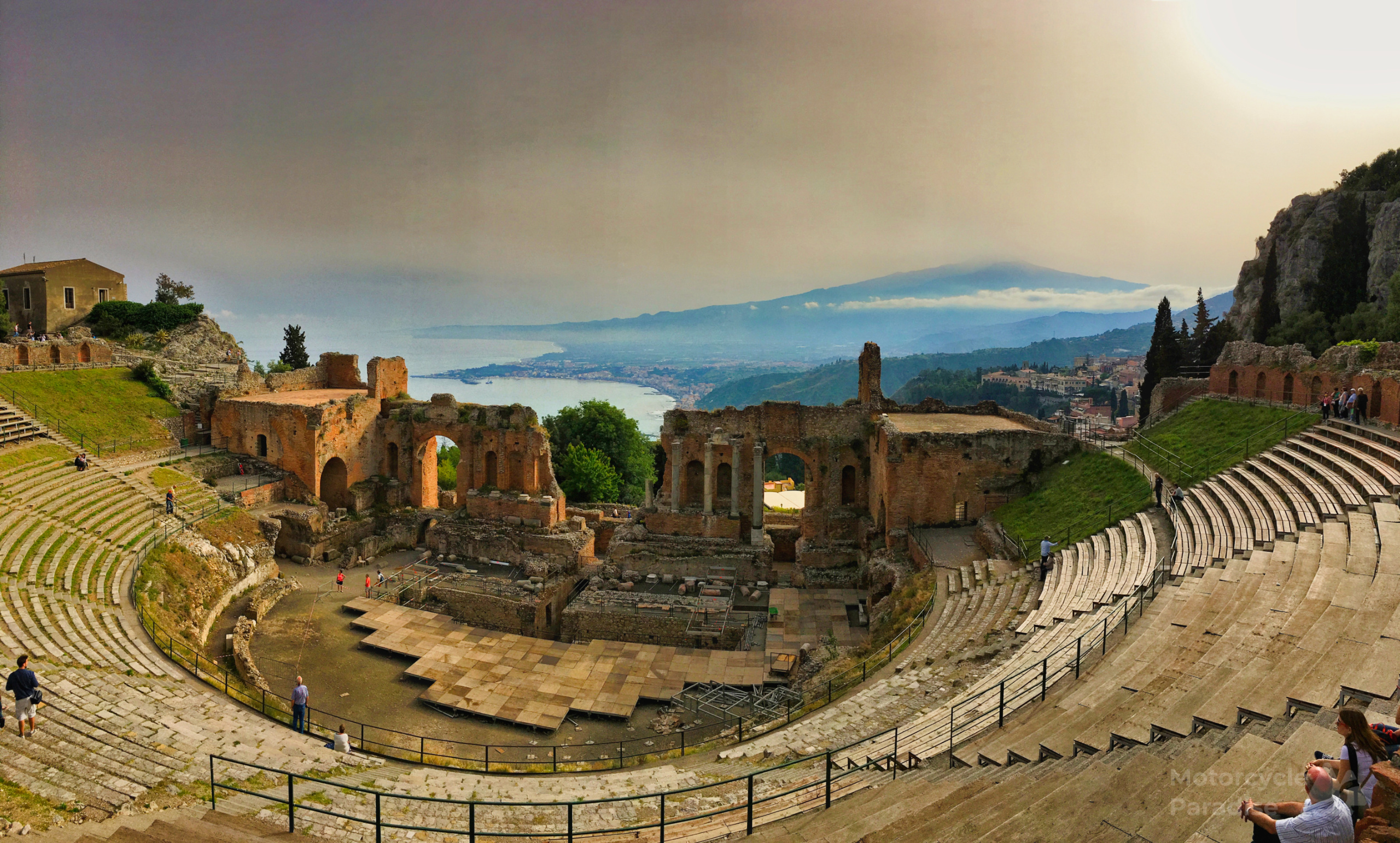 I was staying in Taormina which is a beautiful little tourist town dating back to Greek times perched up on a hill over the ocean. It is simply lovely.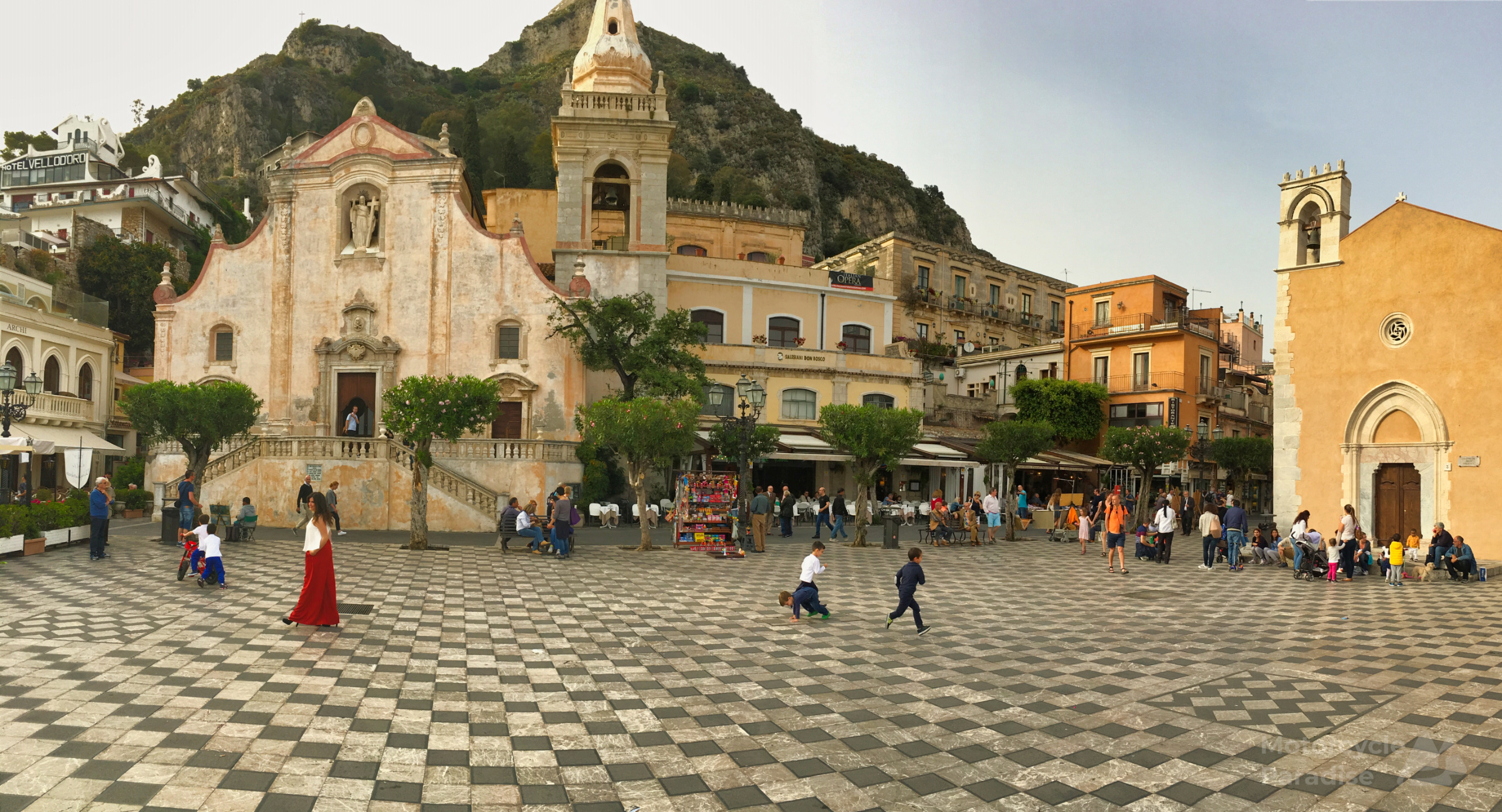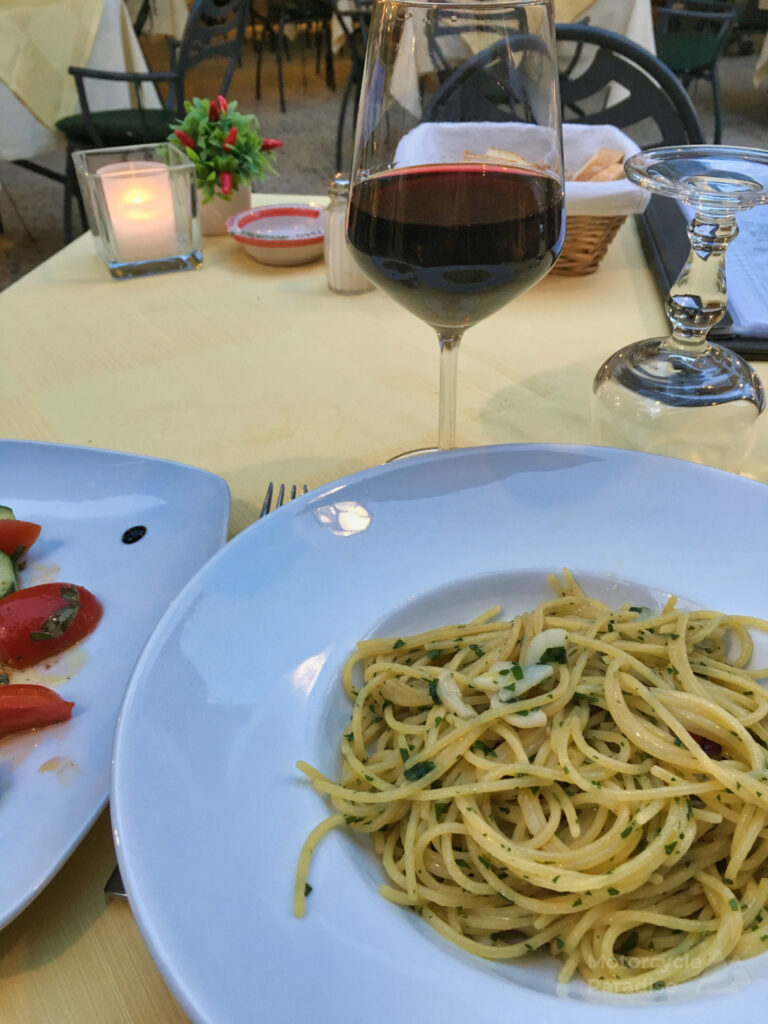 So begins some of the best food and wine I have had in my life.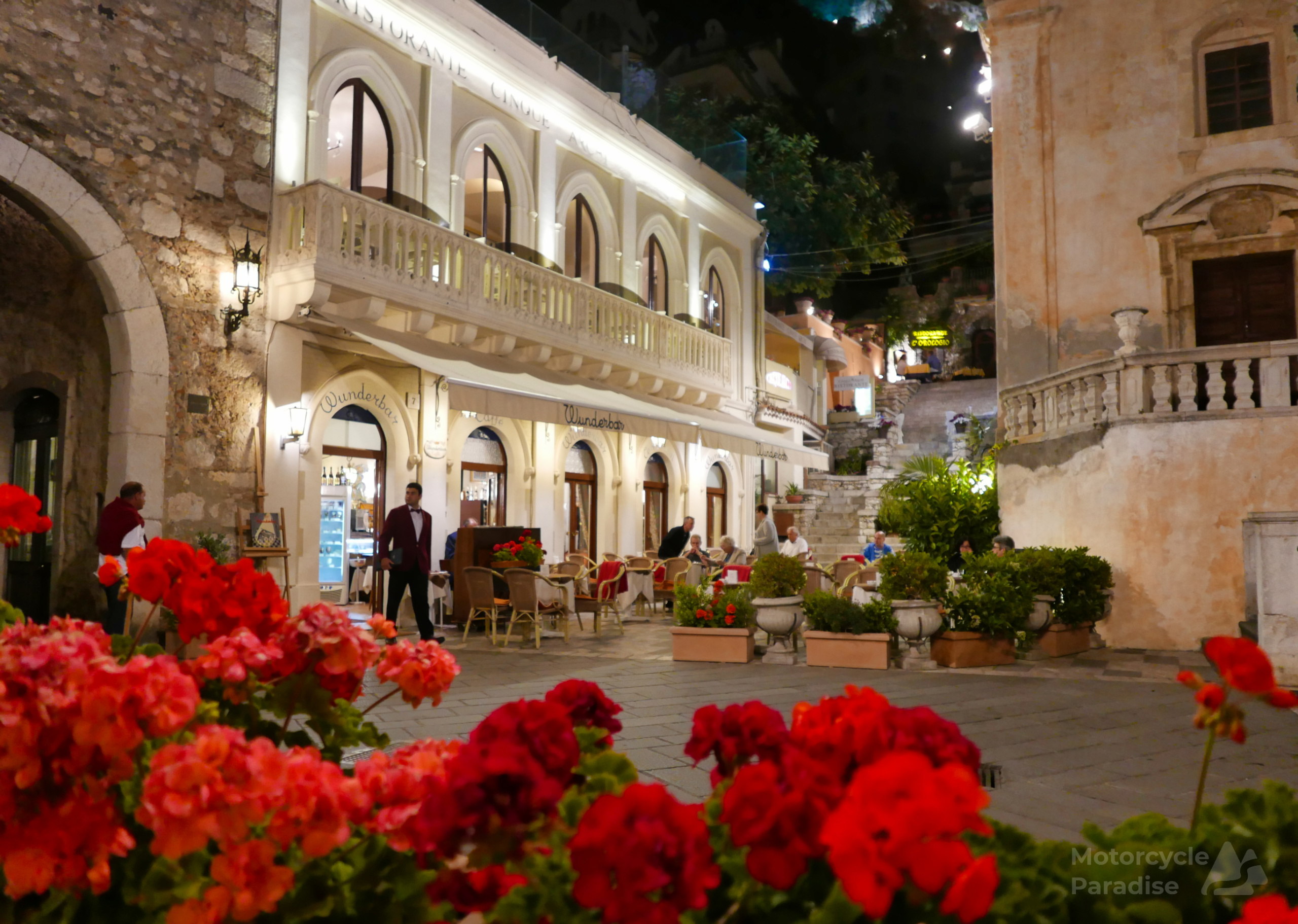 My hotel breakfast was simple but the view was special.
I had arranged to rent a motorcycle with Central Italy Motorcycle Tours, a company based elsewhere in Italy but whom run tours to Sicily and who were able to provide me a BMW F700 and a helmet and a jacket.
To get it I took the train over to Catania and promptly got lost in the confusing streets then the shop was not expecting me until the next day so I had a coffee and bite to eat while watching everyone park touching each others bumpers (and scratching paint on both). The bike was fetched and I set off fearing the traffic but actually was out of the city very quick.
It was good to have a light lunch when I did so then I need not look for anything once riding and would be able to recoup some of the lost time.
My first day I took country roads to see the baroque town of Ragusa mainly because I had seen it featured in a popular series of tv movies about a fictional police Inspector Montalbano and indeed the old town is lovely just like it appears on the small screen. A few spots that will be familiar to anyone who has watched the series.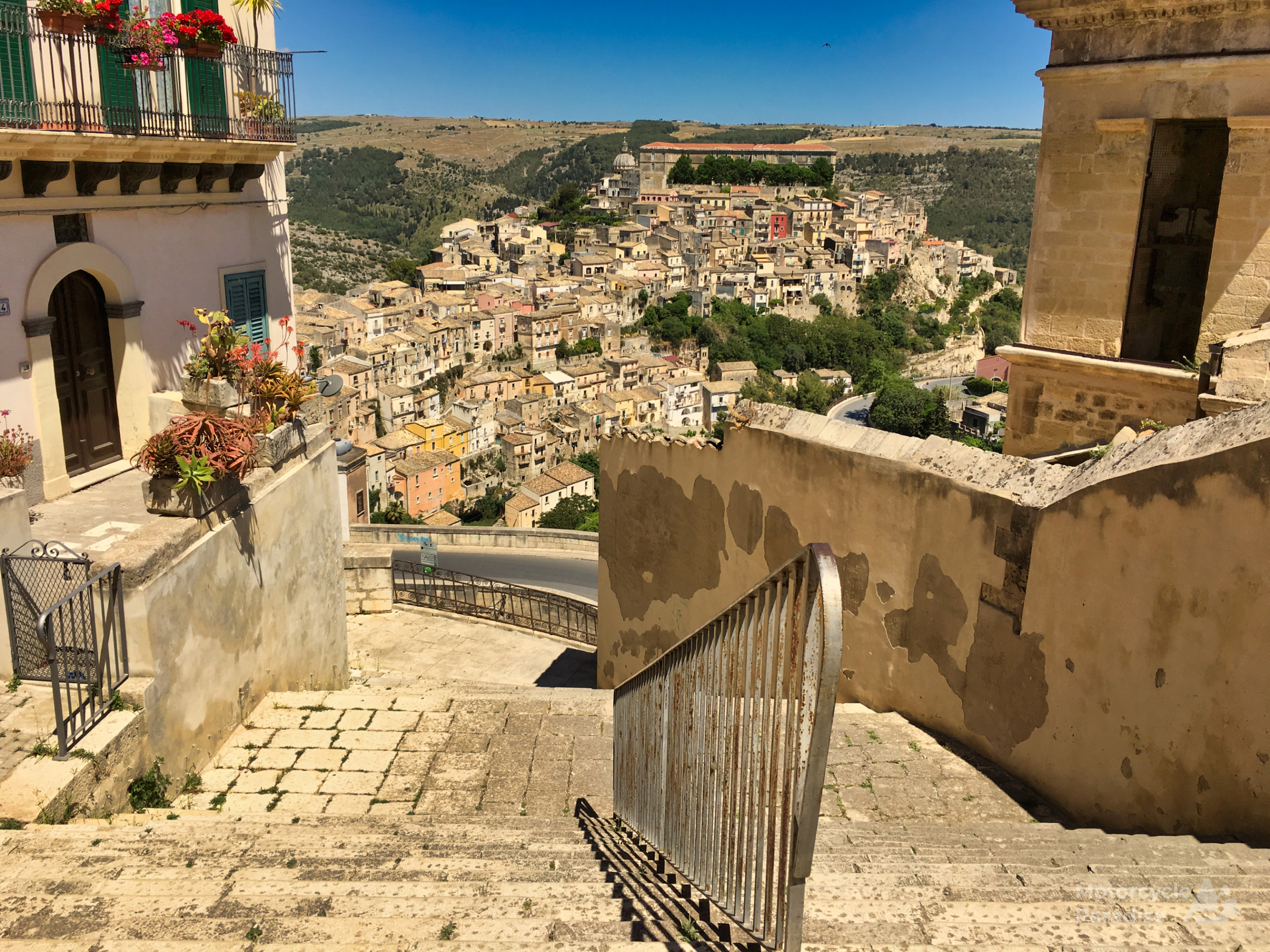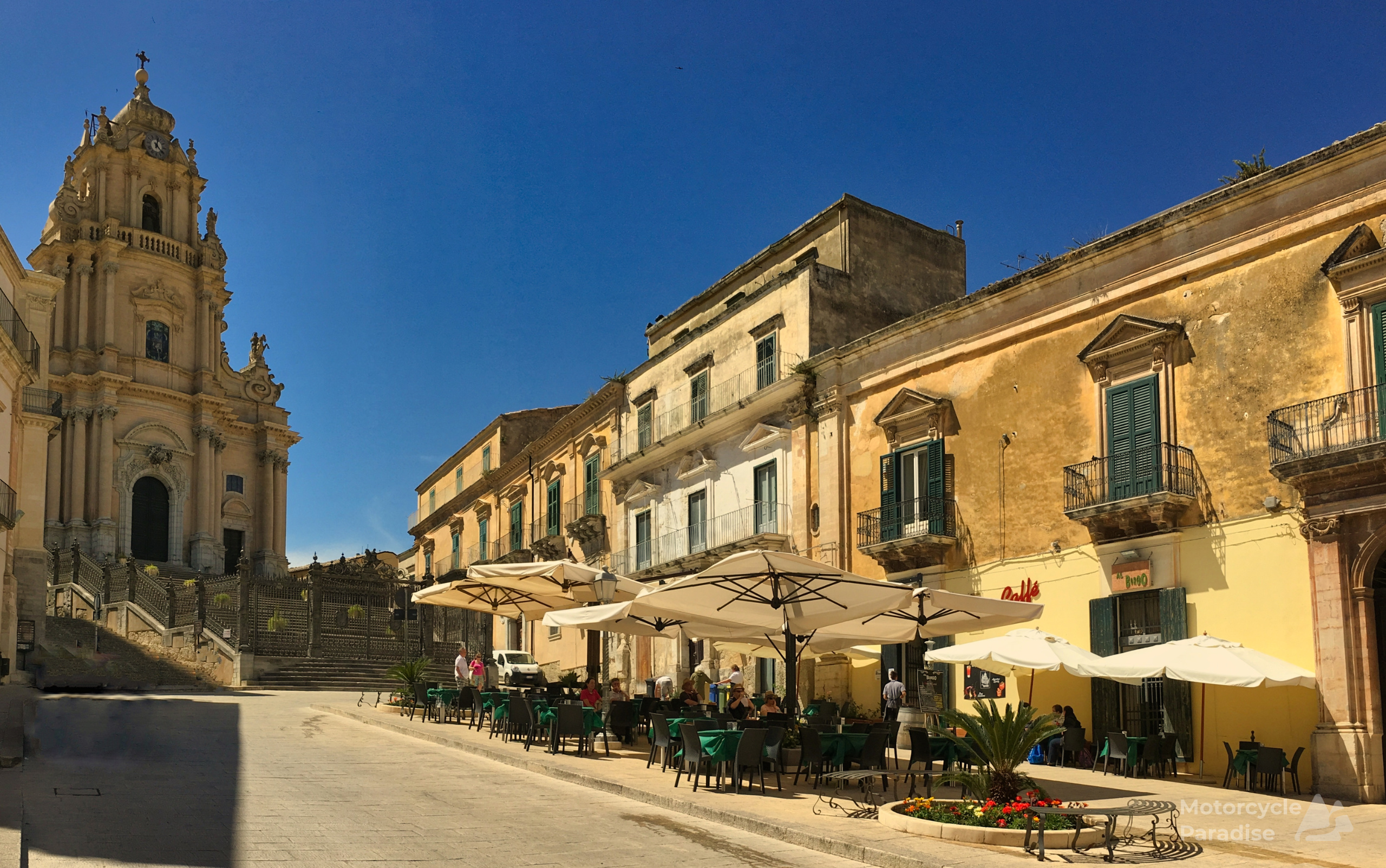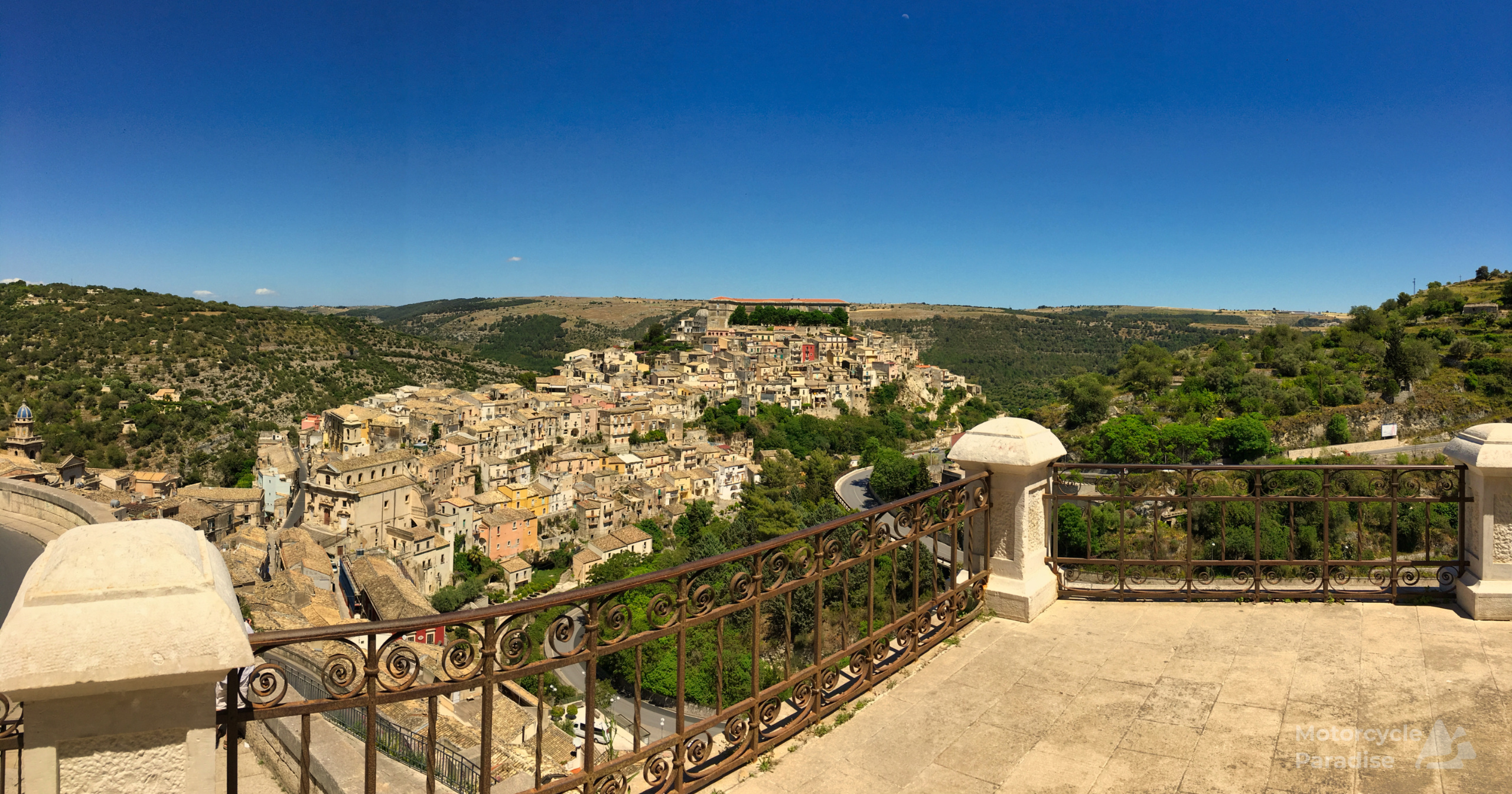 I could have spent the afternoon walking around Ragusa looking at places used in the movies, it is a beautiful town. But by the same token I know those to be fictional stories which also come from another time, the childhood of the author Andrea Camilleri and so maybe it was nice to see the town then leave before I spoiled any of the illusion created in his books or movies.
Sicilian drivers are quite crazy. First thing I noted was everyone was driving as fast as possible. As usual I try to keep up with the flow for safety but the speed here is as fast as their vehicle can go (140kph in 70kph urban zone) and just too reckless for me.
Back on the bike from Ragusa I ignored the GPS and took minor roads to be able to slow down and enjoy the countryside. Then unexpectedly the sea in a beautiful shade of blue appeared before me.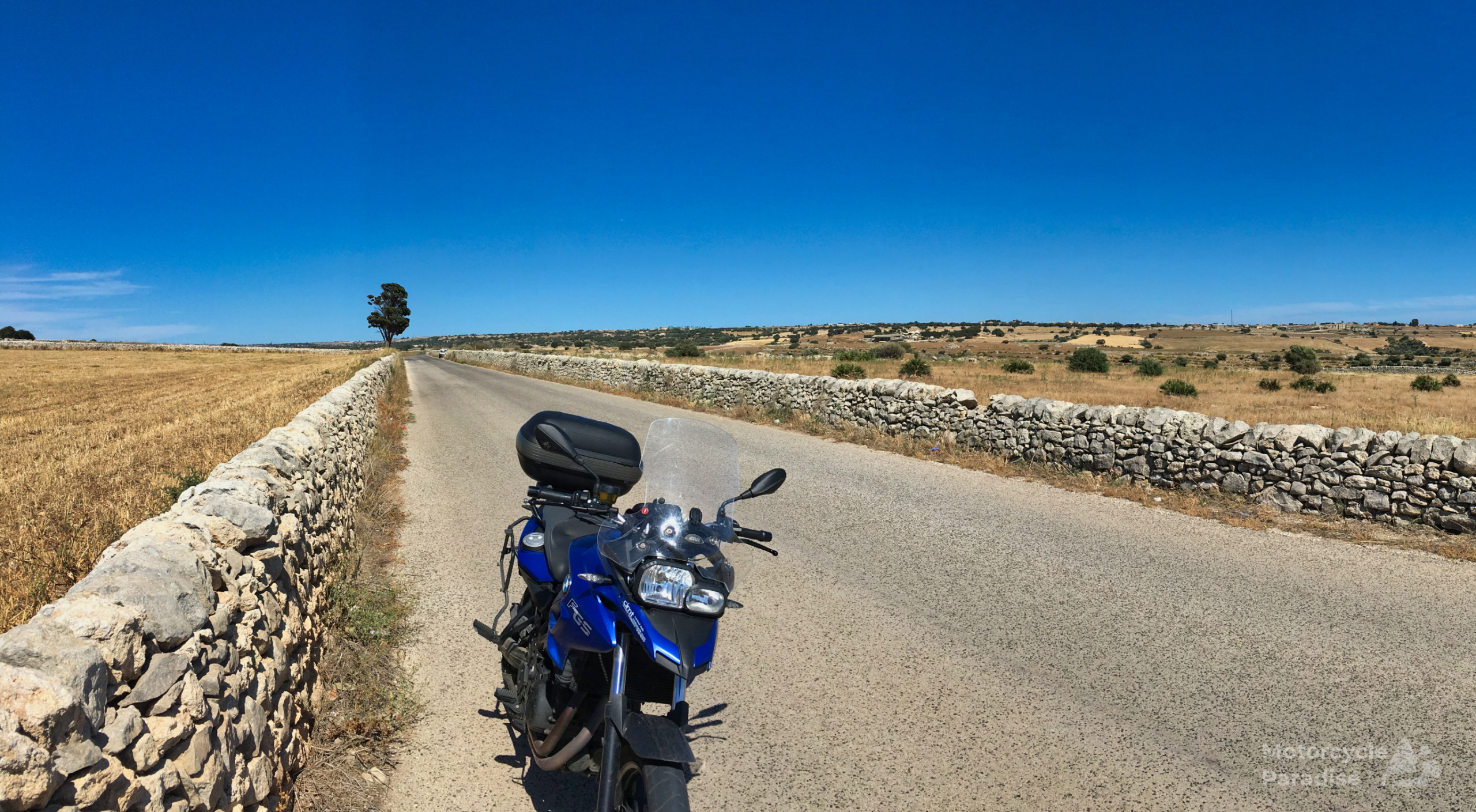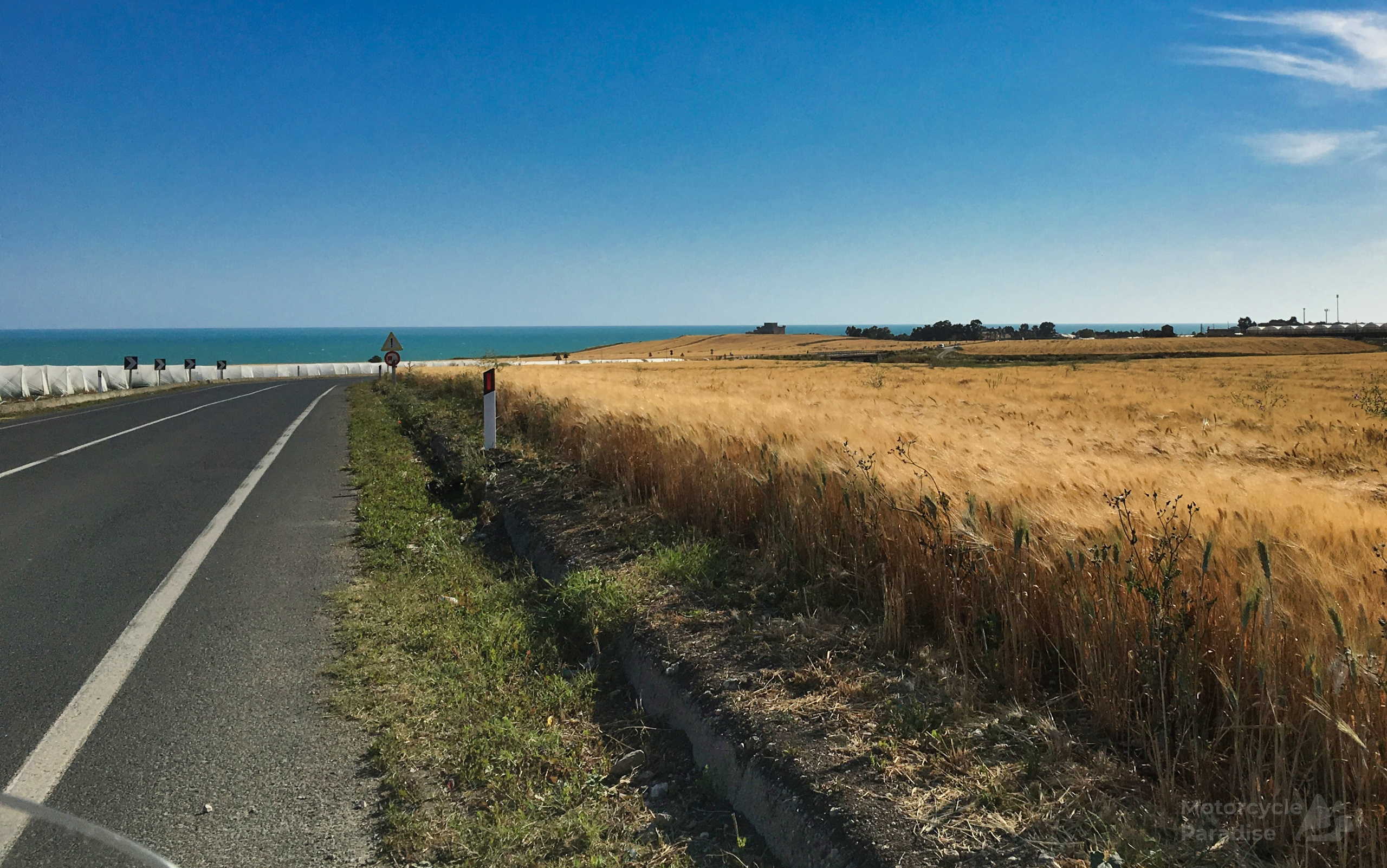 I was riding to Agrigento to see the valley of the temples archeological site but since it was just a small detour I had to visit another site from the movies along the way in a small seaside town. You either know this scene very well or not at all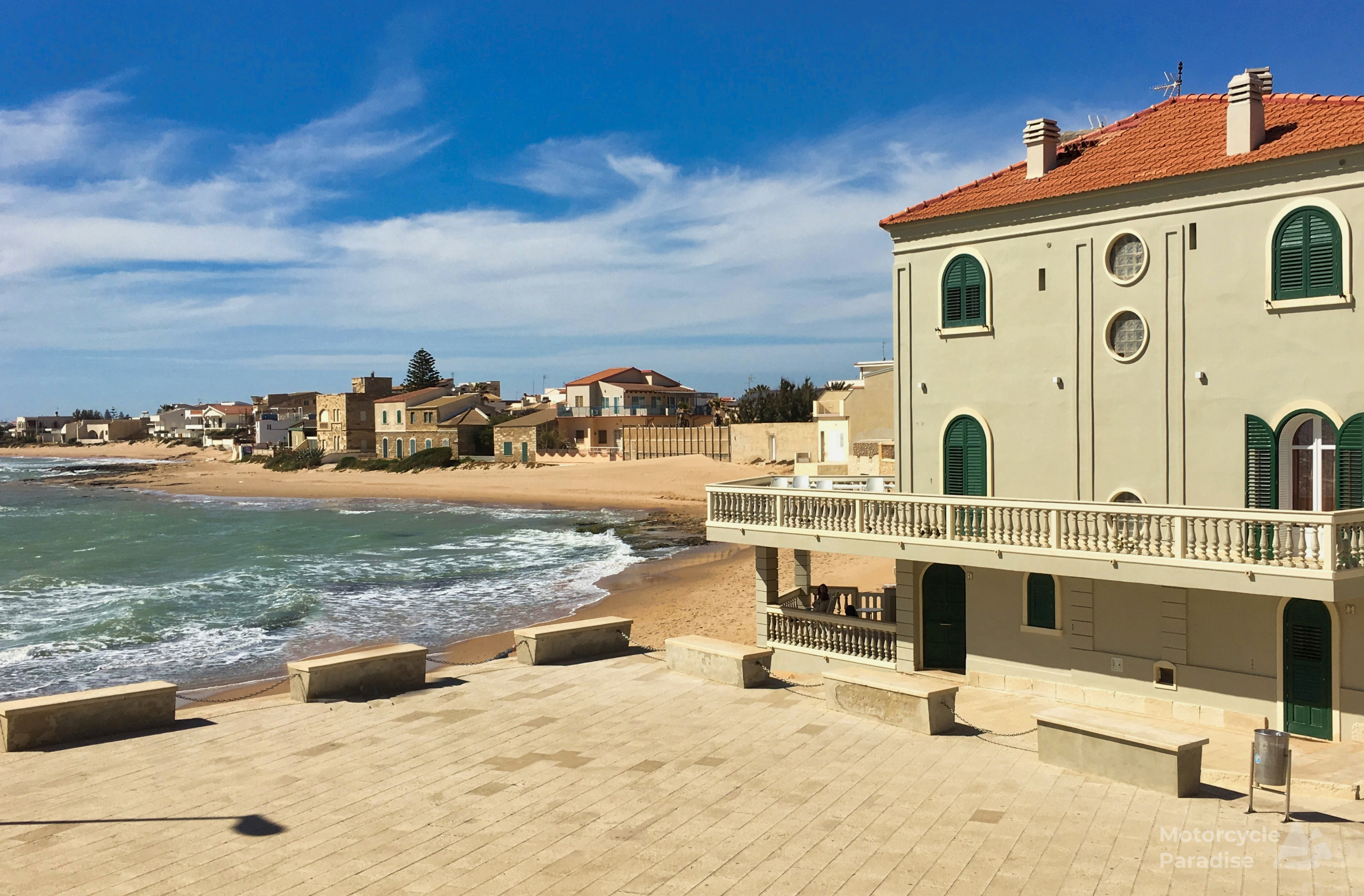 From there I took some nice curvy farming roads along the coast in what seemed like the heart of the tomato growing region for a while. I was following a slow farm truck and feeling relaxed, in no hurry to pass and this turned out to be a blessing as a little further on around a blind corner a load of tomatoes had spilled and squished all over the road and if I had arrived to that at anything more than a very slow pace it would have ended badly.
Have you ever had similar sort of thing when something tells you to hold back or be careful? I am blessed to have had those feelings a number of times when it really mattered.
Riding west then on mostly undivided roads oncoming cars will pull out forcing you to brake suddenly or get onto the outer edge of the road. The roads are in quite a poor state of repair too, seemed out of place in a EU country.
I stayed at a wonderful hotel in the town where Andrea Camilleri grew up but arrived late so did not really see much. I had booked an inclusive stay including dinner and wine and not only was treated like family but ate like a king.
Next day I was on the F700 early and with the first people to enter the valley of the temples site which was a good move being able to see the place before the crowds would arrive.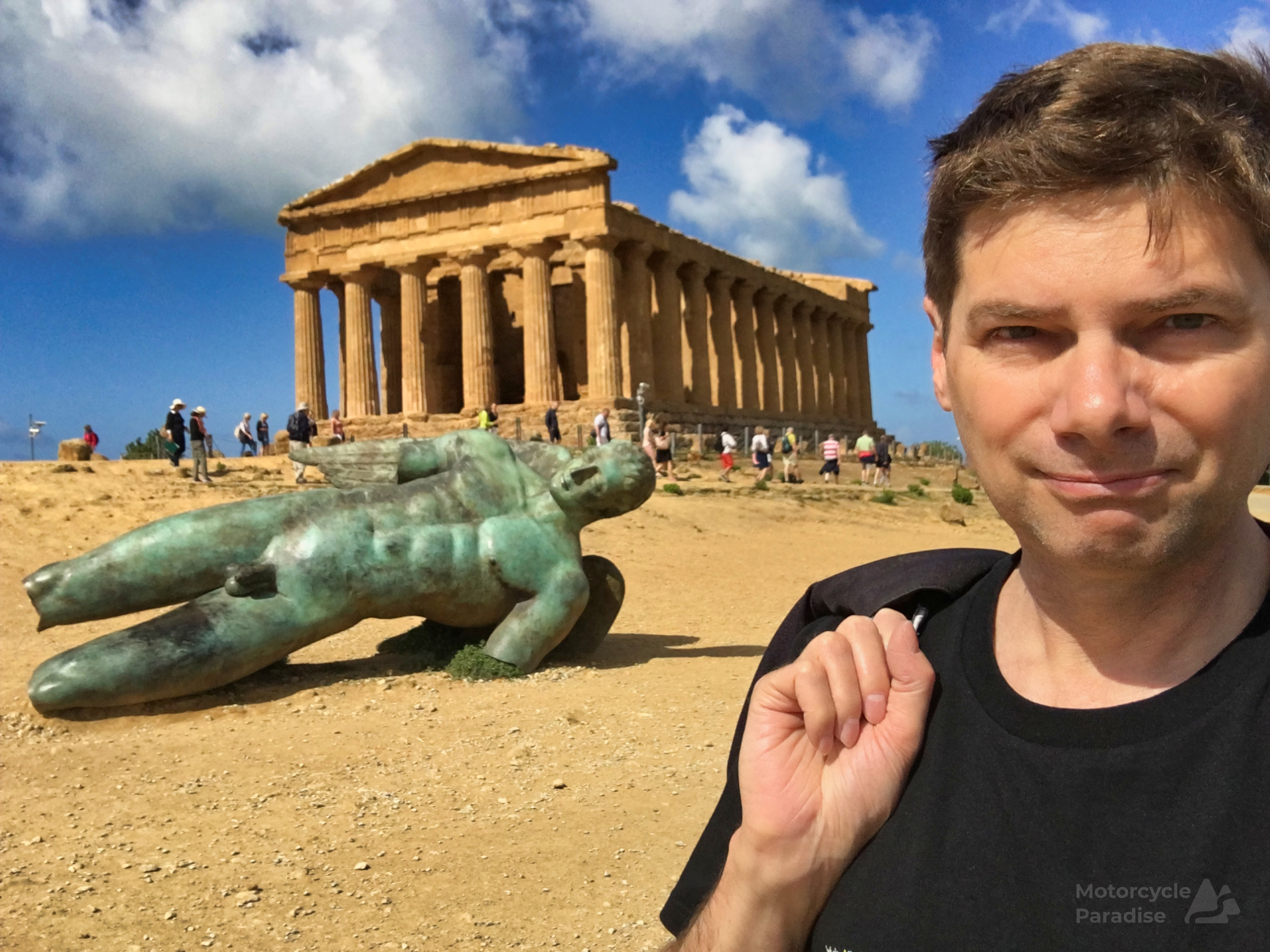 Then I rode over to the northern side of Sicily. Some highway to begin with but like yesterday it was only partly constructed. Eventually I could leave the highway to enjoy the very beautiful countryside.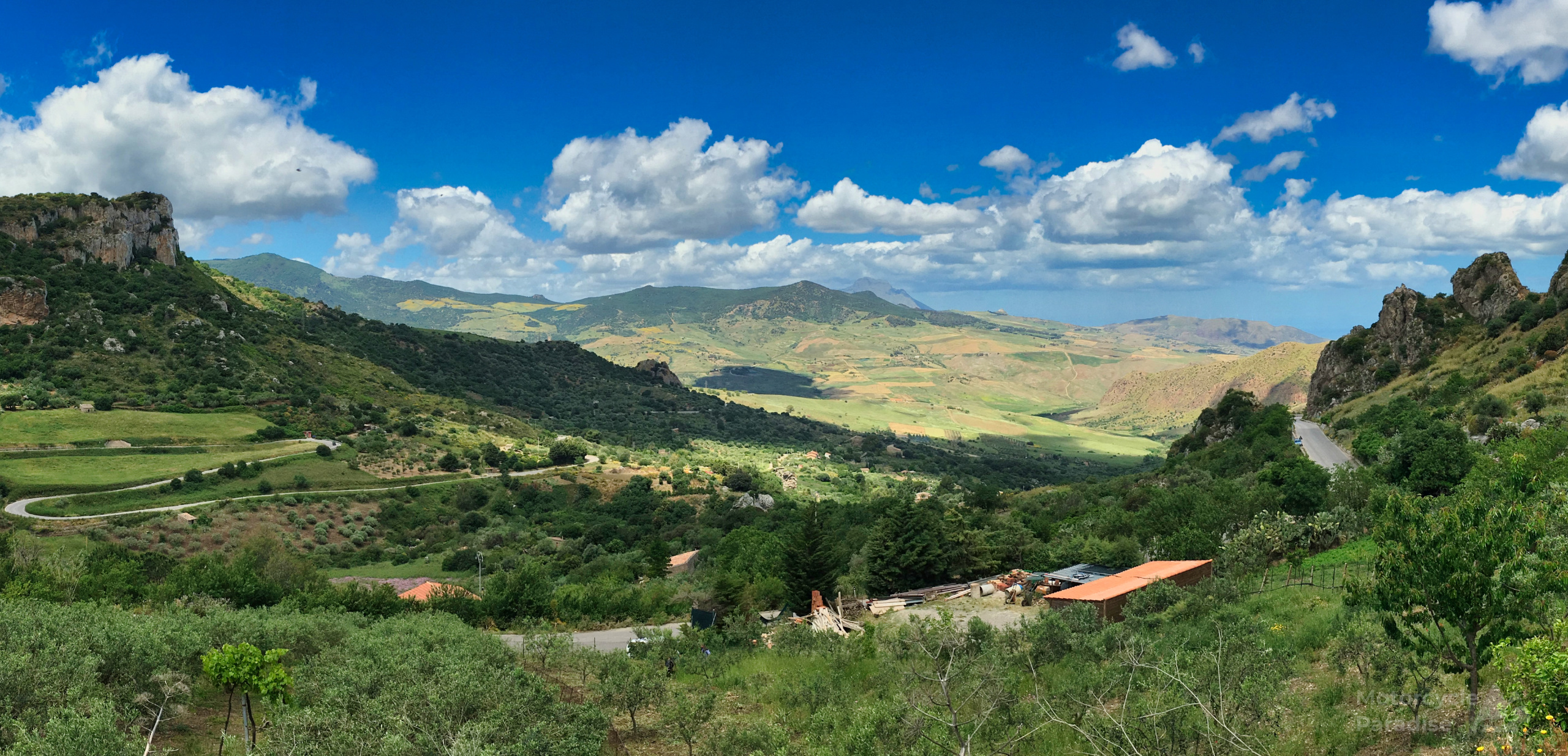 Very scenic however the roads became quite poor in parts. Nice in small sections like in the photo above then they would suddenly turn to a gravel track where the road has fallen away down the mountain, but not a recent event like it's happened years ago and been ignored.
Here in the mountains people were collecting fire wood tied to the roof of beaten up cars, the streets and buildings were crumbling and cooking with wood fires reminding me of a towns in developing countries and far removed from the wealth I have seen in Northern Italy.
Down from the mountains I rode along the coast to another movie location, Cefalu the town that the highly acclaimed Italian movie Cinema Paradiso was set in. It was Saturday and the place was packed with people for weekend lunch, a total grid lock with everyone beeping their horn. I tried but it was too hot to sit in a jam so I gave up.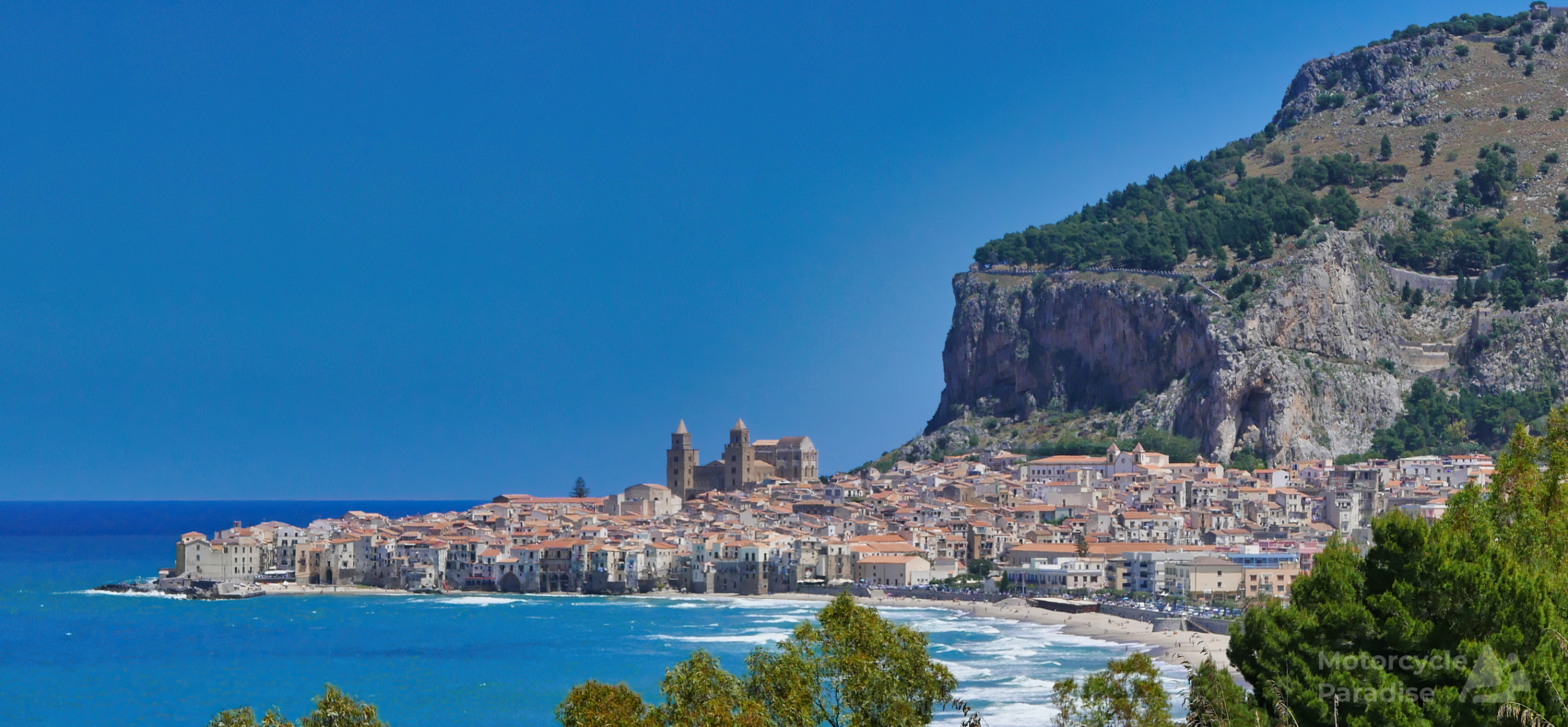 In all the excitement of the traffic jam I forgot to get petrol. I carried on but ended up on reserve. On weekends not many gas stations are open so had no choice but to use one of the unmanned pumps. The machine took my first 20 euro note and I got nothing. I then watched a guy come and use the pump fine so I carefully did same as him and got fuel the second time round and ended up with near a full tank so set off back into the mountains.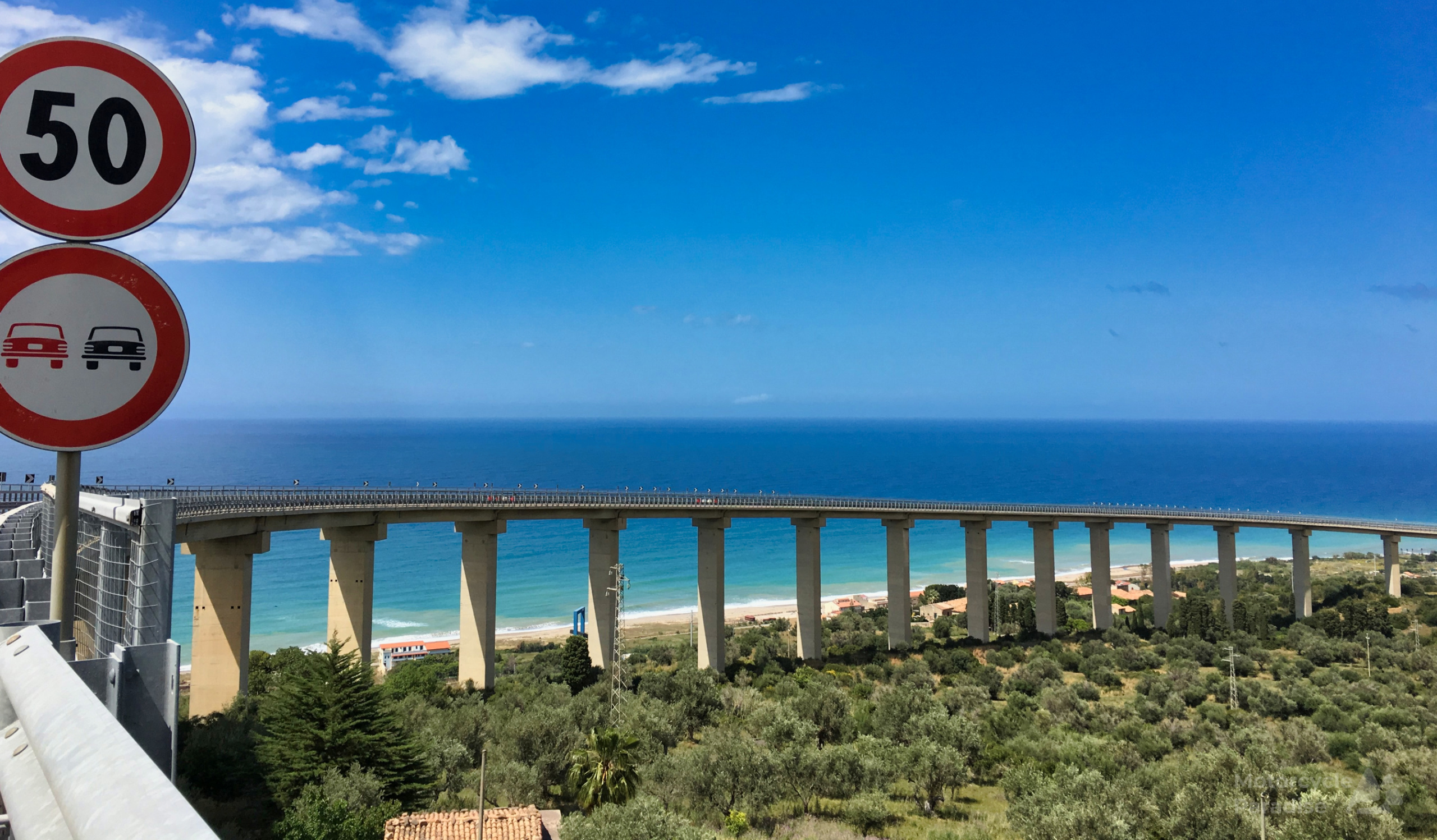 This ramp above seemed to go as far as a very big house then the road turned to crap. Someone important got themselves a fancy driveway it seems…
I rode on making my way back to the southern side of Sicily via the mountains all the way. The countryside was so lush and green, I was not expecting such beautiful rolling hills. Many interesting small towns perched on top of the higher ridges or peaks but nothing open. I made mental note to pack a lunch in future.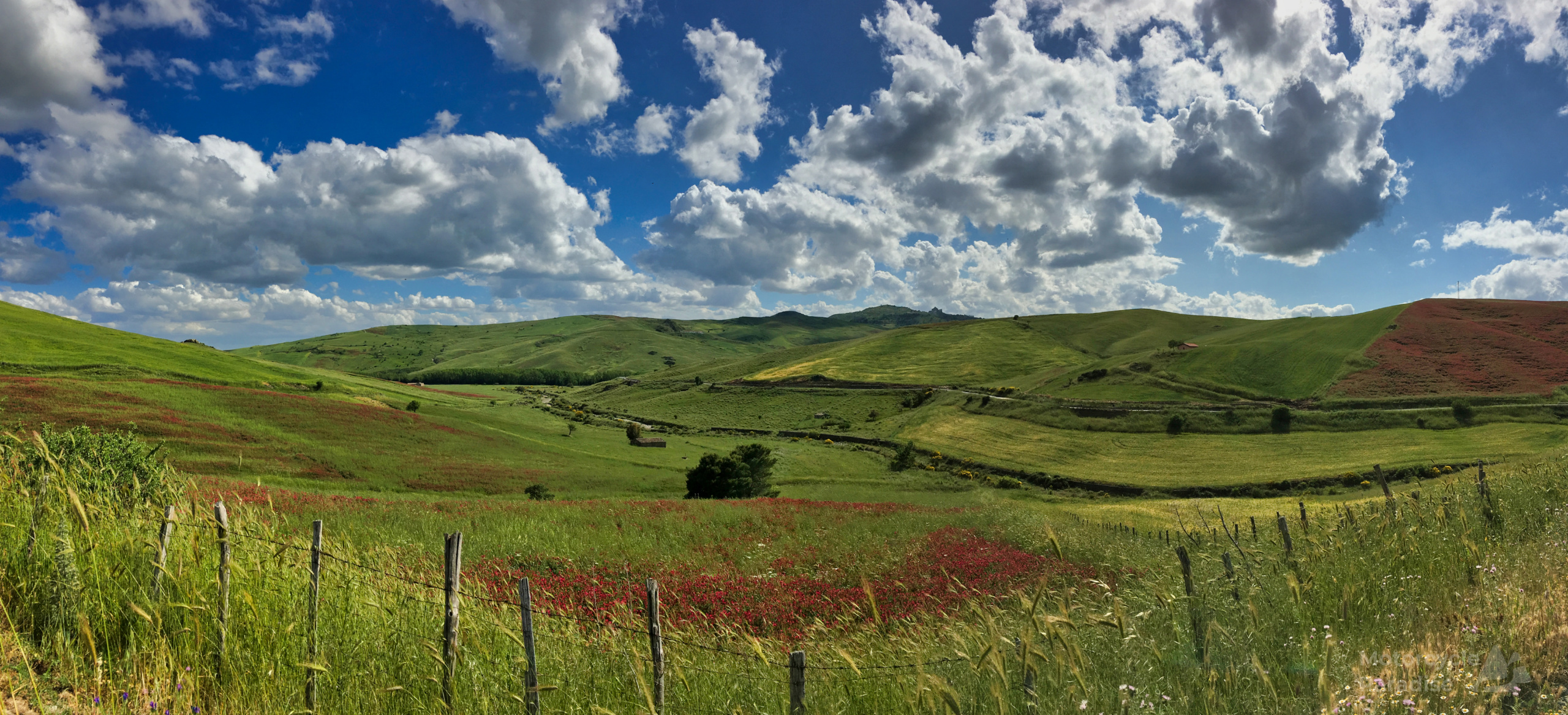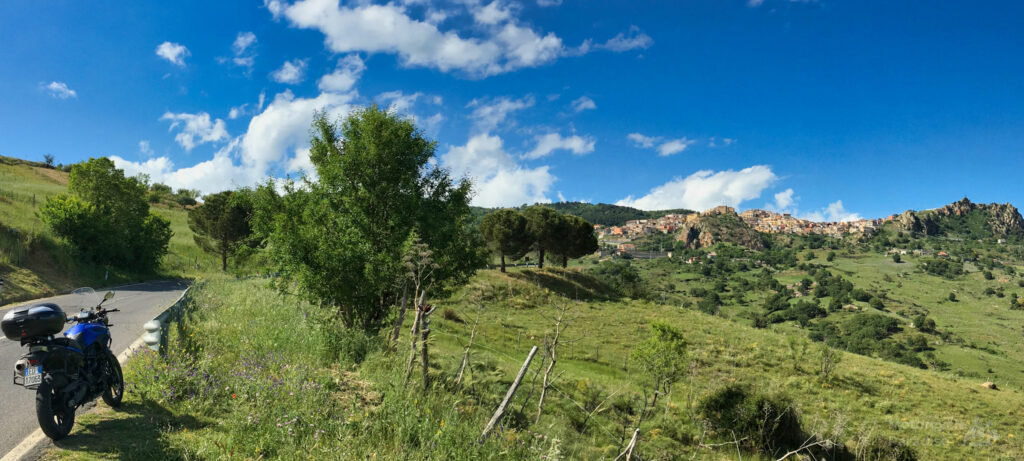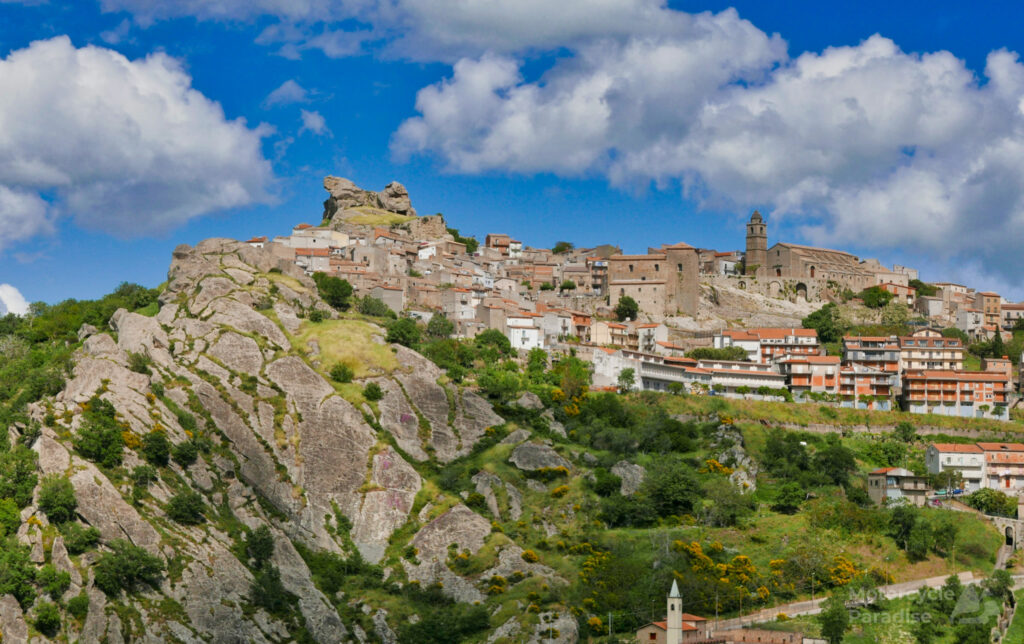 Coming down the southern side of the mountains the road picked up in quality. I was feeling rather weary by now as the clock approached 7pm. It had been a very long day near to 12 hours and I was glad to reach Taormina.
The hotel staff were worried about me not coming back last night (I left all my things there except change of clothes) which was sweet and they could not believe I had ridden all the places I told them about in two days. Like everywhere in the world, people never seem to see their own country.
Next day I was not feeling well so reluctantly went back to bed then by lunch felt better but decided to leave the bike parked which seemed a shame considering the cost and short time I have it but no point forcing myself to ride either.
I decided to walk up the mountain at Taormina and by the time I reached the top my appetite had returned.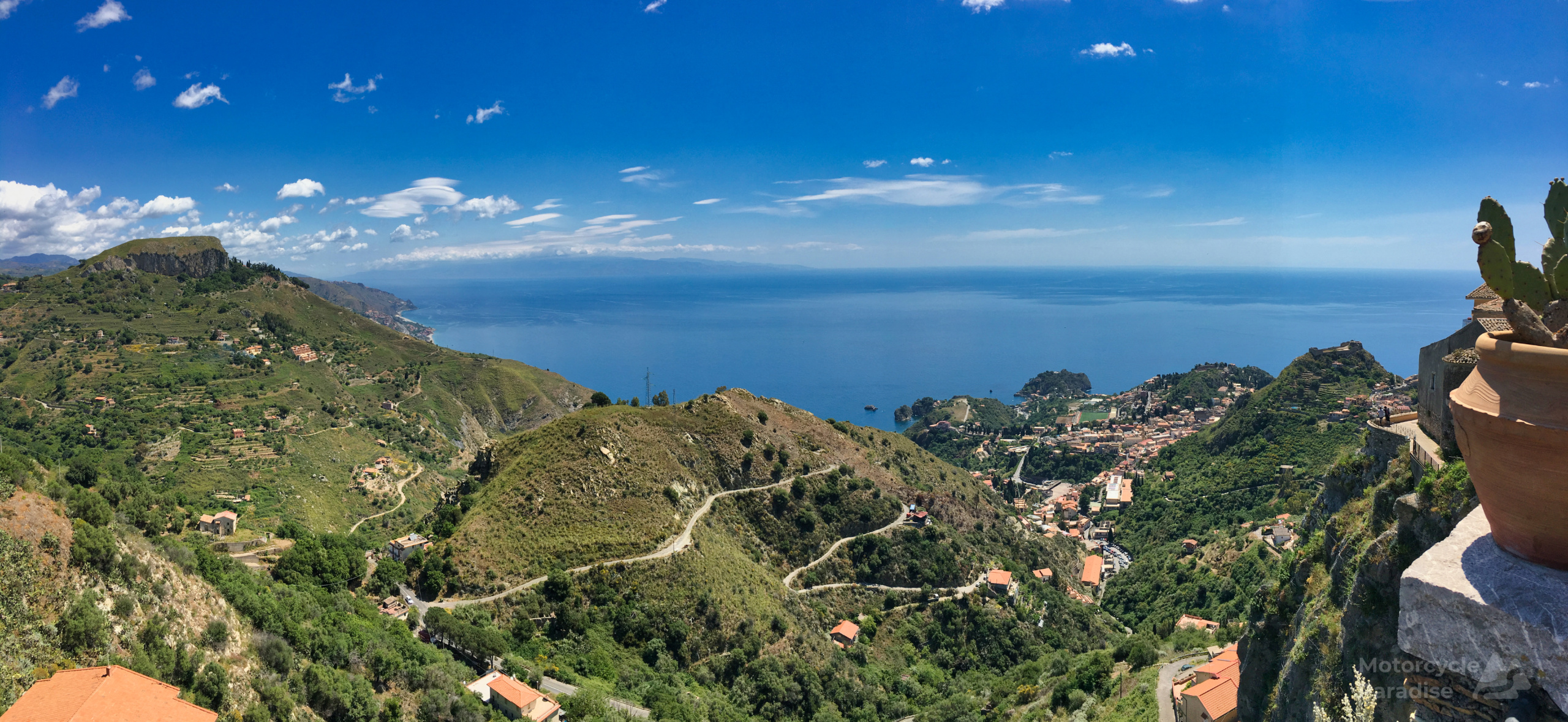 I had more superb food at a restaurant middle of below photo overlooking Mt Etna.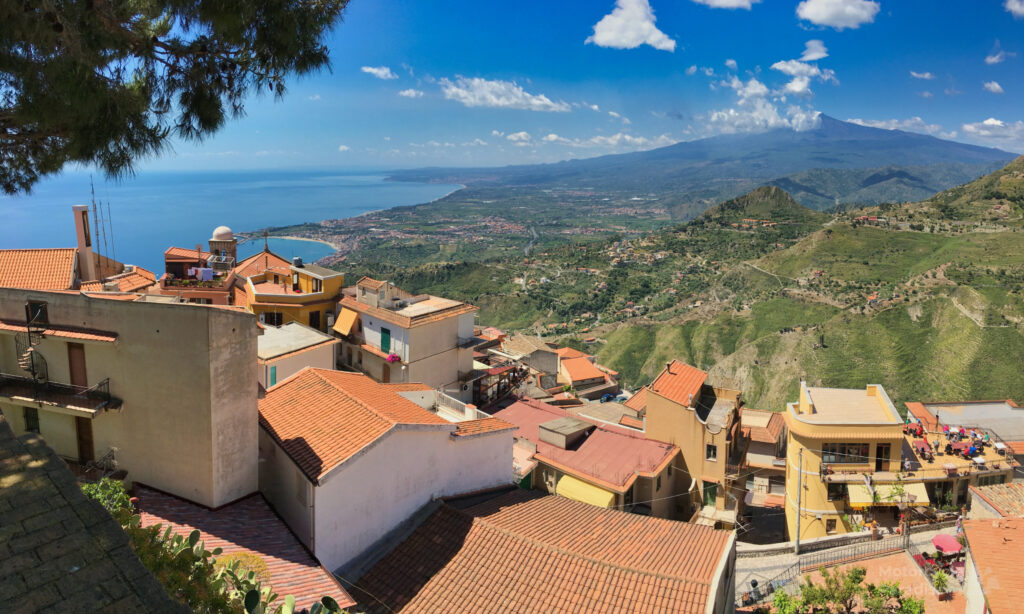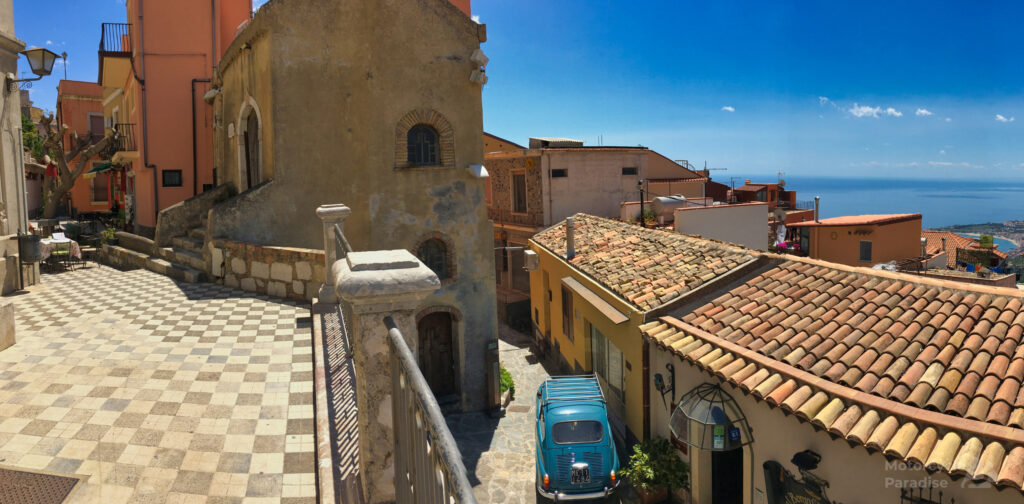 Everywhere you turn is postcard view and fabulous food.
And on it goes. I'm not a foodie – actually opposite, I only look for somewhere easy and rarely check reviews, but here every where I go I am served fabulous meals and great wine. I might just move here if I could.
To get out from hotel next morning was a super steep stone driveway. It was touch and go for a moment but I made it. Lovely views riding down from the town (below).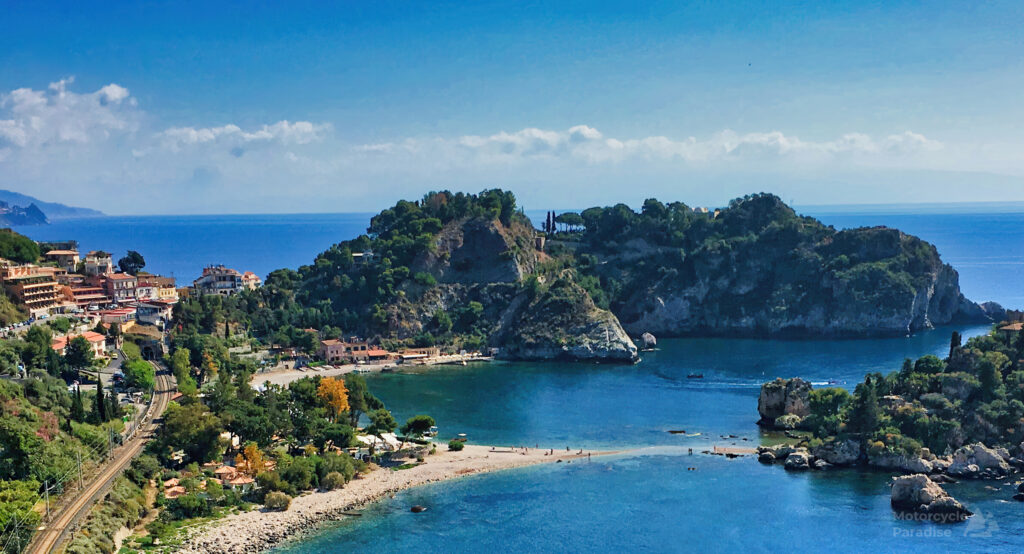 Then I set off for Mt Etna.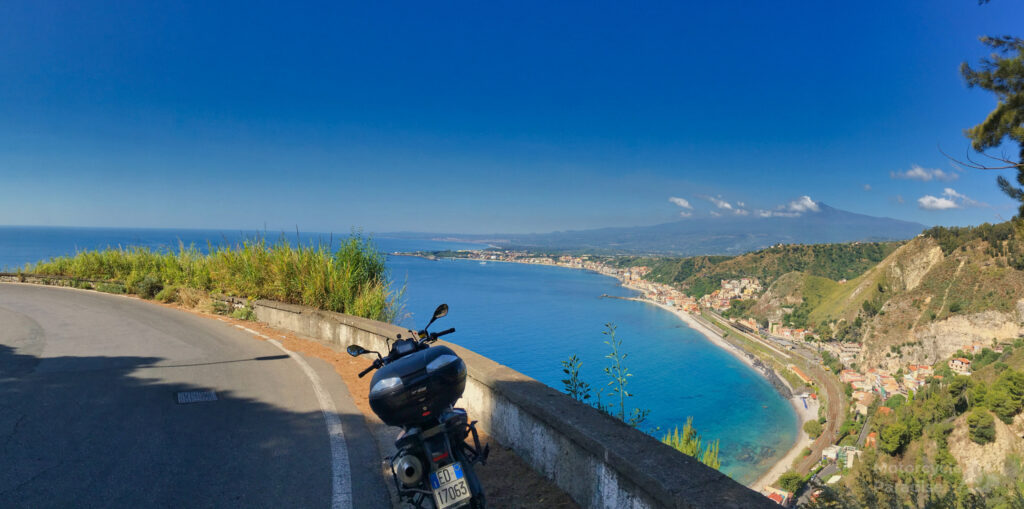 Came across this sign when riding up to the roads that circle Mt Etna indicating the connection between the region of Etna to Tully and Innisfail in Queensland Australia.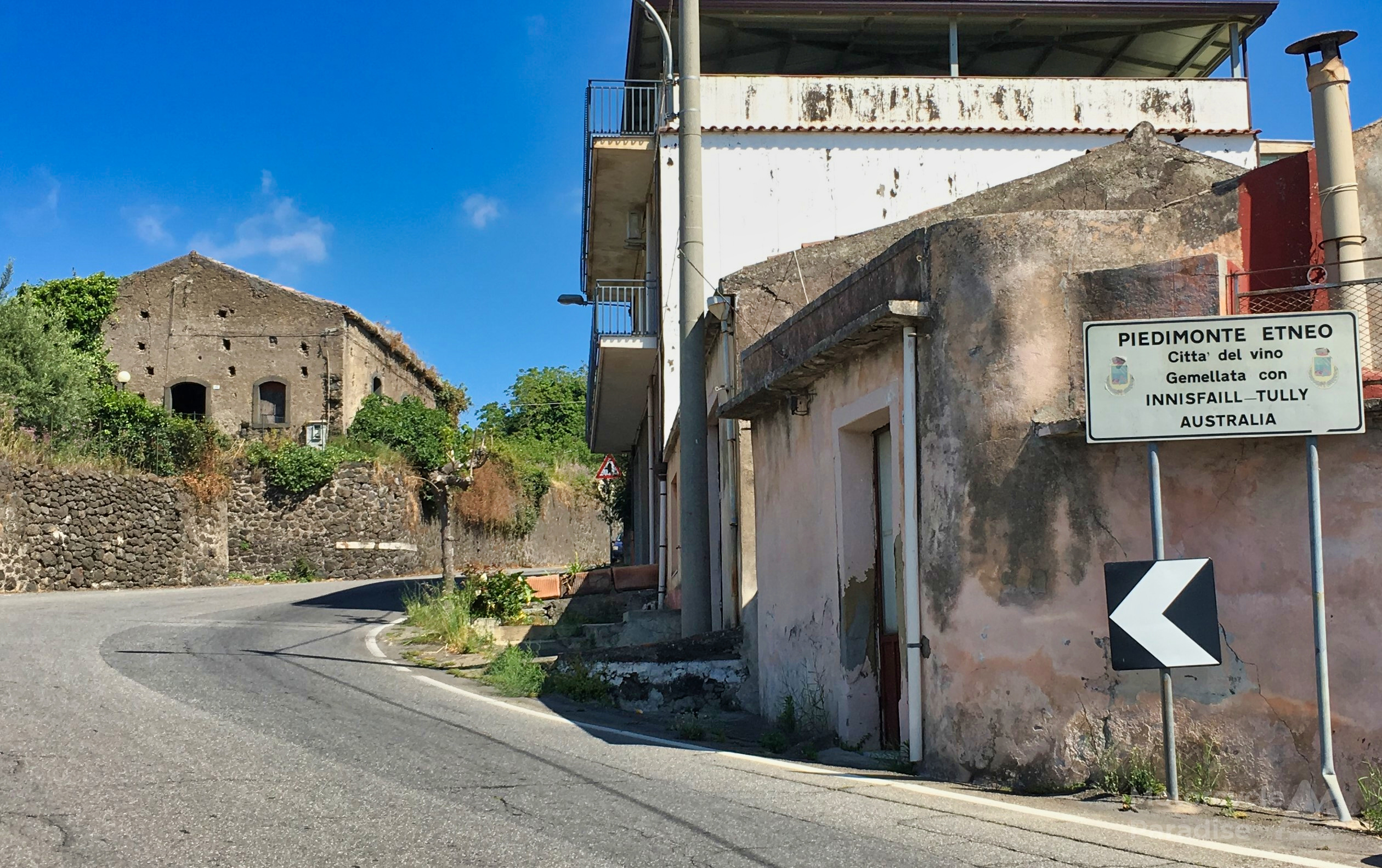 The roads around Mt Etna are quite good. The top was busy with cars but a superb road snaked though the old lava flow.

It was a warm morning down low but very cold at the top with patches of snow and I was soon shaking so reluctantly had to get down off the mountain but I had a terrific ride down the western slopes on the best roads I have experienced here. A series of sweeping curves that descended over 2000 metres with amazing views.
I explored the back roads around Mt Etna and then into Catania and return the F700. Catania was a challenge to ride into but I got behind a lunatic in a white Alfa and just followed the path he cut through intersections where traffic lights seem to be mainly for decoration and before long was in the area not far from the bike rental office thus I arrived back much easier than it might have been.
In hindsight I wish I had stayed much longer as I am yet to return but at the time was on a set budget.
The BMW F700 was I think a good motorcycle to have on the rough roads. It was lightly damped with non adjustable suspension which was a bit floaty at high speed but fine on all those chopped up sections. Very similar bike to the Kawasaki Versys 650 (or other way around).
The ergonomics felt about the same, the F700 has a wider and flatter seat which did not work quite so well for me but otherwise similar upright roomy ride as the Versys and about 70 odd hp I think. The higher screen fitted offered some wind deflection. The analogue gauges had small readouts and I could not see a damn thing without stopping and squinting but I did not need to obey speed limits so this proved no problem. Really had nothing else to complain about with the bike, was glad it had ABS. Besides the badge I can not tell much difference to a Versys.
I spent the late afternoon in Catania. From the piazza you can make out there once was a grand boulevard with beautiful buildings in some century past but now everything is plastered in graffiti. Perhaps I was removed from the real Sicily in Taormina, a pretty town full of tourists but then it was a very nice experience staying there, I felt relaxed, was eating wonderful albeit slightly over priced food every day and got perhaps the Sicily of my dreams instead of the real one but after wanting to visit for so long that was not such a bad thing.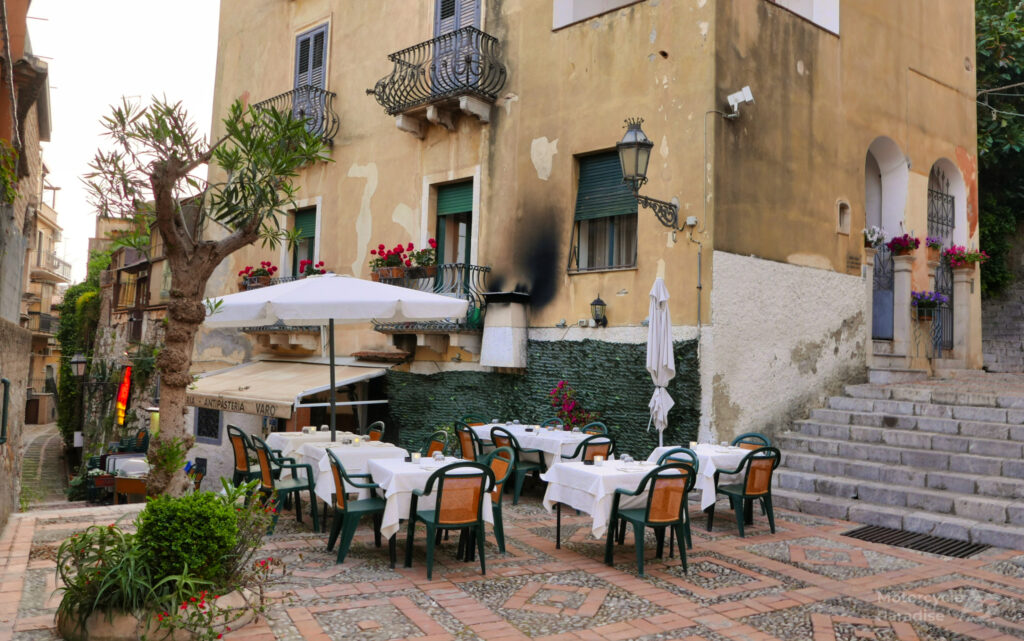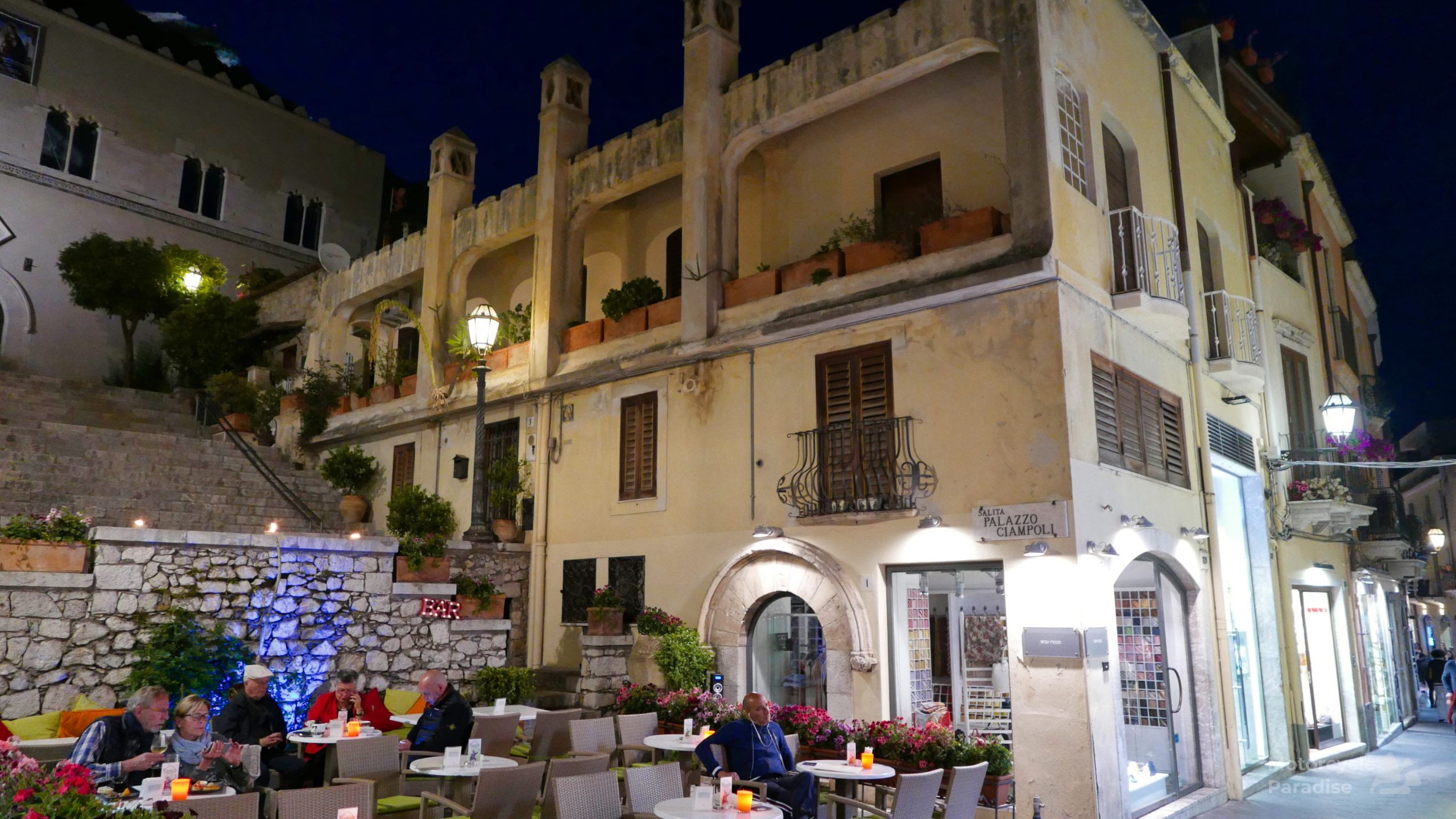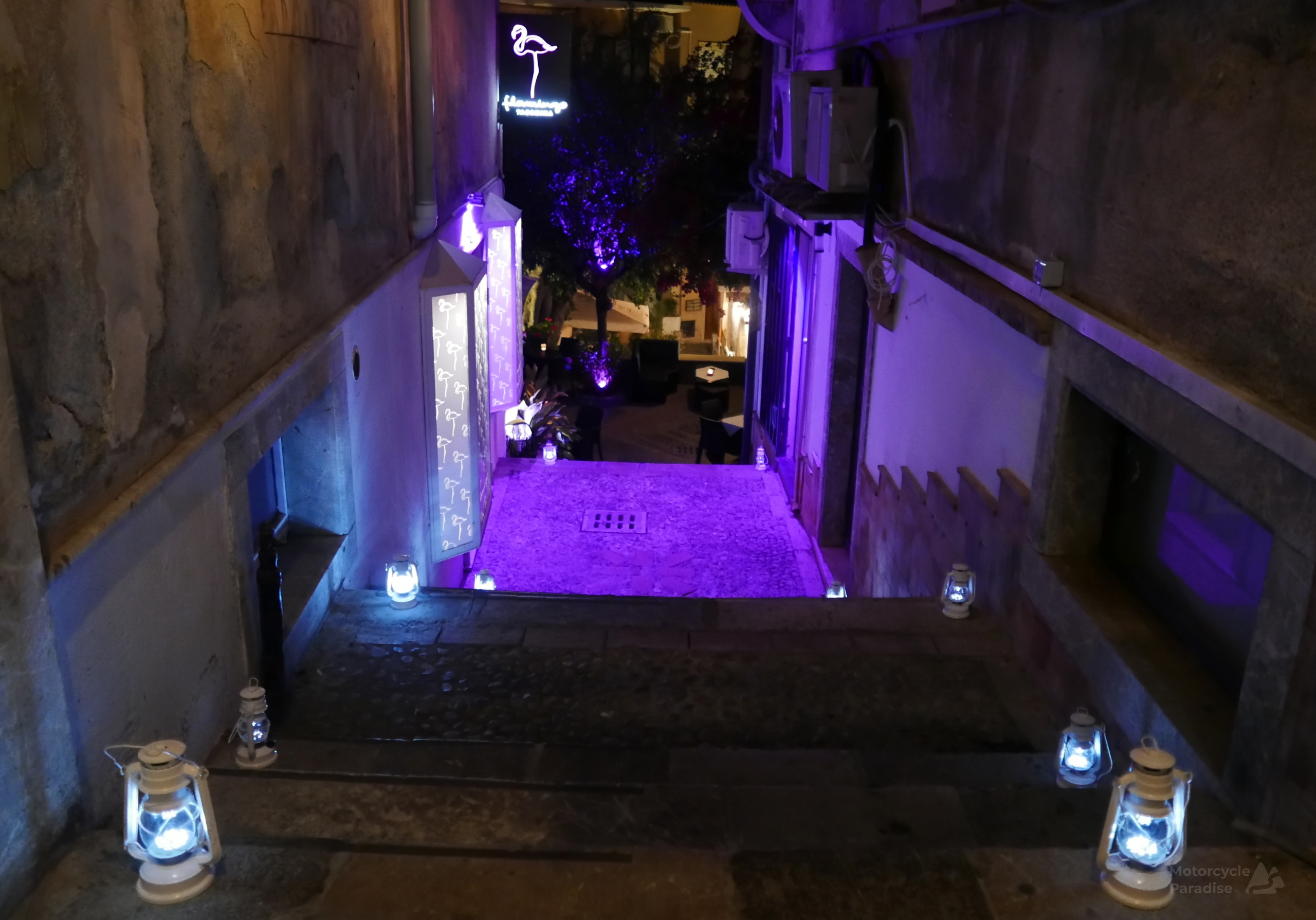 Loved every day in Sicily. High on my list to visit again and for longer next time.