This ride actually predates the blog. What is here was some photos and text copied over from the Buell owners forum where I had posted the ride at the time. I forgot about this until recently and now too many years have passed to recall much. I am unable add photos since I lost my camera on the trip and only have these few from my mate.

I remember this ride was stupid, every day a iron butt ride. 
My mate still has that same MT-01. What brilliant machine, I should have purchased the same as I wanted to but the price was high. I ended up wasting far more money on other bikes while he still has this with its push rod engine that you can service at home meant the extra money at purchase was recouped many times over.
Original post below:
My first tour, a big ride to the Snowy Mountains. This was a great trip but tiring due to the time limit set of just 5 days which is all my mate could get off work.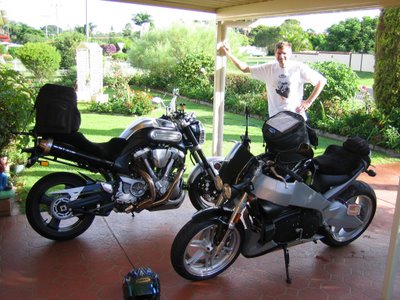 Day 1. From Brisbane to Ballina early meeting a mate on his MT01 then to Grafton to Armidale via Ebor and Thunderbolts way Walcha to Gloucester then Bucketts way to Raymond Tce first night Maitland.
The Buell brand tank bag has a small rear clipped on pouch – this detached itself on the Ebor road perhaps on some bumps and bounced off into the bush with my digital camera inside it – at about 150kph – never to be found again.
The Thunderbolts way was a superb ride and was one of my favourites at the end of the trip. Bucketts was bumpy and so-so.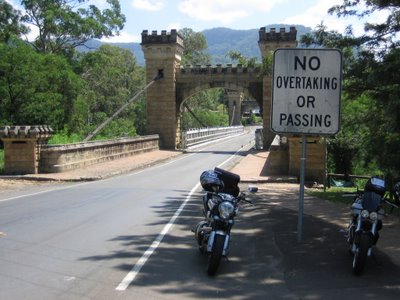 Day 2. Wollombi Rd, Cesnock Valley Sydney, The Old Road then M7 and Hume hwy until Moss Vale and then Kangaroo Valley then down the Princess Hwy to Bega and up Browns Mtn to Cooma.
Another far too long day , Kangaroo valley was great – but the Old Rd was so much shorter than I imagined it would be having read about it so often, about 1/4 of Mt Glorious here in Brisbane but nice while it lasted, hit heavy low cloud at the top of Brown Mt but run out from Bega indeed is a top ride. The run down the Princess h-way was actually pretty fast flowing and very enjoyable too. (note – I don't think you can ride the pace we did then anymore haha)

Day 3. Alpine way and the roads the other side of Mt Kosciuszko to Tumut. Jugiong to Young via Harden Olympic hwy to Cowra and boring Western Hwy to Bathurst. Laps of Bathurst raceway.
The Alpine way and roads around Mt K were great.
Riding Bathurst was a real buzz – an unexpected extra highlight.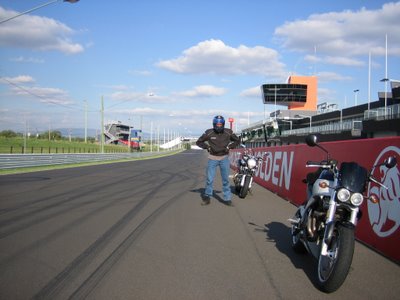 Day 4. Bells line of Roads, Putty Rd, Old road Bulahdelah and on to Wauhope.
Bells line of roads was nice, Putty road was excellent, I was expecting a Mt Glorious type of road but the curves are still good.
Day 5. The Oxley hway , then back to Tenterfield were I bid farewell to my ride partner and home to Brisbane via Warwick etc.
The Oxley was a truly great road far above all the others but I was bit tired having stayed in the Star Hotel at Wauhope overnight which unfortunately had a noisy function that ran all night.
Missed the rain that was threatening most days until nearly back in Brisbane when I had to get the rain gear on.
Learnt a few things about touring like don't try day trip type distance and pace on a tour. My mate and I have knocked over some big one day outings 700-800km but that is one off not consecutively. About 500km a day would have been better even with my hard charging mate on point. I had the tank bag already but a seat bag would have been better. Better rider gear also needed, sheer luck the weather stayed warm I could have been caught out big time with the light gear I was packing. And naked bikes are not the best for touring.