After the sale of my FJR1300 in Japan I wanted to get a bike in Australia but wasn't 100% sure about any new model or if I will stay in Australia long term. I decided to get something inexpensive for awhile.
Thinking about bikes I have enjoyed on my overseas rides the Yamaha XT660R and the BMW G310GS stand out. I also looked at the refreshed Kawasaki KLR650, it being one of the less expensive new bikes and considered a Royal Enfield since I enjoyed riding them in the Himalayas.
I nearly bought a tidy XT660R. The bike I rode in Turkey was very easy touring and great on dirt roads, but tube tyres are a big negative for me. A flat with a tube is a hassle, and tubes can occasionally blowout which is dangerous.
The KLR 650 at $10,000 is twice the price of an XT and whilst I really like it, doesn't add much for me over the XT. And again tube tyres are a big negative.
The Royal Enfield 500cc Classic also has spokes but the 350cc Classic can be had with alloy wheels. They want about $8000 for one which seems good for a new bike but the 350 engine is underpowered for our highways.
Of all the bikes I have rented around the world none impressed me as much as the BMW G310GS and so it came to be I purchased this low km example at a good price.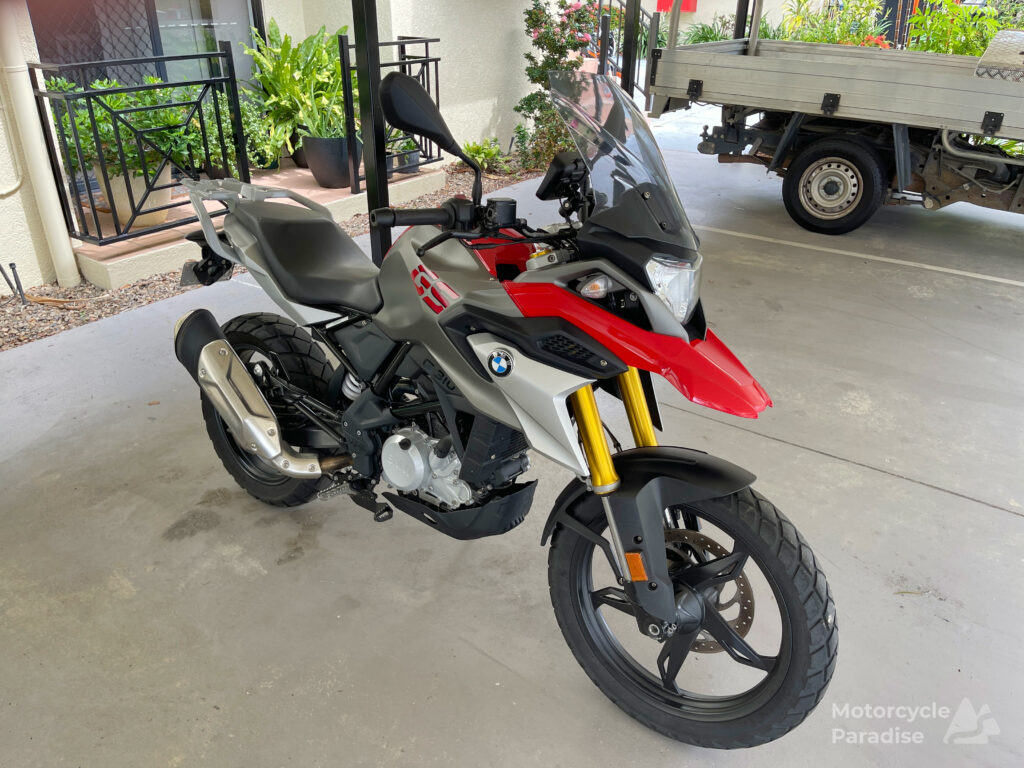 I rode a same colour 310GS across South Africa and down the difficult Sani Pass. With dual purpose tyres this is very capable bike off the tarmac. It weighs just 159kg yet it has enough power to do 140kph on the highway which equals sufficient to pass caravans.
My plan is to explore the tablelands and national parks of the far north in a month when I have replaced all my rider gear after Australia Post couriers "lost" (stole) two registered mail tea chest cartons enroute from Sydney to Townsville 🙁 Then if health permits I will do a tour south to ride a little bit of dirt.
Whilst possible, I don't foresee the baby GS being a stepping stone to me owning it's big brother. I prefer bitchin bitumen to dusty gravel. Dirt doesn't scare me, but I've been there done that already thus I suspect once I ride the few unsealed routes on my list I will more likely return to a big tourer.
But you never know. Much depends on how my cancer is which dictates if I stay living in Australia, a place I like but find insanely expensive. Most things here are 3 or 4 times the cost they were in Japan yet of a lower quality. But anyway I am alive in 2023 and I now have a bike! 🙂