I have chosen Garmin for my motorcycle navigation since 2008 and have tried various phone navigation apps and Google maps in recent years but found the experience inferior. Unable to see the phone screens in sunlight, unable to operate phone tiny menu items with gloves.
Curious about Apple Carplay/Android Auto (AA) fitted to the Africa Twin and new Goldwing I realised you could simply add it to any motorcycle.
How to do this starts with the purchase of a motorcycle Carplay/AA navigation unit. These are available from Aliexpress. There are many models, I chose one called Peerce as I had read this model was reliable. (turns out that was false – see the update at bottom of page)
The Navigator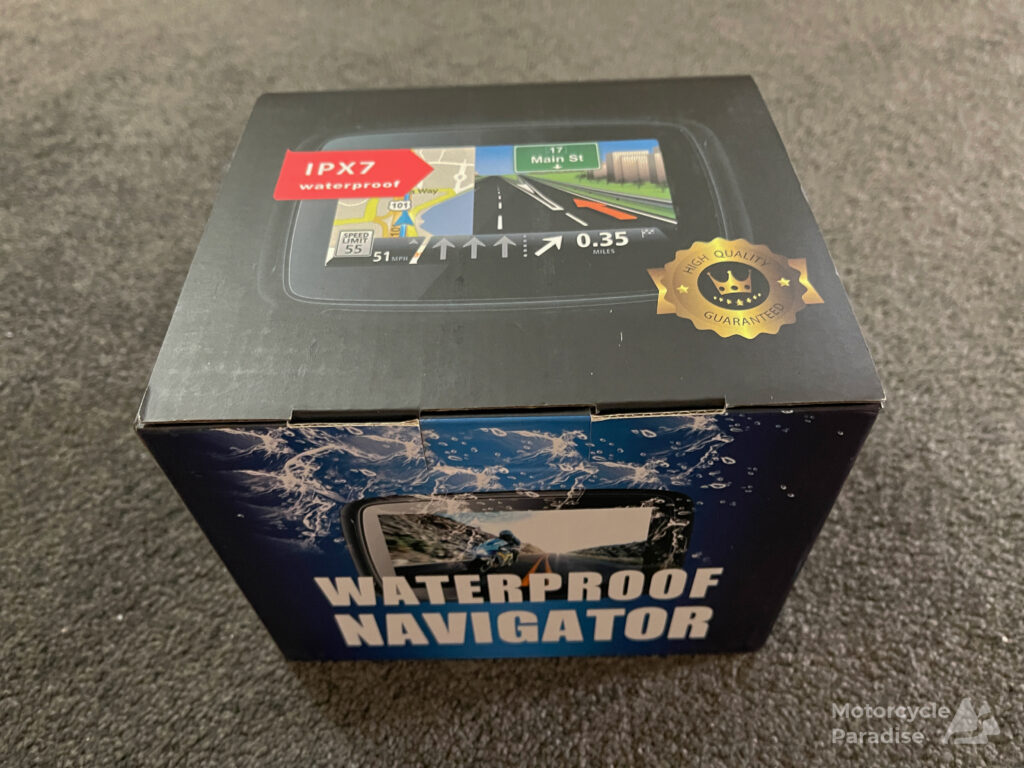 The package includes a 5 inch screen unit, a cradle and a generous amount of mounting hardware and wiring options but little in the way of instructions.
There is no branding on the box or the device. I presume it is also sold under other names and you may be able to obtain the exact same kit cheaper – but be certain on what you are buying when using Aliexpress.
Fitting the cradle for the screen was very easy, it comes with quality ram mount type fittings, then I ran the wire back to the battery. There is an option to plug into a USB socket if you have one.
The unit has a Micro SDcard slot but no details what for and a mini USB port that can power the unit but is not documented either. Both are under a cover on side of unit.
The screen clicks into place and has a security locking screw that goes in the rear of cradle but I would be removing the screen when the bike is parked.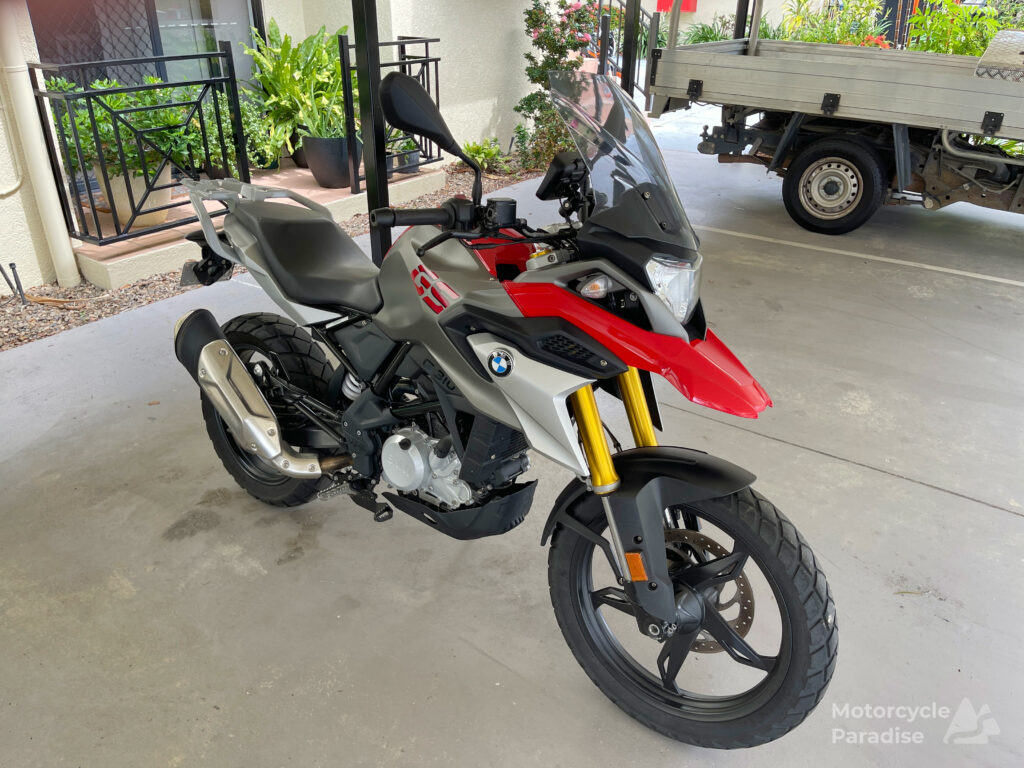 The Peerce navigator is a bright 5 inch capacitive touch screen which is visible in direct sunlight and able to be operated with gloves. It does suffer from some glare as screen is gloss and the screen menu buttons while much larger than a phone still could be bigger for gloves. The app buttons are good size.
Above screen is only on 1/2 brightness.
Setting up the Navigator
I pair the Peerce unit via Bluetooth to my iPhone (and from here on I am writing just about using Carplay and a iPhone). After paired with the Peerce unit I am ready to access the Carplay apps.
I can use any of the apps that work with Carplay. I have a weather app that tracks my route letting me try avoid rain called On The Way which sounds interesting. You can have things like music and podcasts and messages or whatsapp or receive calls. Not sure I will use any of those.
To connect the unit to your headset you go to the bluetooth pair option and it will find your headset.
I will explore what other apps there are in due course but navigation and weather is about all that interests me so far.
Making and following routes
RWGPS is my choice of the numerous route planners available due to it having Google Street View, something I use extensively when making routes. However it does not support Apple Carplay/AA so for this test I used Rever.
I made routes directly in Rever and also tested importing routes made in RWGPS. Rever is same as almost any route planner, type a location or click on map to begin, click to make route. Very easy and I am puzzled why so many riders find route planners difficult to use.
That said Rever is not what I would call intuitive, trying to find routes I have made in Rever was quite difficult or the planner has some bugs because often my routes disappeared and in the phone app routes made would not show up then mysteriously appeared later then again could not be found the day after.
In the bike navigator unit the only option I can find to use a route made in Rever is if you mark it as a favourite in the app then it will appear available to navigate.
Rever gives you one test of its turn by turn navigation before you need to get a subscription. This was available on sale for a little over $10US and that is a good price compared to other planners. It lacks the advanced route editing tools of RWGPS but if just making simple routes Rever could suit many riders.
Moving to the navigator which auto connects to the phone when powered on, swipe the menu to find the Rever icon. Touch app screen to bring up menu to load a route from Favourites. There is no way I can see to load a route from any of the other folders in Rever. Select Turn by turn navigation and select Go.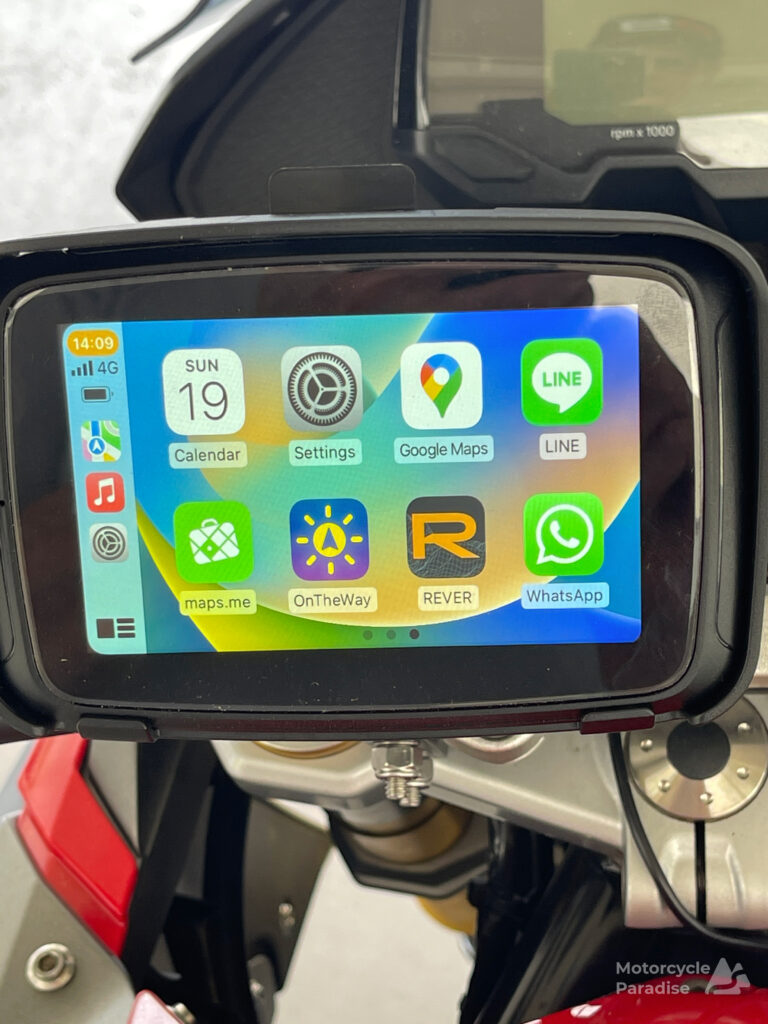 On the road it visually resembles the Rever phone app as that of course is exactly what it is. Everything in Carplay is just being relayed from phone to screen. I don't have a Rever on bike photo – I switched to Google navigation and that is shown below but they look similar.
I was hopeful it might be a little better than a phone app display which is weak compared to a Garmin. (see below)
UPDATE 1.
I have switched to using Google maps which I have never used much on a bike except for strictly fastest A to B routing as the waypoint limit is not enough for the sort of rides I created in Japan however now I am back in Australia at no time are any routes I make here going to need more than 8-10 waypoints so Google maps navigation will work. (actually you can ride Australia without any navigator as highways here are simple, but I just prefer to have it)
I simply made my route in Google maps by clicking and adding waypoints then exported a link to email that I can load with my phone then carplay displays this on the navigator's screen. I will add screen shots and further feedback in near future.
Carplay/AA verdict
Garmin for me still offers the better birds eye navigation display and can be switched to/from helicopter view on the fly which allows easy navigation around a road closure or traffic jam or assistance in confirming which flyover is the one to take at complex junctions. The user interface is much better.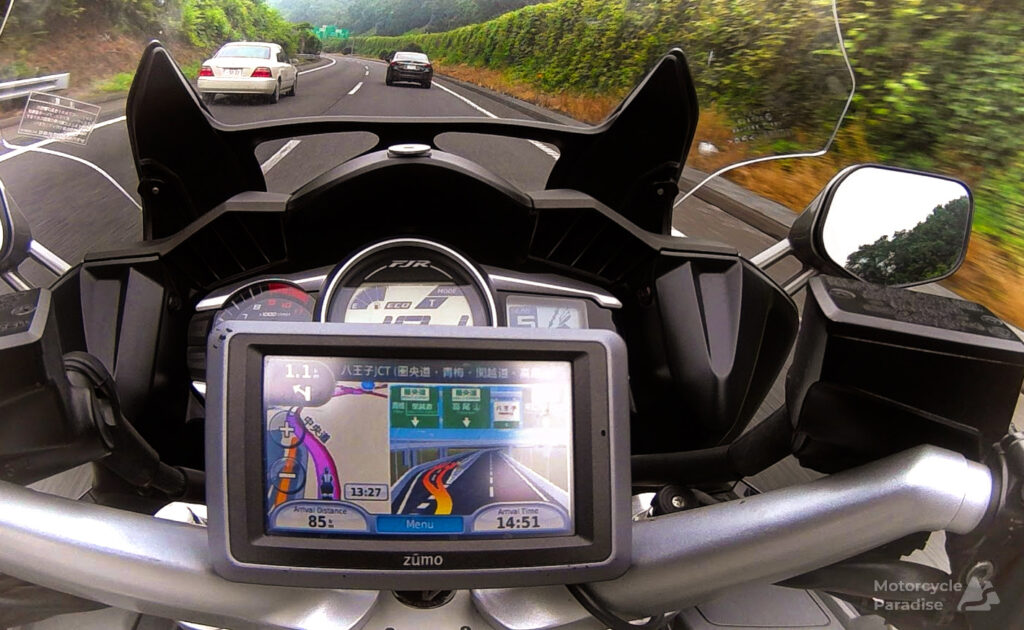 My Japanese Garmin Zumo was an excellent navigator for my 110,000km of exploring Japan but it was stolen along with my rider gear by Australia Post couriers. I am not intending to return to Japan for many years so I will not get another Zumo until it is closer to when I next travel there to ensure I have the latest expressway maps and junction view images.
At $186AUD this unit was far less than a new Zumo XT and is ample for my touring in Australia. For overseas rides (except Japan) I will probably fall back to a refurbished Garmin Nuvi 765 (Vintage 2009) I still have with a power bank in my old SoEasyRider soft GPS case.
It has been fun learning Carplay and I still have more apps to explore and to test the usefulness of a bluetooth headset which I have finally got around to installing in a new helmet, reviews of both to come with an update to this review to be added. One of my USA bike rentals has Carplay so I am going to try use it touring there and will add that experience to the blog as well. See Update 2 below.
Alternatives
You can get navigation just by putting your phone in a mount on handlebars, clones of quad lock are available on aliexpress for $10. Then make your routes in Ride with GPS and they are automatically ready to use in the RWGPS navigation app which is also better than Rever app. However for me phones are too hard to see or operate with gloves.
I want my phone in my pocket where it is safe. On an overseas trip everything is stored in that phone, airline tickets, hotel bookings, copies of travel documents. As I discovered when I was robbed in South Africa loss of phone is a major problem.
I also want it ready to take photos. I often stop on side of road and sitting on bike whip out phone for a quick panorama pan photo then pocket it and ride on. Can't do that with the phone mounted to handlbars and GoPro's on helmets still produce poor photos (and boring videos).
Yes I could take a spare phone with me, I tried that already in Japan but I could not see or operate the screen. Carplay on a bike does fix those issues, it is both easy to see and to operate.
Some people rely on voice navigation prompts to helmet and leave their phone in a pocket. I think that would be fine in Australia but things get tricky overseas at highway junctions in unfamiliar countries especially if signage is in a different script you cannot read. I need the screen then and in Japan I also need junction view graphics to navigate their insanely complex expressways.
If you do go for a Garmin you can do it cheap with an old Nuvi or expensive with new Zumo but be aware older units do not provide junction view and this function seems limited to the base map, i.e. you need a Japanese Zumo to get all the Japanese junction graphics and that cannot be installed to a USA model. This is where I hope navigation apps and Carplay might pull ahead of Garmin offering junction guidance for every country in one device.
I will revisit this post once I have completed more than just local test rides with further observations on the device and the apps when I have some Carplay touring experience under my belt.
UPDATE 2
OK well things have not gone well for this once I got out of town. On the Australian bumpy roads the power connecter at the rear of the device lost power after 700km of riding.
The mounting system or cradle design is flawed and there is nothing that I can do to fix it over bumpy roads it constantly looses contact. The only possible way to use this device would be to power it via the Mini USB port under the side cover. That would require a USB 5V power source, the cradle is wired direct to 12V battery.
I was thinking to wire it up that way however the other problems I have are without phone signal the navigation stops as no data. I made an offline route with all data saved to my phone but in rural regions with no phone towers the phone in my pocket knows not where it is and would need to be mounted to acquire a GPS signal and if I did that well no point to having the Carplay screen.
I've come to the conclusion that for riding rural Australia Carplay is unsuitable and I will be removing it and going back to my Garmin.