First published 08.04.2012 to motorcycleparadise.blogspot.com
That was the title of a Australian movie in the 70's or maybe early 80s. Seems not much different to real life some days.
Lovely quick run down the M1, not much traffic at all. People still tell me they cannot stand to ride down the M1 but if your sports bike or café racer is so uncomfortable you cannot ride a freeway for 40 minutes then gotta ask yourself what are you doing with such a impractical bike.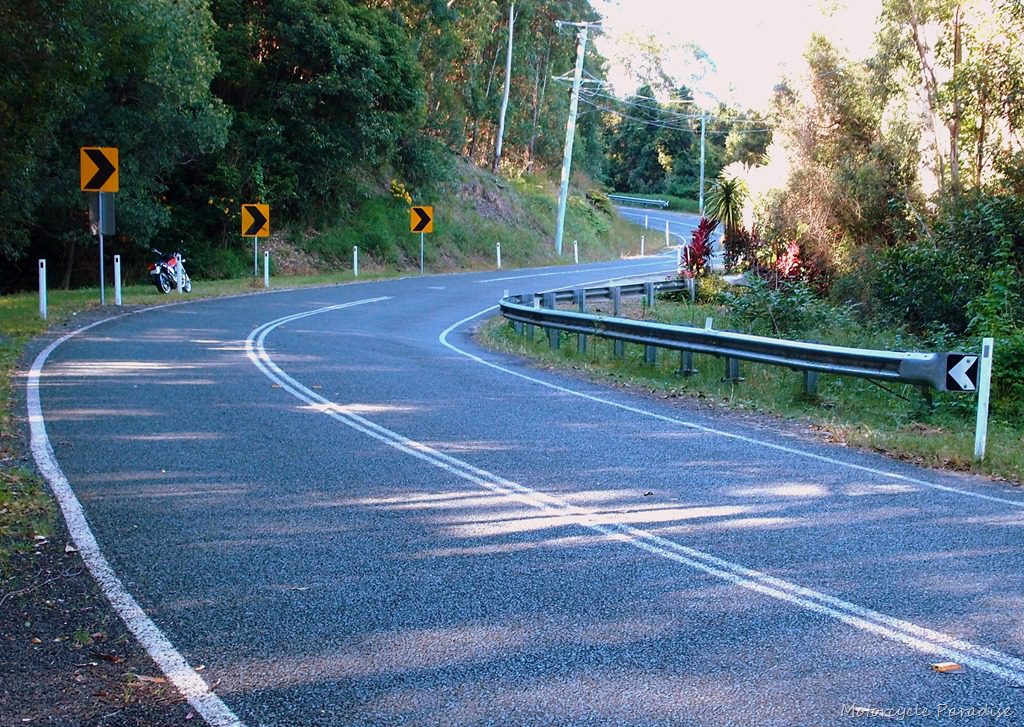 Riding over Currumbin valley (above) I was flashed by oncoming car driving locals yet again. Pretty much have been flashed every ride there of late. Seems they have the idea to flash motorcycle riders to make us think there is a radar trap to slow us down even though it's not a fast road to begin with. I'm not paying any attention anymore.
I had an idea to ride to the Tweed Valley Art Gallery for a coffee but somehow forgot this as I got into a nice riding rhythm and rode past Baker Road on to Uki then via Stokers siding to the base of Burringbah range (below) having so much fun before realizing. Anyway it was still only early so I decided to ride on to Clunes for a brunch stop instead.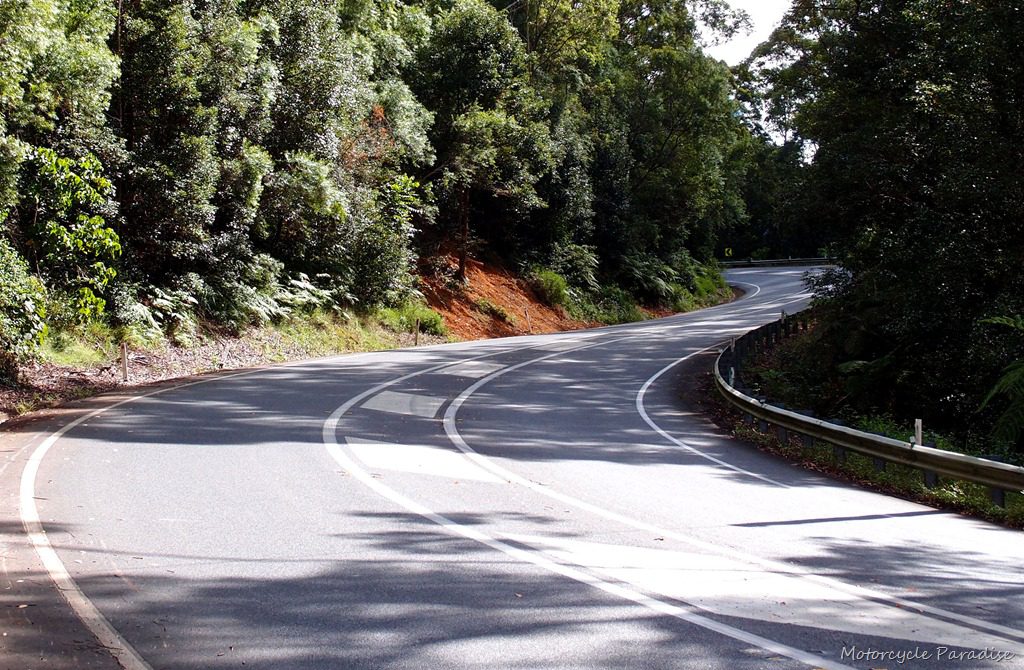 Rather than ride straight on via Federal I took the Goonengerry road and this has had some road resurfacing and the bridge has been replaced as well. I had forgotten how good this road was to ride, do go down there some time, just be aware of two or three tight decreasing radius bends as you exit the forested part of road. After this I then took Repentance Creek road, another one I often forget and despite it flowing better in the reverse it was also a lot of fun today.
Clunes Café was closed and possibly for good by looks. I am sad but not surprised as last two times I tried to be a customer there they were either not serving food or not serving coffee so proof even when you have no competition you can drive a business into the ground. I guess I need to find a new turnaround point on that route for future.
It was still only 10.30 so I decided to supersize todays ride. I rode over to Nimbin via Dunoon and The Channon and then back to Uki. The road out of Nimbin has mostly been resurfaced and is much better than the poor state it had been in last few years. Alas Turntable creek road to Nimbin is rather poor still in parts despite some resurfacing closer to Nimbin.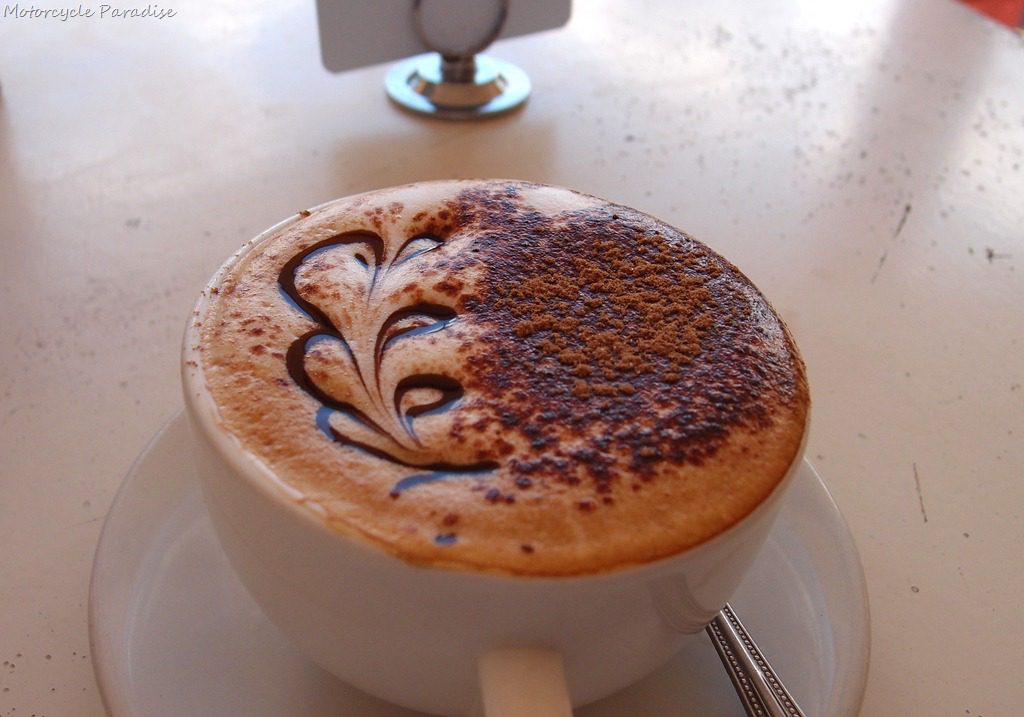 I often stop at the Uki Pub in summer but today was not in the mood so went to the nearby Uki Café just a bit north in the village proper, on your right if coming from the south, slightly elevated. What a great move this was, the food was really fresh and tasty, the coffee was the best I have had in the whole region as was service from the friendly people.
A lot of 4 wheel drives loaded up for Easter camping about on the roads around Nimbin and later in Numinbah valley. As usual someone in a off roader always wants to play road games with me.
Today's version went like this. Turbo Landcruiser hauling one of those 'off road' high ground clearance caravans on Blue Knob road out of Nimbin, I arrive behind and the game begins as driver speeds up from about 75kph up to 120+kph. The van is then swerving all over BOTH lanes of a narrow forest road and driver is fighting to keep control – m.u.s.t n.o.t l.e.t m.o.t.o.r.c.y.c.l.e g.e.t p.a.s.t m.e ! I guess wifey must have been screaming or he realised about to have caravan whip the car sideways into a tree cause he slowed very sharply and now lives to play the race game with other motorcycles another day.
This game in some variation happens most every ride I am out on. I have seen drivers lift a rear wheel off ground round a corner on a Landcruiser down a mountain range with wife and two small children on board or literally run clean off the road once to try stop me passing them. Driving in middle of road is another tactic on the straights, swerving side to side to block passing – just like in the movies. I just don't know why you would bother? I wave past me any bike or car I see behind that is remotely closing on me so I can go back to just enjoying my ride.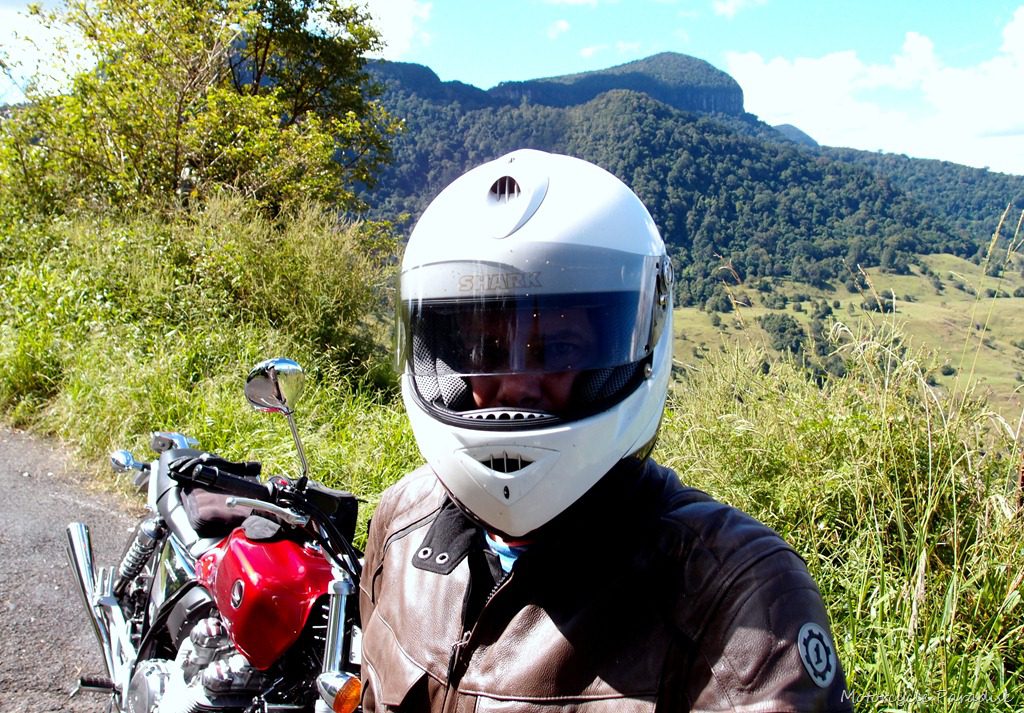 I am trying to use my Shark RSR2 Carbon yet again. Besides the slightly oversized cheek cushions it is otherwise a good helmet, very light and quiet. The lightly tinted visor I have for it works very well on much of todays forest covered roads from Autumn through to Spring when the angle of the sun seems to not penetrate the tree canopy leaving you riding in shadows. It is not possible to see the road surface clearly with a regular dark tinted visor or sunglasses and many corners on the back roads in northern NSW have loose material thus not much fun if you cannot see the clean line through every corner.
Big ride today – the route is here.